Abstract
Oxidative stress is a critical route of damage in various physiological stress-induced disorders, including depression. Rose oil may be a useful treatment for depression because it contains flavonoids which include free radical antioxidant compounds such as rutin and quercetin. We investigated the effects of absolute rose oil (from Rosa × damascena Mill.) and experimental depression on lipid peroxidation and antioxidant levels in the cerebral cortex of rats. Thirty-two male rats were randomly divided into four groups. The first group was used as control, while depression was induced in the second group using chronic mild stress (CMS). Oral (1.5 ml/kg) and vapor (0.15 ml/kg) rose oil were given for 28 days to CMS depression-induced rats, constituting the third and fourth groups, respectively. The sucrose preference test was used weekly to identify depression-like phenotypes during the experiment. At the end of the experiment, cerebral cortex samples were taken from all groups. The lipid peroxidation levels in the cerebral cortex in the CMS group were higher than in control whereas their levels were decreased by rose oil vapor exposure. The vitamin A, vitamin E, vitamin C and β-carotene concentrations in the cerebral cortex were lower in the CMS group than in the control group whereas their concentrations were higher in the rose oil vapor plus CMS group. The CMS-induced antioxidant vitamin changes were not modulated by oral treatment. Glutathione peroxidase activity and reduced glutathione did not change statistically in the four groups following CMS or either treatment. In conclusion, experimental depression is associated with elevated oxidative stress while treatment with rose oil vapor induced protective effects on oxidative stress in depression.
Access options
Buy single article
Instant access to the full article PDF.
US$ 39.95
Tax calculation will be finalised during checkout.
Subscribe to journal
Immediate online access to all issues from 2019. Subscription will auto renew annually.
US$ 79
Tax calculation will be finalised during checkout.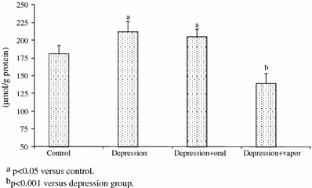 Abbreviations
CMS:

Chronic mild stress

GSH-Px:

Glutathione peroxidase

GSH:

Glutathione

MAO:

Monoamine oxidase

PUFA:

Polyunsaturated fatty acid

ROS:

Reactive oxygen species

SSRI:

Selective-serotonin reuptake inhibitor
References
1.

Halliwell B (2006) Oxidative stress and neurodegeneration: where are we now? J Neurochem 97:1634–1658

2.

Kovacic P, Somanathan R (2008) Unifying mechanism for eye toxicity: electron transfer, reactive oxygen species, antioxidant benefits, cell signaling and cell membranes. Cell Membr Free Radic Res 2:56–69

3.

Bilici M, Efe H, Koroglu MA, Uydu HA, Bekaroglu M, Deger O (2001) Antioxidative enzyme activities and lipid peroxidation in major depression: alterations by antidepressant treatments. J Affect Disord 64:43–51

4.

Eren I, Nazıroğlu M, Demirdaş A (2007) Protective effects of lamotrigine, aripiprazole and escitalopram on depression-induced oxidative stress in rat brain. Neurochem Res 32:1188–1195

5.

Eren I, Nazıroğlu M, Demirdaş A, Celik O, Uğuz AC, Altunbaşak A, Ozmen I, Uz E (2007) Venlafaxine modulates depression-induced oxidative stress in brain and medulla of rat. Neurochem Res 32:497–505

6.

Dietz RM, Weiss JH, Shuttleworth CW (2009) Contributions of Ca2+ and Zn2+ to spreading depression-like events and neuronal injury. J Neurochem 109(Suppl 1):145–152

7.

Altinkiliç S, Nazıroğlu M, Uğuz AC, Ozcankaya R (2010) Fish oil and antipsychotic drug risperidone modulate oxidative stress in PC12 cell membranes through regulation of cytosolic calcium ion release and antioxidant system. J Membr Biol 235:211–228

8.

Abelaira HM, Réus GZ, Ribeiro KF, Zappellini G, Ferreira GK, Gomes LM, Carvalho-Silva M, Streck EL, Luciano TF, Marques SO, Souza CT, Quevedo J (2011) Effects of acute and chronic treatment elicited by lamotrigine on behavior, energy metabolism, neurotrophins and signaling cascades in rats. Neurochem Int. doi:10.1016/j.ceb.2011.09.002. [Epub ahead of print]

9.

Banasr M, Dwyer JM, Duman RS (2011) Cell atrophy and loss in depression: reversal by antidepressant treatment. Curr Opin Cell Biol 23:730–737

10.

Zafir A, Ara A, Banu N (2009) In vivo antioxidant status: a putative target of antidepressant action. Prog Neuropsychopharmacol Biol Psychiatry 33:220–228

11.

Ulusoy S, Boşgelmez-Tinaz G, Seçilmiş-Canbay H (2009) Tocopherol, carotene, phenolic contents and antibacterial properties of rose essential oil, hydrosol and absolute. Curr Microbiol 59:554–558

12.

Saija A, Scalese M, Lanza M, Marzullo D, Bonina F, Castelli F (1995) Flavonoids as antioxidant agents: importance of their interaction with biomembranes. Free Radic Biol Med 19:481–486

13.

Zarghami M, Farzin D, Bagheri K (2002) Anti depressant effects of Rosa Damascena on laboratory rats (a controlled experimental blind study). J Mazandaran Univ Med Sci 33:27–33

14.

Rakhshandah H, Hosseini M (2006) Potentiation of pentobarbital hypnosis by Rosa damascena in mice. Indian J Exp Biol 44:910–912

15.

Köse E, Sarsılmaz M, Ogeturk M, Kus İ, Kavaklı A, Zararsız İ (2007) The role of rose essential oil aroma on the learning behaviorus: an experimental study (Turkish). Fırat Medical J 12:159–162

16.

Muscat R, Willner P (1992) Suppression of sucrose drinking by chronic mild unpredictable stress: a methodological analysis. Neurosci Biobehav Rev 16:507–517

17.

Placer ZA, Cushman L, Johnson BC (1966) Estimation of products of lipid peroxidation (malonyl dialdehyde) in biological fluids. Anal Biochem 16:359–364

18.

Sedlak J, Lindsay RHC (1968) Estimation of total, protein bound and non-protein sulfhydryl groups in tissue with Ellmann's reagent. Anal Biochem 25:192–205

19.

Lawrence RA, Burk RF (1976) Glutathione peroxidase activity in selenium-deficient rat liver. Biochem Biophys Res Commun 71:952–958

20.

Lowry OH, Rosebrough NJ, Farr AL, Randall RJ (1951) Protein measurement with the Folin phenol reagent. J Biol Chem 193:265–275

21.

Desai ID (1984) Vitamin E analysis methods for animal tissues. Methods Enzymol 105:138–147

22.

Suzuki J, Katoh N (1990) A simple and cheap method for measuring vitamin A in cattle using only a spectrophotometer. Jpn J Vet Sci 52:1282–1284

23.

Jagota SK, Dani HM (1982) A new colorimetric technique for the estimation of vitamin C using Folin phenol reagent. Anal Biochem 127:178–182

24.

Campanucci VA, Krishnaswamy A, Cooper E (2008) Mitochondrial reactive oxygen species inactivate neuronal nicotinic acetylcholine receptors and induce long-term depression of fast nicotinic synaptic transmission. J Neurosci 28:1733–1744

25.

Nazıroğlu M (2011) TRPM2 cation channels, oxidative stress and neurological diseases: where are we now? Neurochem Res 36:355–366

26.

Hoseinpour H, Peel SA, Rakhshandeh H, Forouzanfar A, Taheri M, Rajabi O, Saljoghinejad M, Sohrabi K (2011) Evaluation of Rosa damascena mouthwash in the treatment of recurrent aphthous stomatitis: a randomized, double-blinded, placebo-controlled clinical trial. Quintessence Int 42:483–491

27.

Thase ME (2005) Bipolar depression: issues in diagnosis and treatment. Harv Rev Psychiatry 13:257–271

28.

Nathan PJ (2001) Hypericum perforatum (St John's Wort): a non-selective reuptake inhibitor? A review of the recent advances in its pharmacology. J Psychopharmacol 15:47–54

29.

Maher P, Davis JB (1996) The role of monoamine metabolism in oxidative glutamate toxicity. J Neurosci 16:6394–6401

30.

Kumar N, Bhandari P, Singh B, Bari SS (2009) Antioxidant activity and ultra-performance LC-electrospray ionization-quadrupole time-of-flight mass spectrometry for phenolics-based fingerprinting of Rose species: Rosa damascena, Rosa bourboniana and Rosa brunonii. Food Chem Toxicol 47:361–367

31.

Mattson MP (1998) Modification of ion homeostasis by lipid peroxidation: roles in neuronal degeneration and adaptive plasticity. Trends Neurosci 21:53–57

32.

Hajnóczky G, Csordas G, Das S, Garcia-Perez C, Saotome M, Roy SS et al (2006) Mitochondrial calcium signaling and cell death: Approaches for assessing the role of mitochondrial Ca2+ uptake in apoptosis. Cell Calcium 40:553–560

33.

Butterweck V (2003) Mechanism of action of St John's wort in depression : what is known? CNS Drugs 17:539–562
Acknowledgments
The study was partially supported as a graduate student project by TUBITAK, Ankara, Turkey.
Conflict of interest
All authors reported that they have no conflicts of interest.
About this article
Cite this article
Nazıroğlu, M., Kozlu, S., Yorgancıgil, E. et al. Rose oil (from Rosa × damascena Mill.) vapor attenuates depression-induced oxidative toxicity in rat brain. J Nat Med 67, 152–158 (2013). https://doi.org/10.1007/s11418-012-0666-7
Received:

Accepted:

Published:

Issue Date:
Keywords
Rose oil

Depression

Glutathione peroxidase

Oxidative stress

Antioxidant vitamins