Abstract
Poria, a dried sclerotium of Wolfiporia cocos Ryvarden et Gilbertson (Polyporaceae) has been used as a crude drug in both Chinese and Japanese (Kampo) traditional medicines. Recently, cultivated products of Chinese Poria strains have accounted for most of the market, while the cultivation of Japanese Poria strains has not been successful. Aiming to determine the relationship between the differences in cultivation characteristics and genetic polymorphism, we conducted a field cultivation experiment, a rot test, and rapid amplification of polymorphic DNA (RAPD) analysis of Poria strains collected from China and Japan: 3 Chinese and 7 Japanese strains. In field cultivation, although there was no marked inferiority of Japanese strains to Chinese ones in either mycelium propagation or the rate of sclerotium formation, Chinese strains formed whiter sclerotia with a mean size more than twice that of Japanese ones. Representatives of Chinese and Japanese strains, Yunnan and Kaimondake, respectively, were tested for wood-rotting ability. More wood was utilized and the wood color was darker in trials of the Yunnan strain. Amplifications of total DNA of these 10 fungal strains with 2 primers, PC-6 and PC-11, in RAPD analysis showed a difference in the amplicon profile between Japanese and Chinese strains, suggesting differences in their genetic background.
Access options
Buy single article
Instant access to the full article PDF.
US$ 39.95
Tax calculation will be finalised during checkout.
Subscribe to journal
Immediate online access to all issues from 2019. Subscription will auto renew annually.
US$ 79
Tax calculation will be finalised during checkout.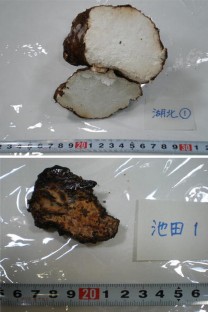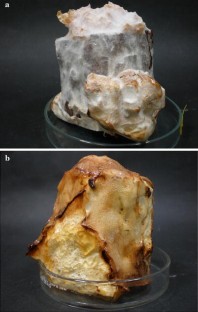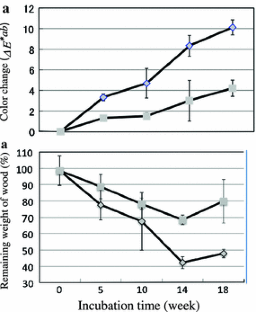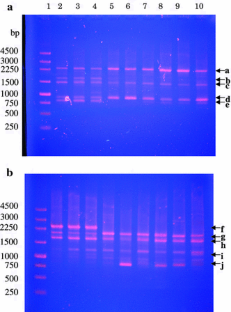 References
1.

Editorial committee of guidebook to Japanese Pharmacopoeia 15th (eds) (2006) Guidebook to Japanese pharmacopoeia 15th. Hirokawa Shoten, Tokyo, pp D-582–D-585

2.

Anjiki N (1996) Master's thesis submitted to the Faculty of Pharmaceutical Sciences of Kanazawa University

3.

Sakata T (2002) Attempt to produce sclerotium from cultured Wolfiporia cocos. Proc Hiroshima Prefect Center For Tech 34:33–39

4.

Tominaga Y (1986) Studies on the life history of Tuckahoe, Poria cocos Wolf. Proc Hiroshima Agric Jr Coll 8:115–141

5.

Tominaga Y (1987) Study on Culture of Tuckahoe I. Germination of fruit body and formation of sclerotium in log culture and wood chip/sawdust bag culture. Proc Hiroshima Agric Jr Coll 8:451–463

6.

Tabata M, Hiraoka N (1994) Studies on the formation of fruit body and sclerotium in Poria cocos Wolf native to Japan. Nat Med 48:18–27

7.

Kozuka A (1999) Master's Thesis submitted to the Faculty of Pharmaceutical Sciences of Kanazawa University

8.

Atsumi T, Kakiuchi N, Mikage M (2007) The DNA sequencing analysis of ITS and 28S rRNA of Poria cocos. Biol Pharm Bull 30:1472–1476

9.

Kubo T (2002) Studies on indoor cultivation of Poria cocos strains and their cultivation characteristics. Doctor's thesis submitted to the Graduate School of Natural Science and Technology, Kanazawa University

10.

Kubo T, Terabayashi S, Takeda S, Sasaki H, Aburada M, Miyamoto K (2006) Indoor cultivation and cultural characteristics of Wolfiporia cocos sclerotia using mushroom culture bottles. Biol Pharm Bull 29:1191–1196

11.

Zervakis GI, Venturella G, Papadopoulou K (2001) Genetic polymorphism and taxonomic infrastructure of the Pleurotus eryngii species-complex as determined by RAPD analysis, isozyme profiles and ecomorphological characters. Microbiology 147:3183–3194

12.

Nakajima T, Miki T, Miyazaki K (2003) Identification of Phellinus linteus (Berk. et Curt.) Aosh. calibers by DNA analysis, Kyushu J For Res No. 56

13.

Obatake Y, Matsumoto T, Mimura K, Fukumasa-Nakai Y (2002) Genetic relationships in the natural population of Pholiota nameko Japan based on DNA polymorphism. Mycoscience 43:463–469

14.

Khush RS, Becker E, Wach M (1992) DNA amplification polymorphisms of the cultivated mushroom Agaricus bisporus. Appl Environ Microbiol 58:2971–2977

15.

Yan P-S, Lou X-C, Zhou Q (2004) RAPD molecular differentiation of the cultivated strains of the jelly mushrooms, Auricularia auricula and A. polytricha. World J Microbiol Biotechnol 20:795–799

16.

Kobayashi I (1993) Studies on a Chinese Medicine, Fu-ling. Doctor's thesis submitted to the Graduate School of Pharmaceutical Sciences, Kanazawa University

17.

Kiba K (1994) Studies on a Chinese Medicine Fu-ling. Studies on the growth characteristics of Poria cocos strains. Doctor's thesis submitted to the Graduate School of Pharmaceutical Sciences, Kanazawa University

18.

Furukawa H (1992) Science of mushrooms, Kyoritsu Publishers, Tokyo
About this article
Cite this article
Kobira, S., Atsumi, T., Kakiuchi, N. et al. Difference in cultivation characteristics and genetic polymorphism between Chinese and Japanese strains of Wolfiporia cocos Ryvarden et Gilbertson (Poria cocos Wolf). J Nat Med 66, 493–499 (2012). https://doi.org/10.1007/s11418-011-0612-0
Received:

Accepted:

Published:

Issue Date:
Keywords
Poria

Strain

Cultural characteristics

Genetic polymorphism