Abstract
Two new indole alkaloids, 2-(3,3-dimethylprop-1-ene)-costaclavine (1) and 2-(3,3-dimethylprop-1-ene)-epicostaclavine (2), together with the known compounds costaclavine (3), fumgaclavine A (4) and C (5), were isolated from the marine-derived fungus Aspergillus fumigatus. The planar structures of the two new compounds were elucidated on the basis of chemical and physicochemical evidence including MS, UV, IR and NMR spectra. Their stereochemistry was studied by NOESY, 1H–1H coupling constant and CD spectra. The compounds 1, 2, 3 and 5 showed weak cytotoxicity against a mouse leukemia cell line (P388).
Access options
Buy single article
Instant access to the full article PDF.
USD 39.95
Price includes VAT (USA)
Tax calculation will be finalised during checkout.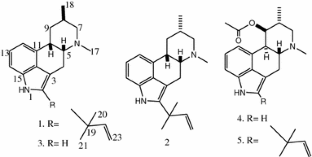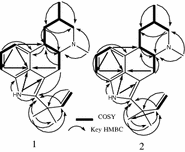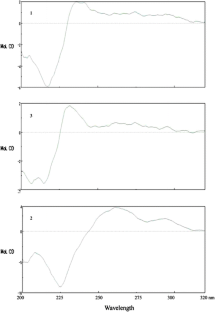 References
1.

Blunt JW, Copp BR, Munro MHG, Northcote PT, Prinsep MR (2009) Marine natural products. Nat Prod Rep 22:170–244

2.

Li XF, Kim SK, Kang JS, Choi HD, Son BW (2006) Radical scavenging hydroxyphenyl ethanoic acid derivatives from a marine-derived fungus. J Microbiol Biotechnol 16:637–638

3.

Abe M, Yamatodani S, Yamano T, Kusumoto M (1956) Isolation of two new water-soluble alkaloids, pyroclavine and costaclavine. Bull Agr Chem Soc Jpn 20:59–60

4.

George B, Kin CL, Brunhilde K, James MT (1977) Four new mycotoxins of Aspergillus clavatus related to tryptoquivaline. J Org Chem 42(2):244–246

5.

Atsushi N, Chika T, Tomochika M, Tamie M, Kenzo K, Yoshihide U, Eiko M, Masatoshi I, Hirofumi O, Tetsuro S (1992) Fumiquinazolines, novel metabolites of a fungus isolated from a saltfish. Tetrahedron Lett 33:1621–1624

6.

Wang FZ, Fang YC, Zhu TJ, Zhang M, Lin AQ, Gu QQ, Zhu WM (2008) Seven new prenylated indole diketopiperazine alkaloids from holothurian-derived fungus Aspergillus fumigatus. Tetrahedron 64:7986–7991

7.

Spilsbury JF, Wilkinson S (1961) The isolation of festuclavine and two new clavinet alkaloids from Aspergillus fumigatus. Fres J Chem Soc 2085–2091

8.

Richard JC, Jerry WK, Joe WD, David MW, Joe CJJ, Johnson AN, David MB, James PS, Kuldip KC, Richard HC (1977) Mycotoxins produced by Aspergillus fumigatus species isolated from molded silage. J Agric Food Chem 25(4):826–830

9.

Cui CB, Hideaki K, Hiroyuki O (1996) Novel mammalian cell cycle inhibitors, spirotryprostatins A and B, produced by Aspergillus fumigatus, which inhibit mammalian cell cycle at G2/M phase. Tetrahedron 52(39):12651–12666

10.

Sakharovskii VG, Kozlovskii AG (1983) 1H NMR study of the structure of costaclavine and epicostaclavine. Zhurnal Strukturnoi Khimii 24:100–105

11.

Norimasa S, Ryu-ichi F, Tamotsu M, Tetsuro M, Kiyotomo S, Ryozo S, Shinichi A (1992) Potentiation of the vincristine effect on P388 mouse leukemia cells by a newly synthesized dihydropyridine analogue, PAK-200. J Cancer Res Jpn 83:1011–1017
Acknowledgment
This work was financed by the Global COE Program for Chemistry Innovation, the University of Tokyo.
About this article
Cite this article
Zhang, D., Satake, M., Fukuzawa, S. et al. Two new indole alkaloids, 2-(3,3-dimethylprop-1-ene)-costaclavine and 2-(3,3-dimethylprop-1-ene)-epicostaclavine, from the marine-derived fungus Aspergillus fumigatus . J Nat Med 66, 222–226 (2012). https://doi.org/10.1007/s11418-011-0565-3
Received:

Accepted:

Published:

Issue Date:
Keywords
Aspergillus fumigatus

Indole alkaloids

2-(3,3-Dimethylprop-1-ene)-costaclavine

2-(3,3-Dimethylprop-1-ene)-epicostaclavine

Stereochemistry