Abstract
Kaempferia parviflora Wall. Ex Baker (KP) has been used as a folk medicine in Laos and Thailand to lower blood glucose levels, improve blood flow, and increase vitality. This study investigated the preventive effects of KP on obesity and its downstream symptoms (various metabolic disorders) using Tsumura, Suzuki, Obese Diabetes (TSOD) mice, a multifactorial genetic disease animal model in which metabolic diseases develop spontaneously, similar to metabolic syndrome in humans, and Tsumura, Suzuki, Non-Obesity (TSNO) mice as the corresponding control mice. When feed that was mixed with KP (1 or 3%) was given ad libitum to TSOD and TSNO mice for 8 weeks, body weight increase, visceral fat accumulation, lipid metabolism abnormalities, hyperinsulinemia, glucose intolerance, insulin resistance, hypertension, and peripheral neuropathy were suppressed in TSOD mice, but no marked differences were observed in TSNO mice. Because KP had preventive effects on metabolic diseases, including antiobesity effects, only in obese animals, we propose that KP will be extremely valuable as a medicine or component of food in alternative health care.
Access options
Buy single article
Instant access to the full article PDF.
US$ 39.95
Tax calculation will be finalised during checkout.
Subscribe to journal
Immediate online access to all issues from 2019. Subscription will auto renew annually.
US$ 79
Tax calculation will be finalised during checkout.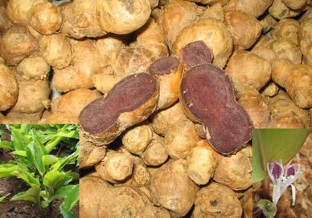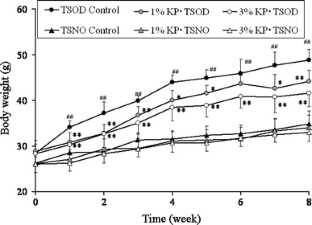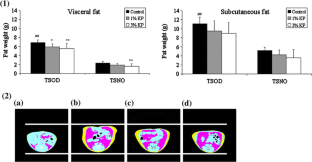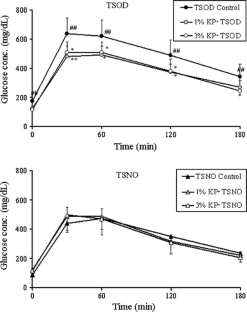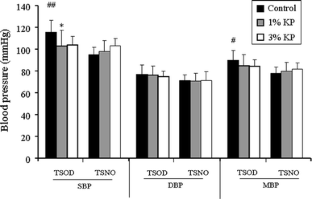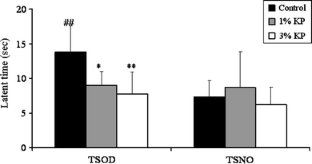 References
1.

Ministry of Health, Labour and Welfare, Japan (2010) National health and nutrition examination survey results summary. http://www.mhlw.go.jp/houdou/2008/12/h1225-5.html. Accessed 5 Apr 2010

2.

Kobayashi J, Nishimura K, Matoba M, Maekawa N, Mabuchi H (2007) Generation and gender differences in the components contributing to the diagnosis of the metabolic syndrome according to the Japanese criteria. Circ J 71:1734–1737

3.

Lakka HM, Laaksonen DE, Lakka TA, Niskanen LK, Kumpusalo E, Tuomilehto J, Salonen JT (2002) The metabolic syndrome and total and cardiovascular disease mortality in middle-aged men. JAMA 288:2709

4.

Akase T, Shimada T, Harasawa Y, Akase T, Ikeya Y, Nagai E, Iizuka S, Nakagami G, Iizaka S, Sanada H, Aburada M (2009) Preventive effects of Salacia reticulata on obesity and metabolic disorders in TSOD mice. Evid Based Complement Alternat Med. doi:10.1093/ecam/nep052

5.

Shimada T, Kosugi M, Tokuhara D, Tsubata M, Kamiya T, Sameshima M, Nagamine R, Takagaki K, Miyamoto K, Aburada M (2010) Preventive effect of pine bark extract (flavangenol) on metabolic disease in western diet-loaded Tsumura Suzuki obese diabetes mice. Evid Based Complement Altern Med. doi:10.1093/ecam/nep231

6.

Rujjanawate C, Kanjanapothi D, Amornlerdpison D, Pojanagaroon S (2005) Anti-gastric ulcer effect of Kaempferia parviflora. J Ethnopharmacol 102:120–122

7.

Kusirisin W, Srichairatanakool S, Lerttrakarnnon P, Lailerd N, Suttajit M, Jaikang C, Chaiyasut C (2009) Antioxidative activity, polyphenolic content and anti-glycation effect of some Thai medicinal plants traditionally used in diabetic patients. Med Chem 5:139–147

8.

Sutthanut K, Sripanidkulchai B, Yenjai C, Jay M (2007) Simultaneous identification and quantitation of 11 flavonoid constituents in Kaempferia parviflora by gas chromatography. J Chromatogr A 1143:227–233

9.

Yenjai C, Prasanphen K, Daodee S, Wongpanich V, Kittakoop P (2004) Bioactive flavonoids from Kaempferia parviflora. Fitoterapia 75:89–92

10.

Azuma T, Tanaka Y, Kikuzaki H (2008) Phenolic glycosides from Kaempferia parviflora. Phytochemistry 69:2743–2748

11.

Panthong A, Tassaneeyakul W, Kanjanapothi D, Tantiwachwuttikul P, Reutrakul V (1989) Anti-inflammatory activity of 5,7-dimethoxyflavone. Planta Med 55:133–136

12.

Yenjai C, Prasanphen K, Daodee S, Wongpanich V, Kittakoop P (2004) Bioactive flavonoids from Kaempferia parviflora. Fitoterapia 75:85–92

13.

Tuchinda P, Reutrakul V, Claeson P, Pongprayoon U, Sematong T, Santisuk T, Taylor WC (2002) Anti-inflammatory cyclohexenyl chalcone derivatives in Boesenbergia pandurata. Phytochemistry 59:169–173

14.

Hirayama I, Yi Z, Izumi S, Arai I, Suzuki W, Nagamachi Y, Kuwano H, Takeuchi T, Izumi T (1999) Genetic analysis of obese diabetes in the TSOD mouse. Diabetes 48:1183–1191

15.

Mizutani S, Gomi H, Hirayama I, Izumi T (2006) Chromosome 2 locus Nidd5 has a potent effect on adiposity in the TSOD mouse. Mamm Genome 17:375–384

16.

Suzuki E, Iizuka S, Tabuchi M, Funo S, Yanagisawa T, Kimura M, Sato T, Endo T, Kawamura H (1999) A new mouse model of spontaneous diabetes derived from ddy strain. Exp Anim 48:181–189

17.

Iizuka S, Suzuki W, Tabuchi M, Nagata M, Imamura S, Kobayashi Y, Kanitani M, Yanagisawa T, Kase Y, Takeda S, Aburada M, Takanashi K (2005) Diabetic complications in a new animal model (TSOD mouse) of spontaneous NIDDM with obesity. Exp Anim 4:71–83

18.

Takahashi A, Tabuchi M, Suzuki W, Iizuka S, Nagata M, Ikeya Y, Takeda S, Shimada T, Aburada M (2006) Insulin resistance and low sympathetic nerve activity in the Tsumura Suzuki obese diabetic mouse: a new model of spontaneous type 2 diabetes mellitus and obesity. Metabolism 55:1664–1669

19.

Miura T, Suzuki W, Ishihara E, Arai I, Ishida H, Seino Y, Tanigawa K (2001) Impairment of insulin-stimulated GLUT4 translocation in skeletal muscle and adipose tissue in the Tsumura Suzuki obese diabetic mouse: a new genetic animal model of type 2 diabetes. Eur J Endocrinol 145:785–790

20.

Suzuki W (1998) TSOD mice. Diabetes Front 9:485–488

21.

Li RW, Theriault AG, Au K, Douglas TD, Casaschi A, Kurowska EM, Mukherjee R (2006) Citrus polymethoxylated flavones improve lipid and glucose homeostasis and modulate adipocytokines in fructose-induced insulin resistant hamsters. Life Sci 79(4):365–373

22.

Tsuda T, Ueno Y, Aoki H, Koda T, Horio F, Takahashi N, Kawada T, Osawa T (2004) Anthocyanin enhances adipocytokine secretion and adipocyte-specific gene expression in isolated rat adipocytes. Biochem Biophys Res Commun 316(1):149–157

23.

Choi JS, Yokozawa T, Oura H (1991) Antihyperlipidemic effect of flavonoids from Prunus davidiana. J Nat Prod 54(1):218–224

24.

Monforte MT, Trovato A, Kirjavainen S, Forestieri AM, Galati EM, Lo Curto RB (1995) Biological effects of hesperidin, a citrus flavonoid. (note II): hypolipidemic activity on experimental hypercholesterolemia in rat. Farmaco 50(9):595–599

25.

Bok SH, Lee SH, Park YB, Bae KH, Son KH, Jeong TS, Choi MS (1999) Plasma and hepatic cholesterol and hepatic activities of 3-hydroxy-3-methyl-glutaryl-CoA reductase and acyl CoA: cholesterol transferase are lower in rats fed citrus peel extract or a mixture of citrus bioflavonoids. J Nutr 129(6):1182–1185

26.

Maruyama H, Sumitou Y, Sakamoto T, Araki Y, Hara H (2009) Antihypertensive effects of flavonoids isolated from Brazilian green propolis in spontaneously hypertensive rats. Biol Pharm Bull 32(7):1244–1250

27.

Perez-Vizcaino F, Duarte J, Jimenez R, Santos-Buelga C, Osuna A (2009) Antihypertensive effects of the flavonoid quercetin. Pharmacol Rep 61(1):67–75

28.

McNeill AM, Rosamond WD, Girman CJ, Golden SH, Schmidt MI, East HE, Ballantyne CM, Heiss G (2005) The metabolic syndrome and 11-year risk of incident cardiovascular disease in the atherosclerosis risk in communities study. Diabetes Care 28(2):385–390

29.

Kurella M, Lo JC, Chertow GM (2005) Metabolic syndrome and the risk for chronic kidney disease among nondiabetic adults. J Am Soc Nephrol 16(7):2134–2140

30.

Jung HA, Yoon NY, Kang SS, Kim YS, Choi JS (2008) Inhibitory activities of prenylated flavonoids from Sophora flavescens against aldose reductase and generation of advanced glycation endproducts. J Pharm Pharmacol 60(9):1227–1236

31.

Cervantes-Laurean D, Schramm DD, Jacobson EL, Halaweish I, Bruckner GG, Boissonneault GA (2006) Inhibition of advanced glycation end product formation on collagen by rutin and its metabolites. J Nutr Biochem 17(8):531–540

32.

Baba S, Osakabe N, Kato Y, Natsume M, Yasuda A, Kido T, Fukuda K, Muto Y, Kondo K (2007) Continuous intake of polyphenolic compounds containing cocoa powder reduces LDL oxidative susceptibility and has beneficial effects on plasma HDL-cholesterol concentrations in humans. Am J Clin Nutr 5(3):709–717

33.

Terao J (1999) Dietary flavonoids as antioxidants in vivo: conjugated metabolites of (−)-epicatechin and quercetin participate in antioxidative defense in blood plasma. J Med Investig 46(3–4):159–168

34.

Kurosawa T, Itoh F, Nozaki A, Nakano Y, Katsuda S, Osakabe N, Tsubone H, Kondo K, Itakura H (2005) Suppressive effects of cacao liquor polyphenols (CLP) on LDL oxidation and the development of atherosclerosis in Kurosawa and Kusanagi-hypercholesterolemic rabbits. Atherosclerosis 79(2):237–246

35.

Hertog MG, Kromhout D, Aravanis C, Blackburn H, Buzina R, Fidanza F, Giampaoli S, Jansen A, Menotti A, Nedeljkovic S (1995) Flavonoid intake and long-term risk of coronary heart disease and cancer in the Seven Countries Study. Arch Intern Med 155(4):381–386
Acknowledgments
This study was supported in part by the Matching Fund Subsidy for Private Universities of the Ministry of Education, Culture, Sports, Science and Technology (High Technology Research Center Project, 2004–2008).
Additional information
T. Akase and T. Shimada contributed equally to this work.
About this article
Cite this article
Akase, T., Shimada, T., Terabayashi, S. et al. Antiobesity effects of Kaempferia parviflora in spontaneously obese type II diabetic mice. J Nat Med 65, 73–80 (2011). https://doi.org/10.1007/s11418-010-0461-2
Received:

Accepted:

Published:

Issue Date:
Keywords
Kaempferia parviflora

Metabolic syndrome

TSOD mouse

Obesity

Visceral fat

Diabetes mellitus