Abstract
To examine the effects of Panax notoginseng saponins (PNS), the main active components of Panax notoginseng, on ovariectomy-induced osteoporosis in rats. A total of 72 six-month-old female rats were randomly assigned to sham-operated group and five ovariectomized (OVX) groups: OVX with distilled water (5 ml/kg/day, p.o.), OVX with graded doses of PNS (75, 150, 300 mg/kg/day, p.o.), and OVX with nilestriol (1 mg/kg/week, p.o.). Animals were sacrificed after a 13-week treatment course. Compared with the OVX group, PNS administration prevented OVX-induced decrease in bone mineral density (BMD) of lumbar vertebrae and total femur, and significantly increased bone structural biomechanical properties. Improvements of BMD and biomechanical properties were accompanied by the beneficial changes of PNS on trabecular microarchitecture in the tibial metaphysis. PNS at the highest dose significantly prevent decrease in trabecular bone volume over bone total volume, trabecular number, trabecular thickness, connectivity density, and increase in trabecular separation and structure model index in OVX rats. The bone-modulating effects of PNS may be due to the increased bone formation and decreased bone resorption, as was evidenced by the elevated level of serum alkaline phosphatase and decreased level of urinary deoxypyridinoline. PNS treatment is able to enhance BMD, bone strength, and prevent the deterioration of trabecular microarchitecture without hyperplastic effect on uterus. Therefore, PNS might be a potential alternative medicine for the prevention and treatment of postmenopausal osteoporosis.
Access options
Buy single article
Instant access to the full article PDF.
US$ 39.95
Tax calculation will be finalised during checkout.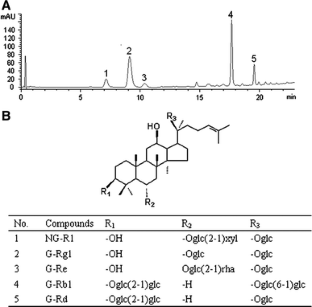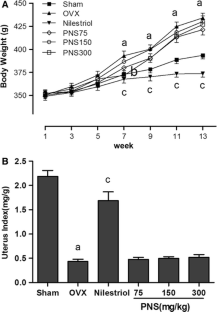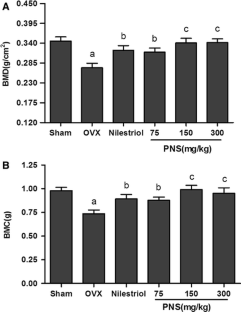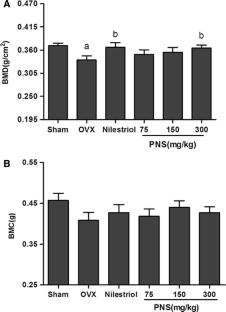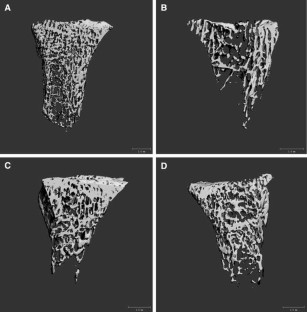 References
1.

Chung HY, Sung B, Jung KJ, Zou Y, Yu BP (2006) The molecular inflammatory process in aging. Antioxid Redox Signal 8:572–581

2.

Weitzman MN, Pacifici R (2006) Estrogen deficiency and bone loss: an inflammatory tale. J Clin Invest 116:1186–1194

3.

Ragab AA, Nalepka JL, Bi Y, Greenfield EM (2002) Cytokines synergistically induce osteoclast differentiation: support by immortalized or normal calvarial cells. Am J Physiol Cell Physiol 283:C679–C687

4.

Orija IB, Mehta A (2003) Hormone replacement therapy: current controversies. Clin Endocrinol 59:657

5.

Kang HJ, Ansbacher R, Hammoud MM (2002) Use of alternative and complementary medicine in menopause. Int J Gynecol Obstet 79:195–207

6.

Puel C, Mardon J, Agalias A, Davicco MJ, Lebecque P, Mazur A et al (2008) Major phenolic compounds in olive oil modulate bone loss in an ovariectomy/inflammation experimental model. J Agric Food Chem 56:9417–9422

7.

Park JA, Ha SK, Kang TH, Oh MS, Cho MH, Lee SY et al (2008) Protective effect of apigenin on ovariectomy-induced bone loss in rats. Life Sci 82:1217–1223

8.

Shiguemoto GE, Rossi EA, Baldissera V, Gouveia CH, de Valdez Vargas GM, de Andrade Perez SE (2007) Isoflavone-supplemented soy yoghurt associated with resistive physical exercise increase bone mineral density of ovariectomized rats. Maturitas 57:261–270

9.

Dontas I, Halabalaki M, Moutsatsou P, Mitakou S, Papoutsi Z, Khaldi L et al (2006) Protective effect of plant extract from Onobrychis ebenoides on ovariectomy-induced bone loss in rats. Maturitas 53:234–242

10.

Li L, Sheng Y, Zhang J, Guo D (2005) Determination of four active saponins of Panax notoginseng in rat feces by high-performance liquid chromatography. J Chromatogr Sci 43:421–425

11.

Li L, Zhang JL, Sheng YX, Guo DA, Wang Q, Guo HZ (2005) Simultaneous quantification of six major active saponins of Panax notoginseng by high-performance liquid chromatography-UV method. J Pharm Biomed Anal 38:45–51

12.

Lee YJ, Jin YR, Lim WC, Park WK, Cho JY, Jang S et al (2003) Ginsenoside-Rb1 acts as a weak phytoestrogen in MCF-7 human breast cancer cells. Arch Pharm Res 26:58–63

13.

Chan RY, Chen WF, Dong A, Guo D, Wong MS (2002) Estrogen-like activity of ginsenoside Rg1 derived from Panax notoginseng. J Clin Endocrinol Metab 87:3691–3695

14.

Bae EA, Shin JE, Kim DH (2005) Metabolism of ginsenoside Re by human intestinal microflora and its estrogenic effect. Bio Pharm Bull 28:1903–1908

15.

Zhao GR, Xiang ZJ, Ye TX, Yuan YJ, Guo ZX (2006) Antioxidant activities of Salvia miltiorrhiza and Panax notoginseng. Food Chem 99:767–774

16.

Rhule A, Navarro S, Smith JR, Shepherd DM (2006) Panax notoginseng attenuates LPS-induced pro-inflammatory mediators in RAW264.7 cells. J Ethnopharmacol 106:121–128

17.

Chang SH, Choi Y, Park JA, Jung DS, Shin J, Yang JH et al (2007) Anti-inflammatory effects of BT-201, an n-butanol extract of Panax notoginseng, observed in vitro and in a collagen-induced arthritis model. Clin Nutr 26:785–791

18.

Gong YS, Chen J, Zhang QZ, Zhang JT (2006) Effect of 17β-oestradiol and ginsenodise on osteoporosis in ovariectomised rats. J Asian Nat Prod Res 8:649–656

19.

Zhao Y, Zou B, Shi Z, Wu Q, Chen GQ (2007) The effect of 3-hydroxybutyrate on the in vitro differentiation of murine osteoblast MC3T3-E1 and in vivo bone formation in ovariectomized rats. Biomaterials 28:3063–3073

20.

Nian H, Qin LP, Zhang QY, Zheng HC, Yu Y, Huang BK (2006) Antiosteoporotic activity of Er-Xian Decoction, a traditional Chinese herbal formula, in ovariectomized rats. J Ethnopharmacol 108:96–102

21.

Pastoureau P, Chomel A, Bonnet J (1995) Specific evaluation of localized bone mass and bone loss in the rat using dual-energy X-ray absorptiometry subregional analysis. Osteoporos Int 5:143–149

22.

Turner CH, Burr CB (1993) Basic mechanical measurements of bone: a tutorial. Bone 14:595–608

23.

Gowen M, Lazner F, Dodds R, Kapadia R, Field J, Tavaria M et al (1999) Cathepsin K knockout mice develop osteoporosis due to a deficit in matrix degradation but not demineralization. J Bone Miner Res 14:1654–1663

24.

Devareddy L, Khalil DA, Smith BJ, Lucas EA, Soung do Y, Marlow DD (2006) Soy moderately improves microstructural properties without affecting bone mass in an ovariectomized rat model of osteoporosis. Bone 38:686–693

25.

Urasopon N, Hamada Y, Cherdshewasart W, Malaivijitnond S (2008) Preventive effects of Pueraria mirifica on bone loss in ovariectomized rats. Maturitas 59:137–148

26.

Dang ZC, van Bezooijen RL, Karperien M, Papapoulos SE, Lowik CW (2002) Exposure of KS483 cells to estrogen enhances osteogenesis and inhibits adipogenesis. J Bone Miner Res 17:394–405

27.

Joyner JM, Hutley LJ, Cameron DP (2001) Estrogen receptors in human preadipocytes. Endocrine 15:225–230

28.

Mosekilde L (1995) Assessing bone quality—animal models in preclinical osteoporosis research. Bone 17:343S–352S

29.

Peng ZQ, Vaananen HK, Zhang HX, Tuukkanen J (1997) Long-term effects of ovariectomy on the mechanical properties and chemical composition of rat bone. Bone 20:207–212

30.

Zhang YZ, Yu L, Ao M, Jin W (2006) Effect of ethanol extract of Lepidium meyenii Walp. on osteoporosis in ovariectomized rat. J Ethonopharmacol 105:274–279

31.

Goss PE, Qi S, Cheung AM, Hu H, Mendes M, Pritzker KP (2004) Effects of the steroidal aromatase inhibitor exemestane and the nonsteroidal aromatase inhibitor letrozole on bone and lipid metabolism in ovariectomized rats. Clin Cancer Res 10:5717–5723

32.

Ren P, Ji H, Shao Q, Chen X, Han J, Sun Y (2007) Protective effects of sodium daidzein sulfonate on trabecular bone in ovariectomized rats. Pharmacology 79:129–136

33.

Liu ZG, Zhang R, Li C, Ma X, Liu L, Wang JP et al (2009) The osteoprotective effect of Radix Dipsaci extract in ovariectomized rats. J Ethnopharmacol 123:74–81

34.

Bouxsein ML (2003) Mechanisms of osteoporosis therapy: a bone strength perspective. Clin Cornerstone 12:S13–S21

35.

Felsenberg D, Boonen S (2005) The bone quality framework: determinants of bone strength and their interrelationship, and implications for osteoporosis management. Clin Ther 27:1–11

36.

Silva MJ, Gibson LJ (1997) Modeling the mechanical behavior of vertebral trabecular bone: effects of age-related changes in microstructure. Bone 21:191–199

37.

Borah B, Gross GJ, Dufresne TE, Smith TS, Cockman MD, Chmielewski PA et al (2001) Three-dimensional microimaging (MRmicrol and microCT), finite element modeling, and rapid prototyping provide unique insights into bone architecture in osteoporosis. Anat Rec 265:101–110

38.

Tanaka M, Toyooka E, Kohno S, Ozawa H, Ejiri S (2003) Long-term changes in trabecular structure of aged rats alveolar bone after ovariectomy. Oral Surg Oral Med Oral Pathol Oral Radiol Endod 95:495–502

39.

Laib A, Kumer JL, Majumdar S, Lane NE (2001) The temporal changes of trabecular architecture in ovariectomized rats assessed by MicroCT. Osteoporos Int 12:936–941

40.

Bhattacharya A, Rahman M, Sun D, Fernandes G (2007) Effect of fish oil on bone mineral density in aging C57BL/6 female mice. J Nutr Biochem 18:372–379

41.

Lowry OH, Rosebrough NJ, Farr AL, Randall RJ (1951) Protein measurement with the Folin phenol reagent. J Biol Chem 193:265–275

42.

Davicco MJ, Remond B, Jabel S, Barlet JP (1992) Plasma osteocalcin concentrations in cows around parturition. The influence of a regular versus a very short dry period. Reprod Nutr Dev 32:313–319

43.

Chan BY, Lau KS, Jiang B, Kennelly EJ, Kronenberg F, Kung AW (2008) Ethanolic extract of Actaea racemosa (black cohosh) potentiates bone nodule formation in MC3T3-E1 preosteoblast cells. Bone 43:567–573

44.

Korach KS, Emmen JM, Walker VR, Hewitt SC, Yates M, Hall JM et al (2003) Update on animal models developed for analyses of estrogen receptor biological activity. J Steroid Biochem Mol Biol 86:387–391

45.

Lindberg MK, Moverare S, Skrtic S, Gao H, Dahlman-Wright K, Gustafsson JA et al (2003) Estrogen receptor (ER)-beta reduces ERalpha-regulated gene transcription, supporting a "ying yang" relationship between ERalpha and ERbeta in mice. Mol Endocrinol 17:203–208

46.

Rossouw JE, Anderson GL, Prention RL, LaCroix AZ, Koopergerg C, Stefanick ML et al (2002) Risks and benefits of estrogen plus progestin in healthy postmenopausal women: principal results Form the Women's Health Initiative randomized controlled trial. JAMA 288:321–333

47.

Jordan VC, Gapstur S, Morrow M (2001) Selective estrogen receptor modulation and reduction in risk of breast cancer, osteoporosis, and coronary heart disease. J Natl Cancer Inst 19:1449–1457
Acknowledgments
Special thanks to Prof. Pu Zumao (China Pharmaceutical University) for her excellent technical assistance.
About this article
Cite this article
Shen, Y., Li, YQ., Li, SP. et al. Alleviation of ovariectomy-induced osteoporosis in rats by Panax notoginseng saponins. J Nat Med 64, 336–345 (2010). https://doi.org/10.1007/s11418-010-0416-7
Received:

Accepted:

Published:

Issue Date:
Keywords
Panax notoginseng saponins

Ovariectomy

Osteoporosis

Trabecular bone

μCT