Abstract
Cinnamomi Cortex, which is normally referred to as cinnamon, is a very popular spice as well as an important natural medicine. High-quality cinnamon is traditionally believed to taste sweet and be strongly pungent without astringency. Cinnamomi Cortex with larger amounts of cinnamaldehyde was sweeter in taste comparisons. The contents of tannins and sugars in cinnamon powder had little effect on the taste. Evaluations of the sweetness and pungency of cinnamaldehyde solutions (0.1, 0.25, 0.50, 0.75, 1.0, and 5.0 mg/ml) were performed using volunteers. The scores for sweetness increased significantly from 0.10 to 0.50 mg/ml (P < 0.05, Mann–Whitney U-test), but there was no significant difference above 0.75 mg/ml. The concentration threshold for the sweet taste of cinnamaldehyde appeared to be less than 0.75 mg/ml, and the more concentrated solutions gave excessive pungency. Therefore, two contrastive tastes of Cinnamomi Cortex, sweet and pungent, were both attributed to cinnamaldehyde. Consequently, its taste, one of its indices of quality, seems to vary mainly according to the content of cinnamaldehyde.
Access options
Buy single article
Instant access to the full article PDF.
USD 39.95
Price includes VAT (USA)
Tax calculation will be finalised during checkout.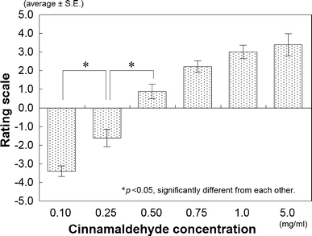 References
1.

Harada M, Ozaki Y (1972) Pharmacological studies on Chinese cinnamon. I. Central effects of cinnamaldehyde. Yakugaku Zasshi 92(2):135–140

2.

Huss U, Ringbom T, Perera P, Bohlin L, Vasänge M (2002) Screening of ubiquitous plant constituents for COX-2 inhibition with a scintillation proximity based assay. J Nat Prod 65:1517–1521

3.

Alzoreky NS, Nakahara K (2003) Antibacterial activity of extracts from some edible plants commonly consumed in Asia. Int J Food Microbiol 80:223–230

4.

Arctander S (1969) Perfume and flavor chemicals. Monograph 619, vol 1. S Arctander, Montclair, NJ

5.

Hussain RA, Kim J, Hu TW, Pezzuto JM, Soejarto DD, Kinghorn AD (1986) Isolation of a highly sweet constituent from Cinnamomum osmophloeum leaves. Planta Med 52:403–404

6.

Kawamitsu Y, Tokumaru K (2001) Heisei 13 nendo naikaku-fu itaku chosa kenkyu "mangrove ni kansuru chosa kenkyu houkokusho", pp 193–202

7.

Salles C, Nicklaus S, Septier C (2003) Determination and gustatory properties of taste-active compounds in tomato juice. Food Chem 81:395–402

8.

Ooi LSM, Li Y, Kam SL, Wang H, Wong EYL, Ooi VEC (2006) Antimicrobial activities of cinnamon oil and cinnamaldehyde from the Chinese medicinal herb Cinnamomum cassia Blume. Am J Chin Med 34(3):511–522

9.

Yoneda Y, Kato S (1994) Relationship between taste and concentration of caffeine and tannin in tea infusion. Sci Cook 27(1):31–38

10.

Nishioka I (1992) Chemical constituents of cassia bark. J Tradit Sino-Japanese Med 13:83–89

11.

Anetai M, Aoyagi M, Havashi T, Hatakeyama Y (2000) Preparation and chemical evaluation of Angelicae Radix produced in Hokkaido (Part III). Time course study of dilute ethanol-soluble extract and sucrose contents. Rep Hokkaido Inst Public Health 50:6–10

12.

Anetai M, Masuda T, Takasugi M (1997) Preparation and chemical evaluation of Glehnia Root prepared from Glehnia littoralis cultivated in Tottori prefecture. Nat Med 51(5):442–446

13.

Anetai M, Aoyagi M, Shibata T, Iida O, Hatakeyama Y (1998) Preparation and chemical evaluation of Astragali Radix produced in Hokkaido. Nat Med 52(1):10–13

14.

Anetai M, Kanetoshi A, Hayashi T, Aoyagi M, Iida O, Hatakeyama Y (1996) Preparation and chemical evaluation of Saussureae Radix produced in Hokkaido. Nat Med 50(4):284–288

15.

Ito M, Shimada Y, Kiuchi F, Qui TK, Honda G (2004) Field survey of cinnamon in Viet Nam. Nat Med 58(4):168–176

16.

Kondou T, Kawamura K, Noro Y, Tanaka T, Inoue K (1999) Physical and chemical features of Vietnamese and Chinese cinnamon barks on the market. Nat Med 53(4):178–182

17.

Heide RT (1972) Qualitative analysis of the essential oil of cassia (Cinnamomum cassia Blume). J Agric Food Chem 20(4):747–751

18.

Sagara K, Oshima T, Yoshida T, Tong YY, Zhang G, Chen YH (1987) Determination of Cinnamomi Cortex by high-performance liquid chromatography. J Chromatogr 409:365–370

19.

He ZD, Qiao CF, Han QB, Cheng CL, Xu HX, Jiang RW, But PPH, Shaw PC (2005) Authentication and quantitative analysis on the chemical profile of cassia bark (Cortex Cinnamomi) by high-pressure liquid chromatography. J Agric Food Chem 53:2424–2428

20.

Perucka I, Oleszek W (2000) Extraction and determination of capsaicinoids in fruit of hot pepper Capsicum annuum L. by spectrophotometry and high-performance liquid chromatography. Food Chem 71:287–291

21.

Noyer I, Fayet B, Pouliquen-Sonaglia I, Guerere M, Lesgard J (1999) Quantitative analysis of pungent principles of pepper oleoresins: comparative study of three analytical methods. Analusis 27:69–74

22.

Sugai E, Morimitsu Y, Kubota K (2005) Quantitative analysis of sanshool compounds in Japanese pepper (Xanthoxylum piperitum DC.) and their pungent characteristics. Biosci Biotechnol Biochem 69(10):1958–1962

23.

Bartley JP, Jacobs AL (2000) Effects of drying on flavour compounds in Australian-grown ginger (Zingiber ofcinale). J Sci Food Agric 80:209–215

24.

Miyazawa M, Tamura N (2007) Components of the essential oil from sprouts of Polygonum hydropiper L. ('Benitade'). Flavour Fragr J 22:188–190

25.

Depree JA, Howard TM, Savage GP (1998) Flavour and pharmaceutical properties of the volatile sulphur compounds of Wasabi (Wasabia japonica). Food Res Int 31(5):329–337

26.

Yamato M, Kitamura T, Hashigaki K, Kuwano Y, Yoshida N, Koyama T (1972) Syntheses of biologically active isocoumarins. I. Chemical structure and sweet taste of 3,4-dihydroisocoumarins. Yakugaku Zasshi 92:367–370

27.

Lindemann B (1996) Taste reception. Physiol Rev 76(3):719–766

28.

Caterina MJ, Schumacher MA, Tominaga M, Rosen TA, Levine JD, Julius D (1997) The capsaicin receptor: a heat-activated ion channel in the pain pathway. Nature 389:816–824

29.

Ohkubo T, Shibata M (1997) The selective capsaicin antagonist capsazepine abolishes the antinociceptive action of eugenol and guaiacol. J Dent Res 76(4):848–851

30.

Bandell M, Story GM, Hwang SW, Viswanath V, Eid SR, Petrus MJ, Earley TJ, Patapoutian A (2004) Noxious cold ion channel TRPA1 is activated by pungent compounds and bradykinin. Neuron 41:849–857

31.

Friedman M, Kozukue N, Harden LA (2000) Cinnamaldehyde content in foods determined by gas chromatography–mass spectrometry. J Agric Food Chem 48:5702–5709

32.

Clifford MN, Hole M (1977) The naturally occurring cinnamaldehydes. Process Biochem 12:5–9
About this article
Cite this article
Yokomi, N., Ito, M. Influence of composition upon the variety of tastes in Cinnamomi Cortex. J Nat Med 63, 261–266 (2009). https://doi.org/10.1007/s11418-009-0326-8
Received:

Accepted:

Published:

Issue Date:
Keywords
Cinnamomi Cortex

Cinnamaldehyde

Sweetness

Pungency

Taste evaluation