Abstract
From the fruits of Phaleria macrocarpa, icariside C3 (1), phalerin (2), and mangiferin (3) were isolated and their structures were identified on the basis of spectroscopic data. Icariside C3 (1) showed a slow vasorelaxant activity against noradrenaline-induced contraction of isolated rat aorta. The structure of phalerin (2) was revised as 2,4′,6-trihydroxy-4-methoxybenzophenone-2-O-β-d-glucoside.
Access options
Buy single article
Instant access to the full article PDF.
USD 39.95
Price excludes VAT (USA)
Tax calculation will be finalised during checkout.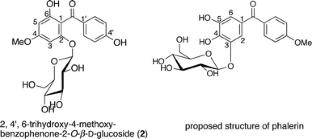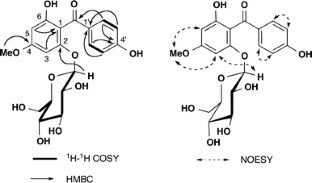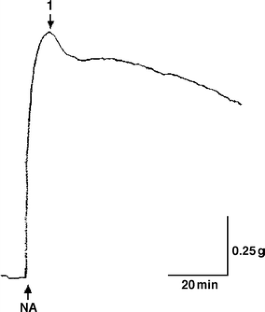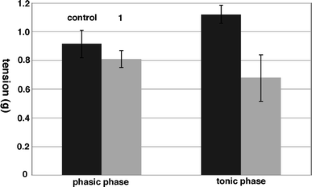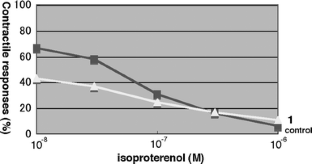 References
Harmanto N (1998) Makutodewa Obat Pusaka Para Dewa. Agro Media Pustaka, Jakarta, pp 7–13

Hartati WMS, Mubarika S, Gandjar IG, Hamann MT, Rao KV, Wahyuono S (2005) Phalerin, a new benzophenoic glucoside isolated from the methanolic extract of Mahkota Dewa (Phaleria macrocarpa) leaves. Majalah Farmasi Indones 16:51–57

Morita H, Eda M, Iizuka T, Hirasawa Y, Sekiguchi M, Yun YS, Itokawa H, Takeya K (2006) Structure of a new cyclic nonapeptide, segetalin F and vasorelaxant activity of segetalins from Vaccaria segetalis. Bioorg Med Chem Lett 17:4458–4461

Morita H, Iizuka T, Choo CY, Chan KL, Takeya K, Kobayashi J (2006) Vasorelaxant activity of cyclic peptide, cyclosquamosin B, from Annona squamosa. Bioorg Med Chem Lett 16:4609–4611

Miyase T, Ueno A, Takizawa N, Kobayashi H, Karasawa H (1987) Studies on the glycosides of Epimedium grandiflorum Morr. var. thunbergianum (Miq.) Nakai. I. Chem Pharm Bull 35:1109–1117

Ferrari J, Terreaux C, Sahpaz SD, Msonthi J, Wolfender JL, Hostettmann K (2000) Benzophenone glycosides from Gnidia involucrata. Phytochemistry 54:883–889

Fujita M, Inoue T (1982) Studies on the constituents of Iris flo-. rentina L. II. C-glucosides of xanthones and flavones from the leaves. Chem Pharm Bull 30:2342–2348

Nagai M, Noguchi M, Iizuka T, Otani K, Kamata K (1996) Vasodilator effects of des(α-carboxy-3,4-dihydroxyphenethyl)lithospermic acid (8-epiblechnic acid), a derivative of lithospermic acids in salviae miltiorrhizae radix. Biol Pharm Bull 19:228–233
Acknowledgments
This work was supported by a Grant-in-Aid for Scientific Research from the Ministry of Education, Culture, Sports, Science, and Technology of Japan, and a grant by the Open Research Center Project. We gratefully acknowledge the financial support provided by Assessment Service Unit, Faculty of Pharmacy, Airlangga University.
About this article
Cite this article
Oshimi, S., Zaima, K., Matsuno, Y. et al. Studies on the constituents from the fruits of Phaleria macrocarpa . J Nat Med 62, 207–210 (2008). https://doi.org/10.1007/s11418-007-0209-9
Received:

Accepted:

Published:

Issue Date:

DOI: https://doi.org/10.1007/s11418-007-0209-9
Keywords
Phaleria macrocarpa

Vasorelaxant activity

Icariside C3

Phalerin

Mangiferin