Abstract
Human security in post-war societies depends on incentives to forego violence in local interactions. The government of Cambodia monitors domestic violence, land conflicts and serious crime in over 13,000 villages and urban neighbourhoods. We use three annual data collections to estimate the response of these conflicts to the legacy of the war, poverty and resource competition, urbanity as well as governance quality. Bayesian spatial regressions help identify socio-economic thresholds beyond which conflicts expand or contract significantly. We find numerous non-linearities in the propensities for violence. Notably, predicted rates decrease in response to quality of governance only at a high level of service provision, which, realistically, most communities may not soon achieve. This may justify dedicated programmes addressing particular types of conflicts. We propose alternative analytic approaches, including some that would make the problem of endogeneity more tractable once updated poverty estimates become available.
Access options
Buy single article
Instant access to the full article PDF.
USD 39.95
Price includes VAT (USA)
Tax calculation will be finalised during checkout.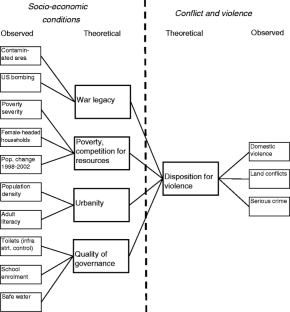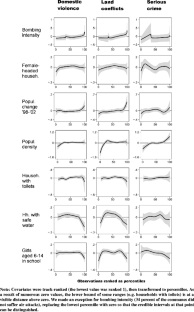 Notes
1.

2.

The effects on domestic violence and land conflicts just barely miss the significance mark. In the Bayesian estimates of these coefficients, 5.2% are below zero for domestic violence, and 5.8% for land conflicts. The percentage for serious crime is 14.9.

3.

We are grateful to a reviewer who pointed out that Broadhurst's observation was only in relation to homicide rates while our definition of serious crimes included also robbery, rape and serious theft. Broadhurst's study showed, among other things, that robbery rates were consistently higher in urban areas.
References
Andersen, H. (2004). Cambodia's Seila Program: A decentralized approach to rural development and poverty reduction. Reducing poverty, sustaining growth—what works, what doesn't, and why. a global exchange for scaling up success. Scaling up poverty reduction: A global learning process and conference. Shanghai, 25–27 May 2004. Washington DC: The World Bank.

Andrienko, Y. (2002). Explaining crime growth in Russia during transition: Economic and criminometric approach [EERC Working Paper # 99-252e]. Moscow: EERC Research Network.

Barron, P., Kaiser, K., & Pradhan, M. (2004). Local conflict in Indonesia. Measuring incidence and identifying patterns. World Bank Policy Research Working Paper 3384, August 2004. Washington DC: World Bank.

Bassi, F., & Fabbris, L. (1997). Estimators of nonsampling errors in interview-reinterview supervised surveys with interpenetrated assignments. In: L. Lyberg et al. (eds) Survey measurement and process quality. New York:Wiley, pp 733–751

Beall, J., Crankshaw, O., & Parnell, S. (2000). Victims, villains and fixers: The urban environment and Johannesburg's poor. Journal of Southern African Studies (Special issue on African Environments Past and Present), 26(4 ), 833–855.

Benson, M. L., Fox, G. L., DeMaris, A., & Van Wyk, J. (2003). Neighborhood disadvantage, individual economic distress and violence against women in intimate relationships. Journal of Quantitative Criminology, 19(3), 207–235.

Best, N., Richardson, S., & Thomson, A. (2005). A comparison of Bayesian spatial models for disease mapping. Statistical Methods in Medical Research, 14(1), 35–59.

Bott, S., Morrison, A. R., & Ellsberg, M. (2005). Preventing and responding to gender-based violence in middle and low-income countries: A global review and analysis. Policy Research Working Paper No. 3618. Washington DC: The World Bank.

Brezger, A., Kneib, T., & Lang, S. (2005). BayesX: Analyzing Bayesian structured additive regression models. Journal of Statistical Software, 14(11), 1–22.

Broadhurst, R. (2002). Lethal violence, crime and state formation in Cambodia. Australian and New Zealand Journal Of Criminology, 35(1), 1–26. doi:10.1375/acri.35.1.1.

Brush, L. D., Raphael, J., & Tolman, R. M. (2003). Special issue: Domestic violence and poverty - Guest editor's introduction. Violence Against Women, 9(10), 1167–1170.

Cavill, S., & Sohail, M. (2003). Accountability in the provision of urban services: Ethics. Proceedings of the Institution of Civil Engineers. Municipal Engineer, 156(4), 235–244.

Chr. Michelsen Institute. (2004). Governance interventions in post-war situations: Lessons learned [Governance in Post-Conflict Situations United Nations Development Programme & Chr. Michelsen Institute Bergen Seminar Series Bergen, Norway 5–7 May 2004]. Chr. Michelsen Institute, Bergen, Retrieved 5 January 2006, from http://www.undp.org/oslocentre/docs04/BergenSeminar2004CMIResearchPaper.pdf.

Colletta, N. J., & Cullen, M. L. (2000). Violent conflict and the transformation of social capital: Lessons from Cambodia, Rwanda, Guatemala, and Somalia. Washington, D.C.: World Bank.

Collier, P., Elliot, L., Hegre, H., Hoeffler, A., Reynol-Querol, M. & Sambanis, N. (2003). Breaking the conflict trap: Civil conflict and development policy. World Bank Policy Research Report p. 222. Washington, DC: World Bank.

De Walque, D. (2005). Selective mortality during the Khmer Rouge period in Cambodia. Population and Development Review, 31(2), 351–368. doi:10.1111/j.1728–4457.2005.00069.x.

Deininger, K., (2003). Causes and Consequences of Civil Strife: Micro-Level Evidence from Uganda. World Bank Policy Research Working Paper No. 3045. Available at SSRN: http://ssrn.com/abstract=636407

Demombynes, G., & Ozler, B. (2002). Crime and local inequality in South Africa. Policy Research Working Paper # 2925. Washington DC: The World Bank.

Devereux, S. (2003). Conceptualising destitution. IDS Working Paper 216.' Brighton, Institute of Development Studies Retrieved 5 August 2004, from http://www.ids.ac.uk/ids/bookshop/wp/wp216.pdf.

Do, Q.-T. (2005). Updated data on Cambodia? Personal communication [15 Dec 2005] to. A. Benini. Hanoi: The World Bank.

DSCA. (2004). Combat Activities File (CACTA) October 1965–December 1970; Southeast Asia Database (SEADAB) January 1970–June 1975; Combat Naval Gunfire File (CONGA) March 1966–January 1973 [Housed at the National Archives in Record Group 218, "Records of the U.S. Joint Chiefs of Staff"]. W. D. Defense Security Cooperation Agency (DSCA).

Eisner, M. A. (2001). Modernization, self-control and lethal violence-the long-term dynamics of European homicide rates in theoretical perspective. British Journal of Criminology, 41, 618–638. doi:10.1093/bjc/41.4.618.

Ellsberg, M., Heise, L., Pena, R., Agurto, S., & Winkvist, A. (2001). Researching violence against women: Methodological and ethical considerations. Studies in Family Planning, 32(1), 1–16.

Ember, C., & Ember, M. (1994). War, socialization, and interpersonal violence. The Journal of Conflict Resolution, 38(4), 620–646. doi:10.1177/0022002794038004002.

Fahrmeir, L., & Osuna, L. (2005). Structured count data regression. Department of Statistics, Ludwig-Maximilian-Universitaet Munchen, Retrieved 15 December 2005, from http://www.stat.uni-muenchen.de/∼bayesx/bayesxwhat.html.

Fajnzylber, P., Lederman, D., & Loayza, N. (1999). Inequality and violent crime. Washington DC: The World Bank.

Filmer, D., & Pritchett, L. (2001). Estimating wealth effects without expenditure data—or tears: an application to educational enrollment in states of India. Demography, 38, 115–132.

Fujii, T. (2003). Commune-level estimation of poverty measures and its application in Cambodia. Berkeley: University Of California.

Goodhand, J. (2003). Enduring disorder and persistant poverty: A review of the linkages between war and chronic poverty. World Development, 31(3), 629–646. doi:10.1016/S0305-750X(03)00009-3.

Goodhand, J., Hulme, D., & Lewer, N. (2000). Social capital and the political economy of violence: a case study of Sri Lanka. Disasters, 24(4), 390–406.

Gurr, T., Marshall, M., & Khosla, D. (2001). Peace and conflict 2001: A global survey of armed conflict, self determination and democracy. College Park, MD, Center for International Development and Conflict Management, University of Maryland.

Heise, L., Raikes, A., Watts, C., & Zwi, A. (1994). Violence against women: A neglected puclic health issue in less developed countries. Social Science and Medicine, 39(9), 1165–1179.

Held, L., Natario, I., Fenton, S. E., Rue, H., & Becker, N. (2005). Towards joint disease mapping. Statistical Methods in Medical Research, 14(1), 61–82.

Heuveline, P. (1998). Between one and three million in Cambodia: Toward the demographic reconstruction of a decade of cambodian history (1970–1980). Population Studies, 52(1), 49–65. doi:10.1080/0032472031000150176.

International Campaign to Ban Landmines (2003). Landmine monitor report 2003: Toward a Mine-Free World, Landmine Monitor Core Group.

Jackman, S. (2000). Estimation and inference via Bayesian simulation: An introduction to Markov Chain Monte Carlo. American Journal of Political Science, 44(2), 375–404. doi:10.2307/2669318.

Jackman, S. (2004). Bayesian analysis for political research. Annual Review of Political Science, 7, 483–505. doi:10.1146/annurev.polisci.7.012003.104706.

Kelly, M. (2000). Inequality and crime. Review of Economics and Statistics, 82, 530–539. doi:10.1162/003465300559028.

Kiernan, B. (1996). The Pol Pot regime: race, power, and genocide in Cambodia under the Khmer Rouge, 1975–79. New Haven: Yale University Press.

Kiernan, B. (2003). The demography of the genocide in Southeast Asia: The death tolls in Cambodia, 1975–79, and East Timor, 1975–80. Critical Asian Studies, 35(4), 585–597. doi:10.1080/1467271032000147041.

Koppell, C., & Sharma, A. (2003). Preventing the next wave of conflict. Understanding non-traditional threats to global stability. Report of the Non-Traditional Threats Working Group. Washington, D.C., Woodrow Wilson International Center for Scholars.

Law, J., & Haining, R. (2004). A Bayesian approach to modeling binary data: The case of high-intensity crime areas. Geographical Analysis, 36(3), 197–216. doi:10.1353/geo.2004.0010.

Mack, A., (Ed.) (2005). Human Security Report 2005 [Pre-publication version]. Vancouver, Centre for Human Security, Liu Institute for Global Issues, University of British Columbia. Oxford University Press.

McGrew, L., Frieson, K., & Chan, S. (2004). Good governance from the ground up: Women's roles in post-conflict Cambodia [Women Waging Peace Policy Commission. Sanam Naraghi Anderlini, Series Editor]. Cambridge MA: Hunt Alternatives Fund.

Miguel, E., & Roland, G. (2005). The long run impact of bombing Vietnam [draft: March 2005]. Berkeley: University of California, Department of Economics.

Neupert, R. F., & Prum, V. (2005). Cambodia: Reconstructing the demographic stab of the past and forecasting the demographic scar of the future. European Journal of Population–Revue Européenne de Démographie, 21(2–3), 217–246. doi:10.1007/s10680-005-6854-3.

Ninh, K., & Henke, R. (2005). Commune councils in Cambodia: A national survey on their functions and performance, with a special focus on conflict resolution Phnom Penh, Asia Foundation.

Owen, T. (2002). Body Count: Rationale and methodologies for measuring human security. Human Security Bulletin, 1(3). [Pre-publication version]

Owen, T., & Benini, A. (2005). Correlates of violence: Modeling human security in post-conflict Cambodia. [Unpubl. ms.]. Oslo: PRIO.

Pedersen Dyreng, T. (2004). Bayesian analysis of human security in Cambodia. Dept. Mathematical Sciences p. 47. Trondheim: Norwegian University of Science and Technology.

Sánchez, F., Diaz E., A. M., & Formisano, M. (2003). Conflict, violence and criminal activity in Colombia: A spatial analysis [Conflicto, Violencia Y Actividad Criminal En Colombia: Un Analisis Espacial], CEDE Working Paper No. 2003–05. Bogota: Universidad de los Andes.

SEILA. (2005). SEILA program-poverty alleviation through good governance [SEILA Home Page]. Government of Cambodia Retrieved 15 December 2005, from http://www.seila.gov.kh/indexs.asp?language=kh&pgid=1.

Shawcross, W. (1987). Sideshow: Kissinger, Nixon, and the destruction of Cambodia. New York: Simon & Schuster.

Simmons, C. S. (2004). The political economy of land conflict in the Eastern Brazilian Amazon. Annals of the Association of American Geographers, 94(1), 183–206. doi:10.1111/j.1467-8306.2004.09401010.x.

Soares, R. R. (2004). Crime reporting as a measure of institutional development. Economic Development and Cultural Change, 52, 851–871. doi:10.1086/420900.

Valentino, B. A. (2004). Final solutions: mass killing and genocide in the twentieth century. Ithaca: Cornell University Press.

Western, B. (2001). Bayesian thinking about macrosociology. American Journal of Sociology, 107(2), 353–378. doi:10.1086/323639.

Woodward, S. L. (2002). Local governance approach to social re-integration and economic recovery in post-conflict countries: The political context for programs Of UNDP/UNCDF Assistance [Discussion Paper For The Workshop "A Local Governance Approach To Post-Conflict Recovery" 8 October 2002]. New York.

Zhu, L., Gorman, D. M., & Horel, S. (2006). Hierarchical Bayesian spatial models for alcohol availability, drug "hot spots" and violent crime. International Journal of Health Geographics, Retrieved 1 February 2007, from http://www.ij-healthgeographics.com/content/5/1/54.
Acknowledgements
For technical advice that we received during the analysis, we express our gratitude to the following persons: Thomas Kneib and Andreas Brezger, Department of Statistics, Ludwig-Maximilians University, Munich, Germany; Kristian Gleditsch, Department of Government, University of Essex, Colchester, United Kingdom; Wonjae Hwang, Center for International Studies, University of Missouri-St Louis, MO; and Lawrence Moulton, Department of International Health, Bloomberg School of Public Health, Johns Hopkins University, Baltimore, MD.
Electronic supplementary material
Below is the link to the electronic supplementary material.
About this article
Cite this article
Benini, A., Owen, T. & Rue, H. A Semi-Parametric Spatial Regression Approach to Post-War Human Security: Cambodia, 2002–2004. Asian Criminology 3, 139–158 (2008). https://doi.org/10.1007/s11417-008-9056-1
Received:

Accepted:

Published:

Issue Date:
Keywords
Human security

Semi-parametric spatial regression

Post-war society

Cambodia