Abstract
Research suggests the train-the-trainer (TtT) model may be an effective approach to training community mental health providers in evidence-based practice (EBP). This study compared pre- and post-training consultation outcomes as well as standardized measures of trainer attributes and behaviors between university-based master trainers and experienced community-based supervisors, trained under the TtT approach. Findings suggest local and master trainers are equivalent in terms of clinical teaching effectiveness and trainee-perceived charisma. Master trainers may have higher trainee-perceived credibility, but training and consultation outcomes are equivalent across the types of trainers, with the exception of behavioral problems where clinicians trained by local trainers and master trainers saw significantly greater growth than those who received training and consultation by master trainers.
Access options
Buy single article
Instant access to the full article PDF.
US$ 39.95
Tax calculation will be finalised during checkout.
Subscribe to journal
Immediate online access to all issues from 2019. Subscription will auto renew annually.
US$ 79
Tax calculation will be finalised during checkout.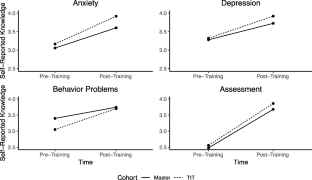 References
1.

Institute of Medicine. Psychosocial interventions for mental and substance use disorders: a framework for establishing evidence-based standards. (England MJ, Butler AS, Gonzalez ML, eds.). Washington (DC): National Academies Press (US); 2015. http://www.ncbi.nlm.nih.gov/books/NBK305126/. Accessed March 21, 2019.

2.

Williams NJ, Beidas RS. Annual research review: the state of implementation science in child psychology and psychiatry: a review and suggestions to advance the field. Journal of Child Psychology and Psychiatry. August 2018. https://doi.org/10.1111/jcpp.12960

3.

Weisz JR, Kuppens S, Ng MY, et al. What five decades of research tells us about the effects of youth psychological therapy: a multilevel meta-analysis and implications for science and practice. American Psychologist. 2017;72(2):79-117. https://doi.org/10.1037/a0040360

4.

Bruns EJ, Kerns SEU, Pullmann MD, et al. Research, data, and evidence-based treatment use in state behavioral health systems, 2001-2012. Psychiatric Services. 2016;67(5):496-503. https://doi.org/10.1176/appi.ps.201500014

5.

Cummings JR, Ponce NA, Mays VM. Comparing racial/ethnic differences in mental health service use among high-need subpopulations across clinical and school-based settings. Journal of Adolescent Health. 2010;46(6):603-606. https://doi.org/10.1016/j.jadohealth.2009.11.221

6.

Kovess-Masfety V, Van Engelen J, Stone L, et al. Unmet need for specialty mental health services among children across Europe. Psychiatric Services. 2017;68(8):789-795. https://doi.org/10.1176/appi.ps.201600409

7.

Sheppard R, Deane FP, Ciarrochi J. Unmet need for professional mental health care among adolescents with high psychological distress. Australian and New Zealand Journal of Psychiatry. 2018;52(1):59-67. https://doi.org/10.1177/0004867417707818

8.

Beidas RS, Kendall PC. Training therapists in evidence-based practice: a critical review of studies from a systems-contextual perspective. Clinical Psychology : a publication of the Division of Clinical Psychology of the American Psychological Association. 2010;17(1):1-30. https://doi.org/10.1111/j.1468-2850.2009.01187.x

9.

Herschell AD, Kolko DJ, Baumann BL, et al. The role of therapist training in the implementation of psychosocial treatments: a review and critique with recommendations. Clinical Psychology Review. 2010;30(4):448-466. https://doi.org/10.1016/j.cpr.2010.02.005

10.

Rakovshik SG, McManus F. Establishing evidence-based training in cognitive behavioral therapy: a review of current empirical findings and theoretical guidance. Clinical Psychology Review. 2010;30(5):496-516. https://doi.org/10.1016/j.cpr.2010.03.004

11.

Olmstead T, Carroll KM, Canning-Ball M, et al. Cost and cost-effectiveness of three strategies for training clinicians in motivational interviewing. Drug and Alcohol Dependence. 2011;116(1-3):195-202. https://doi.org/10.1016/j.drugalcdep.2010.12.015

12.

Nakamura BJ, Selbo-Bruns A, Okamura K, et al. Developing a systematic evaluation approach for training programs within a train-the-trainer model for youth cognitive behavior therapy. Behaviour Research and Therapy. 2014;53:10-19. https://doi.org/10.1016/j.brat.2013.12.001

13.

Pearce J, Mann MK, Jones C, et al. The most effective way of delivering a train-the-trainers program: a systematic review. The Journal of Continuing Education in the Health Professions. 2012;32(3):215-226.

14.

Yarber L, Brownson CA, Jacob RR, et al. Evaluating a train-the-trainer approach for improving capacity for evidence-based decision making in public health. BMC Health Services Research. 2015;15(1):547. https://doi.org/10.1186/s12913-015-1224-2

15.

Zisblatt L, Hayes SM, Lazure P, et al. Safe and competent opioid prescribing education: Increasing dissemination with a train-the-trainer program. Substance Abuse. 2017;38(2):168-176. https://doi.org/10.1080/08897077.2016.1275927

16.

Burley M. Outpatient Treatment Differences for Children Served in Washington's Public Mental Health System. Olympia, WA: Washington State Institute for Public Policy; 2009.

17.

Ambady N, Rosenthal R. Thin slices of expressive behavior as predictors of interpersonal consequences: a meta-analysis. Psychological Bulletin. 1992;111(2):256-274. https://doi.org/10.1037/0033-2909.111.2.256

18.

Piccolo RF, Colquitt JA. Transformational leadership and job behaviors: the mediating role of job characteristics. Academy of Management Journal. 2006:327–340.

19.

Cooper CL. Adverse and growthful effects of experiential learning groups: the role of the trainer, participant, and group characteristics. Human Relations. 1977;30(12):1103-1129. https://doi.org/10.1177/001872677703001204

20.

Boyd MR, Lewis CC, Scott K, et al. The creation and validation of the Measure of Effective Attributes of Trainers (MEAT). Implementation Science. 2017;12(1):73. https://doi.org/10.1186/s13012-017-0603-y

21.

Copeland H, Hewson MGA. Developing and testing an instrument to measure the effectiveness of clinical teaching in an academic medical center. Academic medicine : journal of the Association of American Medical Colleges. 2000;75(2):161-166. https://doi.org/10.1097/00001888-200002000-00015

22.

R Core Team (2019). R: A language and environment forstatistical computing. R Foundation for Statistical Computing,Vienna, Austria. https://www.R-project.org/

23.

Dorsey S, Berliner L, Lyon AR, et al. A statewide common elements initiative for children's mental health. The Journal of Behavioral Health Services & Research. 2016;43(2):246-261. https://doi.org/10.1007/s11414-014-9430-y

24.

Orfaly RA, Frances JC, Campbell P, et al. Train-the-trainer as an educational model in public health preparedness: Journal of Public Health Management and Practice. 2005;11(Supplement):S123-S127. https://doi.org/10.1097/00124784-200511001-00021

25.

Glasgow RE, Riley WT. Pragmatic measures: what they are and why we need them. American Journal of Preventive Medicine. 2013;45(2):237-243. https://doi.org/10.1016/j.amepre.2013.03.010

26.

Dorsey S, Pullmann MD, Kerns SEU, et al. The juggling act of supervision in community mental health: implications for supporting evidence-based treatment. Administration and Policy in Mental Health and Mental Health Services Research. 2017;44(6):838-852. https://doi.org/10.1007/s10488-017-0796-z
Acknowledgements
We'd like to thank the local trainers for their hard work leading trainings and support developing the train-the-trainer initiative: Rachel Barrett, Dan Fox, Melissa Gorsuch-Clark, Cara Graham, Louisa Hall, Phoebe Mulligan, and Renee Slaven. This publication was made possible in part by funding from the Washington State Department of Social and Health Services, Division of Behavioral Health Recovery.
Funding
This publication was made possible in part by funding from the Washington State Department of Social and Health Services, Division of Behavioral Health Recovery (WA DBHR).
Ethics declarations
All evaluation activities were reviewed by the Washington State IRB and were exempted from review.
Conflict of interest
Dr. Sedlar, Ms. Berliner, Dr. Jungbluth, and Dr. Dorsey were paid by WA DBHR to serve as the master trainers for the initiative outlined in this study. The remaining authors declare that they have no conflict of interest.
Human participants
All procedures performed in studies involving human participants were in accordance with the ethical standards of the institutional and/or national research committee and with the 1964 Helsinki declaration and its later amendments or comparable ethical standards.
Informed consent
Informed consent was obtained from all individual participants included in the study.
Additional information
Publisher's Note
Springer Nature remains neutral with regard to jurisdictional claims in published maps and institutional affiliations.
About this article
Cite this article
Triplett, N.S., Sedlar, G., Berliner, L. et al. Evaluating a Train-the-Trainer Approach for Increasing EBP Training Capacity in Community Mental Health. J Behav Health Serv Res 47, 189–200 (2020). https://doi.org/10.1007/s11414-019-09676-2
Keywords
Training

Community mental health

Evidence-based practice