Abstract
This article describes research that focuses on the concern that researchers are unable to fully realize the potential value of their collective efforts because they do not have shared conceptual or operational tools for communicating assumptions, ideas, research strategies, or findings with others outside, or even within their disciplines. This research, through the lens of measuring implementation of educational programs, has taken steps toward bringing researchers' varied pictures of understanding into a coherent landscape. This article describes a conceptual framework for describing aspects of implementation, a conceptual framework for describing the factors that affect implementation, and tools for measuring each. It describes the challenges addressed in the development of these approaches, and the application of these approaches to current studies in education and other fields in the social sciences. In doing so, it demonstrates that meaningful communication between researchers and accumulation of knowledge across fields is possible, and necessary.
Access options
Buy single article
Instant access to the full article PDF.
US$ 39.95
Tax calculation will be finalised during checkout.
Subscribe to journal
Immediate online access to all issues from 2019. Subscription will auto renew annually.
US$ 79
Tax calculation will be finalised during checkout.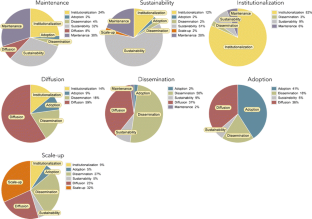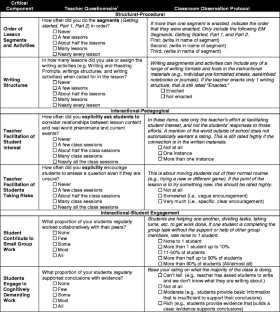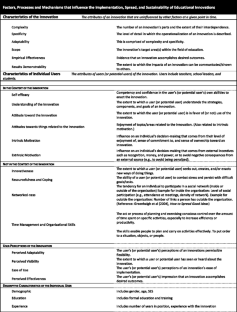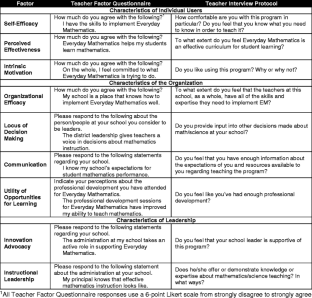 References
1.

Aarons, G., Hurlburt, M., Horwitz, SM. Advancing a conceptual model of evidence-based practice implementation in public service sectors. Administration Policy Mental Health. 2011; 38:4-23.

2.

Durlak, J., Dupre, E. Implementation matters: a review of research on the influence of implementation on program outcomes and the factors affecting implementation. American Journal Community Psychology. 2008; 41:327-350.

3.

Proctor, E., Silmere, H., Raghavan, R., et al. Outcomes for implementation research: conceptual distinctions, measurement challenges, and research agenda. Administration Policy Mental Health. 2011; 38:65-76.

4.

Hulleman, C.S. & Cordray, D.S. (2009). Moving from the lab to the field: The role of fidelity and achieved intervention strength. Journal of Research on Educational Effectiveness, 2, 88-110.

5.

Mowbray, C. T., Holter, M. C., Teague, G. B., et al. Fidelity criteria: Development, measurement, and validation. The American Journal of Evaluation. 2003;24(3):315-340.

6.

O'Donnell, C.L. Defining, conceptualizing, and measuring fidelity of implementation and its relationship to outcomes in K-12 curriculum intervention research. Review of Educational Research. 2008; 78(1): 33-84.

7.

Domitrovich, C., Bradshaw, C., Poduska, J., et al. Advances in school mental health promotion. 2008; 1(3): 6- 28.

8.

Fixsen D., Blase K., Naoom S., et al. Core implementation components. Research on Social Work Practice. 2009;19(5):531.

9.

Sanetti, L.M.H., Kratochwill, T.R. Toward developing a science of treatment integrity: Introduction to the special series. School Psychology Review. 2009;38(4):445–459.

10.

Damschroder, L., Aron, D., Keith, R., et al. Fostering implementation of health services research findings into practice: a consolidated framework for advancing implementation science. 2009; 4:50.

11.

The road ahead: research partnerships to transform services. A report by the National Advisory Mental Health Council's Workgroup on Services and Clinical Epidemiology Research. Bethesda, MD: Department of Health and Human Services, National Institute of Mental Health; 2001.

12.

Backer, T., David, S.L. Synthesis of behavioral science learning about technology transfer. National Institute on Drug Abuse. NIH Publication. 1995; 95-4035: 262-289.

13.

Greenhalgh, T., Robert, G., MacFarlane, F., et al. Diffusion of innovations in service organizations: systematic review and recommendations. 2004; 82(4): 581-629.

14.

Wandersman, A., Duffy, J., Flaspohler, P., et al. Bridging the gap between prevention research and practice: the interactive systems framework for dissemination and implementation. 2008; 41: 171-181. 8

15.

Century, J., Rudnick, M. & Freeman, C. Measuring Fidelity of Implementation: A Foundation for Shared Language and Accumulation of Knowledge. American Journal of Evaluation. 2010;31(2):199-218.

16.

Hall, G. E., Hord, S. M. Change in Schools: Facilitating the Process. New York, State University of New York Press. 1987:117

17.

Bond, G., Williams, J., Evans, L., et al. Psychiatric Rehabilitation Fidelity Toolkit. Cambridge, MA: Human Services Research Institute. 2000.

18.

Huntley, M. A. Operationalizing the concept of "fidelity of implementation" for NSF-funded mathematics curricula. Unpublished manuscript. 2005.

19.

Wang, M. C., Nojan, M., Strom, C. D., et al. The utility of degree of implementation measures in program implementation and evaluation research. Curriculum Inquiry. 1984;14:249–286.

20.

Gresham F.M, Gansle K, Noell G.H. Treatment integrity in applied behavior analysis with children. Journal of Applied Behavior Analysis. 1993; 26:257–263

21.

Rezmovic, E. L. Program implementation and evaluation results. Evaluation and Program Planning, 1982;5:111-118.

22.

Hall, G. E., & Loucks, S. F. A developmental model for determining whether the treatment is actually implemented. American Educational Research Journal, 1977;14(3):263-276.

23.

Fullan, M., & Pomfret, A. Research on curriculum and instruction implementation. Review of Educational Research. 1977;47(2):335-397.

24.

Fullan, M. Evaluating program implementation: What can be learned from follow through. Curriculum Inquiry. 1983;13(2):215-227.

25.

Gersten, R. M. & Carnine, D. Measuring implementation of the direct instruction model in an urban school district: An observational approach. Paper presented at the Annual Meeting of the American Educational Research Association, Boston, MA. 1980.

26.

Lastica, J & O'Donnell, C. Considering the role of fidelity of implementation in science education research: Fidelity as teacher and student adherence to structure. Paper presented at the Annual Meeting of the American Educational Research Association, Chicago, IL. 2007.

27.

Dane, A. V., Schneider, B. H. Program integrity in primary and early secondary prevention: Are implementation effects out of control? Clinical Psychology Review. 1998; 18:23-45.

28.

Herie, M. & Martin, G. Knowledge diffusion in social work: A new approach to bridging the gap. Social Work. 2002;47(1):85—95

29.

Cranney, M., Warren, E., Barton, S., et al. Why do GPs not implement evidence–based guidelines? A descriptive study. Family Practice. 2001;18(4):353–355.

30.

Freeman, A. C., & Sweeney, K. Why general practitioners do not implement evidence: qualitative study. British Medical Journal. 2001:323(7321):1100–1102.

31.

Louis, K. S. & Jones, L. M. Dissemination with impact: What research suggests for practice in career and technical education. St. Paul, MN: University of Minnesota, National Research Center for Career and Technical Education. 2001

32.

Robertson, T. (The process of innovation and the diffusion of innovation. Journal of Marketing. 1967;31(1):14-19.
Acknowledgments
Much of the work referenced in this paper was funded with support from the National Science Foundation.
About this article
Cite this article
Century, J., Cassata, A., Rudnick, M. et al. Measuring Enactment of Innovations and the Factors that Affect Implementation and Sustainability: Moving Toward Common Language and Shared Conceptual Understanding. J Behav Health Serv Res 39, 343–361 (2012). https://doi.org/10.1007/s11414-012-9287-x
Keywords
Behavioral Health

Implementation Process

School Leader

Implementation Research

Landscape Architecture