Abstract
The goal of this study was to evaluate potential mental health benefits of yoga for adolescents in secondary school. Students were randomly assigned to either regular physical education classes or to 11 weeks of yoga sessions based upon the Yoga Ed program over a single semester. Students completed baseline and end-program self-report measures of mood, anxiety, perceived stress, resilience, and other mental health variables. Independent evaluation of individual outcome measures revealed that yoga participants showed statistically significant differences over time relative to controls on measures of anger control and fatigue/inertia. Most outcome measures exhibited a pattern of worsening in the control group over time, whereas changes in the yoga group over time were either minimal or showed slight improvements. These preliminary results suggest that implementation of yoga is acceptable and feasible in a secondary school setting and has the potential of playing a protective or preventive role in maintaining mental health.
Access options
Buy single article
Instant access to the full article PDF.
US$ 39.95
Tax calculation will be finalised during checkout.
Subscribe to journal
Immediate online access to all issues from 2019. Subscription will auto renew annually.
US$ 79
Tax calculation will be finalised during checkout.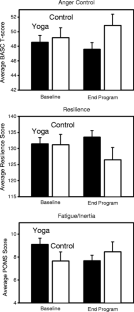 References
1.

Suldo SM, Shaunessy E, Hardesty R. Relationships among Stress, Coping, and Mental Health in High-Achieving High School Students. Psychology in the Schools. 2008;45:273–290.

2.

Roberts RE, Roberts CR, Chan W. One-Year Incidence of Psychiatric Disorders and Associated Risk Factors among Adolescents in the Community. Journal of Child Psychology and Psychiatry and Allied Disciplines. 2009;50:405–415.

3.

Kessler RC, Wang PS. The Descriptive Epidemiology of Commonly Occurring Mental Disorders in the United States. Annual Review of Public Health. 2008;29:115–129.

4.

Kraag G, Zeegers MP, Kok G, et al. School Programs Targeting Stress Management in Children and Adolescents: A Meta-Analysis. Journal of School Psychology. 2006;44:449–472.

5.

Hampel P, Meier M, Kummel U. School-Based Stress Management Training for Adolescents: Longitudinal Results from an Experimental Study. Journal of Youth and Adolescence. 2008;37:1009–1024.

6.

Michalsen A, Grossman P, Acil A et al. Rapid Stress Reduction and Anxiolysis among Distressed Women as a Consequence of a Three-Month Intensive Yoga Program. Medical Science Monitor. 2005;11:CR555-CR561.

7.

Granath J, Ingvarsson S, von Thiele U, et al. Stress Management: A Randomized Study of Cognitive Behavioural Therapy and Yoga. Cognitive Behavioural Therapy. 2006;35:3–10.

8.

Khalsa SB, Cope S. Effects of a Yoga Lifestyle Intervention on Performance-Related Characteristics of Musicians: A Preliminary Study. Medical Science Monitor. 2006;12:CR325-CR331.

9.

Khalsa SBS. Yoga as a Therapeutic Intervention: A Bibliometric Analysis of Published Research Studies. Indian Journal of Physiology and Pharmacology. 2004;48:269–285.

10.

White LS. Yoga for Children. Pediatric Nursing. 2009;35:277–83, 295.

11.

Birdee GS, Yeh GY, Wayne PM, et al. Clinical Applications of Yoga for the Pediatric Population: A Systematic Review. Academic Pediatrics. 2009;9:212–220.

12.

Galantino ML, Galbavy R, Quinn L. Therapeutic Effects of Yoga for Children: A Systematic Review of the Literature. Pediatric Physical Therapy. 2008;20:66–80.

13.

Angus SF. Three Approaches to Stress Management for Children. Elementary School Guidance and Counseling. 1989;23:228–233.

14.

Saltzman A, Goldin P. Mindfulness-based Stress Reduction for School-Age Children. In: Greco LA, Hayes SC, Greco LA, Hayes SC, eds. Acceptance and mindfulness treatments for children and adolescents: A practitioner's guide. Oakland, CA US: New Harbinger Publications; 2008;139–161.

15.

Jennings PA. Contemplative Education and Youth Development. New Directions for Youth Development. 2008;101–5, 9.

16.

Thompson M, Gauntlett-Gilbert J. Mindfulness with Children and Adolescents: Effective Clinical Application. Clinical Child Psychology and Psychiatry. 2008;13:395–407.

17.

Linden W. Practicing of Meditation by School Children and Their Levels of Field Dependence-Independence, Test Anxiety, and Reading Achievement. Journal of Consulting and Clinical Psychology. 1973;41:139–143.

18.

Barnes VA, Pendergrast RA, Harshfield GA, et al. Impact of Breathing Awareness Meditation on Ambulatory Blood Pressure and Sodium Handling in Prehypertensive African American Adolescents. Ethnicity and Disease. 2008;18:1–5.

19.

Barnes VA, Treiber FA, Davis H. Impact of Transcendental Meditation(R) on Cardiovascular Function at Rest and During Acute Stress in Adolescents with High Normal Blood Pressure. Journal of Psychosomatic Research. 2001;51:597–605.

20.

Benson H, Wilcher M, Greenberg B et al. Academic Performance among Middle-School Students after Exposure to a Relaxation Response Curriculum. Journal of Research and Development in Education. 2000;33:156–165.

21.

Rosaen C, Benn R. The Experience of Transcendental Meditation in Middle School Students: A Qualitative Report. Explore (NY). 2006;2:422–425.

22.

Wall RB. Tai chi and Mindfulness-Based Stress Reduction in a Boston Public Middle School. Journal of Pediatric Health Care. 2005;19:230–237.

23.

Hopkins LJ, Hopkins JT. Yoga in Psychomotor Training. Academic Therapy. 1976;11:461–465.

24.

Hopkins JT, Hopkins LJ. A Study of Yoga and Concentration. Academic Therapy. 1979;14:341–345.

25.

Stueck M, Gloeckner N. Yoga for Children in the Mirror of the Science: Working Spectrum and Practice Fields of the Training of Relaxation with Elements of Yoga for Children. Early Child Development and Care. 2005;175:371–377.

26.

Ehud M, An BD, Avshalom S. Here and Now: Yoga in Israeli Schools. International Journal of Yoga. 2010;3:42–47.

27.

Berger DL, Silver EJ, Stein RE. Effects of Yoga on Inner-City Children's Well-Being: A Pilot Study. Alternative Therapies in Health and Medicine. 2009;15:36–42.

28.

Mendelson T, Greenberg MT, Dariotis JK, et al. Feasibility and Preliminary Outcomes of a School-Based Mindfulness Intervention for Urban Youth. Journal of Abnormal Child Psychology. 2010;38:985–994.

29.

Reynolds CR, Kamphaus RW. Behavior Assessment System for Children - Second Edition. 2nd ed. Circle Pines, MN: AGS, 2004.

30.

McNair DM, Lorr M, Droppleman LF. Manual for the Profile of Mood States. San Diego: Educational and Industrial Testing Services, 1992.

31.

Wagnild GM, Young HM. Development and Psychometric Evaluation of the Resilience Scale. Journal of Nursing Measurement. 1993;1:165–178.

32.

Ahern NR, Kiehl EM, Sole ML, et al. A review of instruments measuring resilience. Issues in Comprehensive Pediatric Nursing. 2006;29:103–125.

33.

Cohen S. Perceived Stress in a Probability Sample of the United States. In: Spacapan S, Oskamp S, eds. The Social Psychology of Health. Sage Publications, Inc; 1988;31–67.

34.

Kass JD, Friedman R, Leserman J, et al. An Inventory of Positive Psychological Attitudes with Potential Relevance to Health Outcomes: Validation and Preliminary Testing. Behavioral Medicine. 1991;17:121–129.

35.

Quilty MT, Goldstein R, Khalsa SBS, et al. Yoga in the Real World: Motivations and Patterns of Use [abstract]. Alternative Therapies in Health and Medicine 2009;15:S154

36.

Carskadon MA, Acebo C, Jenni OG. Regulation of Adolescent Sleep: Implications for Behavior. Annals of the New York Academy of Sciences. 2004;1021:276–291.
Acknowledgments
This work was supported by a gift from Steve Glick and additional funding from the Kripalu Center for Yoga and Health. We thank Monument Mountain Regional High School faculty and staff Maeve Hitzenbuhler, Andrew Luke Bloom, Michelle Campbell, Mike Powell, Sean Flynn, and Becky Campetti for their facilitation of the study and the student body for their participation. Technical research assistance/study coordination was provided by Torrey Baldwin, Tosca Braun, Jessica Frey, and Janna Delgado, and yoga instruction was by Janna Delgado, Iona Brigham, Jane Rosen, Talitha Eustice, Connie Wilson, Karen Arp-Sandel, and Karlee Fain. We thank Angela Wilson, Vandita Marchesiello, Barbara Bonner, Kelly Baxter Spitz, and Carolyn Butler from the Kripalu Center for Yoga and Health for administrative assistance. S. Khalsa and D. Cohen have received consultant fees from the Kripalu Center for Yoga and Health. S. Cope is the director of the Institute for Extraordinary Living and on the paid staff of the Kripalu Center for Yoga and Health.
Additional information
This work was done at Brigham and Women's Hospital, 75 Francis Street, Boston, MA 02115.
About this article
Cite this article
Khalsa, S.B.S., Hickey-Schultz, L., Cohen, D. et al. Evaluation of the Mental Health Benefits of Yoga in a Secondary School: A Preliminary Randomized Controlled Trial. J Behav Health Serv Res 39, 80–90 (2012). https://doi.org/10.1007/s11414-011-9249-8
Keywords
Meditation

Adolescent

Anxiety

Anger

Stress