Abstract
The current research examined the effects of a critical thinking (CT) e-learning course taught through argument mapping (AM) on measures of CT ability. Seventy-four undergraduate psychology students were allocated to either an AM-infused CT e-learning course or a no instruction control group and were tested both before and after an 8-week intervention period on CT ability using the Halpern Critical Thinking Assessment. Results revealed that participation in the AM-infused CT course significantly enhanced overall CT ability and all CT sub-scale abilities from pre- to post-testing and that post-test performance was positively correlated with motivation towards learning and dispositional need for cognition. In addition, AM-infused CT course participants exhibited a significantly larger gain in both overall CT and in argument analysis (a CT subscale) than controls. There were no effects of training on either motivation for learning or need for cognition. However, both the latter variables were correlated with CT ability at post-testing. Results are discussed in light of research and theory on the best practices of providing CT instruction through argument mapping and e-learning environments.
This is a preview of subscription content, log in to check access.
Access options
Buy single article
Instant access to the full article PDF.
US$ 39.95
Price includes VAT for USA
Subscribe to journal
Immediate online access to all issues from 2019. Subscription will auto renew annually.
US$ 99
This is the net price. Taxes to be calculated in checkout.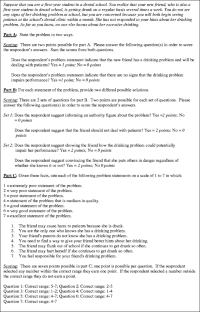 References
Abrami, P. C., Bernard, R. M., Borokhovski, E., Wade, A., Surkes, M. A., Tamim, R., & Zhang, D. (2008). Instructional interventions affecting critical thinking skills and dispositions: a stage 1 meta-analysis. Review of Educational Research, 78(4), 1102–1134.

Alvarez-Ortiz, C. (2007). Does philosophy improve critical thinking skills? Unpublished thesis. The University of Melbourne.

Association of American Colleges & Universities (2005). Liberal education outcomes: A preliminary report on student achievement in college. Washington, DC.

Australian Council for Educational Research (2002). Graduate skills assessment. Commonwealth of Australia.

Boekaerts, M., & Simons, P. R. J. (1993). Learning and instruction: Psychology of the pupil and the learning process. Assen: Dekker & van de Vegt.

Brown, A. (1987). Metacognition, executive control, self-regulation, and other more mysterious mechanisms. In F. Reiner & R. Kluwe (Eds.), Metacognition, motivation, and understanding (pp. 65–116). Hillsdale: Erlbaum.

Butchart, S., Bigelow, J., Oppy, G., Korb, K., & Gold, I. (2009). Improving critical thinking using web-based argument mapping exercises with automated feedback. Australasian Journal of Educational Technology, 25(2), 268–291.

Caciappo, J. T., Petty, R. E., & Kao, C. F. (1984). The efficient assessment of need or cogntion. Journal of Personality Assessment, 48, 306–307.

Dawson, T. L. (2008). Metacognition and learning in adulthood. Northhampton: Developmental Testing Service, LLC.

Dwyer, C. P., Hogan, M. J., & Stewart, I. (2010). The evaluation of argument mapping as a learning tool: Comparing the effects of map reading versus text reading on comprehension and recall of arguments. Thinking Skills and Creativity, 5(1), 16–22.

Dwyer, C. P., Hogan, M. J., & Stewart I. (2011). The promotion of critical thinking skills through argument mapping. Nova Publishing, in press.

Engelmann, T., & Hesse, F. W. (2010). How digital concept maps about the collaborators' knowledge and information influence computer-supported collaborative problem solving. Computer-Supported Collaborative Learning, 5, 299–319.

Engelmann, T., Baumeister, A., Dingel, A., & Hesse, F. W. (2010). The added value of communication in a CSCL-scenario compared to just having access to the partners' knowledge and information. In J. Sánchez, A. Cañas, & J. D. Novak (Eds.), Concept maps making learning meaningful: Proceedings of the 4th international conference on concept mapping, 1 (pp. 377–384). Viña del Mar: University of Chile.

Ennis, R. H. (1989). Critical thinking and subject specificity: Clarification and needed research. Educational Researcher, 18, 4–10.

Ennis, R. H. (1996). Critical thinking. Upper Saddle River: Prentice-Hall.

Ennis, R. H. (1998). Is critical thinking culturally biased? Teaching Philosophy, 21(1), 15–33.

Facione, P.A. (1990). The Delphi report. Committee on pre-college philosophy. American Philosophical Association.

Farrand, P., Hussain, F., & Hennessy, E. (2002). The efficacy of the 'mind map' study technique. Medical Education, 36, 426–431.

Flavell, J. (1979). Metacognition and cognitive monitoring: a new area of psychological inquiry. American Psychologist, 34, 906–911.

Gadzella, B.M. (1996). Teaching and learning critical thinking skills (ERIC ED 405 313), U.S. Department of Education.

Garcia, T., Pintrich, P. R., & Paul, R. (1992). Critical thinking and its relationship to motivation, learning strategies and classroom experience. Paper presented at the 100th Annual Meeting of the American Psychological Association, Washington, DC, August 14–18.

Halpern, D. F. (2003). Thought & knowledge: An introduction to critical thinking (4th ed.). New Jersey: Laurence Erlbaum Associates.

Halpern, D. F. (2006). Is intelligence critical thinking? Why we need a new definition of intelligence. In P. C. Kyllonen, R. D. Roberts, & L. Stankov (Eds.), Extending intelligence: Enhancement and new constructs (pp. 293–310). New York: Taylor & Francis Group.

Halpern, D. F. (2010). The Halpern critical thinking assessment: Manual. Vienna: Schuhfried.

Harrell, M. (2004). The improvement of critical thinking skills. In What philosophy is (Tech. Rep. CMU-PHIL-158). Carnegie Mellon University, Department of Philosophy.

Harrell, M. (2005). Using argument diagramming software in the classroom. Teaching Philosophy, 28, 2. www.hss.cmu.edu/philosophy/harrell/ArgumentDiagramsInClassroom.pdf.

Hattie, J., Biggs, J., & Purdie, N. (1996). Effects of learning skills interventions on student learning: a meta-analysis. Review of Educational Research, 66(2), 99–136.

Higher Education Quality Council, Quality Enhancement Group. (1996). What are graduates? Clarifying the attributes of "graduateness". London: HEQC.

Hitchcock, D. (2003). The effectiveness of computer-assisted instruction in critical thinking. Philosophy department. McMaster University.

Holmes, J., & Clizbe, E. (1997). Facing the 21st century. Business Education Forum, 52(1), 33–35.

Huffaker, D. A., & Calvert, S. L. (2003). The new science of learning: active learning, metacognition and transfer of knowledge in e-learning applications. Journal of Educational Computing Research, 29(3), 325–334.

Hwang, G. J., Shi, Y. R., & Chu, H. C. (2011). A concept map approach to developing collaborative mindtools for context-aware ubiquitous learning. British Journal of Educational Technology, 42(5), 778–789.

Jensen, L. L. (1998). The role of need for cognition in the development of reflective judgment. Unpublished PhD thesis, University of Denver, Colorado, USA.

Jiang, Y., Olson, I. R., & Chun, M. M. (2000). Organization of visual short-term memory. Journal of Experimental Psychology: Learning Memory and Cognition, 26, 683–702. 1997.

Johnson, D.W., Johnson, R.T., & Stanne, M.S. (2000). Cooperative learning methods: A meta-analysis. Retrieved 21/06/2011, from http://www.cooperation.org/pages/cl-methods.html.

King, P. M., & Kitchener, K. S. (2002). The reflective judgment model: Twenty years of epistemic cognition. In B. K. Hofer & P. R. Pintrich (Eds.), Personal epistemology: The psychology of beliefs about knowledge and knowing (pp. 37–61). New Jersey: Lawrence Erlbaum Associates.

Kintsch, W., & van Dijk, T. A. (1978). Toward a model of text comprehension and production. Psychological Review, 85, 363–394.

Ku, K. Y. L. (2009). Assessing students' critical thinking performance: urging for measurements using multi-response format. Thinking Skills and Creativity, 4(1), 70–76.

Ku, K. Y. L., & Ho, I. T. (2010a). Dispositional factors predicting Chinese students' critical thinking performance. Personality and Individual Differences, 48, 54–58.

Ku, K. Y. L., & Ho, I. T. (2010b). Metacognitive strategies that enhance critical thinking. Metacognition Learning, 5, 251–267.

Kuhn, D. (1991). The skills of argument. Cambridge: Cambridge University Press.

Kuhn, D., Goh, W., Iordanou, K., & Shaenfield, D. (2008). Arguing on the computer: a microgenetic study of developing argument skills in a computer-supported environment. Child Development, 79(5), 1310–1328.

Ma, A. W. W. (2009). Computer supported collaborative learning and higher order thinking skills: A case study of textile studies. The Interdisciplinary Journal of e-Learning and Learning Objects, 5, 145–167.

Marzano, R.J. (1998). A theory-based meta-analysis of research on instruction. Aurora, CO: Mid-Continent Regional Educational Laboratory. Retrieved 26/10/2007, from http://www.mcrel.org/pdf/instruction/5982rr_instructionmeta_analysis.pdf.

Maybery, M. T., Bain, J. D., & Halford, G. S. (1986). Information-processing demands of transitive inference. Journal of Experimental Psychology: Learning, Memory, and Cognition, 12(4), 600–613.

Mayer, R. E. (1997). Multimedia learning: are we asking the right questions? Educational Psychologist, 32(1), 1–19.

Mayer, R. E. (2003). The promise of multimedia learning: using the same instructional design methods across different media. Learning and Instruction, 13, 125–139.

Miller, G. A. (1956). The magical number seven, plus or minus two: some limits on our capacity for processing information. Psychological Review, 63, 814–897.

Monk, P. (2001). Mapping the future of argument. Australian Financial Review. 16, March, pp.8–9.

National Academy of Sciences, National Academy of Engineering, Institute of Medicine. (2005). Rising above the gathering storm: Energising and employing America for a brighter economic future. Washington: Committee on Prospering in the Global Economy for the 21st Century.

Norris, S. P. (1994). The meaning of critical thinking test performance: The effects of abilities and dispositions on scores. Critical thinking: Current research, theory, and practice. Dordrecht: Kluwer.

Paivio, A. (1971). Imagery and verbal processes. Hillsdale: Erlbaum.

Paivio, A. (1986). Mental representations: A dual-coding approach. New York: Oxford University Press.

Paul, R. (1987). Dialogical thinking: Critical thought essential to the acquisition of rational knowledge and passions. In J. Baron & R. J. Sternberg (Eds.), Teaching thinking skills: Theory and practice (pp. 127–148). New York: W.H. Freeman.

Paul, R. (1993). Critical thinking: What every person needs to survive in a rapidly changing world. Rohnert Park: Foundation for Critical Thinking.

Perkins, D. N., Jay, E., & Tishman, S. (1993). Beyond abilities: a dispositional theory of thinking. Merrilll Palmer Quarterly, 39, 1–1.

Pintrich, P. R., Smith, D. A., Garcia, T., & McKeachie, W. J. (1991). A manual for the use of the motivated strategies for learning questionnaire (MSLQ). Michigan: National Center for Research to Improve Post-secondary Teaching and Learning.

Reed, J. H., & Kromrey, J. D. (2001). Teaching critical thinking in a community college history course: empirical evidence from infusing Paul's model. College Student Journal, 35(2), 201–215.

Robbins, S., Lauver, K., Le, H., Davis, D., Langley, R., & Carlstrom, A. (2004). Do psychosocial and study skill factors predict college outcomes? A meta-analysis. Psychological Bulletin, 130(2), 261–288.

Roth, W. M., & Roychoudhury, A. (1994). Science discourse through collaborative concept mapping: New perspectives for the teacher. International Journal of Science Education, 16, 437–455.

Sherrard, M., & Czaja, R. (1999). Extending two cognitive processing scales: Need for cognition and need for evaluation for use in a health intervention. European Advances in Consumer Research, 4, 135–142.

Solon, T. (2007). Generic critical thinking infusion and course content learning in introductory psychology. Journal of Instructional Psychology, 34(2), 95–109.

Sweller, J. (1988). Cognitive load during problem solving: effects on learning. Cognitive Science, 12, 257–285.

Sweller, J. (1999). Instructional design in technical areas. Australian Education Review No. 43. Victoria: Acer Press.

Sweller, J. (2010). Cognitive load theory: Recent theoretical advances. In J. L. Plass, R. Moreno, & R. Brünken (Eds.), Cognitive load theory (pp. 29–47). New York: Cambridge University Press.

Tindall-Ford, S., Chandler, P., & Sweller, J. (1997). When two sensory modes are better than one. Journal of Experimental Psychology. Applied, 3(4), 257–287.

Toplak, M. E., & Stanovich, K. E. (2002). The domain specificity and generality of disjunctive reasoning: searching for a generalizable critical thinking skill. Journal of Educational Psychology, 94(1), 197–209.

Twardy, C. R. (2004). Argument maps improve critical thinking. Teaching Philosophy, 27(2), 95–116.

Valenzuela, J., Nieto, A. M., & Saiz, C. (2011). Critical thinking motivational scale: a contribution to the study of relationship between critical thinking and motivation. Journal of Research in Educational Psychology, 9(2), 823–848.

van Eemeren, F. H., Grootendorst, R., Henkemans, F. S., Blair, J. A., Johnson, R. H., Krabbe, E. C. W., Planitin, C., Walton, D. N., Willard, C. A., Woods, J., & Zarefsky, D. (1996). Fundamentals of argumentation theory: A handbook of historical backgrounds and contemporary developments. New Jersey: Lawrence Erlbaum Associates.

van Gelder, T. J. (2001). How to improve critical thinking using educational technology. In G. Kennedy, M. Keppell, C. McNaught, & T. Petrovic (Eds.), Meeting at the crossroads: Proceedings of the 18th annual conference of the Australian society for computers in learning in tertiary education (pp. 539–548). Melbourne: Biomedical Multimedia Unit, University of Melbourne.

van Gelder, T. J. (2003). Enhancing deliberation through computer supported argument mapping. In P. Kirschner, S. Buckingham Shum, & C. Carr (Eds.), Visualizing argumentation: Software tools for collaborative and educational sense-making (pp. 97–115). London: Springer.

van Gelder, T. J. (2007). The rationale for RationaleTM. Law, Probability & Risk, 6, 23–42.

van Gelder, T.J., & Rizzo, A. (2001). Reason!Able across curriculum, in Is IT an Odyssey in Learning? Proceedings of the 2001 Conference of ICT in Education, Victoria, Australia.

van Gelder, T. J., Bissett, M., & Cumming, G. (2004). Enhancing expertise in informal reasoning. Canadian Journal of Experimental Psychology, 58, 142–152.

Wankat, P. (2002). The effective efficient professor: Teaching, scholarship and service. Boston: Allyn and Bacon.

Wegerif, R. (2002). Literature review in thinking skills, technology and learning: Report 2. Bristol: NESTA Futurelab.

Wegerif, R., & Dawes, L. (2004). Thinking and learning with ICT: Raising achievement in the primary classroom. London: Routledge.

Willingham, D. T. (2007). Critical thinking: why is it so hard to teach? American Educator, 3, 8–19.

Woodman, G. F., Vecera, S. P., & Luck, S. J. (2003). Perceptual organization influences visual working memory. Psychonomic Bulletin & Review, 10(1), 80–87.
Appendix A: sample feedback from lecture 3.1
Appendix A: sample feedback from lecture 3.1
Thank you very much to all of you who did the exercises. Below you will find some feedback on exercises from Lecture 3.1.
Exercise: "Ireland should adopt Capital Punishment"
Below please find the argument we have extracted from the text you were asked to analyse. Please compare and contrast your argument map with this one. Also, please take note of where you may have differed in your placement of some propositions and why you made the analysis decisions you made.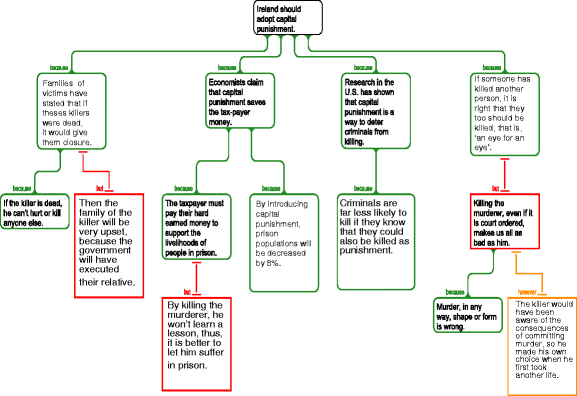 You were also asked to answer a few questions based on this argument map.
Question 1 asked:
Does the author sufficiently support their claims? Are the author's claims relevant? Does the author attempt to refute their own arguments (i.e., disconfirm their belief)?
Some of you answered that:
The author did not sufficiently support his/her claims because most of the propositions used were based on personal opinion (i.e. there was an insufficient amount of evidence to suggest that Ireland should adopt capital punishment). The author did attempt to refute their own claims, however, did so poorly in that he/she only used personal opinion or 'common belief' statements.
The author sufficiently supported their claims as they were sufficiently backed up by other supports. These claims are all relevant to the argument, specifically the central claim. The author does not attempt to disconfirm his beliefs because he sticks to his guns that capital punishment should be adopted.
The truth of the matter is that the author did not sufficiently support his/her claims. Of the 8 reasons he provided, only 3 were based on either expert opinion, statistics from research or research data.
All the arguments made were relevant to the central claim.
The author did attempt to refute his/her claims (i.e. disconfirm their own belief), as on 3 occasions, some form of objection to the reasoning was presented. However, the objections used were not examples of high quality evidence.
Question 2 asked:
Are there other arguments you would include?
Some of you answered that:
Some argument should be made in terms of when the death penalty should/would be used, such as in cases of mental problems or a conviction of manslaughter.
Some argument should consider the nature of the crime, such as how the murder took place –details should be considered.
Everyone has a right to life, even murderers.
Law abiding citizens might grow to fear the government as they would now have more control over you.
Please think about these ideas and claims and also think about how you could possibly integrate them into the argument map. In addition, think about how you might support or object to these new propositions.
Question 3 asked:
Does any proposition or any set of propositions suggest to you that the author is biased in any way?
Some of you answered:
The author is biased because he/she presents more reasons for why we should adopt capital punishment than for not adopting capital punishment.
The author was not biased because though he/she did present more reasons in favour of capital punishment, they were mostly based on personal opinion and were adequately objected to.
The author does certainly appear to be biased. However, some of you argued that it is because the author stated that 'Ireland should adopt capital punishment', thus making it a biased argument from the outset. This is not true, because the author may have made the same claim and then simply presented 5 objections at level 1 in the argument structure (as opposed to 4 supports). Remember, there is more to determining bias than simply assimilating what the central claim is; what is more important is how the author attempts to justify or refute this claim. The reason why this argument is biased is because the author only presents some arguably credible evidence (in 3 cases) to support the claim. In other cases where the author makes a claim and objects to it, both the reasons and objections are based on personal or common belief. This is done to disguise the author's bias. In the cases where the author presents credible evidence, there are no objections.
About this article
Cite this article
Dwyer, C.P., Hogan, M.J. & Stewart, I. An evaluation of argument mapping as a method of enhancing critical thinking performance in e-learning environments. Metacognition Learning 7, 219–244 (2012). https://doi.org/10.1007/s11409-012-9092-1
Received:

Accepted:

Published:

Issue Date:
Keywords
Argument mapping

Critical thinking

e-Learning

Disposition

Cognitive load