Abstract
This study aims at enhancing math learning and general self-regulation by supporting daily self-regulated learning during math homework. The authors use standardized diaries as a self-monitoring tool to support self-regulatory behaviour. Following the theory of self-monitoring, frequent selfmonitoring of self-regulation will lead to an enhancement of self-regulated learning. Complete data stem from a sample of 195 8th grade students. 95 students from the experimental group answer questions in diaries for a period of 49 days and participate in the pre-post measurement whereas the control group only works on the pre- and posttests. The diary consists of questions regarding main components of self-regulation. The time-series analyses of the diary variables show a positive linear trend for self-regulation. The results of the analyses of variance for the pre-post experimental-control group comparison yielded time by group interactions for self-regulation and the math test.
Access options
Buy single article
Instant access to the full article PDF.
USD 39.95
Price includes VAT (USA)
Tax calculation will be finalised during checkout.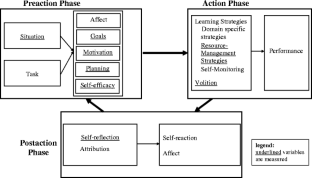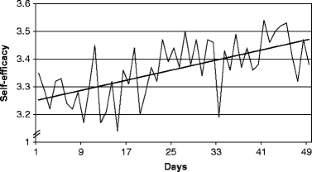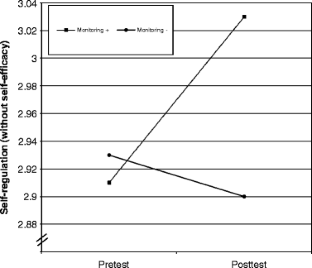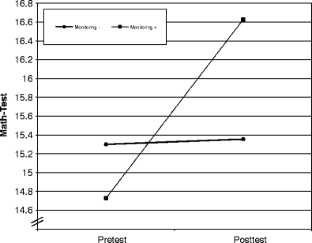 Notes
1.

In the literature one is sometimes confronted with definitional problems of self-monitoring leading to possible confounding. The term self-monitoring is also used by Snyder (1974). He defines high self-monitoring people as particular sensitive to the ways they express and present themselves in social situations and skillfully adjust their performance in order to create or maintain appearances particular suited to their current situations. To be clear: we use the term self-monitoring in the sense of the definition of Webber et al. which was given above.

2.

To avoid unnecessary lengthy wording we still use the term self-monitoring if the meaning is clear.
References
Bandura, A. (1986). Social foundations of thought and action: A social cognitive theory. Englewood Cliffs: Prentice-Hall.

Bandura, A. (1997). Self-efficacy. The exercise of control. New York: Freeman.

Baumert, J., Lehmann, R., Lehrke, M., Schmitz, B., Clausen, C., Hosenfeld, I., et al. (1997). TIMSS- Mathematisch- naturwissenschaftlicher Unterricht im internationalen Vergleich.[Third International Mathematics and Science Study- International comparison of mathematic and science classes.]. Opladen: Leske + Budrich.

Brandstädter, J., & Renner, G. (1988). Fragebogen zur Erfassung von Flexibilität der Zielanpassung und Tenazität der Zielverfolgung.[Questionnaire to measure the flexibility of goal adjustment and the durability of goal pursuance.] Arbeitsgruppe "Entwicklung und Handeln" (Hrsg.), Hartnäckige Zielverfolgung und flexible Zielanpassung. Zur Explikation und altersvergleichenden Analyse assimilativer und akkomodativer Kontroll- und Bewältigungsstrategien. Trier: Universitätsveröffentlichung.

Heckhausen, H., & Kuhl, J. (1985). From wishes to actions: The dead ends and short cuts on the long way to action. In M. Frese & J. Sabini (Eds.), Goal-directed behaviour: The concept of action in psychology (pp. 134–159). Hillsdale: Erlbaum.

Hertzog, C., & Nesselroad, J. R. (2003). Assessing psychological change in adulthood: An overview of methodological issues. Psychology and Aging, 18, 639–657.

Hübner, S., Nückles, M., & Renkl, A. (2010). Writing learning journals: Instructional support to overcome learning-strategy deficits. Learning and Instruction, 20, 18–29.

Kramarski, B., & Mevarech, Z. R. (2003). Enhancing mathematical reasoning in the classroom: The effects of cooperative learning and meta-cognitive training. American Educational Research Journal, 40, 281–310.

Kuhl, J., & Fuhrmann, A. (1998). VCQ- Volitional components questionnaire. Osnabrueck: University of Osnabrueck.

Mevarech, Z., & Fridkin, S. (2006). The effects of IMPROVE on mathematical knowledge, mathematical reasoning and meta-cognition. Metacognition Learning, 1, 85–97.

Morgan, M. (1985). Self-monitoring of attained subgoals in private study. Journal of Educational Psychology, 77, 623–630.

Nückles, M., Hübner, S., & Renkl, A. (2010). Enhancing self-regulated learning by writing learning protocols. Learning and Instruction, 19, 259–271.

Perels, F., Gürtler, T., & Schmitz, B. (2005). Training of self-regulatory and problem- solving competence. Learning and Instruction, 15, 123–139.

Perels, F., Otto, B., Landmann, M., Hertel, S., & Schmitz, B. (2007). Self-regulation from the process perspective. The Journal of Psychology, 215, 149–204.

Pintrich, P. R., Smith, D., Garcia, T., & McKeachie, W. (1991). The motivational strategies for learning questionaire (MSLQ). Ann Arbor: University of Michigan.

Schiefele, U., & Moschner, B. (1997). Motivationale Orientierungen und Lernstrategien im Studium.[Motivational orientation and learning strategies during college.] Selbstkonzepte, Lernmotivation, Lernstrategien, epistemologische Überzeugungen, Instruktionsqualität und Studienleistung. Längsschnittliche Verläufe und kausale Zusammenhänge. Antrag an die Deutsche Forschungsgemeinschaft.

Schmitz, B. (2006). Advantages of studying processes in educational research. Learning and Instruction, 16, 433–449.

Schmitz, B., & Skinner, E. (1993). Percieved control, effort, and academic performance: Interindividual, intraindividual, and multivariate time-series analyses. Journal of Personality and Social Psycholgy, 64, 1010–1028.

Schmitz, B., & Wiese, B. S. (2006). New perspectives for the evaluation of training sessions in self-regulated learning: Time-series analyses of diary data. Contemporary Educational Psychology, 31, 64–96.

Schunk, D. H., & Zimmerman, B. J. (2008). Motivation and self-regulated learning: Theory, research, and applications. New York: Taylor & Francis.

Schwarzer, R., & Jerusalem, M. (1981). Skalen zur Erfassung von Lehrer- und Schülermerkmalen.[Scales measuring teacher and student characteristics] Freie Universität Berlin: Veröffentlichte Skalendokumentation.

Shapiro, E. S. (1984). Self-monitoring procedures. In T. H. Ollendich & M. Hersen (Eds.), Child behaviour assessment: Principles and procedures (pp. 148–165). New York: Pergamon.

Snyder, M. (1974). Self-monitoring of expressive behaviour. Journal of Personality and Social Psychology, 30, 526–537.

Veenman, M. V. J., Van Hout-Wolters, B. H. A. M., & Afflerbach, P. (2006). Metacognition and learning: Conceptual and methodological considerations. Metacognition Learning, 1, 3–14.

Webber, J., Scheuermann, B., McCall, C., & Coleman, M. (1993). Research on self-monitoring as a behaviour management technique in special education classrooms: A descriptive review. Remedial and Special Education, 14, 38–56.

Wild, K.-P., Schiefele, K., & Winteler, A. (1992). LIST - Ein Verfahren zur Erfassung von Lernstrategien im Studium. [A tool to measure learning strategies during college]. München: Universität der Bundeswehr.

Zimmerman, B. J. (2000). Attaining self-regulation. A social cognitive perspective. In M. Boekaerts, P. R. Pintrich, & M. Zeidner (Eds.), Handbook of self-regulation (pp. 13–39). London: Academic.

Zimmerman, B. J., & Kitsantas, A. (2007). Reliability and validity of Self-Efficacy for Learning Form (SELF) scores of college students. The Journal of Psychology, 215, 157–163.

Zimmerman, B. J., & Paulsen, A. S. (1995). Self-monitoring during collegiate studying: An invaluable tool for academic self-regulation. New Directions for Teaching and Learning, 63, 13–27.

Zimmerman, B. J., Bonner, D., & Kovach, R. (1996). Developing self-regulated learners. Washington: American Psychological Ass.
Appendix: part of the diary
Appendix: part of the diary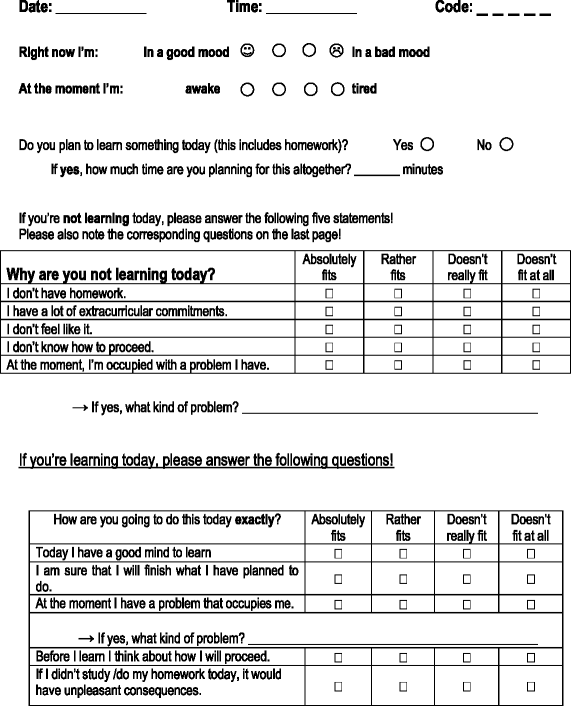 About this article
Cite this article
Schmitz, B., Perels, F. Self-monitoring of self-regulation during math homework behaviour using standardized diaries. Metacognition Learning 6, 255–273 (2011). https://doi.org/10.1007/s11409-011-9076-6
Received:

Accepted:

Published:

Issue Date:
Keywords
Self-monitoring

Self-regulation

Diaries

Time-series

Homework

Math