Abstract
This study provides new evidence on the relationship between abnormal loan growth and banks' risk-taking behavior using data from a rich panel of Colombian financial institutions. We show that abnormal credit growth during a prolonged period leads to an increase in banks' riskiness, accompanied by a reduction in solvency and an increase in the ratio of nonperforming loans to total loans. We also show that abnormal credit growth played a fundamental role in the bank-failure process during the late 1990s financial crisis in Colombia. Our results have important implications for financial regulation and macro-prudential policy.
Access options
Buy single article
Instant access to the full article PDF.
USD 39.95
Price includes VAT (USA)
Tax calculation will be finalised during checkout.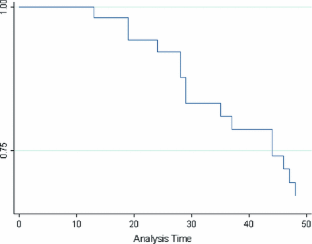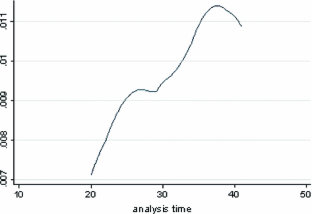 Notes
1.

We use the median rather than the mean of the growth rate of all institutions at a given point in time because our data are highly dispersed and for every given point we find several extreme values.
References
Allesi, L., Detken, C.: Quasi real time early warning indicators for costly asset price boom/bust cycles: a role for global liquidity. Eur. J. Polit. Econ. 27, 520–533 (2011)

Altunbas, Y., Gambacorta, L., Marques-Ibanez, D.: Bank risk and monetary policy. J. Financ. Stab. 6, 121–129 (2010)

Altunbas, Y., Gambacorta, L., Marques-Ibanez, D.: Do bank characteristics influence the effect of monetary policy on bank risk? Econ. Lett. 117, 220–222 (2012)

Bekaert, G., Harvey, C., Lundblad, C.: Does financial liberalization spur growth? NBER Working Paper 8245 (2001)

Bencivenga, V., Smith, B.: Financial intermediation and endogenous growth. Rev. Econ. Stud. 58, 195–209 (1991)

Berger, A.N., Udell, G.F.: The institutional memory hypothesis and the procyclicality of bank lending behavior. J. Financ. Intermed. 13, 458–495 (2004)

Bikker, J., Metzemakers, P.: Bank provisioning behaviour and procyclicality. J. Int. Financ. Mark. Inst. Money 15, 141–157 (2005)

Borio, C.: Ten propositions about liquidity crises. Bank for International Settlements Working Paper 293 (2009)

Borio, C., Furfine, C., Lowe, P.: Procyclicality of the financial system and financial stability: issues and policy options", Bank for International Settlements Working Paper 1 (2001)

Borio, C., Lowe, P.: Asset prices, financial and monetary stability: exploring the nexus. Bank for International Settlements Working Paper 114 (2002)

Carree, M.A.: A hazard rate analysis of Russian commercial banks in the period 1994–1997. Econ. Syst. 27, 255–269 (2003)

Cecchetti, S.G., Kharroubi, E.: Reassessing the impact of finance on growth. Bank for International Settlements Working Paper 381 (2012)

Cotarelli, C., Dell'Ariccia, G., Vladkova-Hollar, I.: Early birds, late risers, and sleeping beauties: Bank credit growth to the private sector in Central and Eastern Europe and in the Balkans. J. Bank. Finance 29, 83–104 (2005)

Cox, D.R.: Regression models and life-tables. J. R. Stat. Soc. B 34, 187–220 (1972)

Dell'Ariccia, G., Igan, D., Laevem, L.: Credit booms and lending standards: evidence from the subprime mortgage market. IMF Working Paper 08/206 (2008)

Demyanyk, Y., Van Hemert, O.: Understanding the subprime mortgage crisis. Rev. Financ. Stud. 24, 1848–1880 (2011)

Fazzari, S., Hubbard, G., Petersen, B.: Finance constraints and corporate investment. Brookings Papers Econ. Activity 1, 141–195 (1988)

Foos, D., Norden, L., Weber, M.: Loan growth and riskiness of banks. J. Bank. Finance 34, 2929–2940 (2010)

García-Suaza, A., Gómez-González, J.E.: The competing risks of acquiring and being acquired: evidence from Colombia's financial sector. Econ. Syst. 34, 437–449 (2010)

García-Suaza, A., Gómez-González, J.E., Murcia Pabón, A., Tenjo-Galarza, F.: The cyclical behavior of bank capital buffers in an emerging economy: size does matter. Econ. Model. 29, 1612–1618 (2012)

Goldstein, M., Kaminsky, G., Reinhart, C.: Early Warning System: An Assessment of Vulnerability. MPRA Paper 24579. University Library of Munich, Germany (2000)

Gómez-González, J.E., Kiefer, N.M.: Bank failure: evidence from the Colombian financial crisis. Int. J. Bus. Finance Res. 3, 15–32 (2009)

Gorton, G.: Information, liquidity and the (ongoing) panic of 2007. Am. Econ. Rev. 99, 567–572 (2009)

Gourio, F., Miao, J.: Firm heterogeneity and the long-run effects of dividend tax reform. Am. Econ. J. Macroecon. 2, 131–168 (2010)

Hofmann, B.: Procyclicality: the macroeconomic impact of risk-based capital requirements. Financ. Mark. Portfolio Manag. 19, 179–200 (2005)

Holmstrom, B., Tirole, J.: Financial intermediation, loanable funds, and the real sector. Q. J. Econ. 112, 663–692 (1997)

Hurst, E., Lusardi, A.: Household wealth, and entrepreneurship. J. Polit. Econ. 112, 319–347 (2004)

Jorda, O., Schularick, M., Taylor, A.: Financial crises, credit booms, and external imbalances: 140 years of lessons. IMF Econ. Rev. 59, 340–378 (2011)

Kaminsky, G., Reinhart, C.: The twin crises: the causes of banking and balance-of-payments problems. Am. Econ. Rev. 89, 473–500 (1999)

Kashyap, A., Stein, J., Wilcox, D.: Monetary policy and credit conditions: evidence from the composition of external finance. Am. Econ. Rev. 83, 78–98 (1993)

Kiefer, N.M.: Economic duration data and hazard functions. J. Econ. Lit. XXVI, 646–679 (1988)

Klein, J.P., Moeschberger, M.L.: Survival Analysis. Techniques for Censored and Truncated Data, 2nd edn. Springer, Berlin (2003)

Kraft, E., Jankov, L.: Does speed kill? Lending booms and their consequences in Croatia. J. Bank. Finance 29, 105–121 (2005)

Leaven, L., Majnoni, G.: Loan loss provisioning and economic slowdowns: too much, too late. J. Financ. Intermed. 12, 178–197 (2003)

Levine, R.: International financial liberalization and economic growth. Rev. Int. Econ. 9, 688–702 (2001)

Mendoza, E., Bianchi, J.: Overborrowing, financial crises and 'macro-prudential' taxes. In: Proceedings, Federal Reserve Bank of San Francisco (2010)

Mishkin, F.: Financial policies and the prevention of financial crises in emerging market economies. World Bank Working Paper 2683 (2001)

Salas, V., Saurina, J.: Credit risk in two institutional regimes: spanish commercial and saving banks. J. Financ. Serv. Res. 22, 203–224 (2002)

Schularick, M., Taylor, A.: Credit booms gone bust: monetary policy, leverage cycles, and financial crises, 1870–2008. Am. Econ. Rev. 102, 1029–1061 (2012)

Sinkey, J., Greenwald, M.: Loan loss experience and risk-taking behavior at large commercial banks. J. Financ. Serv. Res. 5, 43–59 (1991)

Tenjo, F., López, M.: Early warning indicators for Latin America. Ensayos Sobre Política Económica 63, 232–259 (2010)

Weißbach, R., von Lieres, C., Wilkau, : Economic capital for nonperforming loans. Financ. Mark. Portfolio Manag. 24, 67–85 (2010)
Acknowledgments
We gratefully acknowledge comments received from Fernando Tenjo, Leonardo Villar, Juan M. Ramírez, Cristina Ferández, Luis A. Zuleta, Luis Melo, Hernán Rincón, Jair Ojeda, and participants at the Banco de la Republica's Economics Workshop and Fedesarrollo's workshop. We are especially grateful to Professor Markus Schmid and anonymous referees for superb comments and suggestions made to a previous version of this article.
Additional information
The findings, recommendations, interpretations, and conclusions expressed in this paper are those of the authors and do not necessarily reflect the view of the Banco de la República or its Board of Directors.
About this article
Cite this article
Amador, J.S., Gómez-González, J.E. & Pabón, A.M. Loan growth and bank risk: new evidence. Financ Mark Portf Manag 27, 365–379 (2013). https://doi.org/10.1007/s11408-013-0217-6
Keywords
Abnormal loan growth

Hazard duration models

FGLS estimation

Emerging market economies
JEL Classification