Abstract
Information search is costly for private households, especially in relation to their wealth. This paper investigates how retail customers react to free portfolio reporting—and thus reduced search costs—in a unique experimental setting. A large German direct bank sends portfolio reports to 10,000 customers while maintaining a control group of equal size and structure that receives no reports. Analyzing demographics as well as detailed portfolio and trade data, we find that gender, wealth, trade frequency, risk tolerance, and diversification drive the interest in portfolio information. Reading a portfolio report also triggers trading actions; thus, investors seem to appreciate the reduced information costs and act on the information. In addition to contributing to the financial literature on households' information acquisition, this study derives valuable implications for financial institutions regarding communications and services for their customers.
This is a preview of subscription content, log in to check access.
Access options
Buy single article
Instant access to the full article PDF.
US$ 39.95
Price includes VAT for USA
Subscribe to journal
Immediate online access to all issues from 2019. Subscription will auto renew annually.
US$ 99
This is the net price. Taxes to be calculated in checkout.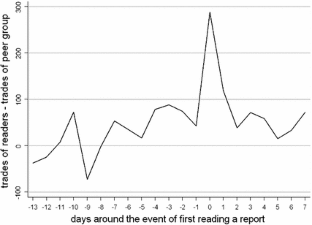 Notes
1.

For a study of German branch bank retail customers, see Blüthgen et al. (2007).

2.

The bank's customer segmentation is more detailed than the five (aggregated) segments we use in this paper, but this information cannot be reported due to confidentiality agreements.
References
Agnew, J., Balduzzi, P., Sunden, A.: Portfolio choice and trading in a large 401 (k) plan. Am. Econ. Rev. 93(1), 193–215 (2003)

Ameriks, J., Zeldes, S.P.: How do household portfolio shares vary with age?. Working Paper (2004)

Barber, B.M., Odean, T.: All that glitters: the effect of attention and news on the buying behavior of individual and institutional investors. Rev. Finan. Stud. 21(2), 785–818 (2008)

Barber, B.M., Lee, Y., Liu, Y., Odean, T.: Just how much do individual investors lose by trading? Re. Finan. Stud. 22(2), 609–632 (2008)

Blüthgen, R., Gintschel, A., Hackethal, A., Mueller, A.: Financial advice and individual investors' portfolios. Working Paper (2007)

Brunnermeier, M.K., Nagel, S.: Do wealth fluctuations generate time-varying risk aversion? Micro-evidence on individuals asset allocation'. Am. Econ. Rev. 98(3), 713–736 (2008)

Campbell, J.Y.: Household finance. J. Finance 61(4), 1553–1604 (2006)

DABbank: Faszination Wertpapier: Fakten und Hintergründe zum Anlegerverhalten in Deutschland. Munich (2004)

DeMiguel, V., Garlappi, L., Uppal, R.: Optimal versus naive diversification: how inefficient is the 1/N portfolio strategy? Rev. Finan. Stud. 22(5), 1915–1953 (2009)

Donkers, B., van Soest, A.: Subjective measures of household preferences and financial decisions. J. Econ. Psychol. 20(6), 613–642 (1999)

Glaser, M.: Online broker investors: demographic information, investment strategy, portfolio positions, and trading activity. Working Paper (2003)

Glaser, M., Weber, M.: Why inexperienced investors do not learn: they do not know their past portfolio performance. Finance Res. Lett. 4(4), 126–203 (2007)

Guiso, L., Jappelli, T.: Awareness and stock market participation. Rev. Finance 9(4), 537–567 (2005a)

Guiso, L., Jappelli, T.: Household portfolio choice and diversification strategies. Working Paper (2005b)

Guiso, L., Jappelli, T.: Households financial information acquisition and portfolio choice. CEPR Working Paper (2005c)

Lewellen, W.G., Lease, R.C., Schlarbaum, G.G.: Patterns of investment strategy and behavior among individual investors. J. Bus. 50(3), 296–333 (1977)

MacKinlay, A.C.: Event studies in economics and finance. J. Econ. Lit. 35(1), 13–39 (1997)

Mitton, T., Vorkink, K.: Equilibrium underdiversification and the preference for skewness. Rev. Finan. Stud. 20(4), 1255 (2007)

Siebenmorgen, N., Weber, M.: A behavioral model for asset allocation. Finan. Mark. Portfolio Manag. 17(1), 15–42 (2003)

Vissing-Jørgensen, A.: Towards an explanation of household portfolio choice heterogeneity: nonfinancial income and participation cost structures. NBER Working Paper No. 8884 (2002)
Acknowledgments
We thank the anonymous referee for his constructive comments, which helped us a great deal in improving the paper.
Additional information
The opinions and views expressed in the article are the opinions of the authors and do not reflect the opinions or views of any of their employers.
About this article
Cite this article
Gerhardt, R., Meyer, S. The effect of personal portfolio reporting on private investors. Financ Mark Portf Manag 27, 257–273 (2013). https://doi.org/10.1007/s11408-013-0214-9
Keywords
Portfolio reporting

Financial information

Household portfolios

Investment behavior
JEL Classification