Abstract
As will be made clear below, the terms extremism, fundamentalism, Islamism and Jihadism are often used interchangeably by the public, something that has negative implications for both the integration of the Muslim community into Western society, and the efficacy of counter-extremism efforts. This paper aims to provide working for these terms by understanding them independent from their misinformed socio-political contexts, and by determining how they relate to one another in what will be identified as a series of conceptual subsets (See Fig. 1). In doing so, this paper will attempt to provide a framework for the usage of these terms in the governmental, academic, and public contexts, while removing some of the noise surrounding the important, and often highly sensitive contexts within which these terms are referenced. In this paper, religious extremism will defined as an ideological prerequisite to fundamentalism, Islamism and jihadism. It is a rejectionist, and dogmatic orientation that neglects balance in all elements of an individual's ideological outlook. However, a fundamentalist, when defined in terms of faith, seeks to legitimise his or her beliefs through a non-contextual analysis of the relevant religious texts. An Islamist seeks to implement his or her fundamentalist views (that are by necessity, extremist) with a view to altering the structures of governance in accordance with the aforementioned rejectionist traits. Finally, and in relatively simple terms, a jihadist is an individual that champions the violent, global imposition of the Islamists' beliefs. Jihadism is a subset of Islamism, Islamism is a subset of fundamentalism, and fundamentalism is a subset of extremism.
Access options
Buy single article
Instant access to the full article PDF.
US$ 39.95
Tax calculation will be finalised during checkout.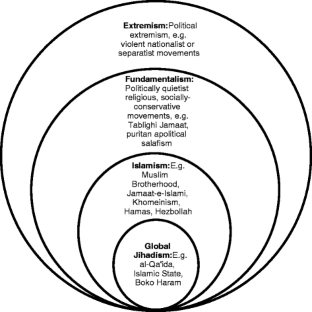 Notes
1.

2.

Indeed, for many extremist Muslims in the West, there is a sort of phobic reaction towards modernity and its technology, especially when these are made manifest in entertainment, something that, in the Islamic extremist's skewed worldview, is opposed to a life of worship. Cf. Hasan (2012)

3.

For a close study of the role identity has in the so-called radicalisation process, see (Al-Raffie 2013).

4.

For a comprehensive history of Protestant fundamentalism in North America, see (Marsden 2006).

5.

For more on secularisation theory, see (Weber 1946).

6.

However, it is worth noting that, in an Islamic context, usūlī also refers to a rigorous foundational approach in theology and jurisprudence. In that sense, it sometimes appears in a positive context.

7.

On apostasy and blasphemy laws, see (Hasan 2013).

8.

Fascism is an example of this: a non-religious extremist ideology with many parallels to religious extremism, characterised by a glorification of force and xenophobic hatred of an out-group, but one whose totalitarianism is not religious, in as much as it does not revolve around worship of a deity – although an existing leader often embodies this role.

9.

For an example of this circular defamation, it is worth glancing at Berman et al. (2010).

10.

A. Edwards was among the first to speak of islamism. See (Edwards 1913).

11.

For an example of this sort of modern nation-state rejection, see (Taji-Farouk 2000).

12.

This concept – known as ḥakimiyyah – was first developed by Abu al-A'la al-Mawdudi, founder of Jamaat-e-Islami. See (Mawdudi 1976).

13.

The likes of Samuel Huntington have added fuel to this confusion. See (Huntington 2002).

14.

This refers to regimes in and around the Middle East, and is as opposed to the Far Enemy, the rest of the world, perceived to be oppressive by dint of being un-Islamic or anti-islamist. For a more in-depth explanation, see (Gerges 2009).

15.
References
Abu Ghaith, S. (2002). 'Why we fight America': Al-Qa'ida spokesman explains September 11 and declares intentions to kill 4 million Americans with weapons of mass destruction. Special Dispatch Series 388, available at http://www.freerepublic.com/focus/f-news/702860/posts.

Al-Bukhari, M. I. (2002). Sahih. Beirut: Dar al-Kutub al-'Ilmiyyah.

Al-Raffie, D. (2013). Social identity theory for investigating Islamic extremism in the diaspora. Journal of Strategic Security, 6, 67–91.

Appleby, R. S. (1998). Religion and global affairs: Religious "Militants for Peace". SAIS Review, 18(2), 38–44.

Appleby, R. S., & Marty, M. (2002). Fundamentalism. Foreign Policy, 128, 16–18+20–22.

Auda, J. (2008). Maqasid al-Shari'ah – A Beginner's Guide. London/Washington: International Institute of Islamic Thought.

Ayoob, M. (2011). The many faces of political Islam: religion and politics in the Muslim world. Ann Arbor: University of Michigan Press.

Baker, R. (2006). Islam without fear: Egypt and the new Islamists. Harvard: Harvard University Press.

Bannerman, P. (2013). Islam in perspective: a guide to Islamic society, politics and law. London: Routledge.

Barber, B. (1996). Jihad vs McWorld. London: Corgi.

Bayat, A. (2005). Islamism and social movement theory. Third World Quarterly, 6, 891–908.

Berger, J. M. (2014). War on error. Foreign Policy, available at http://www.foreignpolicy.com/articles/2014/02/04/war_on_error_al_qaeda_terrorism, (07-02-2014).

Berman, S. (2003). Islamism, revolution, and civil society. Perspectives on Politics, 1, 257–272.

Berman, E., & Iannacone, L. (2006). Religious extremism: the good, the bad, and the deadly. Public Choice, 128, 109–129.

Berman, P., Heff, J., & Lynch, M. (2010). Islamism, unveiled: from Berlin to Cairo and back again. Foreign Affairs, 89, 144–150.

Bin Laden, O. (2005). Messages to the world: the statements of Osama bin Laden. London: Verso.

Bonanate, L. (1979). Some unanticipated consequences of terrorism. Journal of Peace Research, 16, 197–211.

Cavatorta, F. (2005). The "War on terrorism" – perspectives from radical Islamic groups'. Irish Studies in International Affairs, 16, 35–50.

Denoeux, G. (2002). The forgotten swamp: navigating political Islam. Middle East Policy, 9, 56–81.

Dominiczak, P. (2013). Tony Blair: Woolwich attack shows there is a problem 'within Islam'. The Telegraph, available at http://www.telegraph.co.uk/news/uknews/terrorism-in-the-uk/10094007/Tony-Blair-Woolwich-attack-shows-there-is-a-problem-within-Islam.html, (10-02-2014).

Edwards, A. (1913). The menace of pan-Islamism. The North American Review, 690, 645–657.

Emerson, M., & Hartman, D. (2006). The rise of religious fundamentalism. Annual Review of Sociology, 32, 127–144.

Esposito, J. (2000). Political Islam and the West. JFQ Forum, (Spring Issue), 50–55.

Euben, R. (2002). Killing (for) politics: jihad, martyrdom and political action. Political Theory, 30, 4–35.

Ferrero, M. (2005). Radicalisation as a reaction to failure: an economic model of Islamic extremism. Public Choice, 122, 199–220.

Firestone, R. (1999). Jihad: the origin of holy war in Islam. Oxford: Oxford University Press.

Gerges, F. (2009). The Far Enemy: why jihad went global. Cambridge: Cambridge University Press.

Ghosh, A. (1996). Fundamentalism, its roots, rationale and remedy. Economic and Political Weekly, 31, 1115–1116.

Gibbs, J. (1989). Conceptualisations of terrorism. American Sociological Review, 54, 329–340.

Hafez, M. (2004). Why Muslims rebel: repression and resistance in the Islamic world. London: Lynne Rienner Publishers.

Hagopian, E. (2004). Civil rights in peril: the targeting of Arabs and Muslims. London: Pluto Press.

Hasan, U. (2012). The Balance of Islam in Challenging Extremism (Religious Reform Series 1). London: Quilliam.

Hasan, U. (2013). No compulsion in religion: Islam and the freedom of belief' (Religious Reform Series 2). London: Quilliam.

Hizb ut-Tahrir. (2000). The method to re-establish the Khilafah and resume the Islamic way of life. London: Al-Khilafah Publications.

Hocking, J. (1986). Terrorism and counter-terrorism: institutionalising political order. The Australian Quarterly, 58, 297–307.

Huntington, S. (2002). The Clash of Civilisations and the remaking of the world order. New York: Free Press.

Husain, E. (2007). The Islamist. Penguin.

Jansen, J. (1986). The neglected duty: the creed of Sadat's assassins and Islamic resurgence in the Middle East. New York: Macmillan.

Kamali, M. H. (2001). Issues in the Legal Theory of Usul and Prospects for Reform. Islamabad: Islamic Research Institute, International Islamic University.

Kamali, M. H. (2014). Al-Maqasid al-Shari'ah: the objectives of Islamic law. Association of Muslim Lawyers, available at http://www.aml.org.uk/cms/assets/Uploads/journals/3.1/Kamali-Maqasid.pdf, (10-02-2014).

Kung, H. (2009). Islam: Past, Present & Future. Oxford: Oneworld.

Lane, E. (1863). Arabic English Lexicon. London: Williams and Norgate.

Laurence, B. (2000). Shattering the myth: Islam beyond violence. Princeton: Princeton University Press.

Liebman, C. (1983). Extremism as a religious norm. Journal for the Scientific Study of Religion, 22, 75–86.

MacEoin, D. (2009). Music, chess and other sins. London: Civitas, available at http://www.civitas.org.uk/pdf/MusicChessAndOtherSins.pdf.

Mansur, S. (2013). Islam and Islamism, Gatestone Institute, available at http://www.gatestoneinstitute.org/3865/islam-islamism, (10-02-2014).

Marsden, G. (2006). Fundamentalism and American culture. New York: Oxford University Press.

Marty, M. (1988). Fundamentalism as a social phenomenon. Bulletin of the American Academy of Arts and Sciences, 42, 15–29.

Marty, M. (1996). Too bad we're so relevant: the Fundamentalism Project projected. Bulletin of the American Academy of Arts and Sciences, 49, 22–38.

Mawdudi, A. A. (1954). Tahrik-e-Islami ki Akhlaqi Bunyadeen (trans: Charles Adams, Karachi and Lahore).

Mawdudi, A. A. (1976). Political theory of Islam. Lahore: Islamic Publications.

Merriam-Webster. (2014). Extremism. Merriam Webster English Dictionary. Encyclopedia Britannica, available at http://www.merriam-webster.com/dictionary/extremism, (10-02-2014).

Miles, W. (2004). Conclusions. African Studies Review, 47, 109–117.

Moallem, M. (2002). Whose fundamentalism? Meridians, 2, 298–301.

Nawaz, M. (2013). Radical. WH Allen.

Norton, A. R. (2007). Hezbollah: a short history. Princeton: Princeton University Press.

Oxford. (2014). Islamism. Oxford dictionaries, available at http://www.oxforddictionaries.com/definition/english/Islamism, 10-02-2014.

Paret, R. (1954). In H. Gibb & J. Kramers (Eds.), 'Ummah', The Shorter Encyclopedia of Islam. Leiden: E. J. Brill.

Prus, R. (2005). Terrorism, tyranny, and religious extremism as collective activity: beyond the deviant, psychological and power mystiques. The American Sociologist, 36, 47–74.

Ramadan, T. (2009). Radical Reform. OUP.

Roy, O. (2006). Globalised Islam: the search for a new umma. New York: Columbia University Press.

Saggar, S. (2010). Pariah politics: understanding Western radical Islamism and what should be done. London: Oxford University Press.

Said, E. (2008). Covering Islam: how the media and the experts determine how we see the rest of the world. New York: Vintage Books.

Sedgwick, M. (2007). Jihad, modernity, secularism. Nova Religio: the Journal of Alternative and Emergent Religions, 11, 6–27.

Seleny, A. (2006). Tradition, modernity and democracy: the many promise of Islam. Perspectives on Politics, 4, 481–494.

Stevenson, A. (2010). Oxford English Dictionary (p. 2010). Oxford: Oxford University Press.

Taji-Farouk, S. (2000). Islamists and threat of jihad: Hizb ut-Tahrir and al-Muhajiroun on Israel and the Jews. Middle Eastern Studies, 36, 21–46.

Tannenbaum, F. (1938). Crime and the community. New York: Columbia University Press.

Tibi, B. (2013). The Islamist venture of the politicization of Islam to an ideology of Islamism: a critique of the dominating narrative in Western Islamic Studies. Soundings, 431–449.

Townsend, K. (1999). Frank Tannenbaum: "dramatization of evil". Dept of Criminology, Florida State University.

Turner, J. (2012). Untangling Islamism from jihadism: opportunities for Islam and the West after the Arab Spring. Arab Studies Quarterly, 34, 173–188.

Van Niewenhuijze, C. (1995). Islamism: a defiant utopianism. Die Welt des Islams, 35, 1–36.

Varisco, D. (2010). Inventing Islamism: The Violence of Rhetoric. In R. C. Martin & A. Barzegar (Eds.), Islamism: Contested Perspectives on Political Islam (pp. 33–50). Stanford: Stanford University Press.

Weber, M. (1946). Science as a vocation. In Max Weber: Essays in sociology (trans: Girth H. and Wright Mills C.), (pp. 129–156). New York: Oxford University Press.

Wehr, H. (1980). In J. Milton Cowan (Ed.), A dictionary of modern written Arabic. London: Macdonald and Evans Ltd.

Wiktorowicz, Q. (2005). A genealogy of radical Islam. Studies in Conflict and Terrorism, 28, 75–97.

Wintrobe, R. (2006). Extremism, suicide terror, and authoritarianism. The Political Economy of Terrorism, 128, 169–195.

Zaidi, M. (2009). A taxonomy of jihad. Arab Studies Quarterly, 31, 21–34.
About this article
Cite this article
Winter, C., Hasan, U. The Balanced Nation: Islam and the Challenges of Extremism, Fundamentalism, Islamism and Jihadism. Philosophia 44, 667–688 (2016). https://doi.org/10.1007/s11406-015-9634-2
Received:

Revised:

Accepted:

Published:

Issue Date:
Keywords
Islam

Extremism

Radicalisation

Fundamentalism

Islamism

Jihadism

Qur'an

Hadith

Islamic political philosophy