Zusammenfassung
Die Ernährungstherapie von kritisch kranken Patienten umfasst die Bereitstellung von Kalorien in Form von Eiweiß, Kohlenhydraten und Fetten sowie die Substitution von Elektrolyten, Vitaminen und Spurenelementen auf enteralem oder parenteralem Weg. Eine kritische Erkrankung verläuft in unterschiedlichen Stadien mit jeweils spezifischen ernährungstherapeutischen Anforderungen. Die Ernährungstherapie sollte innerhalb von 24 h nach Aufnahme auf die Intensivstation begonnen werden. Der Energiebedarf in der Akutphase der Erkrankung wird mit 24 kcal/kg Körpergewicht (KG) und Tag und der Proteinbedarf mit 1,0 g/kgKG und Tag, jeweils bezogen auf das aktuelle Körpergewicht (bei einem Body-Mass-Index <30 kg/m2), abgeschätzt. Nach Stabilisierung des Patienten überwiegen in der Postakutphase anabole Stoffwechselprozesse zur Reparatur der metabolischen Schädigungen. In diesem Stadium liegen der Energiebedarf bei bis zu 36 kcal/kgKG und Tag und der Proteinbedarf bei bis zu 1,6 g/kgKG und Tag. In allen Phasen einer kritischen Erkrankung sollte die Ernährungstherapie an die individuellen, situativen Bedürfnisse angepasst werden.
Abstract
Nutritional therapy in critically ill patients includes the provision of calories in the form of protein, carbohydrates and fats, as well as the substitution of electrolytes, vitamins and trace elements by enteral or parenteral route. A critical illness can be divided into different stages, each with specific nutritional requirements. Nutritional therapy should be started within 24 h of admission to the intensive care unit. The energy requirement in the acute phase of the disease is estimated at 24 kcal/kg body weight (BW)/day and the protein requirement at 1.0 g/kgBW/day, in each case based on the current body weight (body mass index <30 kg/m2). After stabilization of the patient, anabolic metabolic processes predominate in the postacute phase to repair metabolic damage. At this stage, the energy requirement is up to 36 kcal/kgBW/day and the protein requirement is up to 1.6 g/kgBW/day. In each phase of a critical illness, nutritional therapy should be adapted to the individual, situational needs.
Access options
Buy single article
Instant access to the full article PDF.
USD 39.95
Price excludes VAT (USA)
Tax calculation will be finalised during checkout.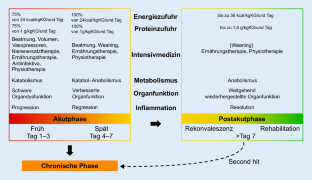 Ethics declarations
Interessenkonflikt
T. Puengel, T. Wirtz, T. Luedde, C. Trautwein und A. Koch geben an, dass kein Interessenkonflikt besteht.
Für diesen Beitrag wurden von den Autoren keine Studien an Menschen oder Tieren durchgeführt. Für die aufgeführten Studien gelten die jeweils dort angegebenen ethischen Richtlinien.
Additional information
Redaktion
A. Koch, Aachen
A. Canbay, Bochum
About this article
Cite this article
Puengel, T., Wirtz, T., Luedde, T. et al. Klinische Ernährungstherapie kritisch kranker Patienten. Gastroenterologe 15, 7–13 (2020). https://doi.org/10.1007/s11377-019-00403-z
Published:

Issue Date:

DOI: https://doi.org/10.1007/s11377-019-00403-z
Schlüsselwörter
Enterale Ernährung

Parenterale Ernährung

Intensivmedizin

Stoffwechsel

Entzündung
Keywords
Enteral nutrition

Parenteral nutrition

Intensive care

Metabolism

Inflammation