Zusammenfassung
Die risikoadaptierte Dickdarmkrebsvorsorge führt dazu, dass die ergriffenen Maßnahmen wesentlich häufiger mit pathologischen Befunden verbunden sind und somit weniger gesunde Menschen im Rahmen der Vorsorge invasiv untersucht werden müssen. Dies wiederum wirkt sich auf Kosten und die Komplikationsrate der Vorsorgemaßnahmen aus und gestaltet Vorsorge letztlich attraktiver. Bis dato wurde zur Risikoadaptation vor allem das familiäre Risiko identifiziert. Klare Regeln, wie dieses Risiko flächendeckend evaluiert werden kann, gibt es nicht. Leitlinienempfehlungen besagen einen Start mit invasiven Vorsorgemaßnahmen 10 Jahre vor Erkrankung der Indexperson. Der Tatsache, dass Männer früher an Darmkrebs erkranken als Frauen, trägt der Beschluss des Gemeinsamen Bundesausschusses insofern Rechnung, als das Startalter für die erste von 2 Vorsorgekoloskopien bei Männern auf das 50. Lebensjahr vorgezogen wurde. Neuere strukturierte epidemiologische Untersuchungen zeigen, dass eine Risikoadaptation sehr viel differenzierter und letztlich auch aussagekräftiger funktionieren könnte. Hierzu bedarf es strukturierter Erhebungen bei den infrage kommenden Personengruppen (z. B. beim Check-up mit 35 Jahren). Die logische Konsequenz aus einer differenzierten Risikostratifikation ist ein unterschiedlicher Beginn der invasiven Untersuchungen und auf jeden Fall der Einsatz invasiver diagnostischer Methoden (Vorsorgekoloskopie) bei erhöhtem Risiko.
Abstract
Risk stratification of colorectal cancer (CRC) enables personalized recommendations regarding who should be screened when. This procedure is able to reduce the burden of screening. A screening strategy is even more important for persons with a higher than average risk for CRC. The best established risk factor is familial risk. This risk is mentioned in the German guidelines for the prevention and treatment of CRC: Screening for familial members of patients with CRC younger than 50 years should be started 10 years before the age of index family members. The German Bundesausschuss recently decided to start screening colonoscopy in men with 50 years and not with 55 years as it was in the past. Recently developed genetic risk scores based on genome-wide analyses combined with lifestyle factors help to more accurately predict the risk of CRC. This requires structured surveys for relevant groups (e.g., at the check-up at 35 years). The logical consequence of differentiated risk stratification is a different start of the invasive investigations and the use of invasive diagnostic methods (screening colonoscopy) for persons at increased risk.
This is a preview of subscription content, log in to check access.
Access options
Buy single article
Instant access to the full article PDF.
US$ 39.95
Price includes VAT for USA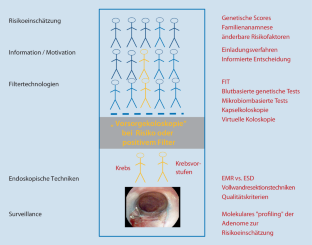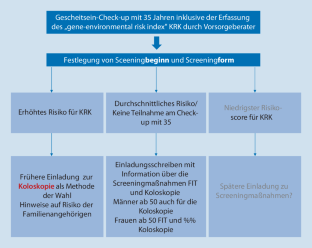 Literatur
1.

Brenner H, Zwink N, Ludwig L, Hoffmeister M (2017) Should screening colonoscopy be offered from age 50? Dtsch Arztebl Int 114:94–100

2.

Pox C, Jakobs R: Prävention in der Gastroenterologie, Darmkrebsvorsorge Weißbuch Gastroenterologie 233–239

3.

Lin JS, Piper MA, Perdue LA et al (2016) Screening for colorectal cancer: updated evidence report and systematic review for the US preventive service task force. JAMA 315:2576–2594

4.

Pox C, Aretz S, Bischoff SC et al (2013) S3 Leitlinie Kolorektales Karzinom. Z Gastroenterol 51(8):753–854. https://doi.org/10.1055/s-0033-1350264

5.

Brenner H, Hoffmeister M, Haug U (2008) Family history and age at initiation of colorectal cancer screening. Am J Gastroenterol 103:2336–2331

6.

Plath J, Siebenhofer A, Guethlin C et al (2018) Screening interval recommendations following a normal colonoscopy in individuals with a familial risk of colorectal cancer. Z Gastroenterol 56(4):361–364. https://doi.org/10.1055/s-0043-123882

7.

Bauer A, Riemann JF, Seufferlein T et al (2018) Invitation to screening colonoscopy in the population at familial risk for colorectal cancer—a cluster-randomized study aimed at increasing participation rates. Dtsch Arztebl Int 115 Akzeptiert zur Publikation

8.

Taylor DR, Burt RW, Willams MS et al (2010) Population based family history specific risks for colorectal cancer: a constellation approach. Gastroenterology 138:877–885

9.

Yeoh KG, Ho KY, Chiu HM et al (2011) The Asia Pacific Colorectal screening score: a validated tool that stratifies risk for colorectal advanced neoplasia in asymptomatic Asian subjects. Gut 60:1236–1241

10.

Park CH, Kim NH, Park JH et al (2018) Individualized colorectal cancer screening based on the clinical risk factors: beyond family history of colorectal cancer. Gastrointest Endosc. https://doi.org/10.1016/j.gie.2018.02.041

11.

Tao S, Hoffmeister M, Brenner H (2014) Development and validation of a scoring system to identify individuals at high risk for advanced colorectal neoplasms, who should undergo colonoscopy screening. Clin Gastroenterol Hepatol 12(3):478–485. https://doi.org/10.1016/j.cgh.2013.08.042

12.

Smith T, Muller DC, Moons KGM, Cross AJ et al (2018) Comparison of prognostic models to predict the occurrence of colorectal cancer in asymptomatic individuals: a systematic literature review and external validation in the EPIC and UK Biobank prospective cohort studies. Gut. https://doi.org/10.1136/gutjnl-2017-315730

13.

Weigl K, Chang-Claude J, Knebel P et al (2018) Strongly enhanced colorectal cancer risk stratification by combining family history and genetic risk score. Clin Epidemiol 10:143–152

14.

Weigl K, Thomsen H, Balavarca Y et al (2018) Genetic risk score is assoziatetd with prevalence of advanced neoplasm in a colorectal cancer screening population. Baillieres Clin Gastroenterol 155:88–98

15.

Jeon J, Du M, Schoen R et al (2018) Determining risk of colorectal cancer and starting age of screening based on lifestyle, environmental, and genetic factors. Gastroenterology 154(8):2152–2164.e19. https://doi.org/10.1053/j.gastro.2018.02.021
Ethics declarations
Interessenkonflikt
D. Schilling gibt an, dass kein Interessenkonflikt besteht.
Dieser Beitrag beinhaltet keine vom Autor durchgeführten Studien an Menschen oder Tieren.
Additional information
Redaktion
J.F. Riemann, Ludwigshafen
S. Zeuzem, Frankfurt am Main
About this article
Cite this article
Schilling, D. Risikoadaptierte Krebsfrüherkennung – was folgt für Betroffene?. Gastroenterologe 14, 24–29 (2019). https://doi.org/10.1007/s11377-018-0303-4
Schlüsselwörter
Dickdarmkrebs

Tumorscreening

Einzelnukleotidaustausch

Familiäre Tumorsyndrome

Gen-Umwelt-Interaktion
Keywords
Colon cancer

Cancer screening

Single nucleotide polymorphism

Hereditary cancer syndromes

Gene-environment interaction