Zusammenfassung
Hintergrund
Im gesetzlichen Krebsfrüherkennungsprogramm in Deutschland wurde im Jahr 2017 der herkömmliche guajakbasierte Test auf Blut im Stuhl ("guaiac-based fecal occult blood test", gFOBT) durch neuere immunologische Stuhlbluttests ("fecal immunochemical tests", FITs) ersetzt.
Ziel
In dieser Arbeit soll ein Überblick über die Vorteile der FITs gegenüber dem gFOBT gegeben werden.
Material und Methoden
Der Überblick basiert auf einer Zusammenfassung der wichtigsten Ergebnisse der internationalen Literatur.
Ergebnisse
FITs haben gegenüber dem gFOBT eine deutlich höhere Sensitivität für die Entdeckung von Darmkrebs und seinen Vorstufen. Sie weisen spezifisch menschliches Hämoglobin nach, ihre Anwendung ist daher nicht an die Einhaltung spezifischer Diätvorschriften gebunden. Zur Durchführung genügt eine einzelne Stuhlprobe aus einem einzelnen Stuhlgang. Die größere Nutzerfreundlichkeit erhöht die Akzeptanz.
Diskussion
Auf der Basis der vorliegenden Evidenz werden FITs zwischenzeitlich neben der Koloskopie als Mittel der Wahl eines nichtinvasiven Tests in der Darmkrebsvorsorge und -früherkennung empfohlen.
Abstract
Background
In 2017, the guaiac-based fecal occult blood test (gFOBT) which had been offered for colorectal cancer (CRC) screening since 1977 was replaced by fecal immunochemical tests (FITs) for hemoglobin in the German healthcare system.
Objectives
This article aims to summarize evidence on the advantages of FITs over gFOBT in CRC screening.
Materials and methods
Results of key studies from the international literature are summarized.
Results
FITs have higher sensitivity to detect CRC and its precursors than gFOBT. They specifically detect human hemoglobin in stool. Therefore, they are not influenced by dietary factors and do not require dietary restrictions. Only a single fecal sample from one single bowel movement is required. User-friendly application is accompanied by higher adherence rates.
Conclusions
Based on accumulating evidence, FITs are meanwhile widely recommended, besides screening colonoscopy, as the preferred noninvasive method for CRC screening.
This is a preview of subscription content, log in to check access.
Access options
Buy single article
Instant access to the full article PDF.
US$ 39.95
Price includes VAT for USA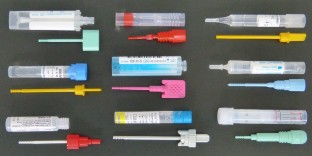 Literatur
1.

Barzi A, Lenz HJ, Quinn DI et al (2017) Comparative effectiveness of screening strategies for colorectal cancer. Cancer 123:1516–1527

2.

Brenner H, Tao S (2013) Superior diagnostic performance of faecal immunochemical tests for haemoglobin in a head-to-head comparison with guaiac based faecal occult blood test among 2235 participants of screening colonoscopy. Eur J Cancer 49:3049–3054

3.

Brenner H, Werner S (2017) Selecting a cut-off for colorectal cancer screening with a fecal Immunochemical test. Clin Transl Gastroenterol 8(8):e111

4.

Dinh T, Ladabaum U, Alperin P et al (2013) Health benefits and cost-effectiveness of a hybrid screening strategy for colorectal cancer. Clin Gastroenterol Hepatol 11:1158–1166

5.

Faivre J, Dancourt V, Denis B et al (2012) Comparison between a guaiac and three immunochemical faecal occult blood tests in screening for colorectal cancer. Eur J Cancer 48:2969–2976

6.

Gies A, Bhardwaj M, Stock C, Schrotz-King P, Brenner H (2018) Quantitative fecal immunochemical tests for colorectal cancer screening. Int J Cancer 143:234–244

7.

Gies A, Cuk K, Schrotz-King P, Brenner H (2018) Direct comparison of diagnostic performance of 9 quantitative fecal Immunochemical tests for colorectal cancer screening. Gastroenterology 154:93–104

8.

Gies A, Cuk K, Schrotz-King P, Brenner H (2018) Direct comparison of ten quantitative fecal immunochemical tests for hemoglobin stability in colorectal cancer screening. Clin Transl Gastroenterol 9(7):168

9.

Hewitson P, Glasziou P, Watson E, Towler B, Irwig L (2008) Cochrane systematic review of colorectal cancer screening using the fecal occult blood test (hemoccult): an update. Am J Gastroenterol 103:1541–1549

10.

Hoffmeister M, Holleczek B, Zwink N, Stock C, Stegmaier C, Brenner H (2017) Screening for bowel cancer: increasing participation via personal invitation. Dtsch Arztebl Int 114:87–93

11.

Hol L, van Leerdam ME, van Ballegooijen M, van Vuuren AJ, van Dekken H, Reijerink JC, van der Togt AC, Habbema JD, Kuipers EJ (2010) Screening for colorectal cancer: randomised trial comparing guaiac-based and immunochemical faecal occult blood testing and flexible sigmoidoscopy. Gut 59:62–68

12.

Hundt S, Haug U, Brenner H (2009) Comparative evaluation of immunochemical fecal occult blood tests for colorectal adenoma detection. Ann Intern Med 150:162–169

13.

Lansdorp-Vogelaar I, Kuntz KM, Knudsen AB et al (2010) Stool DNA testing to screen for colorectal cancer in the medicare population: a cost-effectiveness analysis. Ann Intern Med 153:368–377

14.

Lee JK, Liles EG, Bent S, Levin TR, Corley DA (2014) Accuracy of fecal immunochemical tests for colorectal cancer: systematic review and meta-analysis. Ann Intern Med 160:171

15.

Park DI, Ryu S, Kim YH et al (2010) Comparison of guaiac-based and quantitative immunochemical fecal occult blood testing in a population at average risk undergoing colorectal cancer screening. Am J Gastroenterol 105:2017–2025

16.

Scholefield JH, Moss SM, Mangham CM, Whynes DK, Hardcastle JD (2012) Nottingham trial of faecal occult blood testing for colorectal cancer: a 20-year follow-up. Gut 61:1036–1040

17.

Schreuders EH, Ruco A, Rabeneck L, Schoen RE, Sung JJ, Young GP, Kuipers EJ (2015) Colorectal cancer screening: a global overview of existing programmes. Gut 64:1637–1649

18.

Sharaf RN, Ladabaum U (2013) Comparative effectiveness and cost-effectiveness of screening colonoscopy vs. sigmoidoscopy and alternative strategies. Am J Gastroenterol 108:120–132

19.

Shaukat A, Mongin SJ, Geisser MS et al (2013) Long-term mortality after screening for colorectal cancer. N Engl J Med 369:1106–1114

20.

van der Vlugt M, Grobbee EJ, Bossuyt PM, Bongers E, Spijker W, Kuipers EJ, Lansdorp-Vogelaar I, Essink-Bot ML, Spaander MC, Dekker E (2017) Adherence to colorectal cancer screening: four rounds of faecal immunochemical test-based screening. Br J Cancer 116:44–49
Ethics declarations
Interessenkonflikt
H. Brenner und A. Gies geben an, dass kein Interessenkonflikt besteht.
Dieser Beitrag beinhaltet keine von den Autoren durchgeführten Studien an Menschen oder Tieren.
Additional information
Redaktion
J. F. Riemann, Ludwigshafen
S. Zeuzem, Frankfurt am Main
About this article
Cite this article
Brenner, H., Gies, A. Immunologische Stuhlbluttests – welche Verbesserungen gegenüber dem guajakbasierten Test?. Gastroenterologe 14, 6–13 (2019). https://doi.org/10.1007/s11377-018-0290-5
Schlüsselwörter
Darmkrebs

Sekundärprävention

Okkultes Blut

Screening

Immunologischer Test
Keywords
Colorectal cancer

Secondary prevention

Occult blood

Screening

Immunologic test