Zusammenfassung
Nahrungsmittelallergien kommen mit etwa 5% in der Kindheit und 2% im Erwachsenenalter vor. Im Gegensatz zu medikamentös induzierten allergischen Reaktionen, zur Rhinoconjunctivitis allergica oder zum allergischen Asthma bronchiale ist jedoch die Symptomatik bei Nahrungsmittelallergien häufig uncharakteristisch und der Zusammenhang zur Allergenexposition nicht sofort ersichtlich, zumal auch verschiedene Organsysteme betroffen sein können. Während der Begriff der gastrointestinalen Allergie lediglich die Manifestation einer Allergie am Magen-Darm-Trakt beschreibt, beinhaltet der Begriff der Nahrungsmittelallergie nicht nur die gastrointestinale Manifestation, sondern weitere vielfältige Manifestationsorte außerhalb des Magen-Darm-Trakts. In erster Linie ist eine sorgfältige Anamnese mit einer exakten Erfassung der Ernährungs- und Lebensgewohnheiten erforderlich. Ein auf Nahrungsmittel zu beziehendes Beschwerdebild muss zunächst als Nahrungsmittelunverträglichkeit angesehen werden. Zahlreiche andere internistische Erkrankungen bzw. Syndrome müssen ausgeschlossen werden, um eine Allergie als Ursache vorliegender gastrointestinaler Symptome zu belegen. Der gezielte Einsatz allergologischer Untersuchungsmethoden liefert weitere Hinweise auf eine Nahrungsmittelallergie. Mit Hilfe von Provokationstests kann dann letztlich der Beweis geführt werden.
Abstract
Foodstuff allergies occur in approximately 5% in children and 2% in adults. In contrast to drug-induced allergic reactions, seasonal allergic rhinitis (hay fever) or allergic bronchial asthma, the symptoms of foodstuff allergies are often uncharacteristic and the association with exposure to allergens is not immediately obvious, in particular as various organ systems can also be affected. Whereas the term gastrointestinal allergy merely describes the manifestation of an allergy in the gastrointestinal tract, the term foodstuff allergy includes not only the manifestation in the gastrointestinal tract but also further multiple manifestation sites outside the gastrointestinal tract. First of all a thorough anamnesis with an exact description of nutritional and life-style habits is necessary. A pattern of symptoms related to foodstuffs must be initially considered as an incompatibility to foodstuffs. Many other internal medical diseases or syndromes must be excluded before an allergy can be confirmed as the cause of the gastrointestinal symptoms present. The targeted use of allergological examination methods provides further indication of a foodstuff allergy. The application of provocation tests can then deliver the final confirmation.
This is a preview of subscription content, log in to check access.
Access options
Buy single article
Instant access to the full article PDF.
US$ 39.95
Price includes VAT for USA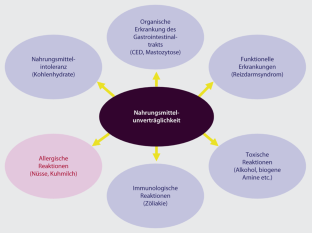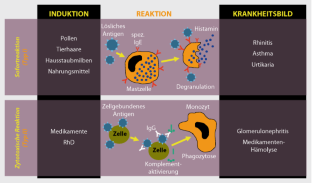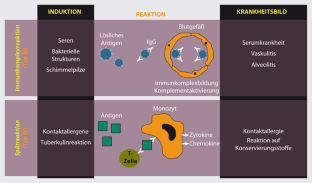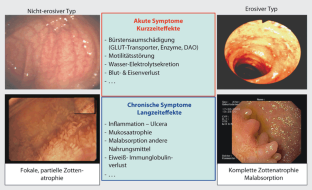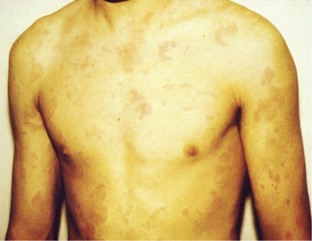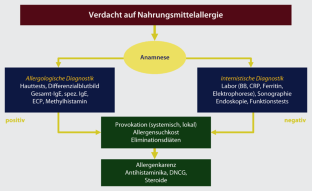 Literatur
1.

Wang J, Sampson HA (2011) Food allergy. J Clin Invest 121: 827–835

2.

Raithel M, Hahn EG, Baenkler HW (2002) Klinik und Diagnostik von Nahrungsmittelallergien (Gastrointestinal vermittelte Allergien Grad I–IV). Dtsch Ärztebl 99: A780–786

3.

Bischoff S, Crowe SA (2005) Gastrointestinal food allergy: New insights into pathophysiology and clinical perspectives. Gastroenterology 128: 1089–1113

4.

Branum AM, Lukacs SL (2009) Food allergy among children in the United States. Pediatrics 124: 1549–1555

5.

Locke GR 3rd, Zinsmeister AR, Talley NJ et al (2000) Risk factors for irritable bowel syndrome: role of analgesics and food sensitivities. Am J Gastroenterol 95: 157–165

6.

Zar S, Kumar D, Benson MJ (2001) Food hypersensitivity and irritable bowel syndrome. Aliment Pharmacol Ther 15: 439–449

7.

Zopf Y, Baenkler HW, Silbermann A et al (2009) Differenzialdiagnose von Nahrungsmittelunverträglichkeiten. Dtsch Ärztebl 106: 359–370

8.

Raithel M, Baenkler HW, Naegel A et al (2005) Significance of salicylate intolerance in diseases of the lower gastrointestinal tract. J Physiol Pharmacol 56: 89–102

9.

Iacono G, Ravelli A, Di Prima L et al (2007) Colonic lymphoid nodular hyperplasia in children: Relationship to food hypersensitivity. Clin Gastroenterol Hepatol 5: 361–366

10.

Lack G, Fox D, Northstone K et al (2003) Avon longitudinal study of parents and children study team. Fastors associated with the development of peanut allergy in childhood. N Engl J Med 348: 977–985

11.

Sicherer SH, Furlong TJ, Maes HH (2000) Genetics of peanut allergy: a twin study. J Allergy Clin Immunol 106: 53–56

12.

Du Toit G, Katz Y, Sasieni P et al (2008) Early consumption of peanuts in infancy is associated with a low prevalence of peanut allergy. J Allergy Clin Immunol 122: 984–991

13.

Katz Y, Rajuan N, Goldberg MR et al (2010) Early exposure of cow's milk protein is protective against IgE-mediated cow's milk protein allergy. J Allergy Clin Immunol 126: 77–82

14.

Bischoff SC, Manns M (2001) Nahrungsmittelallergien. Internist (Berl) 42: 1108–1117

15.

Sicherer SH, Sampson HA (2010) Food allergy. J Allergy Clin Immunol 125 (Suppl 2): S116–S125

16.

Jenkins JA, Breiteneder H, Mills EN (2007) Evolutionary distance from human homologs reflects allergenicity of animal food proteins. J Allergy Clin Immunol 120: 1399–1405

17.

Wang J (2010) Management of the patient with multiple food allergies. Curr Allergy Asthma Rep 10: 271–277

18.

Bischoff SC, Grabowsky J, Manns MP (1997) Quantification of inflammatory mediators in stool samples of patients with inflammatory bowel disorders and controls. Dig Dis Sci 42: 394–403

19.

Schwab D, Raithel M, Klein P (2001) Immunoglobulin E and eosinophilic cationic protein in segmental lavage fluid of the small and large bowel identify patients with food allergy. Am J Gastroenterol 96: 508–514

20.

Raithel M, Weidenhiller M, Abel R (2006) Colorectal mucosal histamine release by mucosa oxygenation in comparison with other established clinical tests in patients with gastrointestinally mediated allergy. World J Gastroenterol 12: 4699–4705

21.

Bischoff SC, Mayer J, Wedemeyer J et al (1997) Coloscopic allergen provocation (COLAP): a new diagnostic approach for gastrointestinal food allergy. Gut 40: 745–753

22.

Edwards AM (1995) Oral sodium cromoglycate: its use in the management of food allergy. Clin Exp Allergy 25 (Suppl): 31–33

23.

Raithel M, Winterkamp S, Weidenhiller M et al (2007) Combination therapy using fexofenadine, disodium cromoglycate, and a hypoallergenic amino acid-based formula induced remission in a patient with steroid-dependent, chronically active ulcerative colitis. Int J Colorectal Dis 22: 833–839

24.

Raithel M, Naegel A, Zopf Y et al (2010) Plasma histamine levels (H) during adjunctive H1-receptor antagonist treatment with loratadine in patients with active inflammatory bowel disease (IBD). Inflamm Res 59 (Suppl 2): S257–S258

25.

Fisher HR, du Toit G, Lack G (2010) Specific oral tolerance induction in food allergic children: is oral desensitisation more effective than allergen avoidance? A meta-analysis of published RCTs. Arch Dis Child 96: 259–264
Additional information
Der Erstautor Herr Prof. Emmrich ist kurz vor der Publikation seines Beitrags verstorben. Leseranfragen bitte an Herrn Prof. Liebe richten.
About this article
Cite this article
Emmrich, J., Liebe, S. Nahrungsmittelallergien. Gastroenterologe 6, 427 (2011). https://doi.org/10.1007/s11377-011-0570-9
Schlüsselwörter
Gastrointestinal vermittelte Allergie

Nahrungsmittelunverträglichkeit

Allergen

Provokationstest

Allergenkarenz
Keywords
Allergy, gastrointestinal

Foodstuff incompatibility

Allergen

Provocation test

Allergen avoidance