Zusammenfassung
Polyposis-Syndrome bedürfen aufgrund der benignen und malignen Komplikationen besonderer diagnostischer und therapeutischer Aufmerksamkeit. Sie liegen in einer Häufigkeit von weniger als 1% allen kolorektalen Karzinomen zugrunde. Es werden adenomatöse und nichtadenomatöse Formen unterschieden: Zu den adenomatösen Polyposis-Syndromen gehören die familiäre adenomatöse Polyposis, die attenuierte und die MYH-assoziierte Polyposis. Zu den selteneren hamartomatösen Polyposis-Syndromen zählen das Peutz-Jeghers-Syndrom sowie die familiäre juvenile Polyposis. Mit der Ausnahme der MYH-assoziierten Polyposis handelt es sich um autosomal-dominant vererbbare Erkrankungen. Dies bedeutet, dass erstgradig Verwandte (Kinder, Geschwister, Eltern) mit einer Wahrscheinlichkeit von 50% ebenfalls Anlageträger für diese Tumordisposition sind. Die genetische Diagnostik und Vorsorgeuntersuchungen sollten in Zusammenarbeit mit erfahrenen Zentren durchgeführt werden. Die Polyposis-Syndrome stellen einen wichtigen Risikofaktor für Dünndarmkarzinome dar. Daher wird in diesem Zusammenhang auch diese seltene, aber differenzialdiagnostisch bedeutsame Tumorerkrankung dargestellt.
Abstract
Polyposis syndromes require special attention because of benign and malignant complications. Polyposis syndromes account for fewer than 1% of newly diagnosed colorectal cancers. The risk for extracolonic cancers is increased in most polyposis syndromes. Classification relies on the histologic type of polyp (adenomas, hamartomas, hyperplastic polyps), patient age at diagnosis, distribution within the gastrointestinal tract, polyp count, and extraintestinal features. Multiple adenomas (>10) are suspicious for underlying familial adenomatous polyposis, attenuated adenomatous polyposis, or MYH-associated polyposis (MAP). Hamartomatous polyposis syndromes include Peutz-Jeghers syndrome and familial juvenile polyposis. All syndromes except MAP are inherited with an autosomal dominant trait. This implies that first-degree relatives (parents, siblings, offspring) have a 50% risk of carrying the underlying germline mutation as well. Contacting a familial colorectal cancer center is advised in any uncertain cases. Polyposis syndromes are an important risk factor for small bowel cancer. We therefore review this rare but important neoplasm.
Access options
Buy single article
Instant access to the full article PDF.
USD 39.95
Price excludes VAT (USA)
Tax calculation will be finalised during checkout.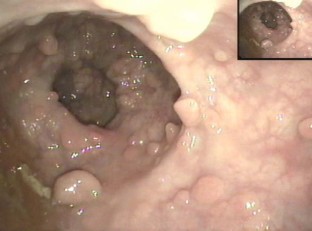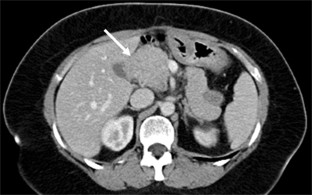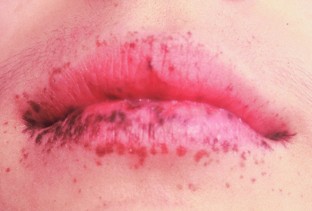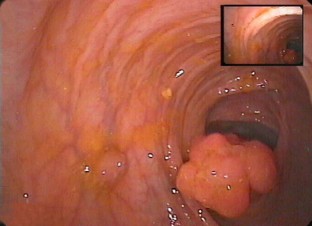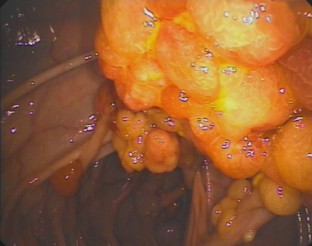 Literatur
Spigelman AD, Williams CB, Talbot IC et al (1989) Upper gastrointestinal cancer in patients with familial adenomatous polyposis. Lancet 30: 783–785

Groves CJ, Saunders BP, Spigelman AD, Phillips RK (2002) Duodenal cancer in patients with familial adenomatous polyposis (FAP): results of a 10 year prospective study. Gut 50: 636–641

Saurin JC, Gutknecht C, Napoleon B et al (2004) Surveillance of duodenal adenomas in familial adenomatous polyposis reveals high cumulative risk of advanced disease. J Clin Oncol 22: 493–498

Burke CA, Santisi J, Church J, Levinthal G (2005) The utility of capsule endoscopy small bowel surveillance in patients with polyposis. Am J Gastroenterol 100: 1498–1502

Schulmann K, Hollerbach S, Kraus K et al (2005) Feasibility and diagnostic utility of video capsule endoscopy for the detection of small bowel polyps in patients with hereditary polyposis syndromes. Am J Gastroenterol 100: 27–37

Galle TS, Juel K, Bulow S (1999) Causes of death in familial adenomatous polyposis. Scand J Gastroenterol 34: 808–812

Schmiegel W, Reinacher-Schick A, Arnold D et al (2008) Pox C.S3-Leitlinie "Kolorektales Karzinom" - Aktualisierung 2008. Z Gastroenterol 46: 799–840

Sieber OM, Lipton L, Crabtree M et al (2003) Multiple colorectal adenomas, classic adenomatous polyposis and germ-line mutations in MYH. N Engl J Med 348: 791–799

Giardiello FM, Trimbath JD (2006) Peutz-Jeghers syndrome and management recommendations. Clin Gastroenterol Hepatol 4: 408–415

Hearle N, Schumacher V, Menko FH et al (2006) Frequency and spectrum of cancers in the Peutz- Jeghers syndrom. Clin Cancer Res 12: 3209–3215

Jass JR, Williams CB, Bussey HJ, Morson BC (1988) Juvenile polyposis – a precancerous condition. Histopathology 13: 619–630

Howe JR, Mitros FA, Summers RW (1998) The risk of gastrointestinal carcinoma in familial juvenile polyposis. Ann Surg Oncol 5: 751–716

Neugut AI, Jacobson JS, Suh S et al (1998) The epidemiology of cancer of the small bowel. Cancer Epidemiology Biomarkers Prev 7: 243–251

Ten Kate GL, Kleibeuker JH, Nagengast FM et al (2007) Is surveillance of the small bowel indicated for lynch syndrome families? Gut 56: 1198–1201

Schulmann K, Engel C, Propping P, Schmiegel W (2008) Small bowel cancer risk in Lynch syndrome. Gut 57: 1629–1630

Overman MJ, Kopetz S, Wen S et al (2008) Chemotherapy with 5-fluorouracil and a platinum compound improves outcomes in metastatic small bowel adenocarcinoma. Cancer 15: 2038–2045

Fishman PN, Pond GR, Moore MJ et al (2006) Natural history and chemotherapy effectiveness for advanced adenocarcinoma of the small bowel: a retrospective review of 113 cases. Am J Clin Oncol 29: 225–231

Delaunoit T, Neczyporenko F, Limburg PJ, Erlichman C (2004) Small bowel adenocarcinoma: a rare but aggressive disease. Clin Colorectal Cancer 4: 241–248

Howe JR, Karnell LH, Menck HR, Scott-Conner C (1999) The american college of surgeons commission on cancer and the american cancer society. Adenocarcinoma of the small bowel: review of the national cancer data base, 1985-1995. Cancer 86: 2693–2706
Interessenkonflikt
Der korrespondierende Autor gibt an, dass kein Interessenkonflikt besteht.
About this article
Cite this article
Bernhardt, C., Schulmann, K. & Schmiegel, W. Polyposis-Syndrome und Dünndarmkarzinome. Gastroenterologe 4, 35–41 (2009). https://doi.org/10.1007/s11377-008-0239-1
Published:

Issue Date:

DOI: https://doi.org/10.1007/s11377-008-0239-1
Schlüsselwörter
Keywords