Zusammenfassung
Bei rezidivierenden Cholangitiden sollten intrahepatische Gallengangsteine differenzialdiagnostisch berücksichtigt werden. Ein intrahepatisches Gallengangsteinleiden ist mit einem deutlich erhöhten Risiko für die Entwicklung eines cholangiozellulären Karzinoms vergesellschaftet. Mit Ultraschall, CT und MRT allein können Cholangiokarzinome bei Patienten mit intrahepatischen Gallengangsteinen häufig nur schwer von einer peribiliären Entzündung unterschieden werden. Primäres Therapieziel bei intrahepatischen Gallengangsteinen ist die Elimination von Cholangitisschüben, die Beseitigung von Galleabflussstörungen und die Vermeidung der Entwicklung einer sekundär biliären Zirrhose und eines Cholangiokarzinoms. Abhängig von Ausdehnung und Befallsmuster kommen interventionell-endoskopische oder chirurgische Verfahren zum Einsatz, adjuvante medikamentöse Ansätze zur Rezidivprophylaxe befinden sich in der Entwicklung. Bei Gallengangmissbildungen (z. B. bilobäre Caroli-Erkrankung, Caroli-Syndrom) sollte frühzeitig eine Lebertransplantation angestrebt werden.
Abstract
In cases of recurrent cholangitis, hepatolithiasis should be considered in the differential diagnosis. Intrahepatic bile duct stones are associated with a significantly elevated risk for the development of cholangiocarcinoma. In cases of hepatolithiasis a differential diagnosis between cholangiocarcinoma and peribiliary inflammation may be difficult by ultrasound, CT or MRI imaging alone. The primary therapeutic goal in patients with hepatolithiasis is the elimination of cholangitis and bile stasis and avoidance of the development of secondary biliary cirrhosis or cholangiocarcinoma. Dependent on localization and extent of hepatolithiasis, interventional endoscopic as well as surgical therapeutic strategies may be chosen. Adjuvant pharmacologic prevention of recurrence of bile duct stones is under development. In cases of bile duct malformations, such as bilobar Caroli's disease or Caroli's syndrome, liver transplantation should be considered at an early stage. An interdisciplinary approach is of vital importance.
Access options
Buy single article
Instant access to the full article PDF.
USD 39.95
Price excludes VAT (USA)
Tax calculation will be finalised during checkout.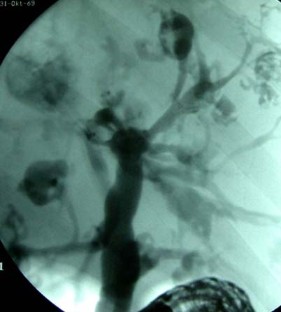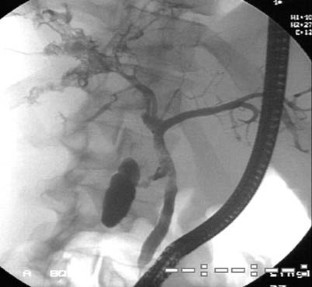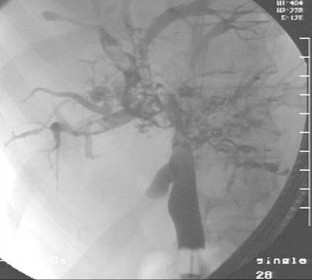 Literatur
Ammori BJ, Jenkins BL, Lim PC et al. (2002) Surgical strategy for cystic diseases of the liver in a western hepatobiliary center. World J Surg 26: 462–469

Balsells J, Margarit C, Murio E et al. (1993) Adenocarcinoma in Caroli's disease treated by liver transplantation. HPB Surg 7: 81–86 (discussion 86–87)

Chijiiwa K, Ichimiya H, Kuroki S et al. (1993) Late development of cholangiocarcinoma after the treatment of hepatolithiasis. Surg Gynecol Obstet 177: 279–282

Desmet VJ (1992) Congenital diseases of intrahepatic bile ducts: variations on the theme "ductal plate malformation". Hepatology 16: 1069–1083

Holzinger F, Z'Graggen K, Büchler MW (1999) Mechanisms of biliary carcinogenesis: a pathogenetic multi-stage cascade towards cholangiocarcinoma. Ann Oncol (Suppl 4) 10: 122–126

Huang MH, Chen CH, Yang JC et al. (2003) Long-term outcome of percutaneous transhepatic cholangioscopic lithotomy for hepatolithiasis. Am J Gastroenterol 98: 2589–2590

Jan YY, M.F. Chen MF, Wang CS et al. (1996) Surgical treatment of hepatolithiasis: long-term results. Surgery 120: 509–514

Kasper HU, Stippel DL, Töx U et al. (2006) Primäres Cholangiokarzinom auf dem Boden einer Caroli-Erkrankung: Fallbericht und Literaturübersicht. Pathologe 27: 300–304

Kim TK, Kim BS, Kim JH et al. (2002) Diagnosis of intrahepatic stones: superiority of MR cholangiopancreatography over endoscopic retrograde cholangiopancreatography. AJR Am J Roentgenol 179: 429–434

Lee SK, Seo DW, Myung SJ et al. (2001) Percutaneous transhepatic cholangioscopic treatment for hepatolithiasis: an evaluation of long-term results and risk factors for recurrence, Gastrointest Endosc 53: 318–323

Lindström CG (1977) Frequency of gallstone disease in a well-defined Swedish population. A prospective necropsy study in Malmö. Scand J Gastroenterol 12: 341–346

Maki T (1966) Pathogenesis of calcium bilirubinate gallstone: role of E. coli, beta-glucuronidase and coagulation by inorganic ions, polyelectrolytes and agitation. Ann Surg 164: 90–100

Matsushiro T, Suzuki N, Sato T, Maki T (1977) Effects of diet on glucaric acid concentration in bile and the formation of calcium bilirubinate gallstones. Gastroenterology 72(Pt 1):630–633

Mori T, Sugiyama M, Atomi Y (2006) Gallstone disease: Management of intrahepatic stones. Best Pract Res Clin Gastroenterol 20: 1117–1137

Ohta T, Nakagawa T, Yoshimitsu Y et al. (1993) The role of 16,16-dimethyl prostaglandin E2 on the intrahepatic biliary branches in dogs. Hepatology 17: 1062–1065

Parada LA, Hallen M, Hagerstrand I et al. (1999) Clonal chromosomal abnormalities in congenital bile duct dilatation (Caroli's disease). Gut 45: 780–782

Park MS, Yu JS, Kim KW et al. (2001) Recurrent pyogenic cholangitis: comparison between MR cholangiography and direct cholangiography. Radiology 220: 677–682

Ros E, Navarro S, Bru C et al. (1993) Ursodeoxycholic acid treatment of primary hepatolithiasis in Caroli's syndrome. Lancet 342: 404–406

Shoda J, He BF, Tanaka N et al. (1995) Primary dual defect of cholesterol and bile acid metabolism in liver of patients with intrahepatic calculi. Gastroenterology 108: 1534–1546

Shoda J, Kano M, Asano T et al. (1999) Secretory low molecular weight phospholipase A2 and their specific receptor in bile ducts of patients with intrahepatic calculi-factors of pathophysiological significance for chronic proliferative cholangitis. Hepatology 29: 1026–1036

Shoda J, Oda K, Suzuki H et al. (2001) Etiological significance of Metabolic defects of cholesterol, phospholipid, and bile acid in the liver of patients with intrahepatic calculi. Hepatology 33: 1194–1205

Shoda J, Tanaka N, Osuga T (2003) Hepatolithiasis – epidemiology and pathogenesis update. Front Biosci 8: e398–409

Smith AJ, Vree JML de, Ottenhoff R et al. (1998) Hepatocyte-specific expression of the human MDR3 P-glycoprotein gene restores the biliary phosphatidylcholine excretion absent in mdr2 (-/-). Hepatology 28: 530–536

Su CH, Shyr YM, Lui WY, P'Eng FK (1997) Hepatolithiasis associated with cholangiocarcinoma. Br J Surg 84: 969–973

Tanimura H, Ishimoto K, Uchiyama K (1998) Epidemiological status of hepatolithiasis. J Biliary Tract Pancreas 19: 1015–1020

Taylor AC, Palmer KR (1998) Caroli's disease. Eur J Gastroenterol Hepatol 10: 105–108

Tazuma S (2006) Gallstone disease: Epidemiology, pathogenesis, and classification of biliary stones (common bile duct and intrahepatic). Best Pract Res Clin Gastroenterol 20: 1075–1083

Tomida S, Abei M, Yamaguchi T et al. (1999) Long-term ursodeoxycholic acid therapy is associated with reduced risk of biliary pain and acute cholecystitis in patients with gallbladder stones: a Cohort analysis. Hepatology 30: 6–13

Valls C, Guma A, Puig I et al. (2000) Intrahepatic peripheral cholangiocarcinoma: CT evaluation. Abdom Imaging 25: 490–496

Yeh CN, Jan YY, Chen MF (2006) Hepatectomy for peripheral cholangiocarcinoma in elderly patients. Ann Surg Oncol 13: 1553–1559
Interessenkonflikt
Der korrespondierende Autor gibt an, dass kein Interessenkonflikt besteht.
About this article
Cite this article
Schrem, H., Wedemeyer, J., Bektas, H. et al. Intrahepatische Gallengangsteine und Gallengangmissbildungen. Gastroenterologe 3, 14–21 (2008). https://doi.org/10.1007/s11377-007-0139-9
Published:

Issue Date:

DOI: https://doi.org/10.1007/s11377-007-0139-9
Schlüsselwörter
Keywords