Zusammenfassung
Die Leberfibrose ist definiert als exzessive Ablagerung von extrazellulärer Matrix. Sie ist die Hauptkomplikation einer chronischen Leberschädigung. Ihr Endstadium, die Leberzirrhose, ist mit hoher Morbidität und Mortalität vergesellschaftet. Für die Akkumulation von extrazellulärer Matrix sind unterschiedliche Zelltypen verantwortlich, die einen myofibroblastenähnlichen Phänotyp annehmen: im Disse-Raum lokalisierte hepatische Sternzellen, portale Fibroblasten und Myofibroblasten aus den periportalen und perizentralen Gebieten, möglicherweise auch Myofibroblasten aus dem Knochenmark. Unterschiede zwischen den Zelltypen hinsichtlich myofibroblastischer Differenzierung, Aktivierung und "Deaktivierung" wurden zwar beschrieben, doch sind weitere Daten erforderlich insbesondere im Hinblick auf biologische und biochemische Charakterisierung, Interaktionen mit inflammatorischen Zellen und Zytokinzusammensetzung, die zu ihrer Aktivierung oder ihrem Zelltod führt.
Abstract
Liver fibrosis is defined as an excessive deposition of extracellular matrix. It is the main complication in chronic liver damage and its endpoint, liver cirrhosis, is responsible for impressive morbidity and mortality. The accumulation of extracellular matrix proteins in liver fibrosis and cirrhosis is due to different cell types which acquire a myofibroblastic phenotype – the hepatic stellate cells, located in the space of Disse, portal fibroblasts as well as myofibroblasts of the portal and pericentral area and bone marrow derived myofibroblasts. Differences have been reported between the two cell populations with respect to myofibroblastic differentiation, activation and "deactivation", proliferation and apoptosis. However, in most cases additional confirmation may be required. Thus, the biological and biochemical characterization of these cells, their interactions with inflammatory cells and the cytokine environment leading to their activation or cell death are essential to understand the mechanisms underlying the progressive development of excessive scarring in the liver as well as the ability of the liver to repair tissue and regenerate.
This is a preview of subscription content,
to check access.
Access this article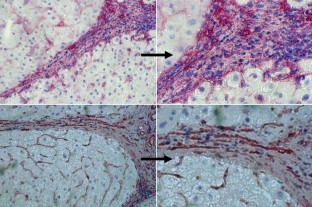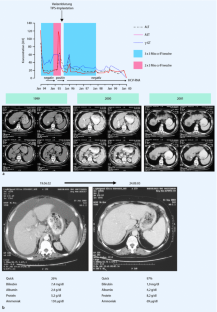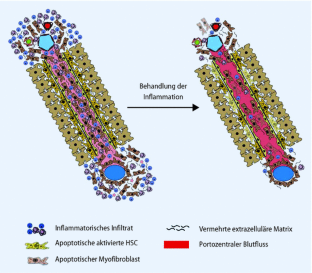 Literatur
Andrade ZA, Guerret S, Fernandes AL (1999) Myofibroblasts in schistosomal portal fibrosis of man. Mem Inst Oswaldo Cruz 94: 87–93

Arii S, Imamura M (2000) Physiological role of sinusoidal endothelial cells and Kupffer cells and their implication in the pathogenesis of liver injury. J Hepatobiliary Pancreat Surg 7: 40–48

Batusic DS, Armbrust T, Saile B, Ramadori G (2004) Induction of Mx-2 in rat liver by toxic injury. J Hepatol 40: 446–453

Bhunchet E, Wake K (1992) Role of mesenchymal cell populations in porcine serum-induced rat liver fibrosis. Hepatology 16: 1452–1473

Cassiman D, Roskams T (2002) Beauty is in the eye of the beholder: emerging concepts and pitfalls in hepatic stellate cell research. J Hepatol 37: 527–535

Costa AM, Tuchweber B, Lamireau T et al. (2003) Role of apoptosis in the remodeling of cholestatic liver injury following release of the mechanical stress. Virchows Arch 442: 372–380

Desmet VJ, Roskams T (2004) Cirrhosis reversal: a duel between dogma and myth. J Hepatol 40: 860–867

Desmouliere A, Darby I, Costa AM et al. (1997) Extracellular matrix deposition, lysyl oxidase expression, and myofibroblastic differentiation during the initial stages of cholestatic fibrosis in the rat. Lab Invest 76: 765–778

Dudas J, Saile B, El Armouche H et al. (2003) Endoreplication and polyploidy in primary culture of rat hepatic stellate cells. Cell Tissue Res 313: 301–311

Forbes SJ, Russo FP, Rey V et al. (2004) A significant proportion of myofibroblasts are of bone marrow origin in human liver fibrosis. Gastroenterology 126: 955–963

Friedman SL (1999) The virtuosity of hepatic stellate cells. Gastroenterology 117: 1244–1246

Gall EA, Dobrogorski O (1964) Hepatic alterations in obstructive jaundice. Am J Clin Pathol 41: 126–139

Garcia-Banuelos J, Siller-Lopez F, Miranda A et al. (2002) Cirrhotic rat livers with extensive fibrosis can be safely transduced with clinical-grade adenoviral vectors. Evidence of cirrhosis reversion. Gene Ther 9: 127–134

Hammel P, Couvelard A, O'Toole D et al. (2001) Regression of liver fibrosis after biliary drainage in patients with chronic pancreatitis and stenosis of the common bile duct. N Engl J Med 344: 418–423

Hillebrandt S, Wasmuth HE, Weiskirchen R et al. (2005) Complement factor 5 is a quantitative trait gene that modifies liver fibrogenesis in mice and humans. Nat Genet 37: 835–843

Issa R, Zhou X, Constandinou CM et al. (2004) Spontaneous recovery from micronodular cirrhosis: Evidence for incomplete resolution associated with matrix cross-linking. Gastroenterology 126: 1795–1808

Kim WH, Matsumoto K, Bessho K, Nakamura T (2005) Growth inhibition and apoptosis in liver myofibroblasts promoted by hepatocyte growth factor leads to resolution from liver cirrhosis. Am J Pathol 166: 1017–1028

Kisseleva T, Uchinami H, Feirt N et al. (2006) Bone marrow-derived fibrocytes participate in pathogenesis of liver fibrosis. J Hepatol 45: 429–438

Knittel T, Kobold D, Saile B et al. (1999) Rat liver myofibroblasts and hepatic stellate cells: different cell populations of the fibroblast lineage with fibrogenic potential. Gastroenterology 117: 1205–1221

Lorena D, Darby IA, Reinhardt DP et al. (2004) Fibrillin-1 expression in normal and fibrotic rat liver and in cultured hepatic fibroblastic cells: Modulation by mechanical stress and role in cell adhesion. Lab Invest 84: 203–212

Lotersztajn S, Julien B, Teixeira-Clerc F et al. (2005) Hepatic fibrosis: Molecular mechanisms and drug targets. Annu Rev Pharmacol Toxicol 45: 605–628

Marra F, Romanelli RG, Giannini C et al. (1999) Monocyte chemotactic protein-1 as a chemoattractant for human hepatic stellate cells. Hepatology 29: 140–148

Neubauer K, Knittel T, Armbrust T, Ramadori G (1995) Accumulation and cellular localization of fibrinogen/fibrin during short-term and long-term rat liver injury. Gastroenterology 108: 1124–1135

Neubauer K, Ritzel A, Saile B, Ramadori G (2000) Decrease of platelet-endothelial cell adhesion molecule 1-gene-expression in inflammatory cells and in endothelial cells in the rat liver following CCl(4)-administration and in vitro after treatment with TNFalpha. Immunol Lett 74: 153–164

Parsons CJ, Bradford BU, Pan CQ et al. (2004) Antifibrotic effects of a tissue inhibitor of metalloproteinase-1 antibody on established liver fibrosis in rats. Hepatology 40: 1106–1115

Perez-Tamayo R (1979) Cirrhosis of the liver: a reversible disease? Pathol Annu 14: 183–213

Ramadori G, Saile B (2002) Mesenchymal cells in the liver–one cell type or two? Liver 22: 283–294

Ramadori G, Saile B (2004) Portal tract fibrogenesis in the liver. Lab Invest 84: 153–159

Roderfeld M, Hemmann S, Roeb E (2007) Mechanisms of fibrinolysis in chronic liver injury (with special emphasis on MMPs and TIMPs). Z Gastroenterol 45: 25–33

Russo FP, Alison MR, Bigger BW et al. (2006) The bone marrow functionally contributes to liver fibrosis. Gastroenterology 130: 1807–1821

Saile B, Knittel T, Matthes N et al. (1997) CD95/CD95L-mediated apoptosis of the hepatic stellate cell. A mechanism terminating uncontrolled hepatic stellate cell proliferation during hepatic tissue repair. Am J Pathol 151: 1265–1272

Saile B, Matthes N, Knittel T, Ramadori G (1999) Transforming growth factor beta and tumor necrosis factor alpha inhibit both apoptosis and proliferation of activated rat hepatic stellate cells. Hepatology 30: 196–202

Sakaida I, Terai S, Yamamoto N et al. (2004) Transplantation of bone marrow cells reduces CCl4-induced liver fibrosis in mice. Hepatology 40: 1304–1311

Sancho-Bru P, Bataller R, Gasull X et al. (2005) Genomic and functional characterization of stellate cells isolated from human cirrhotic livers. J Hepatol 43: 272–282

Sohara N, Znoyko I, Levy MT et al. (2002) Reversal of activation of human myofibroblast-like cells by culture on a basement membrane-like substrate. J Hepatol 37: 214–221

Stickel F, Osterreicher CH, Datz C et al. (2005) Prediction of progression to cirrhosis by a glutathione S-transferase P1 polymorphism in subjects with hereditary hemochromatosis. Arch Intern Med 165: 1835–1840

Wanless IR, Crawford JM (eds) (2004) Cirrhosis. Surgical pathology of the GI tract, liver, biliary tract, and pancreas. Saunders, Philadelphia, pp 863–884

Wanless IR, Nakashima E, Sherman M (2000) Regression of human cirrhosis: Morphologic features and the genesis of incomplete septal cirrhosis. Arch Pathol Lab Med 124: 1599–1607
Danksagung
Diese Arbeit wurde unterstützt von der Deutschen Forschungsgemeinschaft (SFB 402, Projekt C6) und vom Kompetenznetz Hepatitis (Projekt 11.2).
Interessenkonflikt
Keine Angaben
About this article
Cite this article
Saile, B., Ramadori, G. Fibrogenese – Zirrhose. Gastroenterologe 2, 228–237 (2007). https://doi.org/10.1007/s11377-007-0092-7
Published:

Issue Date:

DOI: https://doi.org/10.1007/s11377-007-0092-7
Schlüsselwörter
Keywords