Zusammenfassung
Als gastroenteropankreatische neuroendokrine Tumoren (GEPNETs) werden benigne und maligne Neoplasien bezeichnet, die biologisch aktive Wirkstoffe bilden. Die Klassifikation dieser heterogenen Gruppe basiert auf dem Ursprungsorgan und der Unterscheidung der Sekretionsprodukte nach biogenen Aminen (bioaminerge Karzinoide) und neuroendokrinen Peptiden (peptiderge Karzinoide, Peptidome).Unterschieden werden muss jeweils zwischen symptomatischen und klinisch stummen Tumoren. Die Mehrzahl der Peptidome ist im Pankreas lokalisiert; daher kann diese Gruppe auch unter dem Begriff pankreatische neuroendokrine Tumoren (PNETs) gefasst werden. Die Verdachtsdiagnose entsteht durch das charakteristische (aber keineswegs spezifische) klinische Hypersekretionssyndrom, der Beweis wird entweder durch den direkten Nachweis des hypersezernierten Peptides, seines Effektes auf den Gastrointestinaltrakt oder durch Provokationstests erbracht und durch hochauflösende Bildgebung ergänzt. Eine kurative Therapie ist die totale chirurgische Tumorresektion. Es gilt jedoch die vollständige Trennung der Therapie der Symptome von der des Tumorleidens und ein sorgfältiges Abwägen der Risiken eines chirurgischen Eingriffs gegenüber dem Malignitätspotenzial.
Abstract
Neuroendocrine tumors represent benign or malignant neoplasias which are either characterized by their secretion of biologically active biogenic amines or neuroendocrine peptides, respectively, or which lack any such secretion. The disease classification takes the site of origin into account as well as the nature of the secreted product, be it a biogenic amine or neuroendocrine peptide. Each disease category can be subdivided into a symptomatic state of hypersecretion or a clinically silent group of non-functional tumors. The majority of neuroendocrine tumors which hypersecrete a neuropeptide originate within the pancreas. They can thus be referred to as pancreatic neuroendocrine tumors. Diagnosis is either based on the specific hypersecretion syndrome or on the location of the tumor. Direct evidence for the existence of a neuroendocrine tumor is provided biochemically by direct measurement of the hypersecreted tumor product, by determining the effect of the hypersecreted product on the gastrointestinal tract, or by high-resolution imaging. Total surgical resection represents the only curative therapeutic option . However, control of the syndrome needs to be separated from control of the malignancy, and the risk of surgery has to be carefully adapted to the severity of the disease.
Access options
Buy single article
Instant access to the full article PDF.
US$ 39.95
Tax calculation will be finalised during checkout.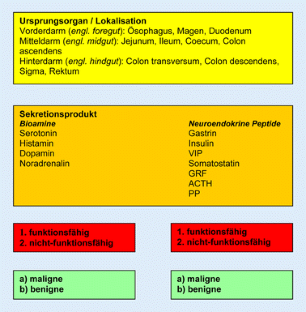 Literatur
1.

Beek A van, de Haas E, van Vloten W, Lips C, Roijers J, Canninga-van Dijk M (2004) The glucagonoma syndrome and necrolytic migratory erythema: a clinical review. Eur J Endocrinol 151(5): 531–537

2.

Debelenko L, Zhuang Z, Emmert-Buck M et al. (1997) Allelic deletions on chromosome 11q13 in multiple endocrine neoplasia type 1-associated and sporadic gastrinomas and pancreatic endocrine tumors. Cancer Res 57(11): 2238–2243

3.

Grant CS (2005) Insulinoma. Best Pract Res Clin Gastroenterol 19(5): 783–798

4.

Green BT, Rockey DC (2001) Duodenal somatostatinoma presenting with complete somatostatinoma syndrome. J Clin Gastroenterol 33: 415–417

5.

Klöppel G, Perren A, Heitz PU (2004) The gastroenteropancreatic neuroendocrine cell system and its tumors: the WHO classification. Ann N Y Acad Sci 1014: 13–27

6.

Klöppel G, Anlauf M (2005) Epidemiology, tumour biology and histopathological classification of neuroendocrine tumours of the gastrointestinal tract. Best Pract Res Clin Gastroenterol 19(4): 507–517

7.

Metz DC (1999) Diagnosis of non-Zollinger-Ellison syndrome, non-carcinoid syndrome, enteropancreatic neuroendocrine tumours. Ital J Hepatol Gastroenterol 31(S2): S153–159

8.

Modlin IM, Kidd M, Latich I, Zikusoka MN, Shapiro MD (2005) Current status of gastrointestinal carcinoids. Gastroenterology 128(6): 1717–1751

9.

Oberndorfer S (1907) Karzinoide Tumoren des Dünndarms. Frank Z Pathol 1: 426–429

10.

Park SK, O'Dorisio MS, O'Dorisio TM (1996) Vasoactive intestinal polypeptide-secreting tumours: biology and therapy. Baillieres Clin Gastroenterol 10: 673–696

11.

Rindi G, Klöppel G (2004) Endocrine tumors of the gut and pancreas tumor biology and classification. Neuroendocrinology 80 [Suppl 1]: 12–15

12.

Tanaka S, Yamasaki S, Matsushita H et al. (2000) Duodenal somatostatinoma: a case report and review of 31 cases with special reference to the relationship between tumor size and metastasis. Pathol Int 50(2): 146–152

13.

Verner JV, Morrison AB (1958) Islet cell tumour and a syndrome of refractory watery diarrhea and hypokalaemia. Am J Med 9: 374–380

14.

Williams ED, Sandler M (1963) The classification of carcinoid tumors. Lancet 1: 238–239

15.

Woodside KJ, Townsend CM, Evers BM (2004). Current management of gastrointestinal carcinoid tumors. J Gastrointest Surg 8(6): 742–756

16.

Zollinger RM, Ellison EH (1955) Primary peptic ulceration of the jejunum associated with islet cell tumors of the pancreas. Ann Surg 142: 709
About this article
Cite this article
Schmidt, W.E., Banasch, M. & Schmitz, F. Pankreatische neuroendokrine Tumoren. Gastroenterologe 1, 43–50 (2006). https://doi.org/10.1007/s11377-006-0008-y
Schlüsselwörter
Neuroendokrine Tumoren

Neuropeptide

Biogene Amine

Karzinoidsyndrom

Hypersekretionssyndrom

Pankreastumoren
Keywords
Neuroendocrine tumors

Neuropeptides

Biogenic amines

Carcinoid syndrome

Hypersecretion syndrome

Pancreatic tumors