Abstract
Autonomous mobile delivery robots are used as a way to improve efficiency in hospitals and reduce staff workload amongst a growing workforce shortage in healthcare. These two case studies investigated the usability, acceptability and functionality of two GoCart delivery robots at two different healthcare settings. The GoCart robots assisted with delivering blood and urine samples at a pathology laboratory and delivering meals at a residential care facility during a two-week period. A total of 50 participants (direct and secondary users, and managers) were interviewed about their experiences with the robot and answered questions about its design and functionality, safety and security, usability and their overall attitudes towards having the robot at their facility. Results showed that the participants from both sites thought the robots could be a good addition to their facilities to improve efficiency and reduce staff workload. The robot was received more positively at the residential care facility than the pathology laboratory. Improvements still need to be made to adapt the robots to each site before implementing the GoCarts long term, including changes to the size and screen. These case studies demonstrate that autonomous mobile delivery robots could be a useful addition to residential care facilities and pathology laboratory sites. Overall, this research adds to the current evidence showing potential uses for delivery robots and highlights important design considerations.
Access options
Buy single article
Instant access to the full article PDF.
US$ 39.95
Tax calculation will be finalised during checkout.
Subscribe to journal
Immediate online access to all issues from 2019. Subscription will auto renew annually.
US$ 79
Tax calculation will be finalised during checkout.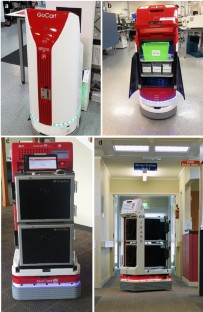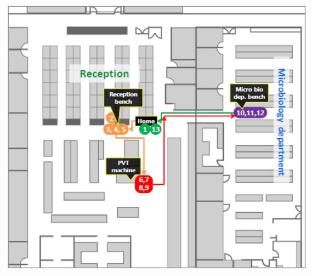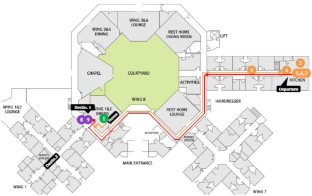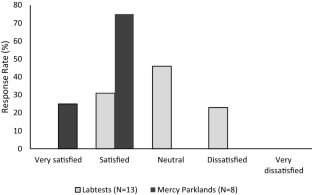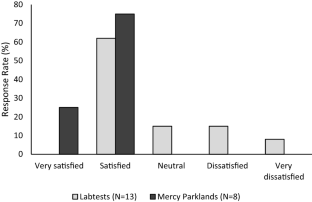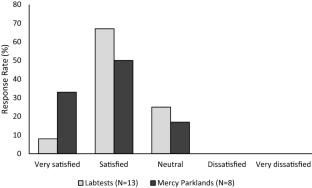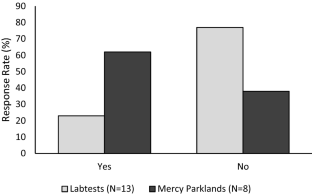 Data availability
Due to ethics requirements, we are unable to share data.
References
1.

Dahl TS, Boulos MNK (2014) Robots in health and social care: a complementary technology to home care and telehealthcare? Robot 3:1–21. https://doi.org/10.3390/robotics3010001

2.

Shi L, Singh DA (2014) Delivering health care in America: a systems approach. Jones & Bartlett Learning, MA, USA. Retrieved from http://samples.jbpub.com/9781284047127/FrontMatter.pdf

3.

Riek LD (2017) Healthcare robotics. Commun ACM 60(11):68–78. https://doi.org/10.1145/3127874

4.

Kim J (2018) Use of robots as a creative approach in healthcare ICT. Healthc Inform Res 24(3):155–156. https://doi.org/10.4258/hir.2018.24.3.155

5.

Ahn HS, Lee MH, MacDonald BA (2015) Healthcare robot systems for a hospital environment: carebot and receptionbot. 2015 24th IEEE international symposium on robot and human interactive communication (RO-MAN); IEEE. https://doi.org/10.1109/ROMAN.2015.7333621

6.

Ahn HS, Zhang S, Lee MH, Lim JY, MacDonald BA (2018) Robotic healthcare service system to serve multiple patients with multiple robots. International conference on social robotics; Springer. https://doi.org/10.1007/978-3-030-05204-1_48

7.

Law M, Sutherland C, Ahn HS, MacDonald BA, Peri K, Johanson DL et al (2019) Developing assistive robots for people with mild cognitive impairment and mild dementia: a qualitative study with older adults and experts in aged care. BMJ Open 9(9):e031937. https://doi.org/10.1136/bmjopen-2019-031937

8.

Ozkil AG, Fan Z, Dawids S, Aanes H, Kristensen JK, Christensen KH (2009) Service robots for hospitals: a case study of transportation tasks in a hospital. 2009 IEEE international conference on automation and logistics; IEEE. https://doi.org/10.1109/ICAL.2009.5262912

9.

Amazon Prime Air (2020). Drone delivery. Amazon. Retrieved from https://www.amazon.com/Amazon-Prime-Air/b?ie=UTF8&node=8037720011

10.

Bhaskar K, Mansooor A, Anand KR, Ramani A (2011) Intelligent mail delivery robot. 2011 2nd international conference on intelligent agent & multi-agent systems; IEEE. https://doi.org/10.1109/IAMA.2011.6048994

11.

Jeon S, Lee J (2017) Multi-robot control architecture for hospital delivery service in unstable network environment. ICINCO (2). https://doi.org/10.5220/0006410502700277

12.

Lum G, D'Amarino MJ (2009) Use of laboratory robots for transport and delivery of blood products. Lab Med 40(9):517–522. https://doi.org/10.1309/LMR9EV8GT9XCQAMK

13.

Nejat G, Sun Y, Nies M (2009) Assistive robots in health care settings. Home Health Care Manag Pract 21(3):177–187. https://doi.org/10.1177/1084822308325695

14.

Jeon S, Lee J (2016) The simulator for performance analysis of multiple robots for hospital delivery. 2016 13th international conference on ubiquitous robots and ambient intelligence (URAI); IEEE. https://doi.org/10.1109/URAI.2016.7734105

15.

Carreira F, Canas T, Silva A, Cardeira C (2006) I-Merc: A mobile robot to deliver meals inside health services. 2006 IEEE Int Conf Robot Autom; IEEE. https://doi.org/10.1109/RAMECH.2006.252651

16.

Bloss R (2011) Mobile hospital robots cure numerous logistic needs. Ind Robot 38(6):567–571. https://doi.org/10.1108/01439911111179075

17.

Silva JB, Santos C, Sequeira J (2013) Developing a timed navigation architecture for hospital delivery robots. 2013 IEEE 3rd Portuguese meeting in bioengineering (ENBENG); IEEE. https://doi.org/10.1109/ENBENG.2013.6518412

18.

Hada Y, Gakuhari H, Takase K, Hemeldan EI (2004) Delivery service robot using distributed acquisition, actuators and intelligence. 2004 IEEE/RSJ international conference on intelligent robots and systems (IROS) (IEEE Cat. No. 04CH37566); IEEE. https://doi.org/10.1109/IROS.2004.1389865

19.

Jean J, Wei C, Lin Z, Lian K. Development of an office delivery robot with multimodal human-robot interactions. 2012 Proceedings of SICE Annual Conference (SICE); IEEE; 2012.

20.

Gao K, Xin J, Cheng H, Liu D, Li J (2018) Multi-mobile robot autonomous navigation system for intelligent logistics. 2018 Chinese Automation Congress (CAC); IEEE. https://doi.org/10.1109/CAC.2018.8623343

21.

Li C, Liu X, Zhang Z, Bao K, Qi ZT (2016) Wheeled delivery robot control system. 2016 12th IEEE/ASME international conference on mechatronic and embedded systems and applications (MESA); IEEE. https://doi.org/10.1109/MESA.2016.7587137

22.

Scott S (2019) Meet Scout: field testing a new delivery system with Amazon Scout. The Amazon Blog. https://blog.aboutamazon.com/transportation/meet-scout

23.

Crowley C, Proser M, Bazemore A (2018) High demand, low supply: Health centers and the recruitment of family physicians. Am Fam Phys 98(3):146

24.

Ludlow K, Churruca K, Mumford V, Ellis LA, Testa L, Long JC, Braithwaite J (2019) Unfinished care in residential aged care facilities: an integrative review. Gerontologist. https://doi.org/10.1093/geront/gnz145

25.

Thornton K (2011) Reversing the lab-workforce shortage trend. Advance for administrators of the laboratory. 25(3):1–4. http//laboratory-manager.advanceweb.com/Feaatures/Articles/Reversing-the-Lab-Workforce- Shortage-Trend.aspx

26.

Willis E, Price K, Bonner R (2016) National aged care staffing and skills mix project report 2016. Meeting residents' care needs: a study of the requirement for nursing and personal care staff. Melbourne, Australia: Australian Nursing and Midwifery Federation

27.

Riek LD. The social co-robotics problem space: Six key challenges. Proceedings of the 1st Workshop on Robotics Challenges and Vision (RCV2013). 2013:13–16.

28.

Fernando JB, Tanigawa T, Naito E, Yamagami K, Ozawa J (2012) Collision avoidance path planning for hospital robot with consideration of disabled person's movement characteristic. The 1st IEEE global conference on consumer electronics 392–396. https://doi.org/10.1109/GCCE.2012.6379636.

29.

Björling EA, Rose E (2019) Participatory research principles in human-centered design: engaging teens in the co-design of a social robot. Multimodal Technol Interact 3(1):8. https://doi.org/10.3390/mti3010008

30.

Rodil K, Rehm M, Krummheuer AL (2018) Co-designing social robots with cognitively impaired citizens. Proceedings of the 10th Nordic conference on human-computer interaction. 686–690. https://doi.org/10.1145/3240167.3240253

31.

Lluch M (2011) Healthcare professionals' organisational barriers to health information technologies—a literature review. Int J Med Inform 80(12):849–862. https://doi.org/10.1016/j.ijmedinf.2011.09.005

32.

Forlizzi J, Zimmerman J (2013) Promoting service design as a core practice in interaction design. Proc. of IASDR13. 1–12

33.

Victor CR, Yang K (2012) The prevalence of loneliness among adults: a case study of the United Kingdom. J Psychol 146(1–2):85–104. https://doi.org/10.1080/00223980.2011.613875
Acknowledgements
We wish to thank staff at Labtests and Mercy Parklands for their involvement and assistance in this study.
Funding
This study was supported by Yujin Robot Co., Ltd.
Ethics declarations
Conflicts of interest
The authors declare that they have no conflict of interest.
Additional information
Publisher's Note
Springer Nature remains neutral with regard to jurisdictional claims in published maps and institutional affiliations.
About this article
Cite this article
Law, M., Ahn, H.S., Broadbent, E. et al. Case studies on the usability, acceptability and functionality of autonomous mobile delivery robots in real-world healthcare settings. Intel Serv Robotics (2021). https://doi.org/10.1007/s11370-021-00368-5
Received:

Accepted:

Published:
Keywords
Robot

Delivery

Pathology laboratory

Residential care facility

GoCart