Abstract
Purpose
The massive applications of fertilizers and unreasonable management have resulted in serious soil degradation. Spent mushroom substrate (SMS) could be used as the raw material to produce biochar, and the SMS and SMS-derived biochar applications might affect the phytoremediation performances of contaminated soils. This study aimed to reveal the differences in functional mechanisms of SMS and SMS-derived biochar affecting the phytoremediation of soil heavy metal contamination.
Materials and methods
Alfalfa (Medicago sativa L.) was used to remediate the agricultural soil contaminated with cadmium (Cd), arsenic (As), and copper (Cu), and the effects of SMS and SMS-derived biochar applications on alfalfa phytoremediation, contaminant phytoextractions, microbial activities, and antibiotic and heavy metal resistance genes and were quantified.
Results and discussion
Relative to the alfalfa alone, extra biochar application reduced soil available Cd contents by 44% and enhance the phytoremediation performances via enhancements in plant biomass. The combined applications of SMS and biochar significantly enhanced soil urease, β-glucosidase, and phosphatase activities increased As resistance gene abundance by 264% but had negligible impact on antibiotic resistance gene abundance, relative to the alfalfa alone. The alfalfa phytoremediation with the SMS applications significantly enhanced the relative abundances of Proteobacteria and Bacteroidetes and significantly changed the community structures of microorganisms containing heavy metal resistance genes.
Conclusions
Our study suggested that the SMS-derived biochar reduced the soil's available Cd content and enhanced the phytoremediation performance, and the SMS application could enhance microbial resistances to heavy metals and stimulate microbial activities in contaminated soil.
Access options
Buy single article
Instant access to the full article PDF.
USD 39.95
Price excludes VAT (USA)
Tax calculation will be finalised during checkout.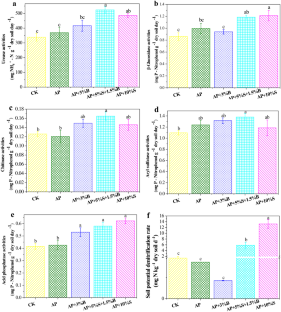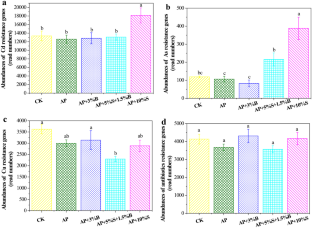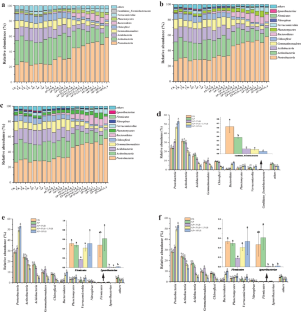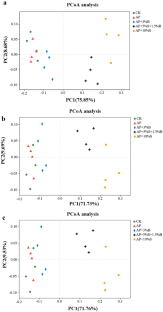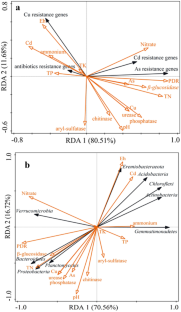 References
Bakshi S, Banik C, Rathke SJ, Laird DA (2018) Arsenic sorption on zero-valent iron-biochar complexes. Water Res 137:153–163

Bolan N, Kunhikrishnan A, Thangarajan R, Kumpiene J, Park J, Makino T, Kirkham MB, Scheckel K (2014) Remediation of heavy metal (loid) s contaminated soils–to mobilize or to immobilize? J Hazard Mater 266:141–166

Chen G, Yu H, Lin F, Zhang Z, Yan B, Song Y (2020) Utilization of edible fungi residues towards synthesis of high-performance porous carbon for effective sorption of Cl-VOCs. Sci Total Environ 727:138475

Chen Y, Jiang Y, Huang H, Mou L, Ru J, Zhao J, Xiao S (2018) Long-term and high-concentration heavy-metal contamination strongly influences the microbiome and functional genes in Yellow River sediments. Sci Total Environ 637:1400–1412

Chi T, Zuo J, Liu F (2017) Performance and mechanism for cadmium and lead adsorption from water and soil by corn straw biochar. Front Environ Sci Eng 11:15. https://doi.org/10.1007/s11783-017-0921-y

Chu L, Wang J (2013) Denitrification performance and biofilm characteristics using biodegradable polymers PCL as carriers and carbon source. Chemosphere 91:1310–1316

Dabrowska M, Debiec-Andrzejewska K, Andrunik M, Bajda T, Drewniak L (2021) The biotransformation of arsenic by spent mushroom compost–an effective bioremediation agent. Ecotox Environ Safe 213:112054

Deng L, Zeng G, Fan C, Lu L, Chen X, Chen M, Wu H, He X, He Y (2015) Response of rhizosphere microbial community structure and diversity to heavy metal co-pollution in arable soil. Appl Microbiol Biot 99:8259–8269

Floch C, Capowiez Y, Criquet S (2009) Enzyme activities in apple orchard agroecosystems: how are they affected by management strategy and soil properties. Soil Biol Biochem 41:61–68

Gao FZ, He LY, He LX, He LX, Zou HY, Zhang M, Wu DL, Liu YS, Shi YJ, Bai H, Ying GG (2020) Untreated swine wastes changed antibiotic resistance and microbial community in the soils and impacted abundances of antibiotic resistance genes in the vegetables. Sci Total Environ 741:140482

Han L, Chen Y, Chen M, Wu Y, Su R, Du L, Liu Z (2020) Mushroom residue modification enhances phytoremediation potential of Paulownia fortunei to lead-zinc slag. Chemosphere 253:126774

Herrero-Hernández E, Andrades M, Rodríguez-Cruz M, Sánchez-Martín M (2011) Effect of spent mushroom substrate applied to vineyard soil on the behaviour of copper-based fungicide residues. J Environ Manage 92:1849–1857

Hu Y, Zhang P, Yang M, Liu Y, Zhang X, Feng S, Guo D, Dang X (2020) Biochar is an effective amendment to remediate Cd-contaminated soils-a meta-analysis. J Soil Sediment 20:3884–3895

Ippolito JA, Laird DA, Busscher WJ (2012) Environmental benefits of biochar. J Environ Qual 41:967–972

Jiang Y, Hu T, Peng O, Chen A, Tie B, Shao J (2021) Responses of microbial community and soil enzyme to heavy metal passivators in cadmium contaminated paddy soils: an in situ field experiment. Int Biodeter Biodegr 164:105292

Joniec J, Gąsior J, Voloshanska S, Nazarkiewicz M, Hoivanovych N (2019) Evaluation of the effectiveness of land reclamation based on microbiological and biochemical parameters assessed in an ozokerite mining and processing landfill sown with Trifolium hybridum and Dactylis glomerata. J Environ Manage 242:343–350

Koul B, Yakoob M, Shah MP (2022) Agricultural waste management strategies for environmental sustainability. Environ Res 206:112285

Kumar N, Kumari V, Ram C, Thakur K, Tomar SK (2018) Bio-prospectus of cadmium bioadsorption by lactic acid bacteria to mitigate health and environmental impacts. Appl Microbiol Biot 102:1599–1615

Lang M, Cai Z (2009) Effects of chlorothalonil and carbendazim on nitrification and denitrification in soils. J Environ Sci 21:458–467

Leong YK, Ma T-W, Chang J-S, Yang F-C (2022) Recent advances and future directions on the valorization of spent mushroom substrate (SMS): a review. Bioresource Technol 344:126157

Li F, Kong Q, Zhang Q, Wang H, Wang L, Luo T (2020) Spent mushroom substrates affect soil humus composition, microbial biomass and functional diversity in paddy fields. Appl Soil Ecol 149:103489

Li M, Wang K, Jia C, Liu T, Yang S, Ou H, Zhao J (2021) Bacteroidetes bacteria, important players in the marine sponge larval development process. Iscience 24:102662

Lu RK (2000) Analysis methods of soil and agricultural chemistry. Beijing: Chinese Agric Sci Technol Press 146–315. (in Chinese)

Mohd Hanafi FH, Rezania S, Mat Taib S, Md Din MF, Yamauchi M, Sakamoto M, Hara H, Park J, Ebrahimi SS (2018) Environmentally sustainable applications of agro-based spent mushroom substrate (SMS): an overview. J Mater Cycles Waste 20:1383–1396

Paredes C, Medina E, Bustamante M, Moral R (2016) Effects of spent mushroom substrates and inorganic fertilizer on the characteristics of a calcareous clayey-loam soil and lettuce production. Soil Use Manage 32:487–494

Peng H, Gu J, Wang X, Wang Q, Sun W, Hu T, Guo H, Ma J, Bao J (2020) Insight into the fate of antibiotic resistance genes and bacterial community in co-composting green tea residues with swine manure. J Environ Manage 266:110581

Pračke K, Száková J, Tlustoš P (2022) Biochar applications enhance the phytoextraction potential of Salix smithiana [Willd.](willow) in heavily contaminated soil: potential for a sustainable remediation method? J Soil Sediment 22:905–915

Rahimlou S, Bahram M, Tedersoo L (2021) Phylogenomics reveals the evolution of root nodulating alpha-and beta-Proteobacteria (rhizobia). Microbiol Res 250:126788

Rashad FM, Kattan MHEl, Fathy HM, El-Fattah DAA, Tohamy MEl, Farahat AA (2019) Recycling of agro-wastes for Ganoderma lucidum mushroom production and Ganoderma post mushroom substrate as soil amendment. Waste Manag 88:147–159

Sakhiya AK, Vijay VK, Kaushal P (2022) Efficacy of rice straw derived biochar for removal of Pb+ 2 and Zn+ 2 from aqueous: adsorption, thermodynamic and cost analysis. Bioresource Technol Rep 17:100920

Sewu DD, Jung H, Kim SS, Lee DS, Woo SH (2019) Decolorization of cationic and anionic dye-laden wastewater by steam-activated biochar produced at an industrial-scale from spent mushroom substrate. Bioresource Technol 277:77–86

Sha G, Bi W, Zhang L, Chen T, Li X, Chen G, Wang L (2022) Dynamics and removal mechanisms of antibiotic and antibiotic resistance genes during the fermentation process of spectinomycin mycelial dregs: an integrated meta-omics study. J Hazard Mater 421:126822

Singh OV, Labana S, Pandey G, Budhiraja R, Jain RK (2003) Phytoremediation: an overview of metallic ion decontamination from soil. Appl Microbiol Biot 61:405–412

Song W, Guo M (2012) Quality variations of poultry litter biochar generated at different pyrolysis temperatures. J Anal Appl Pyrol 94:138–145

Sun M, Ye M, Liu K, Schwab AP, Liu M, Jiao J, Feng Y, Wan J, Tian D, Wu J (2017) Dynamic interplay between microbial denitrification and antibiotic resistance under enhanced anoxic denitrification condition in soil. Environ Pollut 222:583–591

Tabatabai M, Bremner J (1972) Assay of urease activity in soils. Soil Biol Biochem 4:479–487

Tang B, Xu H, Song F, Ge H, Chen L, Yue S, Yang W (2022) Effect of biochar on immobilization remediation of Cd-contaminated soil and environmental quality. Environ Res 204:111840

Usero J, Gamero M, Morillo J, Gracia I (1998) Comparative study of three sequential extraction procedures for metals in marine sediments. Environ Int 24:487–496

Wang F, Ouyang W, Hao F, Lin C, Song N (2014) In situ remediation of cadmium-polluted soil reusing four by-products individually and in combination. J Soil Sediment 14:451–461

Wang L, Wang Z, Wang F, et al (2023a) Response of performance, antibiotic resistance genes and bacterial community exposure to compound antibiotics stress: full nitrification to shortcut nitrification and denitrification. Chem Eng J 451:138750. https://doi.org/10.1016/j.cej.2022.138750

Wang L, Yang C, Yang Z, et al (2022) Shortcut nitrification and denitrification shed light on simultaneous removal of conventional contaminants and antibiotic resistance genes (ARGs). J Environ Chem Eng 10:106925. https://doi.org/10.1016/j.jece.2021.106925

Wang A, Zou D, Xu Z, Chen B, Zhang X, Chen F, Zhang M (2023b) Combined effects of spent mushroom substrate and dicyandiamide on carbendazim dissipation in soils: double-edged sword effects and potential risk controls. Environ Pollut 319:120992

Wang Y, Villamil MB, Davidson PC, Akdeniz N (2019) A quantitative understanding of the role of co-composted biochar in plant growth using meta-analysis. Sci Total Environ 685:741–752

Wei Y, Jin Z, Zhang M, Li Y, Huang S, Liu X, Jin Y, Wang H, Qu J (2020) Impact of spent mushroom substrate on Cd immobilization and soil property. Environ Sci Pollut Res 27:3007–3022

Xie N, Kang C, Ren D, Zhang L (2022) Assessment of the variation of heavy metal pollutants in soil and crop plants through field and laboratory tests. Sci Total Environ 811:152343

Xu X, Wu Y, Wu X, Sun Y, Huang Z, Li H, Wu Z, Zhang X, Qin X, Zhang Y, Deng J, Huang J (2022) Effect of physicochemical properties of biochar from different feedstock on remediation of heavy metal contaminated soil in mining area. Surf Interfaces 32:102058. https://doi.org/10.1016/j.surfin.2022.102058

Xu D-M, Fu R-B, Wang J-X, Shi Y-X, Guo X-P (2021) Chemical stabilization remediation for heavy metals in contaminated soils on the latest decade: Available stabilizing materials and associated evaluation methods-a critical review. J Clean Prod 321:128730

Xu Y, Tang H, Liu T, Li Y, Huang X, Pi J (2018a) Effects of long-term fertilization practices on heavy metal cadmium accumulation in the surface soil and rice plants of double-cropping rice system in Southern China. Environ Sci Pollut Res 25:19836–19844

Xu Z, Dai X, Chai X (2018b) Effect of different carbon sources on denitrification performance, microbial community structure and denitrification genes. Sci Total Environ 634:195–204

Yan X, An J, Yin Y, Gao C, Wang B, Wei S (2022) Heavy metals uptake and translocation of typical wetland plants and their ecological effects on the coastal soil of a contaminated bay in Northeast China. Sci Total Environ 803:149871

Yang X, Liu L, Tan W, Liu C, Dang Z, Qiu G (2020) Remediation of heavy metal contaminated soils by organic acid extraction and electrochemical adsorption. Environ Pollut 264:114745

Yang X, Ng W, Wong BSE, Baeg GH, Wang C-H, Ok YS (2019) Characterization and ecotoxicological investigation of biochar produced via slow pyrolysis: effect of feedstock composition and pyrolysis conditions. J Hazard Mater 365:178–185

Yu H, Liu P, Shan W, Teng Y, Rao D, Zou L (2021) Remediation potential of spent mushroom substrate on Cd pollution in a paddy soil. Environ Sci Pollut Res 28:36850–36860

Zerizghi T, Guo Q, Tian L, Wei R, Zhao C (2022) An integrated approach to quantify ecological and human health risks of soil heavy metal contamination around coal mining area. Sci Total Environ 814:152653

Zhang M, Wang J, Bai SH, Zhang Y, Teng Y, Xu Z (2019) Assisted phytoremediation of a co-contaminated soil with biochar amendment: contaminant removals and bacterial community properties. Geoderma 348:115–123

Zou D, Wang J, Wang W, Ye X, Yang C, He F, Zhang M (2022) Co‐occurrences of soil nitrogen cycling and human‐disease gene following spent mushroom substrate and nitrification inhibitor applications: a strategy for decreasing health risk. Land Degrad Dev https://doi.org/10.1002/ldr.4315
Funding
This study was financially supported by the Hunan Province Science Fund for Excellent Young Scholars (2021JJ20030), the National Natural Science Foundations of China (42177026), the Central Financial Project (JXTG(2020)25), the Forestry Science and Technology Innovation (2023(10)), the Key Research and Development Programs of Hunan (2020NK2011 and 2021NK2012), and the Double First-class Construction Project of Hunan Agricultural University (kxk201801007 and SYL2019025).
Ethics declarations
Competing interests
The authors declare no competing interests.
Additional information
Responsible editor: Yongfu Li.
Publisher's Note
Springer Nature remains neutral with regard to jurisdictional claims in published maps and institutional affiliations.
Supplementary Information
Below is the link to the electronic supplementary material.
Rights and permissions
Springer Nature or its licensor (e.g. a society or other partner) holds exclusive rights to this article under a publishing agreement with the author(s) or other rightsholder(s); author self-archiving of the accepted manuscript version of this article is solely governed by the terms of such publishing agreement and applicable law.
About this article
Cite this article
Wang, A., Zou, D., O'Connor, P. et al. Assistant effects of spent mushroom substrate and its derived biochar on soil phytoremediation. J Soils Sediments 23, 1641–1653 (2023). https://doi.org/10.1007/s11368-023-03452-8
Received:

Accepted:

Published:

Issue Date:

DOI: https://doi.org/10.1007/s11368-023-03452-8
Keywords
Soil contamination

Phytoremediation

Spent mushroom substrate

Soil enzyme activity

Illumine-miseq sequencing

Resistance genes