Abstract
Purpose
It is very important to build up soil fertility to maintain the sustainability of crop production in film mulched fields in northwest China. However, the effects of different biochar application rates on the soil organic carbon (SOC) contents and crop yields in film-mulched farmland remain unclear. The results obtained in this study can guide the selection of appropriate biochar application rates for film-mulched farmland management in semiarid areas.
Methods
A field experiment was conducted with four different biochar application rates (no biochar = 0 t ha–1, low = 3 t ha–1, medium = 6 t ha–1, and high = 9 t ha–1) to farmland under continuous film mulching and no-mulching in a semiarid area. The SOC contents, soil aggregate fractions, and maize yields were measured, and the soil aggregate stability was calculated.
Results
Mulching significantly increased the soil macro-aggregate content (15.9–83.6%) and maize yield (35.0–41.8%). Under mulching, biochar application significantly increased the mean weight diameter (MWD) and geometric mean diameter (GMD) by 10.2% and 4.5%, respectively, and the effects increased as the biochar application rate increased. In addition, applying biochar increased the SOC and aggregate organic carbon (AOC) contents, where the effects were greater under the high biochar amount than the other treatments. Biochar application also increased the contribution of SOC in macro-aggregates (> 0.25 mm) to the total SOC, thereby promoting carbon sequestration in soils. Furthermore, the yield was correlated with the biochar addition rate, and the highest yield of 12.8 t ha–1 was obtained under the highest biochar application rate.
Conclusions
In conclusion, biochar application significantly improved the soil aggregate characteristics and organic carbon contents of farmland under film mulching. Biochar application also helped to increase the maize yield and promote the sequestration of soil carbon.
Access options
Buy single article
Instant access to the full article PDF.
USD 39.95
Price excludes VAT (USA)
Tax calculation will be finalised during checkout.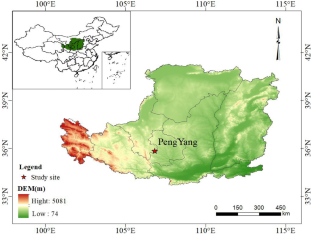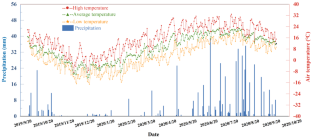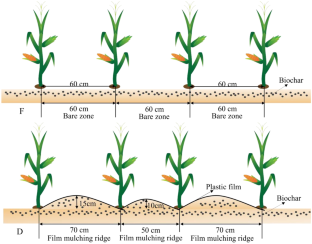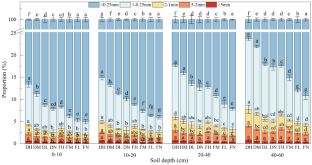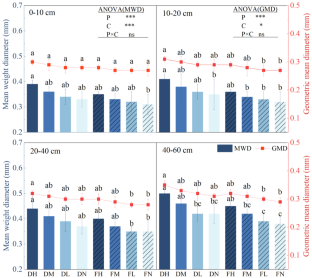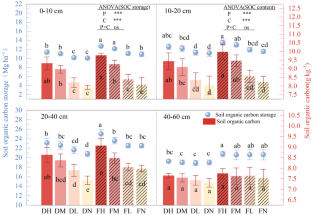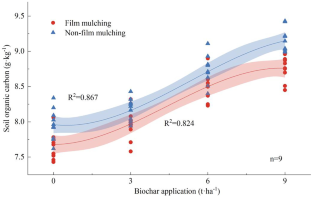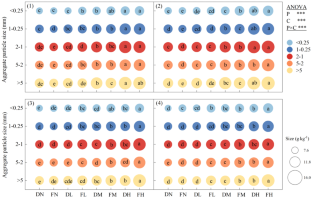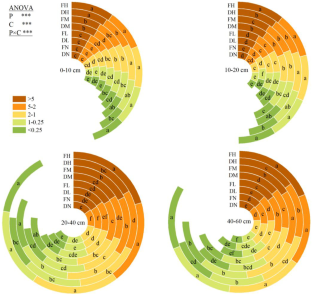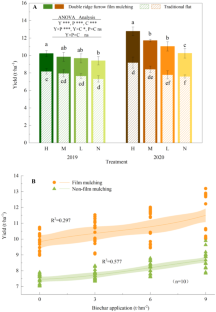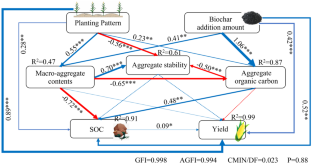 Data availability
Data will be made available on request.
References
Bravo-Garza MR, Voroney P, Bryan RB (2010) Particulate organic matter in water stable aggregates formed after the addition of 14C-labeled maize residues and wetting and drying cycles in vertisols. Soil Biol Biochem 42:953–959

Chaplot V, Cooper M (2015) Soil aggregate stability to predict organic carbon outputs from soils. Geoderma 243(244):205–213

Cheng ZB, Wang JY, Gale WJ, YANG HC, Zhang FH (2020) Soil aggregation and aggregate-associated organic carbon under typical natural halophyte communities in arid saline areas of Northwest China. Pedosphere 30(2):236–243

Cui TT, Li ZH, Wang SJ (2017) Effects of in-situ straw decomposition on composition of humus and structure of humic acid at different soil depths. J Soil Sediment 17:2391–2399

Dong XL, Guan TY, Li GT, Lin QM, Zhao XR (2016) Long-term effects of biochar amount on the content and composition of organic matter in soil aggregates under field conditions. J Soil Sediment 16:1481–1497

Dong XL, Singh BP, Li GT, Lin QM, Zhao XR (2019) Biochar increased field soil inorganic carbon content five years after application. Soil till Res 186:36–41

Eldoma IM, Li M, Zhang F, Li FM (2016) Alternate or equal ridge-furrow pattern: which is better for maize production in the rain-fed semi-arid Loess Plateau of China? Field Crop Res 191:131–138

Elliott ET (1986) Aggregate structure and carbon, nitrogen and phosphorus in native and cultivated soils. Soil Sci Soc Am J 50:627–633

García-Palacios P, Alarcón MR, Tenorio JL, Moreno SS (2019) Ecological intensification of agriculture in drylands. J Arid Environ 167:101–105

Jin L, Wei D, Yin DW, Zhou BK, Ding JL, Wang W, Zhang JM, Qiu SJ, Zhang CJ, Li Y, An ZZ, Gu JL, Wang L (2020) Investigations of the effect of the amount of biochar on soil porosity and aggregation and crop yields on fertilized black soil in northern China. PLoS ONE 15:e0238883

Hossain MZ, Bahar MM, Sarkar B, Donne SW, Ok YS, Palansooriya KN, Kirkham MB, Chowdhury S, Bolan N (2020) Biochar and its importance on nutrient dynamics in soil and plant. Biochar 2:379–420

Kan ZR, Liu QY, Wu G, Ma ST, Virk AL, Qi JY, Zhao X, Zhang HL (2020) Temperature and moisture driven changes in soil carbon sequestration and mineralization under biochar addition. J Clean Prod 265:121921

Li C, Luo XQ, Wang NJ, Wu WJ, Li Y, Hao Q, Zhang TB, Ding DY, Dong Q, Feng H (2022) Transparent plastic film combined with deficit irrigation improves hydrothermal status of the soil-crop system and spring maize growth in arid areas. Agr Water Manage 265:107536

Liu JL, Li SQ, Yue SC, Tian JQ, Chen H, Jiang HB, Siddique KHM, Zhan A, Fang QX, Yu Q (2021) Soil microbial community and network changes after long-term use of plastic mulch and nitrogen fertilization on semiarid farmland. Geoderma 396:115086

Liu KL, Huang J, Li DM, Yu XC, Ye HC, Hu HW, Hu ZH, Huang QH, Zhang HM (2019) Comparison of carbon sequestration efficiency in soil aggregates between upland and paddy soils in a red soil region of China. J Integr Agric 18(6):1348–1359

Lu TP, Wang XJ, Du ZL, Wu LP (2021) Impacts of continuous biochar application on major carbon fractions in soil profile of North China Plain's cropland: In comparison with straw incorporation. Agr Ecosyst Environ 315:107445

Luo CY, Yang JJ, Chen W, Han FP (2020) Effect of biochar on soil properties on the Loess Plateau: results from field experiments. Geoderma 369:114323

Ma DD, Chen L, Qua HC, Wang YL, Misselbrook T, Jiang R (2018) Impacts of plastic film mulching on crop yields, soil water, nitrate, and organic carbon in Northwestern China: a meta-analysis. Agr Water Manage 202:166–173

Mandal S, Donner E, Vasileiadis S, Skinner W, Smith E, Lombi E (2018) The effect of biochar feedstock, pyrolysis temperature, and application rate on the reduction of ammonia volatilisation from biochar-amended soil. Sci Total Environ 627:942–950

Snyder JD, Trofymow JA (1984) A rapid accurate wet oxidation diffusion procedure for determining organic and inorganic carbon in plant and soil samples. Commun Soil Sci Plan 15:587–597

Sui YH, Gao JP, Liu CH, Zhang WZ, Lan Y, Li SH, Meng J, Xu ZJ, Tang L (2016) Interactive effects of straw-derived biochar and N fertilization on soil C storage and rice productivity in rice paddies of Northeast China. Sci Total Environ 544:203–210

Sun ZC, Zhang ZC, Zhu K, Wang ZM, Zhao XR, Lin QM, Li GT (2020) Biochar altered native soil organic carbon by changing soil aggregate size distribution and native SOC in aggregates based on an 8-year field experiment. Sci Total Environ 708:134829

Tagar AA, Adamowski J, Memon MS, Do MC, Mashori AS, Soomro AS, Bhayo WA (2020) Soil fragmentation and aggregate stability as affected by conventional tillage implements and relations with fractal dimensions. Soil till Res 197:104494

Tian J, Pausch J, Yu GR, Blagodatskaya E, Kuzyakov Y (2016) Aggregate size and glucose level affect priming sources: a three-source-partitioning study. Soil Biol Biochem 97:199–210

Tong LH, Zhu L, Lv YZ, Zhu K, Liu XY, Zhao R (2020) Response of organic carbon fractions and microbial community composition of soil aggregates to long-term fertilizations in an intensive greenhouse system. J Soil Sediment 20:641–652

Wang FL, Liu Y, Liang B, Liu J, Zong HY, Guo XH, Wang XX, Song NN (2022) Variations in soil aggregate distribution and associated organic carbon and nitrogen fractions in long-term continuous vegetable rotation soil by nitrogen fertilization and plastic film mulching. Sci Total Environ 835:155420

Wang L, Li XG, Lv JT, Fu TT, Ma QJ, Song WY, Wang YP, Li FM (2017) Continuous plastic-film mulching increases soil aggregation but decreases soil pH in semiarid areas of China. Soil till Res 167:46–53

Wang LF, Luo P, Jiang CY, Shen JL, Liu F, Xiao RL, Wu JS (2023) Distinct effects of biochar addition on soil macropore characteristics at different depths in a double-rice paddy field. Sci Total Environ 857:159368

Xiao Q, Zhu LX, Shen YF, Li SQ (2016) Sensitivity of soil water retention and availability to biochar addition in rainfed semi-arid farmland during a three-year field experiment. Field Crop Res 196:284–293

Zhang AF, Bian RJ, Hussain Q, Li LQ, Pan GX, Zheng JW, Zhang XH, Zheng JF (2013) Change in net global warming potential of a rice-wheat cropping system with biochar soil amendment in a rice paddy from China. Agr Ecosyst Environ 173:37–45

Zhang JJ, Wei YX, Liu JZ, Yuan JC, Liang Y, Ren J, Cai HG (2019) Effects of maize straw and its biochar application on organic and humic carbon in water-stable aggregates of a Mollisol in Northeast China: a five-year field experiment. Soil till Res 190:1–9

Zhang M, Cheng G, Feng H, Sun BH, Zhao Y, Chen HX, Chen J, Dyck M, Wang XD, Zhang JG, Zhang AF (2017a) Effects of straw and biochar amendments on aggregate stability, soil organic carbon, and enzyme activities in the Loess Plateau. China Environ Sci Pollut r 24:10108–10120

Zhang P, Wei T, Cai T, Ali S, Han QF, Ren XL, Jia ZK (2017b) Plastic-film mulching for enhanced water-use efficiency and economic returns from maize fields in semiarid China. Front Plant Sci 8:512

Zhang P, Wei T, Han QF, Ren XL, Jia ZK (2020a) Effects of different film mulching methods on soil water productivity and maize yield in a semiarid area of China. Agr Water Manage 241:106382

Zhang QQ, Song YF, Wu Z, Yan XY, Gunina A, Kuzyakov Y, Xiong ZQ (2020b) Effects of six-year biochar amendment on soil aggregation, crop growth, and nitrogen and phosphorus use efficiencies in a rice-wheat rotation. J Clean Prod 242:118435

Zhang S, Cui JW, Wu H, Zheng Q, Song DL, Wang XB, Zhang SQ (2021) Organic carbon, total nitrogen, and microbial community distributions within aggregates of calcareous soil treated with biochar. Agr Ecosyst Environ 314:107408

Zhang XR, Zhang WQ, Sai XYLT, Chun F, Li XJ, Lu XX, Wang HR (2022) Grazing altered soil aggregates, nutrients and enzyme activities in a Stipa kirschnii steppe of Inner Mongolia. Soil till Res 219:105327

Zhao ZH, Gao SF, Lu CY, Li XY, Wang TY (2022) Soil organic carbon fractions and its association with water-stable aggregates under different fertilization management practices. Soil Use Manage 38:478–486

Zhu LX, Zhang FL, Li LL, Liu TX (2021) Soil C and aggregate stability were promoted by bio-fertilizer on the North China plain. J Soil Sci Plant Nut 21:2355–2363
Acknowledgements
We are grateful to Junfeng Nie, Hui Li, Baoping Yang, and Ruixia Ding for help with the experiments. We also would like to thank every reviewer.
Funding
This research was supported by the National Key Research and Development Program of China (2021YFE0101302, 2021YFD1901102), the Project Supported by Natural Science Basic Research Plan in Shaanxi Province of China (2023-JC-YB-185), the National Natural Science Foundation of China (Nos. 31801314, 31901475), and the Postdoctoral Science Foundation of China (2019 T120951).
Ethics declarations
Conflict of interest
The authors declare no competing interests.
Additional information
Responsible editor: Hailong Wang.
Publisher's Note
Springer Nature remains neutral with regard to jurisdictional claims in published maps and institutional affiliations.
Rights and permissions
Springer Nature or its licensor (e.g. a society or other partner) holds exclusive rights to this article under a publishing agreement with the author(s) or other rightsholder(s); author self-archiving of the accepted manuscript version of this article is solely governed by the terms of such publishing agreement and applicable law.
About this article
Cite this article
Pang, J., Wang, Y., Wang, B. et al. Biochar application increases maize yield under film mulching due to higher soil organic content and soil aggregate stability in a semi-arid area. J Soils Sediments 23, 1718–1732 (2023). https://doi.org/10.1007/s11368-023-03444-8
Received:

Accepted:

Published:

Issue Date:

DOI: https://doi.org/10.1007/s11368-023-03444-8
Keywords
Biochar application

Film mulching

Maize yield

Soil aggregate

Soil organic carbon