Abstract
Purpose
Biochar is a promising soil amendment to improve soil quality. This study was conducted to understand the effect of biochar on soil physical and hydraulic properties and rice yield in a 3-year field experiment in Hunan Province of southern China.
Materials and methods
We carried out a field experiment at the red paddy soils for 3 years to study the impact of biochar with different adding rates (at 0, 10, 20, 30, and 40 t/ha) on soil physical and hydraulic properties and rice yield. The clay content, soil bulk density, soil pH, soil organic matter, soil total nitrogen, soil total phosphorus, soil aggregates, the field capacity, the wilting point, the soil available water, and the rice yield were determined to explore long-term improved effects of biochar on soil properties and rice yield.
Results and discussion
The results indicated that soil bulk density decreased significantly, but total porosity increased with biochar amendment. Biochar addition also caused macro-aggregates (> 2 mm) to increase and micro-aggregates (< 0.25 mm) decrease significantly, hence improving mean weight diameter of soil aggregates. Biochar addition had positive impact on soil field capacity and soil available water but no effect on soil wilting point. Soil saturated hydraulic conductivity was increased after biochar addition. Consequently, rice yield was increased due to the improvement of soil physical and hydraulic properties.
Conclusions
The results showed there were significant differences in soil properties between biochar treatments and the control treatments over the 3-year field experiment, suggesting biochar addition had long-term effect on soil physical and hydraulic properties, as well as increasing rice yield.
Access options
Buy single article
Instant access to the full article PDF.
USD 39.95
Price includes VAT (USA)
Tax calculation will be finalised during checkout.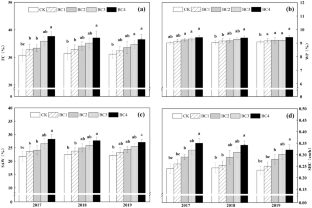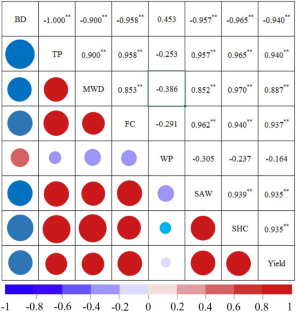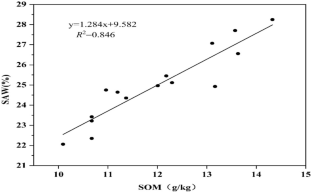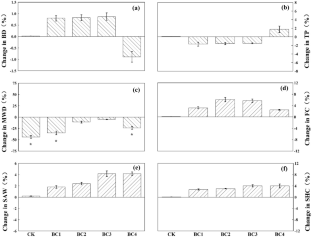 References
Akhtar SS, Andersen MN, Naveed M, Zahir ZA, Liu FL (2015) Interactive effect of biochar and plant growth-promoting bacterial endophytes on ameliorating salinity stress in maize. Funct Plant Biol 42(8):770–781

Aller DM, Archontoulis SV, Zhang W, Sawadgo W, Laird DA, Moore K (2018) Long term biochar effects on corn yield, soil quality and profitability in the US Midwest. Field Crop Res 227:30–40

Andrenelli MC, Maienza A, Genesio L, Miglietta F, Pellegrini S, Vaccari FP, Vignozzi NL (2016) Field application of pelletized biochar: short term effect on the hydrological properties of a silty clay loam soil. Agric Water Manag 163:190–196

Azwa ZN, Yousif BF, Manalo AC, Karunasena W (2013) A review on the degradability of polymeric composites based on natural fibres. Mater Des 47:424–442

Bao SD (2000) Soil agricultural chemical analysis, 3rd edn. Agriculture Press, Beijing (in Chinese)

Bruun EW, Ambus P, Egsgaard H, Bruun EW, Ambus P, Egsgaard H, Hauggaard-Nielsen H (2012) Effects of slow and fast pyrolysis biochar on soil C and N turnover dynamics. Soil Biol Biochem 46:73–79

Burrell LD, Zehetner F, Rampazzo N, Wimmer B, Soja G (2016) Long-term effects of biochar on soil physical properties. Geoderma 282:96–102

Castellini M, Giglio L, Niedda M, Palumbo AD, Ventrella D (2015) Impact of biochar addition on the physical and hydraulic properties of a clay soil. Soil Tillage Res 154:1–13

Carvalho MTM, Madari BE, Bastiaans L, Van Oort PAJ, Leal WGO, Heinemann AB, Meinke H (2016) Properties of a clay soil from 1.5 to 3.5 years after biochar application and the impact on rice yield. Geoderma 276:7–18

Chen D, Guo H, Li RY, Li LQ, Pan GX, Chang A, Joseph S (2016) Low uptake affinity cultivars with biochar to tackle Cd-tainted riceda field study over fourrice seasons in Hunan, China. Sci Total Environ 541:1489–1498

Dong X, Guan T, Li G, Lin Q, Zhao X (2016) Long-term effects of biochar amount on the content and composition of organic matter in soil aggregates under field conditions. J Soils Sediments 16:1481–1497

Enders A, Hanley K, Whitman T, Joseph S, Lehmann J (2012) Characterization of biochars to evaluate recalcitrance and agronomic performance. Bioresour Technol 114:644–653

Fontoura SMV, Castro Pias OH, Tiecher T, Cherubin MR, de Moraes RP, Bayer C (2019) Effect of gypsum rates and lime with different reactivity on soil acidity and crop grain yields in a subtropical Oxisol under no-tillage. Soil Tillage Res 193(27–41):0167–1987

Garlapalli RK, Wirth B, Reza MT (2016) Pyrolysis of hydrochar from digestate: Effect of hydrothermal carbonization and pyrolysis temperatures on pyrochar formation. Bioresour Technol 220:168–174

Glab T, Palmowska J, Zaleski T, Gondek K (2016) Effect of biochar application on soil hydrological properties and physical quality of sandy soil. Geoderma 281:11–20

Grunwald D, Kaiser M, Junker S (2017) Influence of elevated soil temperature and biochar application on organic matter associated with aggregate-size and density fractions in an arable soil. Agric Ecosyst Environ 241(1):79–87

Hardy B, Cornelis JT, Houben D, Leifeld J, Lambert R, Dufey JE (2017) Evaluation of the long-term effect of biochar on properties of temperate agricultural soil at pre-industrial charcoal kiln sites in Wallonia. Belgium Eur J Soil Sci 68(1):80–89

Jien SH, Wang CS (2013) Effects of biochar on soil properties and erosion potential in a highly weathered soil. CATENA 110:225–233

Karhu K, Mattila T, Bergstrom I, Regina K (2011) Biochar addition to agricultural soil increased CH4 uptake and water holding capacity – results from a short-term pilot field study[J]. Agric Ecosyst Environ 140:309–313

Lee CH, Ki Do Park, Ki Yuol Jung, Muhammad AA, Lee D, Gutierrez J, Kim PJ (2010) Effect of Chinese milk vetch (Astragalus sinicus L.) as a green manure on rice productivity and methane emission in paddy soil, Agric Ecosyst Environ 138, 3–4, 2010,343–347

Lehmann J, Rillig MC, Thies J, Masiello CA, Hockaday WC, Crowley D (2011) Biochar effects on soil biota–a review. Soil Biol Biochem 43:1812–1836

Liao N, Li Q, Zhang W, Zhou GW, Ma LJ, Min W, Ye J, Hou ZN (2016) Effects of biochar on soil microbial community composition and activity in drip-irrigated desert soil. Eur J Soil Biol 72:27–34

Lim TJ, Spokas KA, Feyereisen G, Novak JM (2016) Predicting the impact of biochar additions on soil hydraulic properties. Chemosphere 142:136–144

Lin ZB, Liu Q, Liu G, Cowie AL, Bei QC, Liu BJ, Xie ZB (2017) Effects of different biochars on Pinus elliottii growth, N use efficiency, soil N2O and CH4 emissions and C storage in a subtropical area of China. Pedosphere 27:248–261

Liu X, Zhou J, Chi Z, Zheng J, Li L, Zhang X, Pan G (2019) Biochar provided limited benefits for rice yield and greenhouse gas mitigation six years following an amendment in a fertile rice paddy. CATENA 179:20–28

Liu Z, Dugan B, Masiello CA, Barnes RT, Gallagher ME, Gonnermann H (2016) Impacts of biochar concentration and particle size on hydraulic conductivity and DOC leaching of biochar–sand mixtures. J Hydrol 533:461–472

Lu SG, Sun FF, Zong YT (2014) Effect of rice husk biochar and coal fly ash on some physical properties of expansive clayey soil (Vertisol). CATENA 114:37–44

Major J, Lehmann J, Rondon M, Goodale C (2010) Fate of soil-applied black carbon: downward migration, leaching and soil respiration. Glob Chang Biol 16(4):1366–1379

Oladele SO, Adeyemo AJ, Awodun MA (2019) Influence of rice husk biochar and inorganic fertilizer on soil nutrients availability and rain-fed rice yield in two contrasting soils. Geoderma 336:1–11

Razzaghi F, Obour PR, Arthur E (2020) Does biochar improve soil water retention? A systematic review and meta-analysis, Geoderma 361: 114055

Rechberger MV, Kloss S, Rennhofer H, Tintner J, Watzinger A, Soja G, Zehetner F (2017) Changes in biochar physical and chemical properties: accelerated biochar aging in an acidic soil. Carbon 115:209–219

Si L, Xie Y, Ma Q, Wu L (2018) The short-term effects of rice straw biochar, nitrogen and phosphorus fertilizer on rice yield and soil properties in a cold waterlogged paddy field. Sustainability 10:537

Steinbeiss S, Gleixner G, Antonietti M (2009) Effect of biochar amendment on soil carbon balance and soil microbial activity. Soil Biol Biochem 41:1301–1310

Talita RF, Luiz FP, Dorth W, André MB, Jaqueline ARB, André CA, dos Reis Aline MH (2019) Lime application effects on soil aggregate properties: Use of the mean weight diameter and synchrotron-based X-ray μCT techniques. Geoderma 338:585–596

Tamilselvi SM, Chinnadurai C, Ilamurugu K, Arulmozhiselvan K, Balachandar D (2015) Effect of long-term nutrient managements on biological and biochemical properties of semi-arid tropical Alfisol during maize crop development stages. Ecol Indic 48:76–87

Tomak ED, Ustaomer D, Ermeydan MA, Yildiz S (2018) An investigation of surface properties of thermally modified wood during natural weathering for 48 months. Measurement 127:187–197

van Wesemael B, Chartin C, Wiesmeier M, von Lützow M, Hobley E, Carnol M, Kögel-Knabner I (2019) An indicator for organic matter dynamics in temperate agricultural soils. Agric Ecosyst Environ 274:62–75

Villagra-Mendoza K, Horn R (2018) Effect of biochar addition on hydraulic functions of two textural soils. Geoderma 326:88–95

Wang J, Xiong Z, Kuzyakov Y (2016) Biochar stability in soil: meta-analysis of decomposition and priming effects. Gcb Bioenergy 8:512–523

Wang Y, Zhong B, Shafi M, Ma J, Guo J, Wu J, Jin H (2019) Effects of biochar on growth, and heavy metals accumulation of moso bamboo (Phyllostachy pubescens), soil physical properties, and heavy metals solubility in soil. Chemosphere 219:510–516

Wu H, Lai C, Zeng G, Liang J, Chen J, Xu J, Lu L (2017) The interactions of composting and biochar and their implications for soil amendment and pollution remediation: a review. Crit Rev Biotechnol 37:754–764

Zhao X, Wang J, Wang S, Xing G (2014) Successive straw biochar application as a strategy to sequester carbon and improve fertility: a pot experiment with two rice/wheat rotations in paddy soil. Plant Soil 378:279–294
Acknowledgements
The authors thank Dr. Christopher Ogden for his checking of the English language and comments on this paper.
Funding
This research was funded by the Natural Science Foundation of China (42107478, U20A2098), the project "Source Identification and Contamination Characteristics of Heavy Metals in Agricultural Land and Products" (2016YFD0800306), and the National Key Research and Development Program of China.
Additional information
Publisher's Note
Springer Nature remains neutral with regard to jurisdictional claims in published maps and institutional affiliations.
Responsible editor: Xiaoqi Zhou
About this article
Cite this article
Chen, C., Zhu, H., Lv, Q. et al. Impact of biochar on red paddy soil physical and hydraulic properties and rice yield over 3 years. J Soils Sediments (2021). https://doi.org/10.1007/s11368-021-03090-y
Received:

Accepted:

Published:
Keywords
Biochar

Soil physical properties

Hydraulic properties

Soil aggregate

Rice yield