Abstract
Purpose
Conversion of coastal mudflats to agricultural soil is one of the most important land use practices in Eastern China. However, effects of soil profile and reclamation time on soil microbial community, which play an important role in soil nutrient cycling, are still poorly documented.
Materials and methods
Soil profile (0–15 cm, 15–30 cm, 30–45 cm) samples were collected from four sites with different reclamation ages (R12: 12 years, R38: 38 years, R68: 68 years, R100: 100 years) in Rudong County, Nantong, Jiangsu, China. Soil bacterial communities were determined via Illumina 16S rRNA gene high-throughput sequencing.
Results and discussion
Soil electrical conductivity (EC) responded more rapidly to reclamation time than soil pH. Soil total carbon and nitrogen increased with increasing reclamation age. Soil available nutrients (ammonium, nitrate, dissolved organic carbon, and available phosphorus) were affected by the agricultural practice and did not show a unanimous tendency between different reclaimed sites. Proteobacteria, Acidobacteriota, and Bacteroidota dominated the bacterial community across different sites and soil profiles. However, Methylomirabilota- and Nitrospirota-associated species, which are involved in nitrogen cycling, increased with increasing soil depth. Canonical correspondence analysis (CCA) showed that bacterial community was grouped by soil depth and also significantly affected by soil pH, EC, and reclaimed time. Moreover, co-occurrence network analysis showed a potential role of low abundant phyla besides dominant phyla in stabilizing the bacterial community, and the connection between soil properties and bacterial amplicon sequence variant (ASV) numbers would shift along soil profiles.
Conclusions
Reclamation time of the coastal mudflats is not the only reason for the shift of bacterial community. Here, we found soil profile had a strong influence on soil bacterial composition in the coastal reclaimed wheat-maize rotation soils.
Access options
Buy single article
Instant access to the full article PDF.
US$ 39.95
Tax calculation will be finalised during checkout.
Subscribe to journal
Immediate online access to all issues from 2019. Subscription will auto renew annually.
US$ 119
Tax calculation will be finalised during checkout.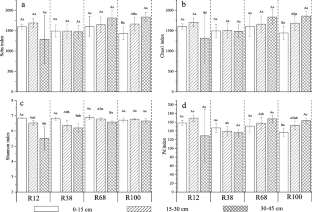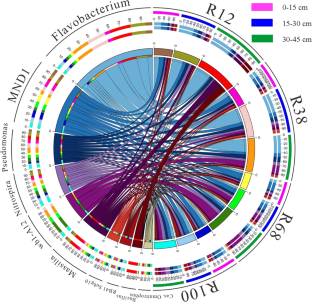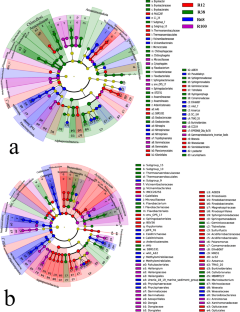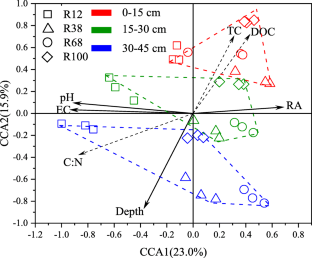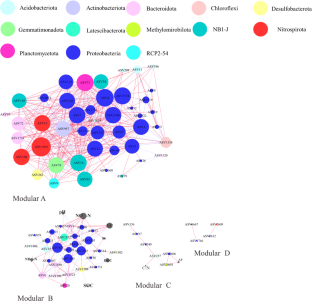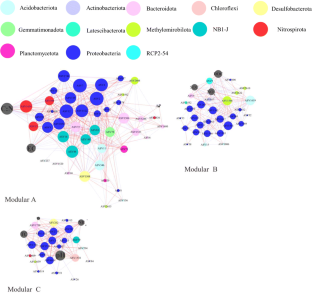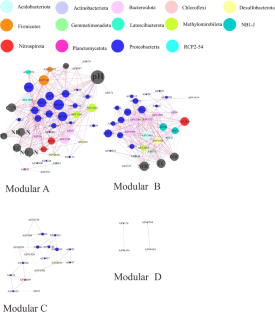 References
An S, Li H, Guan B et al (2007) China's natural wetlands: past problems, current status, and future challenges. Ambio 36:335–342

Bai J, Xiao R, Zhang K et al (2013) Soil organic carbon as affected by land use in young and old reclaimed regions of a coastal estuary wetland, China. Soil Use Manag 29:57–64

Bolyen E, Rideout JR, Dillon MR, et al (2019) Reproducible, interactive, scalable and extensible microbiome data science using QIIME 2. Nat Biotechnol 37:852–857

Bu N-S, Qu J-F, Li G et al (2015) Reclamation of coastal salt marshes promoted carbon loss from previously-sequestered soil carbon pool. Ecol Eng 81:335–339

Callahan BJ, McMurdie PJ, Rosen MJ et al (2016) DADA2: high-resolution sample inference from Illumina amplicon data. Nat Methods 13:581–583

Chen S, Zhou Y, Chen Y, Gu J (2018) fastp: an ultra-fast all-in-one FASTQ preprocessor. Bioinformatics 34:i884–i890

Cui J, Liu C, Li Z et al (2012) Long-term changes in topsoil chemical properties under centuries of cultivation after reclamation of coastal wetlands in the Yangtze Estuary, China. Soil Tillage Res 123:50–60

Cui X, Hu J, Wang J et al (2016) Reclamation negatively influences arbuscular mycorrhizal fungal community structure and diversity in coastal saline-alkaline land in Eastern China as revealed by Illumina sequencing. Appl Soil Ecol 98:140–149

Curd EE, Martiny JB, Li H, Smith TB (2018) Bacterial diversity is positively correlated with soil heterogeneity. Ecosphere 9:e02079

Eilers KG, Debenport S, Anderson S, Fierer N (2012) Digging deeper to find unique microbial communities: the strong effect of depth on the structure of bacterial and archaeal communities in soil. Soil Biol Biochem 50:58–65

Ellis S, Atherton J (2003) Properties and development of soils on reclaimed alluvial sediments of the Humber estuary, eastern England. Catena 52:129–147

Fernández S, Santín C, Marquínez J, Álvarez MA (2010) Saltmarsh soil evolution after land reclamation in Atlantic estuaries (Bay of Biscay, North coast of Spain). Geomorphology 114:497–507

Friedman J, Alm EJ (2012) Inferring correlation networks from genomic survey data. PLoS Comput Biol 8:e1002687

Fu Q, Liu C, Ding N et al (2012) Soil microbial communities and enzyme activities in a reclaimed coastal soil chronosequence under rice–barley cropping. J Soils Sediments 12:1134–1144

Fu Q, Ding N, Liu C et al (2014) Soil development under different cropping systems in a reclaimed coastal soil chronosequence. Geoderma 230:50–57

Ge T, Luo Y, Singh BP (2020) Resource stoichiometric and fertility in soil. Biol Fertil Soils 56:1091–1092

Hua J, Feng Y, Jiang Q et al (2017) Shift of bacterial community structure along different coastal reclamation histories in Jiangsu, Eastern China. Sci Rep 7:1–10

Iost S, Landgraf D, Makeschin F (2007) Chemical soil properties of reclaimed marsh soil from Zhejiang Province PR China. Geoderma 142:245–250

Kohl M, Wiese S, Warscheid B (2011) Cytoscape: software for visualization and analysis of biological networks. In Data mining in proteomics (pp. 291–303). Humana Press

Lauber CL, Hamady M, Knight R, Fierer N (2009) Pyrosequencing-based assessment of soil pH as a predictor of soil bacterial community structure at the continental scale. Appl Environ Microbiol 75:5111–5120

Laudicina VA, Hurtado MD, Badalucco L et al (2009) Soil chemical and biochemical properties of a salt-marsh alluvial Spanish area after long-term reclamation. Biol Fertil Soils 45:691–700

Li X, Zhang L (2014) Spatiotemporal changes of Jiangsu coastline: a remote sensing and GIS approach. Geogr Res 33:414–426

Li J, Pu L, Zhu M et al (2014) Evolution of soil properties following reclamation in coastal areas: a review. Geoderma 226–227:130–139

Liu C, Ding N, Fu Q et al (2016a) The influence of soil properties on the size and structure of bacterial and fungal communities along a paddy soil chronosequence. Eur J Soil Biol 76:9–18

Liu Y, Wang P, Pan G et al (2016b) Functional and structural responses of bacterial and fungal communities from paddy fields following long-term rice cultivation. J Soils Sediments 16:1460–1471

Long X-E, Yao H (2020) Phosphorus input alters the assembly of rice (Oryza sativa L.) root-associated communities. Microb Ecol 79:357–366

Long X-E, Yao H, Huang Y et al (2018) Phosphate levels influence the utilisation of rice rhizodeposition carbon and the phosphate-solubilising microbial community in a paddy soil. Soil Biol Biochem 118:103–114

Magoč T, Salzberg SL (2011) FLASH: fast length adjustment of short reads to improve genome assemblies. Bioinformatics 27:2957–2963

Mondal MK, Bhuiyan SI, Franco DT (2001) Soil salinity reduction and prediction of salt dynamics in the coastal ricelands of Bangladesh. Agric Water Manag 47:9–23

Morris JH, Apeltsin L, Newman AM et al (2011) clusterMaker: a multi-algorithm clustering plugin for Cytoscape. BMC Bioinformatics 12:436

Newman ME, Girvan M (2004) Finding and evaluating community structure in networks. Phys Rev E 69:026113

Portnoy JW, Giblin AE (1997) Effects of historic tidal restrictions on salt marsh sediment chemistry. Biogeochemistry 36:275–303

Rath KM, Maheshwari A, Rousk J (2019) Linking microbial community structure to trait distributions and functions using salinity as an environmental filter. mBio 10:1–14

Santín C, de la Rosa JM, Knicker H et al (2009) Effects of reclamation and regeneration processes on organic matter from estuarine soils and sediments. Org Geochem 40:931–941

Segata N, Izard J, Waldron L et al (2011) Metagenomic biomarker discovery and explanation. Genome Biol 12:1–18

Su G, Kuchinsky A, Morris JH et al (2010) GLay: community structure analysis of biological networks. Bioinformatics 26:3135–3137

Sun Y, Li X, Mander Ü et al (2011) Effect of reclamation time and land use on soil properties in Changjiang River Estuary, China. Chin Geogr Sci 21:403

Wang Y, Wang Z-L, Feng X et al (2014) Long-term effect of agricultural reclamation on soil chemical properties of a coastal saline marsh in Bohai Rim, Northern China. PLoS One 9:e93727

Wang X, Yang J, Xie X et al (2020) Soil microbial succession with soil development since costal reclamation. CATENA 187:104393

Wei C, Bang-ben C, Qi-rong S (2000) Studies on the changes of pH value and alkalization of heavily saline soil in seabeach during its desalting process. Acta Pedol Sin 37:528–534

Wei X, Zhu Z, Wei L et al (2019) Biogeochemical cycles of key elements in the paddy-rice rhizosphere: microbial mechanisms and coupling processes. Rhizosphere 10:100145

Xu Y, Pu L, Zhu M et al (2014) Spatial variation of soil salinity in the coastal reclamation area, Eastern China. J Coast Res 30:411–417

Xu S, Wang Y, Guo C et al (2017) Comparison of microbial community composition and diversity in native coastal wetlands and wetlands that have undergone long-term agricultural reclamation. Wetlands 37:99–108

Zhang Y, Li Q, Chen Y et al (2019) Mudflat reclamation causes changes of gene abundance in nitrogen cycle under long-term rice cultivation. J Basic Microbiol 59:496–503

Zhu Z, Ge T, Luo Y et al (2018) Microbial stoichiometric flexibility regulates rice straw mineralization and its priming effect in paddy soil. Soil Biol Biochem 121:67–76

Zuo W, Gu C, Zhang W et al (2019) Sewage sludge amendment improved soil properties and sweet sorghum yield and quality in a newly reclaimed mudflat land. Sci Total Environ 654:541–549
Funding
This research was supported by the National Natural Science Foundation of China (41773079, 42007090), Jiangsu Agriculture Science and Technology Innovation Fund (CX(20)3118), Nantong University (03081182), National University Innovation and Entrepreneurship Training Program (202010304037Z), Natural Science and Technology Project of Nantong (JC2019157), General Project on Natural Science Research in Jiangsu University of Higher Education (19KJB210015), and High-level Innovation and Entrepreneurship Talents Introduction Program of Jiangsu Province of China.
Additional information
Publisher's note
Springer Nature remains neutral with regard to jurisdictional claims in published maps and institutional affiliations.
Responsible editor: Yongfu Li
Supplementary Information
About this article
Cite this article
Zhang, X., Liao, X., Huang, L. et al. Soil profile rather than reclamation time drives the mudflat soil microbial community in the wheat-maize rotation system of Nantong, China. J Soils Sediments 21, 1672–1687 (2021). https://doi.org/10.1007/s11368-021-02912-3
Received:

Accepted:

Published:

Issue Date:
Keywords
Coastal mudflat

Reclamation chronosequence

Wheat-maize rotation

Microbial community