Abstract
Purpose
Presence of heavy metals in urban agriculture is considered a major ecological risk. The aim of this research is to determine concentrations and background values of heavy metals in urban agricultural soils in Yaoundé (Cameroon), in order to assess the degree of soil pollution and to evaluate ecological risk.
Methods
Forty-five composite soil samples were taken from three market garden sites. Heavy metals (Cd, Cr, Cu, Mn, Ni, Pb and Zn) were determined by inductively coupled plasma-optical emission spectrometry (ICP-OES). Geochemical background threshold values (GBTV) were determined using the robust statistical method of median ± median absolute deviation (MAD). Single (geoaccumulation index and enrichment factor) and complex (pollution load index and Nemerow pollution index) indices of pollution and of ecological risk (potential ecological risk index) were calculated. Significant difference between the three market garden sites was evaluated using the nonparametric test of Kruskal–Wallis.
Results
Median concentrations varied considerably, ranging from the highest to the lowest levels (mg/kg) as Mn 259.0 > Cu 111.2 > Zn 81.9 > Cr 54.6 > Pb 19.3 > Ni 14.9 > Cd 0.1. All median values were below their corresponding geochemical backgrounds, except for Pb. Single pollution indices showed that the study site was contaminated with Pb. Nemerow pollution index showed that 60% of soil samples were in the very high level of pollution. Based on potential ecological risk index, 16% of soil samples were at high risk. The three market garden sites differed significantly regarding their heavy metal contents, except Cd, as well as their pollution and ecological risk indices with the Nkolondom site having, in general, the highest levels.
Conclusions
More than half of the study area is polluted, mainly with Pb, whereas ecological risk is limited to a small part of it. This study can be used as a baseline to develop future long-term risk assessment strategies on the potential migration of heavy metals in urban agricultural soils to vegetables, animals and human beings.
Access options
Buy single article
Instant access to the full article PDF.
US$ 39.95
Tax calculation will be finalised during checkout.
Subscribe to journal
Immediate online access to all issues from 2019. Subscription will auto renew annually.
US$ 119
Tax calculation will be finalised during checkout.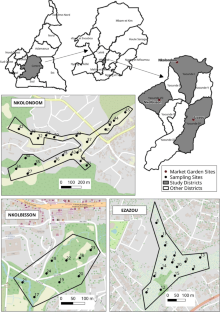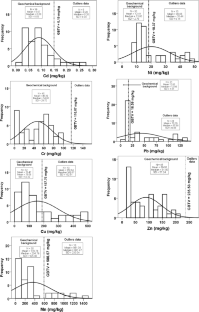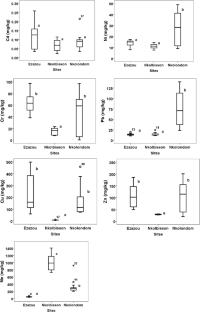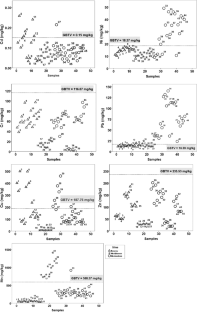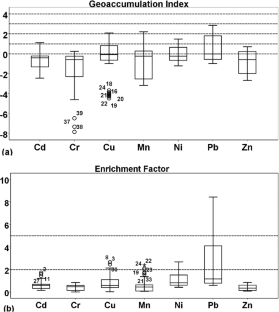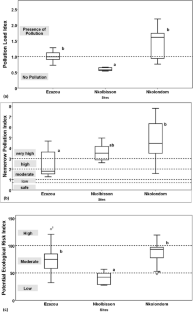 References
Abdu N (2010) Availability, transfer and balances of heavy metals in urban agriculture of West Africa. University of Kassel, Germany, PhD dissertation, 158 pages

AFNOR (1995) NF ISO 11466: Soil quality — extraction of trace elements soluble in aqua regia. Geneva, Switzerland, ISO

AFNOR (2006) NF ISO 11464 : Soil quality — pretreatment of samples for physico-chemical analysis. ISO. Geneva, Switzerland

Baltas H, Sirin M, Gokbayrak E, Ozcelik AE (2020) A case study on pollution and a human health risk assessment of heavy metals in agricultural soils around Sinop province, Turkey. Chemosphere 240:125015

Bouzekri S, El Hachimi ML, Touach N, El Fadili H, El Mahi M, Lotfi EM (2019) The study of metal (As, Cd, Pb, Zn and Cu) contamination in superficial stream sediments around of Zaida mine (High Moulouya-Morocco). J Afric Earth Sci 154:49–58. https://doi.org/10.1016/j.jafrearsci.2019.03.014

Brady JP, Ayoko GA, Martens WN, Goonetilleke A (2015) Development of a hybrid pollution index for heavy metals in marine and estuarine sediments. Environ Monit Assess 187:306

Cai C, Xiong B, Zhang Y, Li X, Nunes LM (2015a) Critical comparison of soil pollution indices for assessing contamination with toxic metals. Water Air Soil Pollut 226:352. https://doi.org/10.1007/s11270-015-2620-2

Cai L, Xu Z, Bao P, He M, Dou L, Chen L, Zhou Y, Zhu Y (2015b) Multivariate and geostatistical analyses of the spatial distribution and source of arsenic and heavy metals in the agricultural soils in Shunde, Southeast China. J Geochem Explor 148:189–195

Chen H, Teng Y, Lu S, Wang Y, Wang J (2015) Contamination features and health risk of soil heavy metals in China. Sci Total Environ 512–513:143–153. https://doi.org/10.1016/j.scitotenv.2015.01.025

El Azhari A, Rhoujjati A, El Hachimi ML, Ambrosi JP (2017) Pollution and ecological risk assessment of heavy metals in the soil-plant system and the sediment-water column around a former Pb/Zn-mining area in NE Morocco. Ecotox Environ Safe 144:464–474. https://doi.org/10.1016/j.ecoenv.2017.06.051

El Hachimi ML, Fekhaoui M, El Abidi A, Rhoujatti A (2014) Heavy metal contamination of soils from abandoned mines: the case of the Aouli-Mibladen-Zeïda mines in Morocco. Cahier Agric 23:213–219. https://doi.org/10.1684/agr.2014.0702 (in French)

Ferri R, Hashim D, Smith DR, Guazzetti S, Donna F, Ferretti E, Curatolo M, Moneta C, Beone GM, Lucchini RG (2015) Metal contamination of home garden soils and cultivated vegetables in the province of Brescia, Italy: implications for human exposure. Sci Total Environ 518-519:507–517

Hakanson L (1980) An ecological risk index for aquatic pollution control: a sedimentological approach. Water Res 14:975–1001

Hussain R, Khattak SA, Shah MT, Ali L (2015) Multistatistical approaches for environmental geochemical assessment of pollutants in soils of Gadoon Amazai Industrial Estate, Pakistan. J Soil Sediment 15:1119–1129

Islam MS, Ahmed MK, Habibullah-Al-Mamun M, Eaton DW (2020) Human and ecological risks of metals in soils under different land use in an urban environment of Bangladesh. Pedosphere 30:201–213. https://doi.org/10.1016/S1002-0160(17)60395-3

Jean-Soro L, Le Guern C, Bechet B, Lebeau T, Ringeard MF (2015) Origin of trace elements in an urban garden in Nantes, France. J Soil Sediment 15:1802–1812

Kelepertzis E (2014) Accumulation of heavy metals in agricultural soils of Mediterranean: insights from Argolida Basin, Peloponnese, Greece. Geoderma 221–222:82–90. https://doi.org/10.1016/j.geoderma.2014.01.007

Kouam Kenmogne GR, Rosillon F, Mpakam HG, Nono A (2010) Health, socio-economic and environmental issues related to the reuse of wastewater in urban market gardening: the case of the Abiergué watershed (Yaoundé-Cameroon). VertigO 10(2). https://doi.org/10.4000/vertigo.10323 (In French)

Kowalska JB, Mazurek R, Gąsiorek M, Zaleski T (2018) Pollution indices as useful tools for the comprehensive evaluation of the degree of soil contamination–a review. Environ Geochem Health 40:2395–2420. https://doi.org/10.1007/s10653-018-0106-z

Li H, Xu W, Dai M, Wang Z, Dong X, Fang T (2019) Assessing heavy metal pollution in paddy soil from coal mining area, Anhui, China. Environ Monit Assess 191:518. https://doi.org/10.1007/s10661-019-7659-x

Mamut A, Eziz M, Mohammad A, Anayit M (2017) The spatial distribution, contamination, and ecological risk assessment of heavy metals of farmland soils in Karashahar-Baghrash oasis, northwest China. Human Ecol Risk Assess 23:1300–1314

Marcinkonis S, Baltrenaite E, Lazauskas S (2011) Extraction and mapping of soil factors using factor analysis and geostatistical analysis on intensively manured heterogeneous soils. Polish J Environ Stud 20:701–708

Morales-García SS, Meza-Olvera E, Shruti VC, Sedeño-Díaz JE (2020) Assessment of metal contamination and their ecological risks in wetland sediments of the former Texcoco saline lake. Mexico. J Soil Sediment. 20:2912–2930. https://doi.org/10.1007/s11368-020-02613-3

Muller G (1969) Index of geoaccumulation in sediments of the Rhine River. GeoJ 2:109–118

Nemerow NL (1991) Stream, Lake, Estuary, and Ocean Pollution, 2nd edn. Van Nostrand Reinhold Publishing Co, New York

Nguelieu CR (2017) Risk assessment of contamination in metallic trace elements (Pb, Cd, Zn) of urban market garden sites in Yaoundé (Cameroon). MSc thesis, University of Liège, Gembloux, Belgium. 58 pages (In French)

Ni M, Mao R, Jia Z, Dong R, Li S (2018) Heavy metals in soils of Hechuan County in the upper Yangtze (SW China): comparative pollution assessment using multiple indices with high-spatial-resolution sampling. Ecotox Environ Safe 148:644–651. https://doi.org/10.1016/j.ecoenv.2017.11.009

Noubissié E, Ngassoum MB, Ali A, Castro-Georgi J, Donard OFX (2016) Contamination of market garden soils by metals (Hg, Sn, Pb) and risk for vegetable consumers of Ngaoundéré (Cameroon). Euro-Mediter J Environ Integr 1:9. https://doi.org/10.1007/s41207-016-0009-2

Pan L, Ma J, Hu Y, Su B, Fang G, Wang Y, Wang Z, Wang L, Xiang B (2016) Assessments of levels, potential ecological risk, and human health risk of heavy metals in the soils from a typical county in Shanxi province, China. Environ Sci Pollut Res 23:19330–19340. https://doi.org/10.1007/s11356-016-7044-z

Qaswar M, Yiren L, Jing H, Kaillou L, Mudasir M, Zhenzhen L, Hongqian H, Xianjin L, Jianhua J, Ahmed W, Dongchu L, Huimin Z (2020) Soil nutrients and heavy metal availability under long-term combined application of swine manure and synthetic fertilizers in acidic paddy soil. J Soil Sediment 20:2093–2106. https://doi.org/10.1007/s11368-020-02576-5

Rahman SH, Khanam D, Adyel TM, Islam MS, Ahsan MA, Akbor MA (2012) Assessment of heavy metal contamination of agricultural soil around Dhaka Export Processing Zone (DEPZ), Bangladesh: implication of seasonal variation and indices. Appl Sci 2:584–601. https://doi.org/10.3390/app2030584

Ramdani S, Amar A, Belhsaien K, El Hajjaji S, Ghalem S, Zouahri A, Douaik A (2018) Assessment of heavy metal pollution and ecological risk of roadside soils in Tlemcen (Algeria) using flame-atomic absorption spectrometry. Anal Lett 51:2468–2487. https://doi.org/10.1080/00032719.2018.1428985

Reimann C, De Caritat P (2000) Intrinsic flaws of element enrichment factor in environmental geochemistry. Environ Sci Technol 34:5084–5091. https://doi.org/10.1021/es001339o

Reimann C, Filzmozer P (2000) Normal and lognormal data distribution in geochemistry: death of a myth. Consequences for the statistical treatment of geochemical and environmental data. Environ Geol 39:1001–1014

Reimann C, Garrett RG (2005) Geochemical background - concept and reality. Sci Total Environ 350:12–27. https://doi.org/10.1016/j.scitotenv.2005.01.047

Reimann C, De Caritat P (2017) Establishing geochemical background variation and threshold values for 59 elements in Australian surface soil. Sci Total Environ 578:633–648. https://doi.org/10.1016/j.scitotenv.2016.11.010

Reimann C, Filzmoser P, Garrett RG (2005) Background and threshold: critical comparison of methods of determination. Sci Total Environ 346:1–16. https://doi.org/10.1016/j.scitotenv.2004.11.023

Reimann C, Filzmoser P, Garrett RG, Dutter R (2008) Statistical data analysis explained: applied environmental statistics with R. Wiley, Chichester, UK

Reimann C, Fabian K, Birke M, Filzmoser P, Demetriades A, Négrel P, Oorts K, Matschullat J, de Caritat P, Albanese S, Anderson M, Baritz R, Batista MJ, Bel-Ian A, Cicchella D, de Vivo B, de Vos W, Dinelli E, Ďuriš M, Dusza-Dobek A, Eggen OA, Eklund M, Ernsten V, Flight DMA, Forrester S, Fügedi U, Gilucis A, Gosar M, Gregorauskiene V, de Groot W, Gulan A, Halamić J, Haslinger E, Hayoz P, Hoogewerff J, Hrvatovic H, Husnjak S, Jähne-Klingberg F, Janik L, Jordan G, Kaminari M, Kirby J, Klos V, Kwećko P, Kuti L, Ladenberger A, Lima A, Locutura J, Lucivjansky P, Mann A, Mackovych D, McLaughlin M, Malyuk BI, Maquil R, Meuli RG, Mol G, O'Connor P, Ottesen RT, Pasnieczna A, Petersell V, Pfleiderer S, Poňavič M, Prazeres C, Radusinović S, Rauch U, Salpeteur I, Scanlon R, Schedl A, Scheib A, Schoeters I, Šefčik P, Sellersjö E, Slaninka I, Soriano-Disla JM, Šorša A, Svrkota R, Stafilov T, Tarvainen T, Tendavilov V, Valera P, Verougstraete V, Vidojević D, Zissimos A, Zomeni Z, Sadeghi M (2018) GEMAS: Establishing geochemical background and threshold for 53 chemical elements in European agricultural soil. Appl Geochem 88:303–316. https://doi.org/10.1016/j.apgeochem.2017.01.021

Siddiqui AU, Jain MK, Masto RE (2020) Pollution evaluation, spatial distribution, and source apportionment of trace metals around coal mines soil: the case study of eastern India. Environ Sci Pollut Res 27:10822–10834. https://doi.org/10.1007/s11356-019-06915-z

Sutherland RA (2000) Bed sediment-associated trace metals in an urban stream, Oahu, Hawaii. Environ Geol 39:611–612. https://doi.org/10.1007/s002540050473

Temple L, Marquis S, Simon S, David O, Mahbou G (2006) Peri-urban location of market gardening in sub-Saharan Africa and the birth of localized production systems: the case of the lowlands of Yaoundé. Proceedings of the 3rd International Congress of the Alimentation and Territories Network, Baeza, Jaén, Spain, pp 1–25 (in French)

Tomlinson DL, Wilson JG, Harris CR, Jeffrey DW (1980) Problems in the assessment of heavy-metal levels in estuaries and the formation of a pollution index. Helgoländer Meeresunters 33:566–575. https://doi.org/10.1007/BF02414780

Tumova S, Hrubesova D, Vorm P, Hosek M, Grygar TM (2019) Common flaws in the analysis of river sediments polluted by risk elements and how to avoid them: case study in the Ploučnice River system, Czech Republic. J Soil Sediment 19:2020–2033. https://doi.org/10.1007/s11368-018-2215-9

Wang Y, Wei Y, Guo P, Pan J, Wu Q, Liu N (2016) Distribution variation of heavy metals in maricultural sediments and their enrichment, ecological risk and possible source—a case study from Zhelin Bay in southern China. Mar Pollut Bull 113:240–246. https://doi.org/10.1016/j.marpolbul.2016.09.028

Xu Z, Ni S, Tuo X, Zhang C (2008) Calculation of heavy metals' toxicity coefficient in the evaluation of potential ecological risk index. Environ Science Technology 31:112–115

Xu J, Wang H, Liu Y, Ma M, Zhang T, Zheng X, Zong M (2016) Ecological risk assessment of heavy metals in soils surrounding oil waste disposal areas. Environ Monit Assess 188:125. https://doi.org/10.1007/s10661-016-5093-x

Yu HY, Ding X, Li F, Wang X et al (2016) The availabilities of arsenic and cadmium in rice paddy fields from a mining area: the role of soil extractable and plant silicon. Environ Pollut 215:258–265. https://doi.org/10.1016/j.envpol.2016.04.008

Zhuo H, Wang X, Liu H, Fu S, Song H, Ren L (2020) Source analysis and risk assessment of heavy metals in development zones: a case study in Rizhao, China. Environ Geochem Health 42:135–146. https://doi.org/10.1007/s10653-019-00313-7
Acknowledgments
The authors are grateful to the support and cooperation of growers and technicians of the Laboratory of Soil, Plant, Water and Fertilizer (LASPEE) of the Institute of Agricultural Research for Development (IRAD), Yaoundé, Cameroon.
Funding
This work was supported by West and Central African Council for Agricultural Research and Development (WECARD) (Project: Negative externalities of intensification of cultivated soils).
Ethics declarations
Conflict of interest
The authors declare that they have no conflict of interest.
Code availability
Not applicable.
Additional information
Publisher's note
Springer Nature remains neutral with regard to jurisdictional claims in published maps and institutional affiliations.
Responsible editor: Claudio Bini
About this article
Cite this article
Aboubakar, A., Douaik, A., Mewouo, Y.C.M. et al. Determination of background values and assessment of pollution and ecological risk of heavy metals in urban agricultural soils of Yaoundé, Cameroon. J Soils Sediments 21, 1437–1454 (2021). https://doi.org/10.1007/s11368-021-02876-4
Received:

Accepted:

Published:

Issue Date:
Keywords
Ecological risk

Geochemical background

Market garden

Heavy metals

Urban agricultural soil