Abstract
Purpose
Mineral-organic associations (MOAs) are the basic structural units of soil aggregates and are important reservoirs of nutrients for plants and soil microorganisms, determining the soil structure and fertility. However, the influence of exogenous dissolved organic matter (DOM) chemistry on the stability of MOAs is rarely reported.
Materials and methods
We first characterized different exogenous DOM through elemental analysis and spectroscopy analysis technologies. Then, a chamber incubation experiment was conducted with DOM addition concentration at 3 g C kg−1 red soil. Principal component analysis, redundancy analysis, and the partial least squares path model were used to better understand the effect of exogenous DOM chemistry on the stability of MOAs.
Results and discussion
The addition of DOM into the red soil significantly increased not only the organic carbon both in the bulk soil and the soil heavy fraction, but also the soil combined humus and the soil mineral-organic compound quantity. Moreover, the rice straw-derived DOM had the best effect on improving the soil mineral-organic compound quantity/degree (additional), followed by the animal-derived DOM, while the fulvic acid increased it the least. The ratios of elements (C/N ratio, O/C ratio, and H/C ratio), aromaticity (SUVA254), and phenolic C content of exogenous DOM had positively significant contributions to the stability of MOAs.
Conclusions
The rice straw-derived DOM had the greatest enhancement on the stability of the MOAs for its higher C/N ratio and phenolic groups content, so the exogenous DOM characteristics could be as an indicator in predicting the stability of the MOAs and evaluating the soil fertility.
Access options
Buy single article
Instant access to the full article PDF.
US$ 39.95
Tax calculation will be finalised during checkout.
Subscribe to journal
Immediate online access to all issues from 2019. Subscription will auto renew annually.
US$ 119
Tax calculation will be finalised during checkout.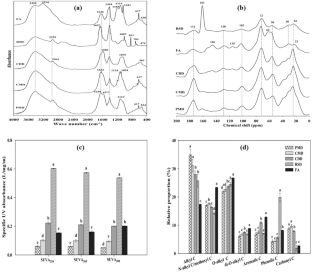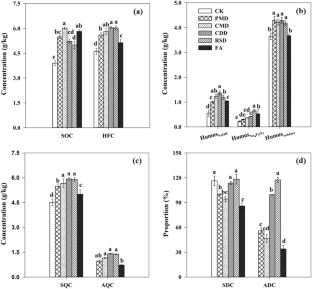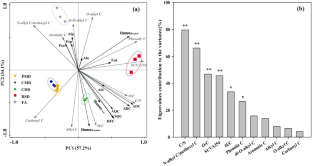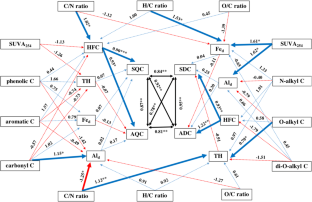 References
Adhikari D, Sowers T, Stuckey JW, Wang X, Sparks DL, Yang Y (2019) Formation and redox reactivity of ferrihydrite-organic carbon-calcium co-precipitates. Geochim Cosmochim Acta 244:86–98

Adhikari D, Yang Y (2015) Selective stabilization of aliphatic organic carbon by iron oxide. Sci Rep 5:11214

Afsar MZ, Goodwin C, Beebe TP Jr, Jaisi DP, Jin Y (2020) Quantification and molecular characterization of organo-mineral associations as influenced by redox oscillations. Sci Total Environ 704:135454

Andersson RA, Meyers P, Hornibrook E, Kuhry P, Mörth CM (2012) Elemental and isotopic carbon and nitrogen records of organic matter accumulation in a Holocene permafrost peat sequence in the East European Russian Arctic. J Quat Sci 27(6):545–552

Avneri-Katz S, Young RB, McKenna AM, Chen H, Corilo YE, Polubesova T, Borch T, Chefetz B (2017) Adsorptive fractionation of dissolved organic matter (DOM) by mineral soil: Macroscale approach and molecular insight. Org Geochem 103:113–124

Bolan NS, Adriano DC, Kunhikrishnan A, James T, Mcdowell R, Senesi N (2011) Dissolved organic matter: biogeochemistry, dynamics, and environmental significance in soils. Adv Agron 110:1–75

Cao Y, Wei X, Cai P, Huang Q, Rong X, Liang W (2011) Preferential adsorption of extracellular polymeric substances from bacteria on clay minerals and iron oxide. Colloids Surf B 83(1):122–127

César P, Giannetta B, Benavente I, Vischetti C, Zaccone C (2019) Density-based fractionation of soil organic matter: effects of heavy liquid and heavy fraction washing. Sci Rep 9:10146

Chen XD, Wu JG, Fan W, Zhu WY, Li XH (2019) Efects of diferent organic materials on the morphology and composition of soil humus binding in primary saline and alkaline land. J Soil Water Conserv 33(1):200–205 (in Chinese with English abstract)

Cismasu AC, Williams KH, Nico PS (2016) Iron and carbon dynamics during aging and reductive transformation of biogenic ferrihydrite. Environ Sci Technol 50(1):25–35

E SZ, Shi XJ, Chen ZX, Hai L, Ma QQ, Yuan JH, Yao JX (2019) Effects of organic materials on soil organic carbon combination form and composition of humus in the desert soil. Acta Pedologica Sinica 56(6):1436–1448 (in Chinese with English abstract)

Ejarque E, Abakumov E (2016) Stability and biodegradability of organic matter from arctic soils of western Siberia: insights from 13C-NMR spectroscopy and elemental analysis. Solid Earth 7:153–165

Feng WT, Plante AF, Aufdenkampe AK, Six J (2014) Soil organic matter stability in organo-mineral complexes as a function of increasing C loading. Soil Biol Biochem 69:398–405

Fritzsche A, Schröder C, Wieczorek AK, Hände M, Ritschel T, Totsche KU (2015) Structure and composition of Fe–OM co-precipitates that form in soil-derived solutions. Geochim Cosmochim Acta 169:167–183

Gao XY, Sun YH, Zhao XM, Sui B, Wang HB, Zhao LP (2017) Effects of adding corn straw on heavy fraction organic matter and organic-mineral complex of chernozem. J Agro-Environ Sci 36(9):1829–1835 (in Chinese with English abstract)

Gouré-Doubi H, Martias C, Smith A, Villandier N, Sol V, Gloaguen V (2018) Adsorption of fulvic and humic like acids on surfaces of clays: Relation with SUVA index and acidity. Appl Clay Sci 154:83–90

Han LF, Sun K, Keiluweit M, Yang Y, Yang Y, Jin J, Sun HR (2019) Mobilization of ferrihydrite-associated organic carbon during Fe reduction: Adsorption versus coprecipitation. Chem Geol 503:61–68

Hong ZN, Chen WL, Rong XM, Cai P, Dai K, Huang QY (2013) The effect of extracellular polymeric substances on the adhesion of bacteria to clay minerals and goethite. Chem Geol 360-361:118–125

Inamdar S, Finger N, Singh S, Mitchell M, Levia D, Bais H, Scott D, McHale P (2012) Dissolved organic matter (DOM) concentration and quality in a forested mid-Atlantic watershed, USA. Biogeochemistry 108:55–76

IUSS Working Group WRB (2006) World reference base for soil resources 2006. World Soil Resources Reports No. 103. FAO, Rome

Kalbitz K, Solinger S, Park JH, Michalzik B, Matzner E (2000) Controls on the dynamics of dissolved organic matter in soils: a review. Soil Sci 165(4):277–304

Kleber M, Eusterhues K, Keiluweit M, Mikutta C, Nico PS (2015) Mineral–organic associations: formation, properties, and relevance in soil environments. Adv Agron 130:1–140

Kögel-Knabner I, Guggenberger G, Kleber M, Kandeler E, Kalbitz K, Scheu S, Eusterhues K, Leinweber P (2008) Organo-mineral associations in temperate soils: integrating biology, mineralogy, and organic matter chemistry. J Plant Nutr Soil Sci 171(1):61–82

Kothawala DN, Roehm C, Blodau C, Moore TR (2012) Selective adsorption of dissolved organic matter to mineral soils. Geoderma 189-190:334–342

Leinemanna T, Preusserb S, Mikuttac R, Kalbitzd K, Cerlie C, Höschenf C, Muellerf CW, Kandelerb E, Guggenbergera G (2018) Multiple exchange processes on mineral surfaces control the transport of dissolved organic matter through soil profiles. Soil Biol Biochem 118:79–90

Li CL, Cao ZY, Chang JJ, Zhang Y, Zhu GL, Zong N, He YT, Zhang JJ, He NP (2017) Elevational gradient affect functional fractions of soil organic carbon and aggregates stability in a Tibetan alpine meadow. Catena 156:139–148

Lu RK (2000) Soil and agricultural chemistry analysis. China Agriculture Science Technology Press.

Mayes MA, Heal KR, Brandt CC, Phillips JR, Jardine PM (2012) Relation between Soil Order and Sorption of Dissolved Organic Carbon in Temperate Subsoils. Soil Sci Soc Am J 76(3):1027–1037

Mikutta R, Lorenz D, Guggenberger G, Haumaier L, Freund A (2014) Properties and reactivity of Fe-organic matter associations formed by coprecipitation versus adsorption: clues from arsenate batch adsorption. Geochim Cosmochim Acta 144:258–276

Mikutta R, Zang U, Chorover J, Haumaier L, Kalbitz K (2011) Stabilization of extracellular polymeric substances (Bacillus subtilis) by adsorption to and coprecipitation with Al forms. Geochim Cosmochim Acta 75:3135–3154

Monda H, Cozzolino V, Vinci G, Spaccini R, Piccolo A (2017) Molecular characteristics of water-extractable organic matter from different composted biomasses and their effects on seed germination and early growth of maize. Sci Total Environ 590-591:40–49

Oren A, Chefetz B (2012a) Sorptive and desorptive fractionation of dissolved organic matter by mineral soil matrices. J Eeviron Qual 41(2):526–533

Oren A, Chefetz B (2012b) Successive sorption–desorption cycles of dissolved organic matter in mineral soil matrices. Geoderma 189-190:108–115

Poggenburg C, Mikutta R, Liebmann P, Koch M, Guggenberger G (2018) Siderophore-promoted dissolution of ferrihydrite associated with adsorbed and coprecipitated natural organic matter. Org Geochem 125:177–188

Pronk GJ, Heister K, Vogel C, Babin D, Bachmann J, Ding GC, Ditterich F, Gerzabek MH, Giebler J, Hemkemeyer M, Kandeler E, Mouvenchery YK, Miltner A, Poll C, Schaumann GE, Smalla K, Steinbach A, Tanuwidjaja I, Tebbe CC, Wick LY, Woche SK, Totsche KU, Schloter M, Kögel-Knabner I (2017) Interaction of minerals, organic matter, and microorganisms during biogeochemical interface formation as shown by a series of artificial soil experiments. Biol Fertil Soils 53(1):9–22

Qiu Q, Wu L, Zhu O, Li B, Xu Y, Wu S, Gregorich EG (2015) Effects of plant-derived dissolved organic matter (DOM) on soil CO2, and N2O emissions and soil carbon and nitrogen sequestrations. Appl Soil Ecol 96:122–130

Sarker TC, Incerti G, Spaccini R, Piccolo A, Mazzoleni S, Bonanomi G (2018) Linking organic matter chemistry with soil aggregate stability: insight from 13C-NMR spectroscopy. Soil Biol Biochem 117:175–184

Schulten HR, Leinweber P (2000) New insights into organic-mineral particles: composition, properties and models of molecular structure. Biol Fertil Soils 30:399–432

Singh M, Sarkar B, Biswas B, Churchman J, Bolan NS (2016) Adsorption-desorption behavior of dissolved organic carbon by soil clay fractions of varying mineralogy. Geoderma 280:47–56

Singh M, Sarkar B, Hussain S, Ok YS, Bolan NS, Churchman GJ (2017) Influence of physico-chemical properties of soil clay fractions on the retention of dissolved organic carbon. Environ Geochem Health 39:1335–1350

Sodano M, Lerda C, Nisticò R, Martin M, Magnacca G, Celi L, Said-Pullicino D (2017) Dissolved organic carbon retention by coprecipitation during the oxidation of ferrous iron. Geoderma 307:19–29

Souza IF, Archanjo BS, Hurtarte LCC, Oliveros ME, Gouvea CP, Lidizio LR, Achete CA, Schaefer CER, Silva IR (2017) Al-/Fe-(hydr)oxides-organic carbon associations in oxisols-from ecosystems to submicron scales. Catena 154:63–72

Totsche KU, Amelung W, Gerzabek MH, Guggenberger G, Klumpp E, Knief C, Lehndorff E, Mikutta R, Peth S, Prechtel A, Ray N, Kögel-Knabner I (2018) Microaggregates in soils. J Plant Nutr Soil Sci 181:104–136

Wan D, Ye TH, Lu Y, Chen WL, Cai P, Huang QY (2019) Iron oxides selectively stabilize plant-derived polysaccharides and aliphatic compounds in agricultural soils. Eur J Soil Sci 70:1153–1163

Wang F, He J, He B, Zhu X, Qiao X, Peng L (2018) Formation process and mechanism of humic acid-kaolin complex determined by carbamazepine sorption experiments and various characterization methods. J Environ Sci 69:251–260

Wang Y, Zhang X, Zhang X, Meng Q, Gao F, Zhang Y (2017) Characterization of spectral responses of dissolved organic matter (DOM) for atrazine binding during the sorption process onto black soil. Chemosphere 180:531–539

Wen Y, Liu W, Deng W, He X, Yu G (2019) Impact of agricultural fertilization practices on organo-mineral associations in four long-term field experiments: implications for soil C sequestration. Sci Total Environ 651:591–600

Xue B, Huang L, Huang Y, Kubar KA, Lu J (2020) Straw management influences the stabilization of organic carbon by Fe (oxyhydr)oxides in soil aggregates. Geoderma 358:113987

Zhu W, Yao W, Zhang Z, Wu Y (2014) Heavy metal behavior and dissolved organic matter (DOM) characterization of vermicomposted pig manure amended with rice straw. Environ Sci Pollut Res 21(22):12684–12692
Acknowledgments
This work was financially supported by the National Natural Science Foundation of China (grant no. 41671308); the Science Innovation Project of the Chinese Academy of Agricultural Science (grant no. CAAS-ASTIP-2016-IEDA).
Additional information
Publisher's note
Springer Nature remains neutral with regard to jurisdictional claims in published maps and institutional affiliations.
Responsible editor: Zhihong Xu
Supplementary information
About this article
Cite this article
Zhang, X., Wang, Y., Wen, J. et al. The C/N ratio and phenolic groups of exogenous dissolved organic matter together as an indicator for evaluating the stability of mineral-organic associations in red soil. J Soils Sediments 21, 821–831 (2021). https://doi.org/10.1007/s11368-020-02874-y
Received:

Accepted:

Published:

Issue Date:
Keywords
Dissolved organic matter

Organic functional groups

Soil combined humus

Mineral-organic associations

Red soil