Abstract
Purpose
Contaminated sediments in rivers, lakes, and harbors around the world result in diminished ecological health, degradation of environmental resources, economic losses, and, in rare cases, impacts on human health. Despite the ongoing interest in the cleanup of contaminated sediments in rivers and harbors, little progress has been made in reducing the number of contaminated sites worldwide. Proponents of a "circular economy" model assert that it can facilitate the cleanup of contaminated sediments through product and process design to eliminate waste of resources, to beneficially use (and reuse) products and materials, and to restore ecologies. This paper evaluates the application of circular economy models to practice in the treatment, removal, and processing of contaminated sediments found in waterways.
Materials and methods
No materials were used in this work. Methods consisted of literature research and review.
Results and discussion
Much of the difficulty in advancing the cause of contaminated sediment cleanup can be attributed to the high cost of cleanups and the difficulty in assigning financial responsibility for the cost. Simple schemes dependent on identifying polluters are fraught with underlying complexity. More elaborate approaches tied in with waterfront redevelopment show some promise but are yet to be applied routinely. New advances in the understanding of how sediments may, or may not, factor into the utility of circularity models pose new challenges and opportunities, with the potential to complement new funding paradigms.
Conclusion
The most promising possibilities for achieving circularity in sediment management lie in a kind of punctuated circularity, which requires individual, project-based beneficial use opportunities. However, these ideal situations are likely to remain rare for the foreseeable future, without advancements in technology and regulatory approaches, as well as development of market demand for the products made from contaminated sediments.
Access options
Buy single article
Instant access to the full article PDF.
USD 39.95
Price excludes VAT (USA)
Tax calculation will be finalised during checkout.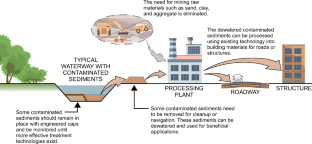 Notes
For the purposes of this work, contaminated sediments refer to those sediments in rivers, harbors, lakes, and other water bodies that contain sufficiently elevated concentrations of contamination to create unacceptable risks to human health or ecological receptors, thus warranting remediation.

Detzner et al. do not define the unmet factors. They simply say, "…no bid was submitted in the Europewide bidding procedure held in 2003 that met all the economic, legal and ecological criteria of the tender invitation" (Detzner et al. 2004).

Bortone et al. state, "…untreated, relatively clean dredged material can be used, for example, for filling up deep holes, which were for instance created due to sand extraction, or just for relocating it in the river basin." While this practice is "in line with natural sedimentation processes," it is not a solution to the risk posed by the contaminated sediments. It also presupposes the existence of a suitable site for the relocation.

van der Laan et al. refer to mixing with cement as chemical immobilization. There is some variability in the designation of this technology as physical stabilization or solidification as opposed to chemical immobilization. We have used the authors' terminology for consistency with their work.

Novosol is a registered trademark of Solvey.

The authors are unaware of statistics comparing completed sediment remediation projects to the country-specific or global backlog of sites. However, it is well accepted that the remediation of these sites is lengthy and is fraught with difficulty. For example, the Portland, Oregon, Superfund Site was listed in 2000 and is likely 20 years (at least) from completion of cleanup. The Portland Harbor case is not an isolated example. Similarly, long durations are observed for many other remediation projects in the USA. Outside the USA, it is even harder to draw comparisons because many countries do not publicly list contaminated sites. In instances where they do, such as in Italy, lengthy durations similar to those found for remediation sites in the USA are reported. In Italy, there were 57 Sites of National Interest in 2012. Today, there are 41, but most of the reduction has been the result of changed criteria for listing, not the result of successful remediation (ISPRA 2020).

Extractive, linear "take, make, waste" processes are sometimes also called "take, make, dispose." Proposals to make processes "circular" attempt to design toward beneficial use not disposal. See Lacy et al. 2020.

Indeed, regulators and policy makers can adopt circularity in at least two ways: as a general principle or as a detailed set of required evaluative, design, and procedures to be implemented in every remediation plan.

One referee during the Journal's review of this article emphasized the necessary role subsidy will often play, relative to state involvement in circularity-policy decisions and rules. We agree.
References
Abriak N-E, Mamindy-Pajany Y, Proulhac N, Rivard P (2015) Beneficial use of dredged sediments in road engineering. Sedilab

Bortone G, Arevalo E, Deibel I, Detzner H-D, de Propris L, Elskens F, Giordano A, Hakstege P, Hamer K, Harmsen J, Hauge A, Palumbo L, van Veen J (2004) Sediment and dredged material treatment, synthesis of the SedNet Work Package 4 outcomes. J Soils Sediments 4:225–232. https://doi.org/10.1007/BF02991117

Detzner H-D (2007) Sediment management of nations in Europe: Germany. In: Bortone G, Palumbo L (eds) Dredged material treatment: sustainable management of sediment resources. Elsevier, Amsterdam, pp 22–32

Detzner H-D, Netzband A, Knies R (2004) Dredged material management in Hamburg. Terra et Aqua 96:3–13

Dijksma SAM, Kamp HGJ (2016) A circular economy in the Netherlands by 2050. Ministry of Infrastructure and the Environment and the Ministry of Economic Affairs, The Hague

Doorey DJ (2011) The transparent supply chain: from resistance to implementation at Nike and Levi-Strauss. J Bus Ethics 103:587–603. https://doi.org/10.1007/s10551-011-0882-1

Douglas WS, Baier LJ, Gimello RJ, Lodge J (2003) A comprehensive strategy for managing contaminated dredged materials in the port of New York and New Jersey. New Jersey Department of Environmental Protection, New Jersey

Ellen MacArthur Foundation (2020) "What is a circular economy." https://www.ellenmacarthurfoundation.org/circular-economy/concept. Accessed 10 Sept 10 2020

EPA Region 2 (2017) EPA finalizes plan to remove contamination at superfund site in Gibbsboro, N.J. https://www.epa.gov/newsreleases/epa-finalizes-plan-remove-contamination-superfund-site-gibbsboro-nj. Accessed 10 Sept 10 2020

Foged S, Duerinckx L, Vandekeybus J (2007) An innovative and sustainable solution for sediment disposal problems. Proceedings WODCON XVIII (Florida). https://www.westerndredging.org/phocadownload/ConferencePresentations/2007_WODA_Florida/Session9A-SedimentDewateringTreatmentAndDisposal/6%20-%20Foged%20-%20An%20Innovative%20and%20Sustainable%20Solution%20for%20Sediment%20Disposal%20Problems.pdf. Accessed 10 Sept 10 2020

ISPRA (2020) Contaminated sites of national interest (SIN). https://www.isprambiente.gov.it/en/activities/soil-and-territory/copy_of_contaminated-sites/contaminated-sites-of-national-interest-sin?set_language=en. Accessed 8 June 2020

Lacy P, Long J, Spindler W (2020) The circular economy handbook: realizing the circular advantage. Palgrave Macmillan, London

Lafhaj Z, Samara MK, Agostini F, Boucard L, Skoczylas F, Depelsenaire G (2008) Polluted river sediments from the north region of France: treatment with Novosol® process and valorization in clay bricks. Constr Build Mater 22:755–762. https://doi.org/10.1016/j.conbuildmat.2007.01.023

Mater L, Sperb R, Madureira L, Rosin A, Correa A, Radetski C (2006) Proposal of a sequential treatment methodology for the safe reuse of oil sludge-contaminated soil. J Hazard Mater 136(3):967–971

Mui, YQ (2007) Wal-Mart aims to enlist suppliers in green mission. Washington Post. September 25, 2007

Samara M, Lafhaj Z, Chapiseau C (2009) Valorization of stabilized river sediments in fired clay bricks: factory scale experiment. J Hazard Mater 163:701–710. https://doi.org/10.1016/j.jhazmat.2008.07.153

Sittoni L (2019) Sustainable management of the beneficial use of sediments: a case study review. Terra Aqua 156:6–17

Spadaro PA (2011) Remediation of contaminated sediment: a worldwide status survey of regulation and technology. Terra Aqua 123:14–23

Spadaro P, Rosenthal L (2019) Waterfront contribution: a new finance paradigm for cleanup of contaminated sediments. In: Proceedings of the Twenty-Second World Dredging Congress, WODCON XXII, Shanghai, China, April 25-29, 2019

Stern EA, Donato K, Jones K, Clesceri N (1998) Processing contaminated dredged material from the port of New York-New Jersey. Estuar Coasts 21:646–651. https://doi.org/10.2307/1353302

Todorovic M, Simic M, Kumar A (2017) Managing transition to electrical and autonomous vehicles. Proc Comput Sci 112:2335–2344. https://doi.org/10.1016/j.procs.2017.08.201

Tomley H (2016) Beneficial reuse of dredged sediments in the Middle Harbor Slip 1 Fill (Port of Long Beach). http://aapa.files.cms-plus.com/PDFs/EnvironmentalAwards/Long%20Beach%20Env%20Enhancement%20Application.pdf. Accessed 10 Sept 10 2020

van der Laan AKJ, van Steeg H, de Vries M, Hakstege AL (2007) Large–scale pilot for treatment and use of contaminated dredged material in the Netherlands, preliminary results and policy. Paper presented at the WODCON XVIII, Lake Buena Vista, FL, USA

Yozzo DJ, Wilber P, Will RJ (2004) Beneficial use of dredged material for habitat creation, enhancement, and restoration in New York-New Jersey Harbor. J Environ Manag 73:39–52. https://doi.org/10.1016/j.jenvman.2004.05.008
Acknowledgments
The work on this manuscript was supported by our organizations as well as several highly capable individuals. Lindsay Burns provided overall coordination. Andrew D'Ewart edited the manuscript. Jennifer Fredenburg provided graphic design. Erin O'Connell provided research support.
Ethics declarations
Conflict of interest
The authors declare that they have no conflict of interest.
Research involving human participants and/or animals
The authors declare that no human and/or animal participants were required as a part of this research.
Informed consent
Not applicable as per above regarding the lack of human participation in the study.
Code availability
Not applicable.
Additional information
Responsible editor: Victor Magar
Publisher's note
Springer Nature remains neutral with regard to jurisdictional claims in published maps and institutional affiliations.
About this article
Cite this article
Spadaro, P., Rosenthal, L. River and harbor remediation: "polluter pays," alternative finance, and the promise of a "circular economy". J Soils Sediments 20, 4238–4247 (2020). https://doi.org/10.1007/s11368-020-02806-w
Received:

Accepted:

Published:

Issue Date:

DOI: https://doi.org/10.1007/s11368-020-02806-w
Keywords