Abstract
Purpose
This study proposed to investigate soil N transformation rates under different tea plantation ages. These plantations receive a great deal of nitrogen fertilizer each year. It was hypothesized that the inhibition of nitrification by increasing soil acidification would be counteracted by the N application. We aimed to explore whether this relationship would influence soil nitrogen transformations within tea plantations.
Materials and methods
Tea fields with different establishment periods (8 years, 36 years, and 105 years) and adjacent forest soils were collected from Hangzhou city, China. The 15N dilution technique and a 15N tracing model were used to investigate changes in soil gross N transformation rates, additionally combining the 15N dilution technique with acetylene inhibition to distinguish heterotrophic and autotrophic nitrification rates.
Results and discussion
Both 15N labeling methods demonstrated that land use conversion and fertilization significantly change the soil N transformation rates. The gross N mineralization rate was much higher in the tea soils compared with that in the adjacent forest soil and increased with planting age in the tea soils. Interestingly, appreciable NO3− production was detected in the forest soil caused by heterotrophic nitrification, whereas only a small amount of nitrate was formed by heterotrophs in the tea soils. Gross nitrification rates increased with the planting age from 8 to 36 years but decreased at 105 years. Nitrification was the main ammonium consuming process in the tea soils and a positive relationship was observed between ammonia oxidizing archaea (AOA) amoA abundance and nitrification rate, suggesting AOA as the dominant nitrification drivers in these tea soils.
Conclusion
Overall, the conversion from forest to tea soil enhanced the gross rate of nitrification, N mineralization, and NH4+ immobilization, but N/I (nitrification/ammonium immobilization) also increased significantly in the tea plantations, indicating a high nitrate leaching and runoff risk.
This is a preview of subscription content, log in to check access.
Access options
Buy single article
Instant access to the full article PDF.
US$ 39.95
Price includes VAT for USA
Subscribe to journal
Immediate online access to all issues from 2019. Subscription will auto renew annually.
US$ 199
This is the net price. Taxes to be calculated in checkout.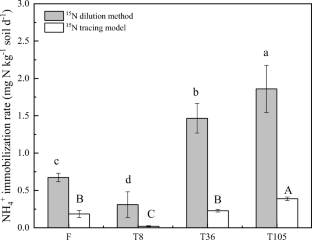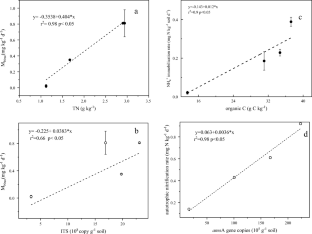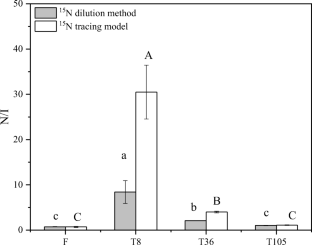 References
Aber JD (1992) Nitrogen cycling and nitrogen saturation in temperate forest ecosystems. Trends Ecol Evol 7(7):220–224

Atul-Nayyar A, Hamel C, Hanson K, Germida J (2009) The arbuscular mycorrhizal symbiosis links N mineralization to plant demand. Mycorrhiza 19(4):239–246

Barraclough D, Puri G (1995) The use of 15N pool dilution and enrichment to separate the heterotrophic and autotrophic pathways of nitrification. Soil Biol Biochem 27:17–22

Bengtsson G, Bengtson P, Månsson KF (2003) Gross nitrogen mineralization-, immobilization-, and nitrification rates as a function of soil C/N ratio and microbial activity. Soil Biol Biochem 35:143–154

Booth MS, Stark JM, Rastetter E (2005) Controls on nitrogen cycling in terrestrial ecosystems: a synthetic analysis of literature data. Ecol Monogr 75:139–157

Braun J, Mooshammer M, Wanek W, Prommer J, Walker TW, Rütting T, Richter A (2018) Full 15N tracer accounting to revisit major assumptions of 15N isotope pool dilution approaches for gross nitrogen mineralization. Soil Biol Biochem 117:16–26

Chu HY, Fujii T, Morimoto S, Lin XG, Yagi K (2008) Population size and specific nitrification potential of soil ammonia-oxidizing bacteria under long-term fertilizer management. Soil Biol Biochem 40(7):1960–1963

Corre MD, Brumme R, Veldkamp E, Beese FO (2007) Changes in nitrogen cycling and retention processes in soils under spruce forests along a nitrogen enrichment gradient in Germany. Glob Chang Biol 13:1509–1527

Crews TE and Peoples MB (2005) Can the synchrony of nitrogen supply and crop demand be improved in legume and fertilizer-based agroecosystems?A review. Nutr Cycl Agroe 72:101–120

Cuevas E, Medina E (1986) Nutrient dynamics within amazonnian forest ecosystems 1. Nutrient flux in fine litter fall and efficiency of nutrient utilization. Oecologia 68:466–472

Ding RX, Huang X (1991) Biogeochemical cycle of alumnium and fluorine in tea garden soil system and its relationship to soil acidification. Acta Pedol Sin 28:229–236

Fernando V, Roberts GR (1976) The partial inhibition of soil urease by naturally occurring polyphenols. Plant Soil 44(1):81–86

Francis CA, Roberts KJ, Beman JM, Santoro AE, Oakley BB (2005) Ubiquity and diversity of ammonia-oxidizing archaea in water columns and sediments of the ocean. Proc Natl Acad Sci USA 102(41):14683–14688

Gardes M, Bruns TD (1993) ITS primers with enhanced specificity for basidiomycetes – application to the identification of mycorrhizae and rusts. Mol Ecol 2:113–118

Gibbs P, Barraclough D (1998) Gross mineralisation of nitrogen during the decomposition of leaf protein I (ribulose 1, 5-diphosphate carboxylase) in the presence or absence of sucrose. Soil Biol Biochem 30(13):1821–1827

Han WY, Kemmitt SJ, Brookes PC (2007) Soil microbial biomass and activity in Chinese tea gardens of varying stand age and productivity. Soil Biol Biochem 39:1468–1478

Hart SC, Stark JM, Davidson EA,Firestone MK (1994) Nitrogen mineralization, immobilization, and nitrification. Methods Soil Analysis: Part 2—Microbiological and Biochemical Properties 985-1018

Harty MA, McGeough KL, Carolan R, Müller C, Laughlin RJ, Lanigan GJ, Richards KG, Waston CJ (2017) Gross nitrogen transformations in grassland soil react differently to urea stabilisers under laboratory and field conditions. Soil Biol Biochem 109:23–34

Hoyle FC, Murphy DV, Fillery IRP (2006) Temperature and stubble management influence microbial CO2–C evolution and gross N transformation rates. Soil Biol Biochem 38(1):71–80

Huang Y, Long XE, Chapman SJ, Yao HY (2015) Acidophilic denitrifiers dominate the N2O production in a 100-year-old tea orchard soil. Environ Sci Pollut R 22:4173–4182

Kirkham D, Bartholomew WV (1954) Equations for following nutrient transformations in soil, utilizing tracer data 1. Soil Sci Soc Am J 18:33–34

Krishnapillai S (1979) Inhibition of nitrification by waste tea ('Tea Fluff'). Plant Soil 51(4):563–569

Li YC, Li YF, Chang SX, Xu QF, Guo ZY, Gao Q, Qin ZY, Yang YF, Chen JH, Liang X (2017) Bamboo invasion of broadleaf forests altered soil fungal community closely linked to changes in soil organic C chemical composition and mineral N production. Plant Soil 418:507–521

Ma LF, Chen HJ, Shan YJ, Jiang MB, Zhang GM, Wu LT, Huang CM et al (2013) Status and suggestions of tea garden fertilization on main green tea-producing counties in Zhejiang province. J Tea Sci 1:74–84 (in Chinese with English abstract)

Mary B, Recous S, Robin D (1998) A model for calculating nitrogen fluxes in soil using 15N tracing. Soil Biol Biochem 30:1963–1979

Marzluf GA (1997) Genetic regulation of nitrogen metabolism in the fungi. Microbiol Mol Biol R 61(1):17–32

Müller C, Stevens RJ, Laughlin RJ (2004) A 15N tracing model to analyse N transformations in old grassland soil. Soil Biol Biochem 36:619–632

Müller C, Rütting T, Kattge J, Laughlin RJ, Stevens RJ (2007) Estimation of parameters in complex 15N tracing models by Monte Carlo sampling. Soil Biol Biochem 39:715–726

Müller C, Laughlin RJ, Christie P, Watson CJ (2011) Effects of repeated fertilizer and cattle slurry applications over 38 years on N dynamics in a temperate grassland soil. Soil Biol Biochem 43:1362–1371

Okano Y, Hristova KR, Leutenegger CM, Jackson LE, Denison RF, Gebreyesus B, Lebauer D, Scow KM (2004) Application of real-time PCR to study effects of ammonium on population size of ammonia-oxidizing bacteria in soil. Appl Environ Microbiol 70(2):1008–1016

Rotthauwe JH, Witzel KP, Liesack W (1997) The ammonia monooxygenase structural gene amoA as a functional marker:molecular fine-scale analysis of natural ammonia-oxidizing populations. Appl Environ Microbiol 63(12):4704–4712

Rousk J, Bååth E, Brookes PC, Lauber LL, Lozupone C, Caporaso JG, Knight G, Fierer N (2010) Soil bacterial and fungal communities across a pH gradient in an arable soil. ISME J 4(10):1340–1351

Rütting T, Müller C (2007) 15N tracing models with a Monte Carlo optimization procedure provide new insights on gross N transformations in soils. Soil Biol Biochem 39:2351–2361

Rütting T, Müller C (2008) Process-specific analysis of nitrite dynamics in a permanent grassland soil by using a Monte Carlo sampling technique. Eur J Soil Sci 59:208–215

Schimel J (1996) Assumptions and errors in the 15NH4+ pool dilution technique for measuring mineralization and immobilization. Soil Biol Biochem 28:827–828

Schimel JP, Jackson LE, Firestone MK (1989) Spatial and temporal effects on plant microbial competition for inorganic nitrogen in a California annual grassland. Soil Biol Biochem 21:1059–1066

Shi W, Norton JM (2000) Microbial control of nitrate concentrations in an agricultural soil treated with dairy waste compost or ammonium fertilizer. Soil Biol Biochem 32:1453–1457

Sotta ED, Corre MD, Veldkamp E (2008) Differing N status and N retention processes of soils under old-growth lowland forest in Eastern Amazonia, Caxiuana, Brazil. Soil Biol Biochem 40:740–750

Stange F, Döhling F (2005) 15N tracing model SimKIM to analyse the NO and N2O production during autotrophic, heterotrophic nitrification, and denitrification in soils. Isot Environ Healt S 41:261–274

Stark JM (2000) Nutrient transformations. Methods Ecosystem Sci:215–234

Stockdale E, Hatch D, Murphy D, Ledgard S, Watson C (2002) Verifying the nitrification to immobilisation ratio (N/I) as a key determinant of potential nitrate loss in grassland and arable soils. Agronomie 22(7-8):831–838

Tian W, Wang L, Li Y, Zhuang KM, Li G, Zhang JB, Xiao XJ, Xi YG (2015) Responses of microbial activity, abundance, and community in wheat soil after three years of heavy fertilization with manure-based compost and inorganic nitrogen. Agric Ecosyst Environ 213:219–227

Tietema A, Wessel WW (1992) Gross nitrogen transformations in the organic layer of acid forest ecosystems subjected to increased atmospheric nitrogen input. Soil Biol Biochem 24(10):943–950

Vitousek PM, Reiners WA (1975) Ecosystem succession and nutrient retention-hypothesis. Bioscience 25:376–381

Walkley A, Black IA (1934) An examination of the degtijarett method of determining soil matter and proposed modification of the chromic acid titration method. Soil Sci Soc Am J 37:29–38

Wang J, Zhu B, Zhang JB, Müller C, Cai ZC (2015) Mechanisms of soil N dynamics following long-term application of organic fertilizers to subtropical rain-fed purple soil in China. Soil Biol Biochem 91:222–231

Wang J, Cheng Y, Zhang JB, Müller C, Cai ZC (2016) Soil gross nitrogen transformations along a secondary succession transect in the north subtropical forest ecosystem of southwest China. Geoderma 280:88–95

Wang J, Cheng Y, Jiang YJ, Sun B, Fan JB, Zhang JB, Müller C, Cai ZC (2017) Effects of 14 years of repeated pig manure application on gross nitrogen transformation in an upland red soil in China. Plant Soil 415:161–173

Wang SQ, Li TX, Zheng ZC (2018) Effects of tea plantation age on soil aggregate-associated C- and N-cycling enzyme activities in the hilly areas of Western Sichuan, China. Catena 171:145–153

Wertz S, Leigh AKK, Grayston SJ (2012) Effects of long-term fertilization of forest soils on potential nitrification and on the abundance and community structure of ammonia oxidizers and nitrite oxidizers. FEMS Microbiol Ecol 79:142–154

White TJ, Bruns T D, Lee S, Taylor J W (1990) Amplification and direct sequencing of fungal ribosomal RNA genes for phylogenetics, in PCR Protocols: A Guide to Methods and Applications (New York, NY: Academic): 315–322

Xue D, Yao HY, Huang CY (2006) Microbial biomass, N mineralization and nitrification, enzyme activities, and microbial community diversity in tea orchard soils. Plant Soil 288:319–331

Xue D, Gao YM, Yao HY, Huang CY (2009) Nitrification potentials of Chinese tea orchard soils and their adjacent wasteland and forest soils. J Environ Sci 21(9):1225–1229

Yang XD, Ni K, Shi YZ, Yi XY, Zhang QF, Fang L, Ma LF, Ruan JY (2018) Effects of long-term nitrogen application on soil acidification and solution chemistry of a tea plantation in China. Agric Ecosyst Environ 252:74–82

Yao HY, Gao YM, Nicol GW, Campbell CD, Prosser JI, Zhang LM, Han WY, Singh BK (2011) Links between ammonia oxidizer community structure, abundance, and nitrification potential in acidic soils. Appl Environ Microbiol 77:4618–4625

Zhang LM, Offre PR, He JZ, Verhamme DT, Nicol GW, Prosser JI (2010) Autotrophic ammonia oxidation by soil thaumarchaea. Proc Natl Acad USA 107(40):17240–17245

Zhang JB, Müller C, Zhu TB, Cheng Y, Cai ZC (2011) Heterotrophic nitrification is the predominant NO3− production mechanism in coniferous but not broad-leaf acid forest soil in subtropical China. Biol Fertil Soils 47:533–542

Zhang JB, Zhu TB, Cai ZC, Qin SW, Müller C (2012) Effects of long-term repeated mineral and organic fertilizer applications on soil nitrogen transformations. Eur J Soil Sci 63(1):75–85

Zhang JB, Zhu TB, Meng TZ, Zhang YC, Yang JJ, Yang WY, Müller C, Cai ZC (2013a) Agricultural land use affects nitrate production and conservation in humid subtropical soils in China. Soil Biol Biochem 62:107–114

Zhang YC, Zhang JB, Meng TZ, Zhu TB, Müller C, Cai ZC (2013b) Heterotrophic nitrification is the predominant NO3− production pathway in acid coniferous forest soil in subtropical China. Biol Fertil Soils 49:955–957

Zhang JB, Lan T, Müller C, Cai ZC (2015) Dissimilatory nitrate reduction to ammonium (DNRA) plays an important role in soil nitrogen conservation in neutral and alkaline but not acidic rice soil. J Soils Sediments 15:523–531

Zhao W, Cai ZC, Xu ZH (2015) Net and gross N transformation rates in subtropical forest soils under aerobic and anaerobic conditions. J Soils Sediments 15:96–105

Zhu TB, Zhang JB, Meng TZ, Zhang YC, Yang JJ, Müller C, Cai ZC (2014) Tea plantation destroys soil retention of NO3− and increases N2O emissions in subtropical China. Soil Biol Biochem 73:106–114
Funding
This work was supported by the National Natural Science Foundation of China (41525002, 41761134085), the National Key R&D Program of China (2017YFD0200102), and the Strategic Priority Research Program of the Chinese Academy of Sciences (XDB15020301).
Additional information
Publisher's note
Springer Nature remains neutral with regard to jurisdictional claims in published maps and institutional affiliations.
Responsible editor: Jizheng He
Electronic supplementary material
About this article
Cite this article
Zhang, Y., Zhang, J., Chapman, S.J. et al. Tea plantation affects soil nitrogen transformations in subtropical China. J Soils Sediments (2020). https://doi.org/10.1007/s11368-020-02779-w
Received:

Accepted:

Published:
Keywords
15N dilution
15N tracing model

Tea soil

N transformations