Abstract
Purpose
Vast expanses of climatically sensitive ecosystems, such as tropical montane, remain unstudied in terms of factors controlling nitrogen (N) availability and in turn productivity. Temperature and elevation are two important, yet understudied, factors which decide the fate of N in montane ecosystems. Therefore, the present study aimed to quantify and understand changes in rates of N transformation processes in tropical montane soils of the Himalayas under different temperature-elevation conditions.
Materials and methods
The 15N isotope dilution technique was employed to quantify the rates of gross N transformations in soils collected at two depth intervals (0–20 cm and 20–40 cm) from five elevations (3000 m, 2500 m, 2000 m, 1500 m, and 1000 m above sea level) of the Garhwal Himalayas. The rates were measured at low (10 °C) and high temperature (23 °C) conditions to decipher the effect of temperature change on N cycling in montane soils.
Results and discussion
The results indicated a significant increase in gross N mineralization rates under the high temperature condition compared to the low. Interestingly, gross nitrification rates remained unaffected of temperature change. Increase in gross N mineralization at high temperature condition was accompanied with increased ammonium (NH4+) consumption, which was largely in the form of NH4+ immobilization. In general, gross N transformation rates in the top soils showed higher response to change in temperature and elevation conditions than the bottom soils.
Conclusion
Increase in rates of N mineralization and other soil N cycling processes at higher temperature suggests potential acceleration in N turnover due to warming in the Himalayan soils. Increased NH4+ immobilization and poor sensitivity of nitrification to temperature are likely to increase soil N conservation at higher temperature. The inconsistent variation in N transformation rates with elevation suggested higher control of edaphic factors on soil N cycling at a particular elevation.
This is a preview of subscription content, log in to check access.
Access options
Buy single article
Instant access to the full article PDF.
US$ 39.95
Price includes VAT for USA
Subscribe to journal
Immediate online access to all issues from 2019. Subscription will auto renew annually.
US$ 199
This is the net price. Taxes to be calculated in checkout.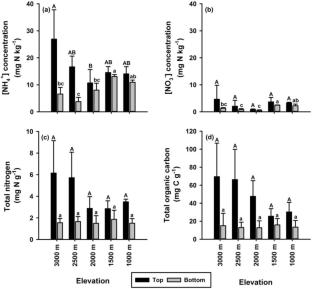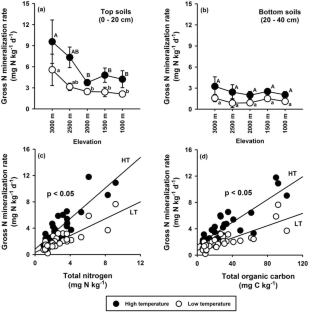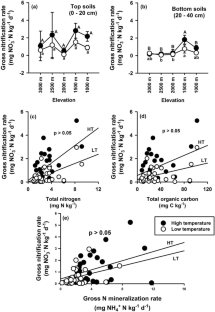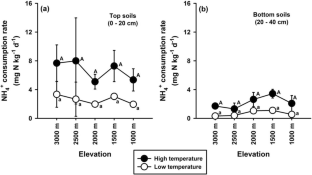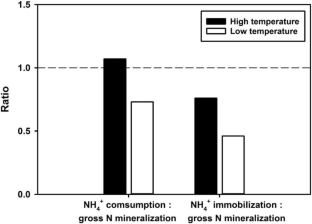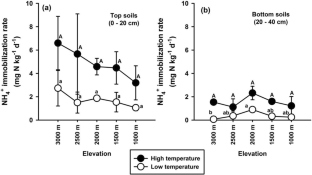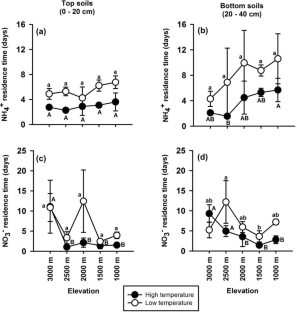 References
Andersen MK, Jensen LS (2001) Low soil temperature effects on short-term gross N mineralisation–immobilisation turnover after incorporation of a green manure. Soil Biol Biochem 33:511–521. https://doi.org/10.1016/S0038-0717(00)00192-9

Auyeung DSN, Suseela V, Dukes JS (2012) Warming and drought reduce temperature sensitivity of nitrogen transformations. Glob Chang Biol 19:662–676. https://doi.org/10.1111/gcb.12063

Bagchi D, Singh RP (2011) Ground water brochure, district Tehri Garhwal, Uttarakhand. Ministry of Water Resources, Government of India, Central Ground Water Board, Dehradun

Bauters M, Verbeeck H, Rütting T, Barthel M, Mujinya BB, Bamba F, Bodé S, Boyemba F, Bulonza E, Carlsson E, Eriksson L, Makelele I, Six J, Ntaboba LC, Boeckx P (2019) Contrasting nitrogen fluxes in African tropical forests of the Congo Basin. Ecol Monogr 89:e01342. https://doi.org/10.1002/ecm.1342

Chandra J, Rawat VS, Rawat YS, Ram J (2010) Vegetational diversity along an altitudinal range in Garhwal Himalaya. Int J Biodvers Conserv 2:014–018

Dalias P, Anderson JM, Bottner P, Coûteaux M-M (2002) Temperature responses of net nitrogen mineralization and nitrification in conifer forest soils incubated under standard laboratory conditions. Soil Biol Biochem 34:691–701. https://doi.org/10.1016/S0038-0717(01)00234-6

Davidson EA, Janssens IA (2006) Temperature sensitivity of soil carbon decomposition and feedbacks to climate change. Nature 440:165–173. https://doi.org/10.1038/nature04514

Drury CF, Hart SC, Yan XM (2008) Nitrification techniques for soils. In: Carter MR, Gregorich EG (eds) Soil sampling and methods of analysis, 2nd edn. CRC Press, Boca Raton, pp 495–513

Frank D, Reichstein M, Bahn M, Thonicke K, Frank D, Mahecha MD, Smith P, van der Velde M, Vicca S, Babst F, Beer C, Buchmann N, Canadell JG, Ciais P, Cramer W, Ibrom A, Miglietta F, Poulter B, Rammig A, Seneviratne SI, Walz A, Wattenbach M, Zavala MA, Zscheischler J (2015) Effects of climate extremes on the terrestrial carbon cycle: concepts, processes and potential future impacts. Glob Chang Biol 21:2861–2880. https://doi.org/10.1111/gcb.12916

Fraser FC, Hallett PD, Wookey PA, Hartley IP, Hopkins DW (2013) How do enzymes catalysing soil nitrogen transformations respond to changing temperatures? Biol Fertil Soils 49:99–103. https://doi.org/10.1007/s00374-012-0722-1

Gairola S, Sharma CM, Ghildiyal SK, Suyal S (2011) Live tree biomass and carbon variation along an altitudinal gradient in moist temperate valley slopes of the Garhwal Himalaya (India). Curr Sci 100:1862–1870

Giovannini G, Poggio G, Sequi P (1975) Use of an automatic CHN analyzer to determine organic and inorganic carbon in soils. Commun Soil Sci Plan 6:39–49. https://doi.org/10.1080/00103627509366544

Grundmann GL, Renault P, Rosso L, Bardin R (1995) Differential effects of soil water content and temperature on nitrification and aeration. Soil Sci Soc Am J 59:1342–1349. https://doi.org/10.2136/sssaj1995.03615995005900050021x

Hart SC, Perry DA (2001) Transferring soils from high- to low-elevation forests increases nitrogen cycling rates: climate change implications. Glob Chang Biol 5:23–32. https://doi.org/10.1046/j.1365-2486.1998.00196.x

Hooker TD, Stark JM (2008) Soil C and N cycling in three semiarid vegetation types: response to an in situ pulse of plant detritus. Soil Biol Biochem 40:2678–2685. https://doi.org/10.1016/j.soilbio.2008.07.015

Huang Z, Xu Z, Blumfield TJ, Chen C, Bubb K (2008) Soil nitrogen mineralization and fate of (15NH4)2SO4 in field-incubated soil in a hardwood plantation of subtropical Australia: the effect of mulching. J Soils Sediments 8:389–397. https://doi.org/10.1007/s11368-008-0049-6

Jansen-Willems AB, Lanigan GJ, Clough TJ, Andresen LC, Müller C (2016) Long-term elevation of temperature affects organic N turnover and associated N2O emissions in a permanent grassland soil. Soil 2:601–614. https://doi.org/10.5194/soil-2-601-2016

Kirkham D, Bartholomew WV (1954) Equations for following nutrient transformations in soil, utilizing tracer data1. Soil Sci Soc Am J 18:33–34. https://doi.org/10.2136/sssaj1954.03615995001800010009x

Kitayama K, Aiba S, Majalap-Lee N, Ohsawa M (1998) Soil nitrogen mineralization rates of rainforests in a matrix of elevations and geological substrates on mount Kinabalu, Borneo. Ecol Res 13:301–312. https://doi.org/10.1046/j.1440-1703.1998.00264.x

Knoepp JD, Swank WT (1998) Rates of nitrogen mineralization across an elevation and vegetation gradient in the southern Appalachians. Plant Soil 204:235–241

Knoepp JD, Vose JM (2007) Regulation of nitrogen mineralization and nitrification in southern Appalachian ecosystems: separating the relative importance of biotic vs. abiotic controls. Pedobiologia 51:89–97. https://doi.org/10.1016/j.pedobi.2007.02.002

Knorr W, Prentice IC, House JI, Holland EA (2005) Long-term sensitivity of soil carbon turnover to warming. Nature 433:298–301. https://doi.org/10.1038/nature03226

Krishna AP, Kumar S (2013) Landslide hazard assessment along a mountain highway in the Indian Himalayan Region (IHR) using remote sensing and computational models. In: Michel U, Civco DL, Schulz K, Ehlers M, Nilolakopoulos KG (eds) Earth Resources and Environmental Remote Sensing/GIS Applications IV. International Society for Optics and Photonics, Proceedings of SPIE- 8993, Germany, pp 164–176. https://doi.org/10.1117/12.2029080

Marrs RH, Proctor J, Heaney A, Mountford MD (1988) Changes in soil nitrogen-mineralization and nitrification along an altitudinal transect in tropical rain forest in Costa Rica. J Ecol 76:466–482. https://doi.org/10.2307/2260606

Martinson GO, Corre MD, Veldkamp E (2013) Responses of nitrous oxide fluxes and soil nitrogen cycling to nutrient additions in montane forests along an elevation gradient in southern Ecuador. Biogeochemistry 112:625–636. https://doi.org/10.1007/s10533-012-9753-9

Maynard DG, Kalra YP, Crumbaugh JA (2008) Nitrate and exchangeable ammonium nitrogen. In: Carter MR, Gregorich EG (eds) Soil sampling and methods of analysis, 2nd edn. CRC Press, Bota Raton, pp 71–80

Moser G, Leuschner C, Hertel D et al (2011) Elevation effects on the carbon budget of tropical mountain forests (S Ecuador): the role of the belowground compartment. Glob Chang Biol 17:2211–2226. https://doi.org/10.1111/j.1365-2486.2010.02367.x

Mynard DG, Curran MP (2008) Bulk density measurement in forest soils. In: Carter MR, Gregorich EG (eds) Soil sampling and methods of analysis, 2nd edn. CRC Press, Boca Raton, pp 863–869

Nadelhoffer KJ, Shaver GR, Giblin A, Rastetter EB (1997) Potential impacts of climate change on nutrient cycling, decomposition, and productivity in arctic ecosystems. In: Oechel WC, Callaghan TV, Gilmanov T, Holten JI, Maxwell B, Molau U, Sveinbjörnsson B (eds) Global change and arctic terrestrial ecosystems. Springer New York, NY, pp 349–364

Niboyet A, Le Roux X, Dijkstra P et al (2011) Testing interactive effects of global environmental changes on soil nitrogen cycling. Ecosphere 2:art56. https://doi.org/10.1890/ES10-00148.1

Nottingham AT, Turner BL, Whitaker J, Ostle NJ, McNamara NP, Bardgett RD, Salinas N, Meir P (2015) Soil microbial nutrient constraints along a tropical forest elevation gradient: a belowground test of a biogeochemical paradigm. Biogeosciences 12:6071–6083. https://doi.org/10.5194/bg-12-6071-2015

Nottingham AT, Turner BL, Whitaker J, Ostle N, Bardgett RD, McNamara NP, Salinas N, Meir P (2016) Temperature sensitivity of soil enzymes along an elevation gradient in the Peruvian Andes. Biogeochemistry 127:217–230. https://doi.org/10.1007/s10533-015-0176-2

Oertel C, Matschullat J, Zurba K, Zimmermann F, Erasmi S (2016) Greenhouse gas emissions from soils—a review. Geochemistry 76:327–352. https://doi.org/10.1016/j.chemer.2016.04.002

Pan Y, Birdsey RA, Fang J, Houghton R, Kauppi PE, Kurz WA, Phillips OL, Shvidenko A, Lewis SL, Canadell JG, Ciais P, Jackson RB, Pacala SW, McGuire AD, Piao S, Rautiainen A, Sitch S, Hayes D (2011) A large and persistent carbon sink in the world's forests. Science 333:988–993. https://doi.org/10.1126/science.1201609

Powers RF (1990) Nitrogen mineralization along an altitudinal gradient: interactions of soil temperature, moisture, and substrate quality. Forest Ecol Manag 30:19–29. https://doi.org/10.1016/0378-1127(90)90123-S

Rawat VS, Chandra J (2014) Vegetational diversity analysis across different habitats in Garhwal Himalaya. Aust J Bot 2014:5–5. https://doi.org/10.1155/2014/538242

Rayment GE, Higginson FR (1992) Australian laboratory handbook of soil and water chemical methods, 3rd edn. Inkata Press, Melbourne

Schütt M, Borken W, Spott O, Stange CF, Matzner E (2014) Temperature sensitivity of C and N mineralization in temperate forest soils at low temperatures. Soil Biol Biochem 69:320–327. https://doi.org/10.1016/j.soilbio.2013.11.014

Selmants PC, Adair KL, Litton CM, Giardina CP, Schwartz E (2016) Increases in mean annual temperature do not alter soil bacterial community structure in tropical montane wet forests. Ecosphere 7:e01296. https://doi.org/10.1002/ecs2.1296

Shaw MR, Harte J (2001) Response of nitrogen cycling to simulated climate change: differential responses along a subalpine ecotone. Glob Chang Biol 7:193–210. https://doi.org/10.1046/j.1365-2486.2001.00390.x

Silver WL, Thompson AW, Herman DJ, Firestone MK (2011) Is there evidence for limitations to nitrogen mineralization in upper montane tropical forests? In: Scatena FN, Bruijnzeel LA, Hamilton LS (eds) Tropical montane cloud forests: science for conservation and management. Cambridge University Press, Cambridge, pp 418–427

Smith P, Fang C, Julián JM, Moncrieff JB (2008) Impact of global warming on soil organic carbon. Adv Agron 97:1–43. https://doi.org/10.1016/S0065-2113(07)00001-6

Stark JM, Hart SC (1996) Diffusion technique for preparing salt solutions, Kjeldahl digests, and persulfate digests for nitrogen-15 analysis. Soil Sci Soc Am J 60:1846–1855. https://doi.org/10.2136/sssaj1996.03615995006000060033x

Stewart CG (2000) A test of nutrient limitation in two tropical montane forests using root ingrowth cores. Biotropica 32:369–373

Tanner EVJ, Vitousek PM, Cuevas E (1998) Experimental investigation of nutrient limitation of forest growth on wet tropical mountains. Ecology 79:10–22. https://doi.org/10.1890/0012-9658(1998)079[0010:EIONLO]2.0.CO;2

Unger M, Leuschner C, Homeier J (2010) Variability of indices of macronutrient availability in soils at different spatial scales along an elevation transect in tropical moist forests (NE Ecuador). Plant Soil 336:443–458. https://doi.org/10.1007/s11104-010-0494-z

Wan X, Huang Z, He Z, Yu Z, Wang M, Davis MR, Yang Y (2015) Soil C:N ratio is the major determinant of soil microbial community structure in subtropical coniferous and broadleaf forest plantations. Plant Soil 387:103–116. https://doi.org/10.1007/s11104-014-2277-4

Wang C, Chen Z, Unteregelsbacher S, Lu H, Gschwendtner S, Gasche R, Kolar A, Schloter M, Kiese R, Butterbach-Bahl K, Dannenmann M (2016) Climate change amplifies gross nitrogen turnover in montane grasslands of Central Europe in both summer and winter seasons. Glob Chang Biol 22:2963–2978. https://doi.org/10.1111/gcb.13353

Wardle DA (1992) A comparative assessment of factors which influence microbial biomass carbon and nitrogen levels in soil. Biol Rev 67:321–358. https://doi.org/10.1111/j.1469-185X.1992.tb00728.x

Wilcke W, Leimer S, Peters T, Emck P, Rollenbeck R, Trachte K, Valarezo C, Bendix J (2013) The nitrogen cycle of tropical montane forest in Ecuador turns inorganic under environmental change. Global Biogeochem Cy 27:1194–1204. https://doi.org/10.1002/2012GB004471

Yang Y, Ji C, Chen L, Ding J, Cheng X, Robinson D (2015) Edaphic rather than climatic controls over 13C enrichment between soil and vegetation in alpine grasslands on the Tibetan Plateau. Funct Ecol 29:839–848. https://doi.org/10.1111/1365-2435.12393

Yuan L, He N, Wen X et al (2016) Patterns and regulating mechanisms of soil nitrogen mineralization and temperature sensitivity in Chinese terrestrial ecosystems. Agric Ecosyst Environ 215:40–46. https://doi.org/10.1016/j.agee.2015.09.012

Zhang S, Chen D, Sun D, Wang X, Smith JL, du G (2012) Impacts of altitude and position on the rates of soil nitrogen mineralization and nitrification in alpine meadows on the eastern Qinghai–Tibetan Plateau, China. Biol Fertil Soils 48:393–400. https://doi.org/10.1007/s00374-011-0634-5
Acknowledgments
We are thankful to M. A. Hussain, Wildlife Institute of India, Dehradun, for logistic support during sampling. We are also thankful to Nidhi Tripathi, Arvind Jiyal, and Arvind Kumar for help during sample collection.
Funding
The study was funded by the Department of Space, Government of India.
Ethics declarations
The authors declare no conflict of interest. No animal participated during the study.
Additional information
Publisher's note
Springer Nature remains neutral with regard to jurisdictional claims in published maps and institutional affiliations.
Responsible editor: Zhiqun Huang
About this article
Cite this article
Sharma, N., Kumar, S. Nitrogen transformation rates in the Himalayan soils at different temperature and elevation conditions. J Soils Sediments (2020). https://doi.org/10.1007/s11368-020-02722-z
Received:

Accepted:

Published:
Keywords
Gross mineralization

Gross nitrification

Himalayas

Soils

Temperature

Elevation