Abstract
Purpose
Heavy metals are among the most common environmental pollutants, which can be introduced into coastal areas from natural and anthropogenic sources, and thereby possibly impact marine organisms and human population. Therefore, the aim of this study was to evaluate the pollution level of Montenegrin coastal sediments by determining the concentrations of 10 metals and metalloids (Fe, Mn, Zn, Cu, Ni, Pb, Cr, Cd, As, and Hg) during one whole decade.
Materials and methods
Sediment samples were collected from 11 sites along the Montenegrin coast during the 2005–2016 exposure to different levels and sources of anthropogenic impact. The extent of pollution was estimated by determining total element concentrations in the sediment. Mineralized samples were analyzed for Cu, Ni, Fe, Mn, Cr, As, Pb, Zn, Cd, and Hg. Pollution status was evaluated using the contamination factor, pollution load index, and geo-accumulation index, as well as statistical methods, such as Pearson correlation coefficient (r) and cluster analysis (CA).
Results and discussion
This study showed that concentrations of individual metals at some locations were extremely high. The metal concentrations (in mg kg−1) ranged as follows: Fe 1995–45,498; Mn 135–1139; Zn 10–1596; Cu 3.8–2719; Ni 2.94–267; Pb 0.1–755; Cr 2.5–369; Cd 0.1–5.4; As 0.1–39.1; and Hg 0.01–14.2. The calculated concentration factor and pollution load index indicates enrichment by either natural processes or anthropogenic influences. The geo-accumulation index value (Igeo) showed that one location was strongly or extremely polluted (3.78 < Igeo ≤ 6.15) with Hg in all investigated years, while extreme Igeo values for four bioactive elements, Pb, Cd, Cu, and Zn, were found in only a few single samples.
Conclusions
On the basis of the obtained values, it can be concluded that generally higher metal contents were distributed in Boka Kotorska Bay sites, although some extreme values were also recorded at the locations outside of the Bay. Geo-accumulation index and pollution load index showed that the metal levels were high enough to pose risk to the ecosystem.
Access options
Buy single article
Instant access to the full article PDF.
US$ 39.95
Tax calculation will be finalised during checkout.
Subscribe to journal
Immediate online access to all issues from 2019. Subscription will auto renew annually.
US$ 119
Tax calculation will be finalised during checkout.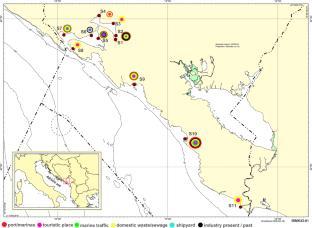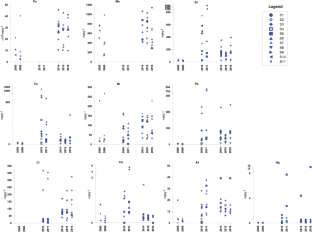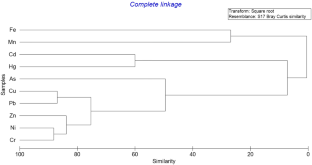 References
Acquavita A, Predonzani S, Mattassi G, Rossin P, Tamberlich F, Falomo J, Valic I (2010) Heavy metal contents and distribution in coastal sediments of the Gulf of Trieste (Northern Adriatic Sea, Italy). Water Air Soil Polltu 211(1–4):95–111

Adeyemo OK, Adedokun OA, Yusuf RK, Adeleye EA (2008) Seasonal changes in physico-chemical parameters and nutrient load of river sediment in Ibadan city, Nigeria. Global Nest J 10:326–336

Barakat A, Al-Baghdadi M, Rais J, Nadem S (2012) Assessment of heavy metal in surface sediments of Day River at Beni-Mellal region, Morocco. Res J Environ Earth Sci 4(8):797–806

Buccolieri A, Buccolieri G, Cardellicchio N, Dell Atti A, Di Leo A, Maci A (2006) Heavy metals in marine sediments of Taranto Gulf (Ionian Sea, Southern Italy). Mar Chem 99:227–235

Casas JM, Rosas H, Solé M, Lao C (2003) Heavy metals and metalloids in sediments from the Llobregat basin, Spain. Environ Geol 44(3):325–332

CCME (Canadian Council of Ministers of the Environment) (2001) Canadian Water Quality Guidelines for the Protection of Aquatic Life: CCMEWater Quality Index 1.0, User's Manual. In: Canadian Environmental Quality Guidelines, 1999, Canadian Council of Ministers of the Environment, Winnipeg

Çevik F, Göksu MZL, Derici OB, Findik Ö (2009) An assessment of metal pollution in surface sediments of Seyhan dam by using enrichment factor, geoaccumulation index and statistical analyses. Environ Monit Assess 152:309–317

Dolenec T, Faganeli J, Piurc S (1998) Major, minor and trace elements in surficial sediments from the open Adriatic Sea: a regional geochemical study. Geol Croat 51(1):59–73

Eisler R (2007) Zinc. In: Eisler R (ed) Eisler's encyclopedia of environmentally hazardous priority chemicals. Elsevier Science, Oxford, pp 841–843

Fong FT, Chee PS, Mahmood AA, Tahir NM (2008) Possible source and pattern distribution of heavy metals content in urban soil at Terengganu town center. Malay J Anal Sci 12:458-467

Gopinath A, Nair SM, Kumar NC, Jayalakshmi KV, Pamalal D (2010) A baseline study of trace metals in a coral reef sedimentary environment, Lakshadweep Archipelago. Environ Earth Sci 59(6):1245–1266

Guevara-Riba A, Sahuquillo A, Rubio R, Rauret G (2004) Assessment of metal mobility in dredged harbour sediments from Barcelona, Spain. Sci Total Environ 321(1–3):241–255

Hortellani MA, Sarkis JES, Bonetti J, Bonetti C (2005) Evaluation of mercury contamination in sediments from Santos-São Vicente estuarine system, São Paulo state, Brazil. J Braz Chem Soc 16(6A):1140–1149

Ilijanić N, Miko S, Petrinec B, Franić Z (2014) Metal deposition in deep sediments from the Central and South Adriatic Sea. Geo Croat 67(3):185–205

Joksimović D, Tomić I, Stanković AR, Jović M, Stanković S (2011) Trace metal concentrations in Mediterranean blue mussel and surface sediments and evaluation of the mussels quality and possible risks of human consumption. Food Chem 127:632–637

Joksimović D, Castelli A, Pestorić B, Perošević A (2019) An assessment of trace metal contamination in surface sediments of the Montenegrin coast by using pollution indexes and statistical analysis. Fresenius Environ Bull 28(2):879–884

Khan MZH, Hasan MR, Khan M, Aktar S, Fatema K (2017) Distribution of heavy metals in surface sediments of the Bay of Bengal coast. J Toxicol:9235764, 7 pp. https://doi.org/10.1155/2017/9235764

Kljaković-Gašpić Z, Bogner D, Ujević I (2009) Trace metals (Cd, Pb, Cu, Zn and Ni) in sediment of the submarine pit Dragon ear (Soline Bay, Rogoznica, Croatia). Environ Geol 58(4):751

Komar D, Dolenec M, Lambaša Belak Ž, Matešić S, Lojen S, Kniewald G, Vrhovnik P, Dolenec T, Rogan Šmuc N (2015) Geochemical characterization and environmental status of Makirina Bay sediments (northern Dalmatia, Republic of Croatia). Geol Croat 68(1):79–92

Li H, Lin L, Ye S, Li H, Fan J (2017) Assessment of nutrient and heavy metal contamination in the seawater and sediment of Yalujiang Estuary. Mar Pollut Bull 117:499–506

Liu JQ, Yin P, Chen B, Gao,F, Song HY, Li MN (2016) Distribution and contamination assessment of heavy metals in surface sediments of the Luanhe River Estuary, northwest of the Bohai Sea. Mar Pollut Bull 109:633–639

Mason RP, Choi AL, Fitzgerald WF, Hammerschmidt CR, Lamborg CH, Soerensen AL, Sunderland EM (2012) Mercury biogeochemical cycling in the ocean and policy implications. Environ Res 119:101–117

Mucha AP, Vasconcelos MTSD, Bordalo AA (2003) Macrobenthic community in the Doura estuary: relations with trace metals and natural sediment characteristics. Environ Pollut 121:169–180

Müller G (1981) Die Schwemetallbelastung der Sedimente des Neckars und seiner Nebenflusse: eine Bestandsaufnahme. Chemiker-Zeitung 105:157–164

Mwamburi J (2003) Variations in trace elements in bottom sediments of major rivers in Lake Victoria's basin, Kenya. Lake Reservoir Res Manage 8:5–13

NAVFAC (2003) Guidance for environmental background analyses. Volume II: Sediment. Washington, DC 20374-5065: Naval Facilities Engineering

Neşer G, Kontas A, Ünsalan D, Uluturhan E, Altay O, Darılmaz E, Küçüksezgin F, Tekogcul N, Yercan F (2012) Heavy metals contamination levels at the Coast of Aliağa (Turkey) ship recycling zone. Mar Pollut Bull 64(4):882–887

Nobi EP, Dilipan E, Thangaradjou T, Sivakumar K, Kannan L (2010) Geochemical and geo-statistical assessment of heavy metal concentration in the sediments of different coastal ecosystems of Andaman Islands, India. Estuar Coast Shelf Sci 87(2):253–264

Obhođaš J, Valković V (2010) Contamination of the coastal sea sediments by heavy metals. Appl Radiat Isot 68(4–5):807–811

Ololade IA (2014) An assessment of heavy-metal contamination in soils within auto-mechanic workshops using enrichment and contamination factors with geoaccumulation indexes. J Environ Prot 5:970–982

Pekey H (2006) Heavy metals pollution assessment in sediments of the Izmit Bay, Turkey. Environ Monit Assess 123:219–231

Qishlaqi A, Moore F (2007) Statistical analysis of accumulation and sources of heavy metals occurrence in agricultural soils of Khoshk River Banks, Shiraz, Iran. Am-Euras J Agric Environ Sci 2:565–573

Rivaro P, Ianni C, Massolo S, Ruggieri N, Frache R (2004) Heavy metals in Albanian coastal sediments. Toxicol Environ Chem 86:85–97

Salem DMSA, Khaled A, El Nemr A, El-Sikaily A (2014) Comprehensive risk assessment of heavy metals in surface sediments along the Egyptian Red Sea coast. Egypt J Aquat Res 40(4):349–362

Singh KP, Mohan D, Singh VK, Malik A (2005) Studies on distribution and fractionation of heavy metals in Gomti river sediments—a tributary of the Ganges, India. J Hydrol 312:14–27

Sprovieri M, Feo ML, Prevedello L, Salvagio Manta D, Sammartino S, Tamburrino S, Marsella E (2007) Heavy metals, polycyclic aromatic hydrocarbons and polychlorinated biphenyls in surface sediments of the Naples harbour (Southern Italy). Chemosphere 67:998–1009

Stanković S, Tanaskovski B, Zlatić B, Arsenović M, Pezo L (2014) Analysis of trace elements in surface sediments, mussels, seagrass and seawater along the southeastern Adriatic coast—a chemometric approach. Pure Appl Chem 86:1111–1127

Tanaskovski B, Petrovic M, Kljajic Z, Degetto S, Stankovic S (2014) Analysis of major, minor and trace elements in surface sediments by x-ray fluorescence spectrometry for assessment of possible contamination of Boka Kotorska Bay, Montenegro. Maced J Chem Chem Eng 33(1):139–150

Tomlinson DL, Wilson JG, Haris CR, Jeffrey DW (1980) Problems in the assessment of heavy metal levels in estuaries and the formation of a pollution index. Helgol Wiss Meeresunters 33:566–575

Uluturhan E (2010) Heavy metal concentrations in surface sediments from two regions (Saros and Gokova Gulfs) of the Eastern Aegean Sea. Environ Monit Assess 165:657–684

UNEP (2013) Global mercury assessment 2013: sources, emissions, Releases and Environmental Transport. UNEP Chemicals Branch, Geneva

Valeria S, Smith C, Donovan A (2003) Microwave digestion for sediment, soil and urban particulate matter for trace metal analysis. Talanta 60(4):715–723

Vallejuelo SFO, Arana G, Diego A, Madariaga JM (2010) Risk assessment of trace elements in sediments: the case of the estuary of the Nerbioi–Ibaizabal River (Basque Country). J Hazard Mater 181:565–573

Zabetoglou K, Voutsa D, Samara C (2002) Toxicity and heavy metal contamination of surficial sediments from the Bay of Thessaloniki (Northwestern Aegean Sea) Greece. Chemosphere 49:17–26

Žvab Rožič P, Dolenec T, Bazdaric B, Karamarko V, Kniewald G, Dolenec M (2012) Major, minor and trace element content derived from aquacultural activity of marine sediments (Central Adriatic, Croatia). Environ Sci Pollut Res 19:2708–2721
Funding
This study has been supported by the Environment Protection Agency of Montenegro and Regional TC project (RER 7009).
Ethics declarations
Conflict of interest
The authors declare that they have no conflict of interest.
Additional information
Publisher's note
Springer Nature remains neutral with regard to jurisdictional claims in published maps and institutional affiliations.
Responsible editor: Jasmina Obhodas
Electronic supplementary material
About this article
Cite this article
Joksimović, D., Perošević, A., Castelli, A. et al. Assessment of heavy metal pollution in surface sediments of the Montenegrin coast: a 10-year review. J Soils Sediments 20, 2598–2607 (2020). https://doi.org/10.1007/s11368-019-02480-7
Received:

Accepted:

Published:

Issue Date:
Keywords
Montenegrin coast

Pollution indexes

Sediment

Trace metals