Abstract
Purpose
As a carbon sequestration material, biochar has attracted much attention due to its potential to enhance rice productivity and nitrogen retention in paddy fields. However, little information is available about the impacts of rice straw-derived biochar on coating materials of slow-release fertilizers especially with bentonite, starch, and humic acid.
Materials and methods
In this study, a biochar-based slow-release fertilizer was developed and evaluated at field scale. An orthogonal experimental design was applied to investigate the blending ratios of biochar, humic acid, and bentonite with three adhesives, and how these influenced N release.
Results and discussion
The optimum coating combination was 25% biochar, 4% bentonite, and 10% humic acid with modified cornstarch as the adhesive (herein referred to as CF10). The product not only decreased N leaching and runoff losses at the seeding and tillering stages but also supplied more nutrients to the rice at the heading and maturing stages. The SEM and FT-IR observations revealed that an effective dense layer was formed that slowed N release from the granule.
Conclusions
Laboratory- and field-scale studies showed that biochar has played a crucial role in developing a slow-release coating for the compound fertilizer based on its structural properties, porosity, and chemical interaction with other coating ingredients. We conclude that biochar-based slow-release fertilizer is a promising alternative N fertilizer for rice production.
Access options
Buy single article
Instant access to the full article PDF.
USD 39.95
Price excludes VAT (USA)
Tax calculation will be finalised during checkout.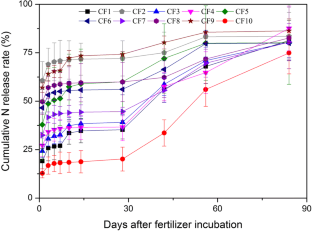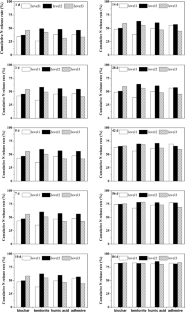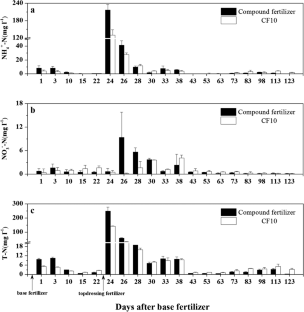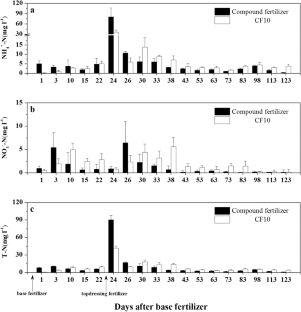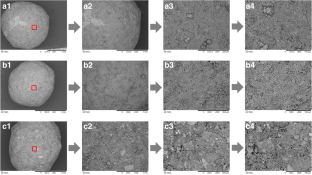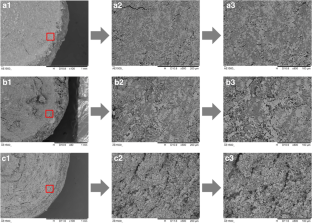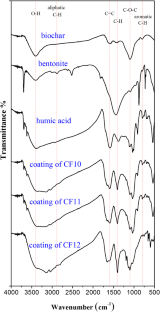 References
Azeem B, Kushaari KZ, Man ZB, Basit A, Thanh TH (2014) Review on materials & methods to produce controlled release coated urea fertilizer. J Control Release 181:11–21

Balcke GU, Kulikova NA, Hesse S, Kopinke FD, Perminova IV, Frimmel FH (2002) Adsorption of humic substances onto kaolin clay related to their structural features. Soil Sci Soc Am J 66:1805–1812

Cameron K, Di H, Moir J (2013) Nitrogen losses from the soil/plant system: a review. Ann Appl Biol 162:145–173

Chen L, Xie ZG, Zhuang XL, Chen XS, Jing XB (2008) Controlled release of urea encapsulated by starch-g-poly (L-lactide). Carbohydr Polym 72:342–348

Chen AQ, Lei BK, Hu WL, Lu Y, Mao YT, Duan ZY, Shi ZS (2015) Characteristics of ammonia volatilization on rice grown under different nitrogen application rates and its quantitative predictions in Erhai Lake watershed, China. Nutr Cycl Agroecosyst 10:139–152

Chen Y, Jiang Z, Wu D, Wang H, Li J, Bi M, Zhang Y (2019) Development of a novel bio-organic fertilizer for the removal of atrazine in soil. J Environ Manag 233:553–560

Chien SH, Prochnow LI, Cantarella H (2009) Recent developments of fertilizer production and use to improve nutrient efficiency and minimize environmental impacts. Adv Agron 102:267–322

Deng WG, Van Zwieten L, Lin ZM, Liu XY, Sarmah AK, Wang HL (2017) Sugarcane bagasse biochars impact respiration and greenhouse gas emissions from a latosol. J Soils Sediments 17:632–640

Ding Y, Liu YX, Wu WX, Shi DZ, Yang M, Zhong ZK (2010) Evaluation of biochar effects on nitrogen retention and leaching in multi-layered soil columns. Water Air Soil Pollut 213:47–55

Dong D, Yang M, Wang C, Wang HL, Li Y, Luo JF, Wu WX (2013) Responses of methane emissions and rice yield to applications of biochar and straw in a paddy field. J Soils Sediments 13:1450–1460

Dong D, Feng QB, Mcgrouther K, Yang M, Wang HL, Wu WX (2015) Effects of biochar amendment on rice growth and nitrogen retention in a waterlogged paddy field. J Soils Sediments 15:153–162

Fan JL, Xiao J, Liu DY, Ye GP, Luo JF, Houlbrooke D, Laurenson S, Yan J, Chen LJ, Tian JP, Ding WX (2017) Effect of application of dairy manure, effluent and inorganic fertilizer on nitrogen leaching in clayey fluvo-aquic soil: a lysimeter study. Sci Total Environ 592:206–214

Fang QL, Chen BL, Lin YJ, Guan YT (2014) Aromatic and hydrophobic surfaces of wood-derived biochar enhance perchlorate adsorption via hydrogen bonding to oxygen-containing organic groups. Environ Sci Technol 48:279–288

Gillman GP, Sumpter EA (1986) Modification to the compulsive exchange method for measuring exchange characteristics of soils. Soil Res 24:61–66

Gitipour S, Bowers MT, Bodocsi A (1997) The use of modified bentonite for removal of aromatic organics from contaminated soil. J Colloid Interface Sci 196:191–198

Gu ZM, Buyuksonmez F, Gajaraj S, Beighley RE (2011) Adsorption of phosphate by goethite and zeolite: effects of humic substances from green waste compost. Compost Sci Util 19:197–204

Guerena D, Lehmann J, Hanley K, Enders A, Hyland C, Riha S (2013) Nitrogen dynamics following field application of biochar in a temperate North American maize-based production system. Plant Soil 365:239–254

Hagemann N, Kammann CI, Schmidt HP, Kappler A, Behrens S (2017) Nitrate capture and slow release in biochar amended compost and soil. PLoS One 12:e0171214

He LZ, Gielen G, Bolan NS, Zhang XK, Qin H, Huang HG, Wang HL (2015) Contamination and remediation of phthalic acid esters in agricultural soils in China: a review. Agron Sustain Dev 35:519–534

He LZ, Fan SL, Muller K, Wang HL, Che L, Xu S, Song ZL, Yuan GD, Rinklebe J, Tsang DCW, Ok YS, Bolan NS (2018) Comparative analysis biochar and compost-induced degradation of di-(2-ethylhexyl) phthalate in soils. Sci Total Environ 625:987–993

Iley WJ (1991) Effect of particle size and porosity on particle film coatings. Powder Technol 65:441–445

Kasozi GN, Zimmerman AR, Nkedikizza P, Gao B (2010) Catechol and humic acid sorption onto a range of laboratory-produced black carbons (biochars). Environ Sci Technol 44:6189–6195

Kundakci S, Uzum OB, Karadag E (2008) Swelling and dye sorption studies of acrylamide/2-acrylamido-2-methyl-1-propanesulfonic acid/bentonite highly swollen composite hydrogels. React Funct Polym 68:458–473

Li CF, Cao CG, Wang JP, Ming Z, Yuan WL, Ahmad S (2008) Nitrogen losses from integrated rice–duck and rice–fish ecosystems in southern China. Plant Soil 307:207–217

Li XD, Li Q, Su Y, Yue QY, Gao BY (2015) A novel wheat straw cellulose-based semi-IPNs superabsorbent with integration of water-retaining and controlled-release fertilizers. J Taiwan Inst Chem Eng 55:170–179

Li YF, Hu SD, Chen JH, Muller K, Li YC, Fu WJ, Lin ZW, Wang HL (2018) Effects of biochar application in forest ecosystems on soil properties and greenhouse gas emissions: a review. J Soils Sediments 18:546–563

Li Z, Song Z, Singh BP, Wang H (2019) The impact of crop residue biochars on silicon and nutrient cycles in croplands. Sci Total Environ 659:673–680

Liu H, Yang X, Liu G, Liang C, Xue S, Chen H, Ritsema CJ, Geissen V (2017) Response of soil dissolved organic matter to microplastic addition in Chinese loess soil. Chemosphere 185:907–917

Lu KP, Yang X, Gielen G, Bolan N, Ok YS, Niazi NK, Xu S, Yuan GD, Chen X, Zhang XK, Liu D, Song ZL, Liu XY, Wang HL (2017) Effect of bamboo and rice straw biochars on the mobility and redistribution of heavy metals (Cd, Cu, Pb and Zn) in contaminated soil. J Environ Manag 186:285–292

Ma C, Deng Y, Dong F, Li N, Li L (2013) Preparation of urea-formaldehyde-gypsum-bentonite based specialty slow-release fertilizers for soybean and evaluation of nutrient release characteristics. Soybean Sci 32:220–223 (in Chinese)

Major J, Rondon M, Molina D, Riha SJ, Lehmann J (2010) Maize yield and nutrition during 4 years after biochar application to a Colombian savanna oxisol. Plant Soil 333:117–128

Mandal S, Sarkar B, Bolan NS, Novak J, Ok YS, Van ZL, Singh BP, Kirkham MB, Choppala G, Spokas K, Naidu R (2016) Designing advanced biochar products for maximizing greenhouse gas mitigation potential. Crit Rev Environ Sci Technol 46:1367–1401

Melo TM, Bottlinger M, Schulz E, Leandro WM, Menezes de Aguiar Filho A, Wang H, Ok YS, Rinklebe J (2018) Plant and soil responses to hydrothermally converted sewage sludge (sewchar). Chemosphere 206:338–348

Melo TM, Bottlinger M, Schulz E, Leandro WM, Botelho de Oliveira S, Menezes de Aguiar Filho A, El-Naggar A, Bolan N, Wang H, Ok YS, Rinklebe J (2019) Management of biosolids-derived hydrochar (sewchar): effect on plant germination, and farmers' acceptance. J Environ Manag 237:200–214

Naz MY, Sulaiman SA (2016) Slow release coating remedy for nitrogen loss from conventional urea: a review. J Control Release 225:109–120

Nie CR, Yang X, Niazi NK, Xu XY, Wen YH, Rinklebe J, Ok YS, Xu S, Wang HL (2018) Impact of sugarcane bagasse-derived biochar on heavy metal availability and microbial activity: a field study. Chemosphere 200:274–282

O'Connor D, Peng T, Zhang J, Tsang DCW, Alessi DS, Shen Z, Bolan NS, Hou D (2018) Biochar application for the remediation of heavy metal polluted land: a review of in situ field trials. Sci Total Environ 619-620:815–826

Qiao DL, Liu HS, Yu L, Bao XY, Simon GP, Petinakis E, Chen L (2016) Preparation and characterization of slow-release fertilizer encapsulated by starch-based superabsorbent polymer. Carbohydr Polym 147:146–154

Qin P, Wang HL, Yang X, He LZ, Muller K, Shaheen SM, Xu S, Rinklebe J, Tsang DCW, Ok YS, Bolan N, Song ZL, Che L, Xu XY (2018) Bamboo- and pig-derived biochars reduce leaching losses of dibutyl phthalate, cadmium, and lead from co-contaminated soils. Chemosphere 198:450–459

Quin PR, Cowie AL, Flavel RJ, Keen BP, Macdonald LM, Morris SG, Singh BP, Young IM, Van Zwieten L (2014) Oil mallee biochar improves soil structural properties—a study with X-ray micro-CT. Agric Ecosyst Environ 191:142–149

Rawajfih Z, Nsour N (2006) Characteristics of phenol and chlorinated phenols sorption onto surfactant-modified bentonite. J Colloid Interface Sci 298:39–49

Russo TA, Tully K, Palm C, Neill C (2017) Leaching losses from Kenyan maize cropland receiving different rates of nitrogen fertilizer. Nutr Cycl Agroecosyst 108:195–209

Tao SM, Liu J, Jin KM, Qiu XY, Zhang YA, Ren XQ, Hu SW (2011) Preparation and characterization of triple polymer-coated controlled-release urea with water-retention property and enhanced durability. J Appl Polym Sci 120:2103–2111

Thangarajan R, Bolan NS, Kunhikrishnan A, Wijesekara H, Xu YL, Tsang DCW, Song H, Ok YS, Hou D (2017) The potential value of biochar in the mitigation of gaseous emission of nitrogen. Sci Total Environ 612:257–268

Tomaszewska M, Jarosiewicz A (2006) Encapsulation of mineral fertilizer by polysulfone using a spraying method. Desalination 198:346–352

Vashurina IY, Kochkina N, Kalinnikov YA (2004) Effect of humic acid microadditives on the properties of starch hydrogels and films made from them. Fibre Chem 36:338–342

Wang C, Tu QP, Dong D, Strong PJ, Wang HL, Sun B, Wu WX (2014) Spectroscopic evidence for biochar amendment promoting humic acid synthesis and intensifying humification during composting. J Hazard Mater 280:409–416

Wang J, Lv S, Zhang M, Chen G, Zhu T, Zhang S, Teng Y, Christie P, Luo YM (2016) Effects of plastic film residues on occurrence of phthalates and microbial activity in soils. Chemosphere 151:171–177

Wen P, Wu ZS, He YH, Han YJ, Tong YB (2016) Characterization of p (AA-co-AM)/bent/urea and its swelling and slow release behavior in a simulative soil environment. J Appl Polym Sci 133:43082

Wu W, Yang M, Feng Q, McGrouther K, Wang H, Lu H, Chen Y (2012) Chemical characterization of rice straw-derived biochar for soil amendment. Biomass Bioenergy 47:268–276

Wu WD, Li JH, Lan T, Muller K, Niazi NK, Chen X, Xu S, Zheng LR, Chu YC, Li JW, Yuan GD, Wang HL (2017) Unraveling sorption of lead in aqueous solutions by chemically modified biochar derived from coconut fiber: a microscopic and spectroscopic investigation. Sci Total Environ 576:766–774

Xia S, Song Z, Jeyakumar P, Shaheen SM, Rinklebe J, Ok YS, Bolan N, Wang H (2019) A critical review on bioremediation technologies for Cr (VI)-contaminated soils and wastewater. Crit Rev Environ Sci Technol 49:1027–1078. https://doi.org/10.1080/10643389.2018.1564526

Xu CY, Hosseini-Bai S, Hao YB, Rachaputi RCN, Wang HL, Xu ZH, Wallace H (2015) Effect of biochar amendment on yield and photosynthesis of peanut on two types of soils. Environ Sci Pollut Res 22:6112–6125

Yang YC, Zhang M, Li YC, Fan XH, Geng YQ (2012) Improving the quality of polymer-coated urea with recycled plastic, proper additives, and large tablets. J Agric Food Chem 60:11229–11237

Yang SH, Peng SZ, Xu JZ, He YP, Wang YJ (2015) Effects of water saving irrigation and controlled release nitrogen fertilizer managements on nitrogen losses from paddy fields. Paddy Water Environ 13:71–80

Yang J, Li H, Zhang D, Wu M, Pan B (2017a) Limited role of biochars in nitrogen fixation through nitrate adsorption. Sci Total Environ 592:758–765

Yang X, Lu KP, McGrouther K, Che L, Hu GT, Wang QY, Liu XY, Shen LL, Huang HG, Ye ZQ, Wang HL (2017b) Bioavailability of Cd and Zn in soils treated with biochars derived from tobacco stalk and dead pigs. J Soils Sediments 17:751–762

Yang X, Wan Y, Zheng Y, He F, Yu Z, Huang J, Wang H, Ok YS, Jiang Y, Gao B (2019) Surface functional groups of carbon-based adsorbents and their roles in the removal of heavy metals from aqueous solutions: a critical review. Chem Eng J 366:608–621

Ye YS, Liang XQ, Chen YX, Liu J, Gu JT, Guo R, Li L (2013) Alternate wetting and drying irrigation and controlled-release nitrogen fertilizer in late-season rice. Effects on dry matter accumulation, yield, water and nitrogen use. Field Crop Res 144:212–224

Yi S, Witt B, Chiu P, Guo M, Imhoff P (2015) The origin and reversible nature of poultry litter biochar hydrophobicity. J Environ Qual 44:963–971

Yu L, Lu X, He Y, Brookes PC, Liao H, Xu JM (2017) Combined biochar and nitrogen fertilizer reduces soil acidity and promotes nutrient use efficiency by soybean crop. J Soils Sediments 17:599–610

Zhan FL, Liu MZ, Guo MY, Wu L (2004) Preparation of superabsorbent polymer with slow-release phosphate fertilizer. J Appl Polym Sci 92:3417–3421

Zhang XY, Gao B, Creamer AE, Cao CC, Li YC (2017) Adsorption of VOCs onto engineered carbon materials: a review. J Hazard Mater 338:102–123

Zhang X, You S, Tian Y, Li J (2019) Comparison of plastic film, biodegradable paper and bio-based film mulching for summer tomato production: soil properties, plant growth, fruit yield and fruit quality. Sci Hortic 249:38–48

Zheng W, Guo M, Chow T, Bennett DN, Rajagopalan N (2010) Sorption properties of greenwaste biochar for two triazine pesticides. J Hazard Mater 181:121–126

Zhou J, Tong J, Su XG, Ren LL (2016) Hydrophobic starch nanocrystals preparations through crosslinking modification using citric acid. Int J Biol Macromol 91:1186–1193

Zhou G, Zhou X, Zhang T, Du Z, He Y, Wang X, Shao J, Cao Y, Xue S, Wang H, Xu C (2017a) Biochar increased soil respiration in temperate forests but had no effects in subtropical forests. For Ecol Manag 405:339–349

Zhou Y, Xing XF, Lang JL, Chen DS, Cheng SY, Wei L, Wei X, Liu C (2017b) A comprehensive biomass burning emission inventory with high spatial and temporal resolution in China. Atmos Chem Phys 17:2839–2864

Zhu ZL, Chen DL (2002) Nitrogen fertilizer use in China—contributions to food production, impacts on the environment and best management strategies. Nutr Cycl Agroecosyst 63:117–127
Funding
This research was supported by the National Natural Science Foundation of China (41601234, 21577131, 21876027); the Zhejiang Province Public Welfare Technology Application Research Project (2017C33111); and the Natural Science Foundation of Guangdong Province, China (2017A030311019).
Additional information
Responsible editor: Yong Sik Ok
Publisher's note
Springer Nature remains neutral with regard to jurisdictional claims in published maps and institutional affiliations.
About this article
Cite this article
Dong, D., Wang, C., Van Zwieten, L. et al. An effective biochar-based slow-release fertilizer for reducing nitrogen loss in paddy fields. J Soils Sediments 20, 3027–3040 (2020). https://doi.org/10.1007/s11368-019-02401-8
Received:

Accepted:

Published:

Issue Date:

DOI: https://doi.org/10.1007/s11368-019-02401-8
Keywords