Abstract
Purpose
Pyrolysis is the most effective method to completely remove antibiotics and immobilize heavy metals from livestock feces. However, the effect of the pyrolysis temperature on antibiotic removal at laboratory and pilot scales is still unclear.
Materials and methods
The pyrolysis technique was used to convert pig manure (PM) and chicken manure (CM) into biochar at different temperatures from 300 to 700 °C in a laboratory-scale test. The performance of antibiotic removal and heavy metal immobilization in livestock feces was studied, and the optimal temperature of 600 °C was selected for the pilot-scale verification.
Results and discussion
The results showed that the removal of the antibiotics tylosin (TYL), tetracycline (TC), chlortetracycline (CTC), doxycycline (DOXY), sulfamethazine (SMZ), sulfadiazine (SDZ), and sulfamethoxazole (SMX) was satisfactory, and all seven typical antibiotics were completely removed at 600 °C. In addition, the heavy metals zinc (Zn), copper (Cu), chromium (Cr), lead (Pb), nickel (Ni), cadmium (Cd), and arsenic (As) in the manure were well immobilized, and higher temperatures (above 600 °C) favored their immobilization. The results of heavy metal immobilization and antibiotic removal of the pilot-scale test were similar to those of the laboratory-scale test.
Conclusions
Laboratory- and pilot-scale experiments showed that the current study provided a safe method and technology for treating and recycling livestock feces into biochar via the pyrolysis process.
This is a preview of subscription content, log in to check access.
Access options
Buy single article
Instant access to the full article PDF.
US$ 39.95
Price includes VAT for USA
Subscribe to journal
Immediate online access to all issues from 2019. Subscription will auto renew annually.
US$ 199
This is the net price. Taxes to be calculated in checkout.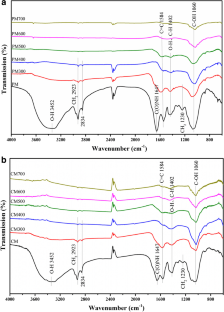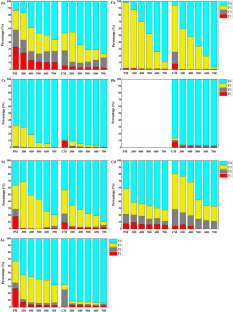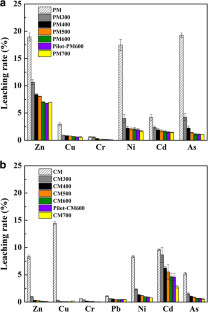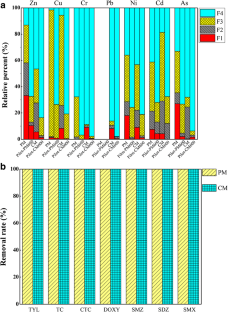 References
Agrafioti E, Bouras G, Kalderis D, Diamadopoulos E (2013) Biochar production by sewage sludge pyrolysis. J Anal Appl Pyrolysis 101:72–78

Ehsan M, Barakat MA, Husein DZ, Ismail SM (2014) Immobilization of Ni and Cd in soil by biochar derived from unfertilized dates. Water Air Soil Pollut 225(11):2123

Feng Z, Zhu H, Deng Q, He Y, Li J, Yin J, Gao F, Huang R, Li T (2018) Environmental pollution induced by heavy metal (loid) s from pig farming. Environ Earth Sci 77(3):103

Ho SH, ChenYD YZK, Nagarajan D, Chang JS, Ren NQ (2017) High-efficiency removal of lead from wastewater by biochar derived from anaerobic digestion sludge. Bioresour Technol 246:142–149

Huang Y, Cheng M, Li W, Wu L, Chen Y, Luo Y, Christie P, Zhang H (2013) Simultaneous extraction of four classes of antibiotics in soil, manure and sewage sludge and analysis by liquid chromatography-tandem mass spectrometry with the isotope-labelled internal standard method. Anal Methods 5:3721

Jin J, Li Y, Zhang J, Wu S, Cao Y, Liang P, Zhang J, Wong MH, Wang M, Shan S, Christie P (2016) Influence of pyrolysis temperature on properties and environmental safety of heavy metals in biochars derived from municipal sewage sludge. J Hazard Mater 320:417–426

Leng L, Yuan X, Shao J, Huang H, Wang H, Li H, Chen X, Zeng G (2016) Study on demetalization of sewage sludge by sequential extraction before liquefaction for the production of cleaner bio-oil and bio-char. Bioresour Technol 200:320–327

Li C, Wang X, Zhang G, Li J, Li Z, Yu G, Wang Y (2018a) A process combining hydrothermal pretreatment, anaerobic digestion and pyrolysis for sewage sludge dewatering and co-production of biogas and biochar: pilot-scale verification. Bioresour Technol 254:187–193

Li J, Yu G, Pan L, Li C, You F, Xie S, Wang Y, Ma J, Shang X (2018b) Study of ciprofloxacin removal by biochar obtained from used tea leaves. J Environ Sci 73:20–30

Lin Q, Xu X, Wang L, Chen Q, Fang J, Shen X, Lou L, Tian G (2017) The speciation, leachability and bioaccessibility of Cu and Zn in animal manure-derived biochar: effect of feedstock and pyrolysis temperature. Front Environ Sci Eng 11:68–78

Lu H, Zhang W, Wang S, Zhuang L, Yang Y, Qiu R (2013) Characterization of sewage sludge-derived biochars from different feedstocks and pyrolysis temperatures. J Anal Appl Pyrolysis 102:137–143

Meng J, Wang L, Zhong L, Liu X, Brookes PC, Xu J, Chen H (2017) Contrasting effects of composting and pyrolysis on bioavailability and speciation of cu and Zn in pig manure. Chemosphere 180:93–99

Pruden A, Larsson DG, Amezquita A, Collignon P, Brandt KK, Graham DW, Lazorchak JM, Suzuki S, Silley P, Snape JR, Topp E, Zhang T, Zhu YG (2013) Management options for reducing the release of antibiotics and antibiotic resistance genes to the environment. Environ Health Perspect 121:878–885

Qian L, Chen L, Joseph S, Pan G, Li L, Zheng J, Zhang X, Zheng J, Yu X, Wang J (2014) Biochar compound fertilizer as an option to reach high productivity but low carbon intensity in rice agriculture of China. Carbon Manag 5(2):145–154

Qiao M, Chen W, Su JQ, Zhang B, Zhang C (2012) Fate of tetracyclines in swine manure of three selected swine farms in China. J Environ Sci 24:1047–1052

Safaei Khorram M, Zhang Q, Lin D, Zheng Y, Fang H, Yu Y (2016) Biochar: a review of its impact on pesticide behavior in soil environments and its potential applications. J Environ Sci 44:269–279

Shi W, Liu C, Ding D, Lei Z, Yang Y, Feng C, Zhang Z (2013) Immobilization of heavy metals in sewage sludge by using subcritical water technology. Bioresour Technol 137:18–24

Song C, Shan S, Müller K, Wu S, Niazi NK, Xu S, Shen Y, Rinklebe J, Liu D, Wang H (2018) Characterization of pig manure-derived hydrochars for their potential application as fertilizer. Environ Sci Pollut Res 25(26):25772–25779

Tiquia SM (2010) Reduction of compost phytotoxicity during the process of decomposition. Chemosphere 79:506–512

Troy SM, Nolan T, Leahy JJ, Lawlor PG, Healy MG, Kwapinski W (2013) Effect of sawdust addition and composting of feedstock on renewable energy and biochar production from pyrolysis of anaerobically digested pig manure. Biomass Bioenergy 49:1–9

Uchimiya M, Bannon DI (2013) Solubility of lead and copper in biochar-amended small arms range soils: influence of soil organic carbon and pH. J Agric Food Chem 61:7679–7688

Wang H, Dong Y, Yang Y, Toor GS, Zhang X (2013) Changes in heavy metal contents in animal feeds and manures in an intensive animal production region of China. J Environ Sci 25:2435–2442

Wang X, Li C, Zhang B, Lin J, Chi Q, Wang Y (2016) Migration and risk assessment of heavy metals in sewage sludge during hydrothermal treatment combined with pyrolysis. Bioresour Technol 221:560–567

Wang X, Chi Q, Liu J, Wang Y (2019a) Influence of pyrolysis temperature on characteristics and environmental risk of heavy metals in pyrolyzed biochar made from hydrothermally treated sewage sludge. Chemosphere 216:698–706

Wang X, Li C, Li Z, Yu G, Wang Y (2019b) Effect of pyrolysis temperature on characteristics, chemical speciation and risk evaluation of heavy metals in biochar derived from textile dyeing sludge. Ecotoxicol Environ Saf 168:45–52

Xie S, Yu G, Li C, You F, Li J, Tian R, Wang G, Wang Y (2019) Dewaterability enhancement and heavy metals immobilization by pig manure biochar addition during hydrothermal treatment of sewage sludge. Environ Sci Pollut Res. https://doi.org/10.1007/s11356-019-04961-1

Yang H, Yan R, Chen H, Lee DH, Zheng C (2007) Characteristics of hemicellulose, cellulose and lignin pyrolysis. Fuel 86:1781–1788

Yang X, Li Q, Tang Z, Zhang W, Yu G, Shen Q, Zhao FJ (2017) Heavy metal concentrations and arsenic speciation in animal manure composts in China. Waste Manag 64:333–339

Yargicoglu EN, Sadasivam BY, Reddy KR, Spokas K (2015) Physical and chemical characterization of waste wood derived biochars. Waste Manag 36:256–268

You F-T, Yu G-W, Xing Z-J, Li J, Xie S-Y, Li C-X, Wang G, Ren H-Y, Wang Y (2019) Enhancement of NO catalytic oxidation on activated carbon at room temperature by nitric acid hydrothermal treatment. Appl Surf Sci 471:633–644

Zeng X, Xiao Z, Zhang G, Wang A, Li Z, Liu Y, Wang H, Zeng Q, Liang Y, Zou D (2018) Speciation and bioavailability of heavy metals in pyrolytic biochar of swine and goat manures. J Anal Appl Pyrolysis 132:82–93

Zhai Y, Chen H, Xu B, Xiang B, Chen Z, Li C, Zeng G (2014) Influence of sewage sludge-based activated carbon and temperature on the liquefaction of sewage sludge: yield and composition of bio-oil, immobilization and risk assessment of heavy metals. Bioresour Technol 159:72–79

Zheng H, Wang Z, Deng X, Zhao J, Luo Y, Novak J, Herbert S, Xing B (2013) Characteristics and nutrient values of biochars produced from giant reed at different temperatures. Bioresour Technol 130:463–471

Zhou X, Qiao M, Su J-Q, Zhu Y-G (2019a) High-throughput characterization of antibiotic resistome in soil amended with commercial organic fertilizers. J Soils Sediments 19:641–651

Zhou X, Qiao M, Su J-Q, Wang Y, Cao Z-H, Cheng W-D, Zhu Y-G (2019b) Turning pig manure into biochar can effectively mitigate antibiotic resistance genes as organic fertilizer. Sci Total Environ 649:902–908
Funding
All the authors are grateful for the support provided by the Strategic Priority Research Program of the Chinese Academy of Sciences (Grant No. XDA23030301), the China-Japanese Research Cooperative Program-China (No. 2016YFE0118000), and the Scientific and Technology Major Special Project of Tianjin City (16YFXTSF00420).
Additional information
Publisher's note
Springer Nature remains neutral with regard to jurisdictional claims in published maps and institutional affiliations.
Responsible editor: Hailong Wang
Electronic supplementary material
About this article
Cite this article
Tian, R., Li, C., Xie, S. et al. Preparation of biochar via pyrolysis at laboratory and pilot scales to remove antibiotics and immobilize heavy metals in livestock feces. J Soils Sediments 19, 2891–2902 (2019). https://doi.org/10.1007/s11368-019-02350-2
Received:

Accepted:

Published:

Issue Date:
Keywords
Antibiotic removal

Biochar

Heavy metal immobilization

Livestock feces

Pilot-scale

Pyrolysis