Abstract
Purpose
Glomalin-related soil protein (GRSP), produced by arbuscular mycorrhizal fungi, plays crucial roles in the global carbon cycle and improves soil quality. However, information on GRSP and its contribution to the soil organic carbon (SOC) pool in the process of urbanization is limited.
Materials and methods
In this study, easily extracted GRSP (EE-GRSP) and total GRSP (T-GRSP) were analyzed in an urban-rural gradient, and a detailed survey of greenspace characteristics (soil properties: pH, electric conductivity [EC], bulk density, temperature, and SOC; forest characteristics: tree density, tree size, tree species, and arbor and shrub richness; land use: road, building, greenspace, and wetland and water) in 306 plots was undertaken.
Results and discussion
EE-GRSP/SOC and T-GRSP/SOC decreased significantly by 10% in urban plots when compared with the rural plots. From the rural to urban plots, decrease in pH and increases in SOC, EC, tree height, and under branch height (p < 0.01) were found in this study. These changes in greenspace characteristics were responsible for variation in GRSP, while their relative explanatory power differed (soil properties: 43.8%, forest characteristics: 25.7%, and land use: 18.6%). Forward selection analysis identified that EC, greenspace proportion, pH, shrub richness, diameter at breast height, wetland and water proportion, bulk density, and under branch height had significant explanatory power for the variation in GRSP (all: p < 0.05).
Conclusions
Our findings indicate that urbanization greatly affects the contribution of GRSP to the SOC pool. The changes in greenspace characteristics played key roles in regulating the pattern of GRSP, especially soil properties. The results of this study may be used as a reference for the exploration of GRSP in urban environments and implementation of soil improvement practices by regulating GRSP.
This is a preview of subscription content, log in to check access.
Access options
Buy single article
Instant access to the full article PDF.
US$ 39.95
Price includes VAT for USA
Subscribe to journal
Immediate online access to all issues from 2019. Subscription will auto renew annually.
US$ 199
This is the net price. Taxes to be calculated in checkout.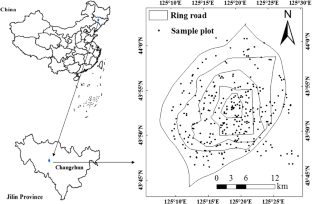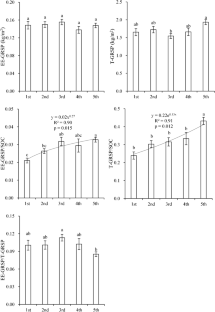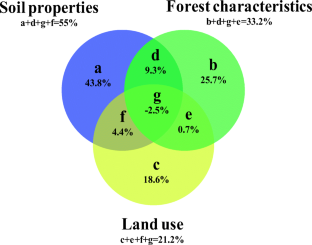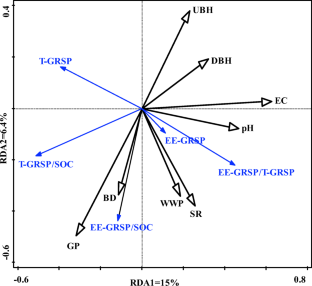 References
Balota EL, Machineski O, Honda C, Yada IF, Barbosa G, Nakatani AS, Coyne MS (2016) Response of arbuscular mycorrhizal fungi in different soil tillage systems to long-term swine slurry application. Land Degrad Dev 27:1141–1150

Bao SD (2000) Soil and agricultural chemistry analysis. China Agriculture Press, Beijing

Brundrett MC (2009) Mycorrhizal associations and other means of nutrition of vascular plants: understanding the global diversity of host plants by resolving conflicting information and developing reliable means of diagnosis. Plant Soil 320:37–77

Chang XF, Chai QL, Wang GJ, Wu GL, Zhu YJ, Li ZW, Yang YF (2017) Soil organic carbon accumulation in abandoned croplands on the Loess Plateau: vegetation succession and SOC recovery. Land Degrad Dev 28:1519–1527

Chen J (2007) Rapid urbanization in China: a real challenge to soil protection and food security. Catena 69:1–15

Cousins JR, Hope D, Gries C, Stutz JC (2003) Preliminary assessment of arbuscular mycorrhizal fungal diversity and community structure in an urban ecosystem. Mycorrhiza 13:319–326

Cui L, Mu LQ (2016) Ectomycorrhizal communities associated with Tilia amurensis trees in natural versus urban forests of Heilongjiang in Northeast China. J For Res 27:401–406

Dai LM, Li SL, Lewis BJ, Wu J, Yu DP, Zhou WM, Li Z, Wu SN (2018) The influence of land use change on the spatial–temporal variability of habitat quality between 1990 and 2010 in Northeast China. J For Res. https://doi.org/10.1007/s11676-11018-10771-x

Deng L, Shangguan ZP, Wu GL, Chang XF (2017) Effects of grazing exclusion on carbon sequestration in China's grassland. Earth-Sci Rev 173:84–95

Fokom R, Adamou S, Teugwa MC, Boyogueno ADB, Nana WL, Ngonkeu MEL, Tchameni NS, Nwaga D, Ndzomo GT, Zollo PHA (2012) Glomalin related soil protein, carbon, nitrogen and soil aggregate stability as affected by land use variation in the humid forest zone of south Cameroon. Soil Tillage Res 120:69–75

Gispert M, Emran M, Pardini G, Doni S, Ceccanti B (2013) The impact of land management and abandonment on soil enzymatic activity, glomalin content and aggregate stability. Geoderma 202-203:51–61

Grimm NB, Faeth SH, Golubiewski NE, Redman CL, Wu JG, Bai XM, Briggs JM (2008) Global change and the ecology of cities. Science 319:756–760

Hausmann NT, Hawkes CV (2009) Plant neighborhood control of arbuscular mycorrhizal community composition. New Phytol 183:1188–1200

Hu YJ, Rillig MC, Xiang D, Hao ZP, Chen BD (2013) Changes of AM fungal abundance along environmental gradients in the arid and semi-arid grasslands of northern China. PLoS One 8:e57593

Imperato M, Adamo P, Naimo D, Arienzo M, Stanzione D, Violante P (2003) Spatial distribution of heavy metals in urban soils of Naples city (Italy). Environ Pollut 124:247–256

Jim CY (1998) Urban soil characteristics and limitations for landscape planting in Hong Kong. Landsc Urban Plan 40:235–249

Khosropour E, Attarod P, Shirvany A, Pypker TG, Bayramzadeh V, Hakimi L, Moeinaddini M (2018) Response of Platanus orientalis leaves to urban pollution by heavy metals. J For Res. https://doi.org/10.1007/s11676-018-0692-8

Li JH, Zhang Z, Wang H, Wang SJ, Chen QB (2018) Urban land-use impacts on composition and spatiotemporal variations in abundance and biomass of earthworm community. J For Res. https://doi.org/10.1007/s11676-018-0807-2

Lv HL, Wang WJ, He XY, Xiao L, Zhou W, Zhang B (2016) Quantifying tree and soil carbon stocks in a temperate urban forest in Northeast China. Forests 7:200

McKinney ML (2006) Urbanization as a major cause of biotic homogenization. Biol Conserv 127:247–260

Ozkan UY, Ozdemir I, Demirel T, Saglam S, Yesil A (2017) Comparison of satellite images with different spatial resolutions to estimate stand structural diversity in urban forests. J For Res 28:805–814

Ren ZB, Du YX, He XY, Pu RL, Zheng HF, Hu HD (2018) Spatiotemporal pattern of urban forest leaf area index in response to rapid urbanization and urban greening. J For Res 29:785–796

Rillig MC (2004) Arbuscular mycorrhizae, glomalin, and soil aggregation. Can J Soil Sci 84:355–363

Rillig MC, Wright SF, Nichols KA, Schmidt WF, Torn MS (2001) Large contribution of arbuscular mycorrhizal fungi to soil carbon pools in tropical forest soils. Plant Soil 233:167–177

Rillig MC, Wright SF, Shaw MR, Field CB (2002) Artificial climate warming positively affects arbuscular mycorrhizae but decreases soil aggregate water stability in an annual grassland. Oikos 97:52–58

Rota E, Caruso T, Monaci F, Baldantoni D, De Nicola F, Iovieno P, Bargagli R (2013) Effects of soil pollutants, biogeochemistry and microbiology on the distribution and composition of enchytraeid communities in urban and suburban holm oak stands. Environ Pollut 179:268–276

Sæbø A, Benedikz T, Randrup TB (2003) Selection of trees for urban forestry in the Nordic countries. Urban For Urban Green 2:101–114

Sanesi G, Colangelo G, Lafortezza R, Calvo E, Davies C (2017) Urban green infrastructure and urban forests: a case study of the metropolitan area of Milan. Landsc Res 42:164–175

Seto KC, Parnell S, Elmqvist T (2013) A global outlook on urbanization. In: Urbanization, biodiversity and ecosystem services: challenges and opportunities. Springer, pp 1–12

Singh PK, Singh M, Tripathi BN (2013) Glomalin: an arbuscular mycorrhizal fungal soil protein. Protoplasma 250:663–669

Singh AK, Rai A, Singh N (2016) Effect of long term land use systems on fractions of glomalin and soil organic carbon in the indo-Gangetic plain. Geoderma 277:41–50

Singh AK, Rai A, Pandey V, Singh N (2017) Contribution of glomalin to dissolve organic carbon under different land uses and seasonality in dry tropics. J Environ Manag 192:142–149

Smith SE, Read DJ (2008) Mycorrhizal Symbiosis. Academic Press

Tzoulas K, Korpela K, Venn S, Yli-Pelkonen V, Kaźmierczak A, Niemela J, James P (2007) Promoting ecosystem and human health in urban areas using Green Infrastructure: a literature review. Landsc Urban Plan 81:167–178

Vasenev V, Kuzyakov Y (2018) Urban soils as hot spots of anthropogenic carbon accumulation: review of stocks, mechanisms and driving factors. Land Degrad Dev 29:1607–1622

Vogt J, Gillner S, Hofmann M, Tharang A, Dettmann S, Gerstenberg T, Schmidt C, Gebauer H, Van de Riet K, Berger U, Roloff A (2017) Citree: a database supporting tree selection for urban areas in temperate climate. Landsc Urban Plan 157:14–25

Wang Q, Wang WJ (2015) GRSP amount and compositions: importance for soil functional regulation. In: Barrett KD (ed) Fulvic and humic acids: chemical composition, soil applications and ecological effects. Nova Science Publishers, pp 39–71

Wang Q, Wu Y, Wang WJ, Zhong ZL, Pei ZX, Ren J, Wang HM, Zu YG (2014) Spatial variations in concentration, compositions of Glomalin Related Soil Protein in poplar plantations in Northeastern China, and possible relations with soil physicochemical properties. Sci World J 2014:1–13. https://doi.org/10.1155/2014/160403

Wang Q, Wang WJ, He XY, Zhang WT, Song KS, Han SJ (2015) Role and variation of the amount and composition of glomalin in soil properties in farmland and adjacent plantations with reference to a primary forest in North-Eastern China. PLoS One 10:e0139623

Wang WJ, Lu JL, Du HJ, Wei CH, Wang HY, Fu YJ, He XY (2017a) Ranking thirteen tree species based on their impact on soil physiochemical properties, soil fertility, and carbon sequestration in Northeastern China. For Ecol Manag 404:214–229

Wang WJ, Zhong ZL, Wang Q, Wang HM, Fu YJ, He XY (2017b) Glomalin contributed more to carbon, nutrients in deeper soils, and differently associated with climates and soil properties in vertical profiles. Sci Rep 7:13003

Wang Q, Lu H, Chen J, Hong H, Liu J, Li J, Yan C (2018a) Spatial distribution of glomalin-related soil protein and its relationship with sediment carbon sequestration across a mangrove forest. Sci Total Environ 613-614:548–556

Wang WJ, Wang HY, Xiao L, He XY, Zhou W, Wang Q, Wei CH (2018b) Microclimate regulating functions of urban forests in Changchun City (north-east China) and their associations with different factors. iForest 11:140–147

Wang WJ, Wang Q, Zhou W, Xiao L, Wang HM, He XY (2018c) Glomalin changes in urban-rural gradients and their possible associations with forest characteristics and soil properties in Harbin City, Northeastern China. J Environ Manag 224:225–234

Wang Q, Lei DG, Chen JY, Lin YS, Liu JC, Lu HL, Yan CL (2019) Sequestration of heavy metal by glomalin-related soil protein: implication for water quality improvement in mangrove wetlands. Water Res 148:142–152

Wright SF, Franke-Snyder M, Morton JB, Upadhyaya A (1996) Time-course study and partial characterization of a protein on hyphae of arbuscular mycorrhizal fungi during active colonization of roots. Plant Soil 181:193–203

Wright SF, Upadhyaya A, Buyer JS (1998) Comparison of N-linked oligosaccharides of glomalin from arbuscular mycorrhizal fungi and soils by capillary electrophoresis. Soil Biol Biochem 30:1853–1857

Wu QS, Huang YM, Yan L, Nasrullah HXH (2014) Contribution of arbuscular mycorrhizas to glomalin-related soil protein, soil organic carbon and aggregate stability in citrus rhizosphere. Int J Agric Biol 16:207–212

Wu J, Song J, Li W, Zheng M (2016) The accumulation of heavy metals in agricultural land and the associated potential ecological risks in Shenzhen, China. Environ Sci Pollut Res 23:1428–1440

Xiao L, Wang WJ, Zhang D, He XY, Wei CH, Lv HL, Zhou W, Zhang B (2016) Urban forest tree species composition and arrangement reasonability in Harbin, northeast China. Chin J Ecol 35:2074–2081

Zhai C, Wang WJ, He XY, Zhou W, Xiao L, Zhang B (2017) Urbanization drives SOC accumulation, its temperature stability and turnover in forests, northeastern China. Forests 8:130

Zhang J, Tang XL, He XH, Liu JX (2015) Glomalin-related soil protein responses to elevated CO2 and nitrogen addition in a subtropical forest: potential consequences for soil carbon accumulation. Soil Biol Biochem 83:142–149

Zhang B, Wang WJ, He XY, Zhou W, Xiao L, Lv HL, Wei CH (2017a) Shading,cooling and humidifying effects of urban forests in Harbin City and possible association with various factors. Chin J Ecol 36:951–961

Zhang D, Wang WJ, Zheng HF, Ren ZB, Zhai C, Tang Z, Shen GQ, He XY (2017b) Effects of urbanization intensity on forest structural-taxonomic attributes, landscape patterns and their associations in Changchun, Northeast China: implications for urban green infrastructure planning. Ecol Indic 80:286–296

Zhang J, Tang XL, Zhong SY, Yin GC, Gao YF, He XH (2017c) Recalcitrant carbon components in glomalin-related soil protein facilitate soil organic carbon preservation in tropical forests. Sci Rep 7:2391

Zhang ZH, Wang Q, Wang H, Nie SM, Liang ZW (2017d) Effects of soil salinity on the content, composition, and ion binding capacity of glomalin-related soil protein (GRSP). Sci Total Environ 581-582:657–665

Zheng WY, Zhou YW, Gu H, Tian ZP (2017) Seasonal dynamics and impact factors of urban forest CO2 concentration in Harbin, China. J For Res 28:125–132

Zhong ZL, Wang WJ, Wang Q, Wu Y, Wang HM, Pei ZX (2017) Glomalin amount and compositional variation, and their associations with soil properties in farmland, northeastern China. J Plant Nutr Soil Sci 180:563–575

Zhou XL, Wang YC (2011) Spatial–temporal dynamics of urban green space in response to rapid urbanization and greening policies. Landsc Urban Plan 100:268–277

Zhou W, Wang WJ, Zhang B, Xiao L, Lv HL, He XY (2017) Soil fertility evaluation for urban forests and green spaces in Changchun City. Acta Ecol Sin 37:1211–1220

Zirkle G, Lal R, Augustin B (2011) Modeling carbon sequestration in home lawns. HortScience 46:808–814

Zornoza R, Acosta JA, Bastida F, Domínguez SG, Toledo DM, Faz A (2015) Identification of sensitive indicators to assess the interrelationship between soil quality, management practices and human health. Soil 1:173–185
Funding
This study was supported financially by the National Science and Technology Ministry (2016YFA0602304-2), China's National Foundation of Natural Sciences (31670699 and 41730641), and Fundamental Research Funds for the Central Universities (2572017DG04).
Additional information
Publisher's note
Springer Nature remains neutral with regard to jurisdictional claims in published maps and institutional affiliations.
Responsible editor: Jianming Xue
About this article
Cite this article
Wang, Q., Wang, W., He, X. et al. Urbanization-induced glomalin changes and their associations with land-use configuration, forest characteristics, and soil properties in Changchun, Northeast China. J Soils Sediments 19, 2433–2444 (2019). https://doi.org/10.1007/s11368-019-02266-x
Received:

Accepted:

Published:

Issue Date:
Keywords
Arbuscular mycorrhizal fungi

Glomalin-related soil protein

Soil organic carbon

Urban-rural gradient