Abstract
Purpose
Soil aggregates play a crucial role in the sequestration of soil organic carbon (SOC). Returning crop residues to soil is known to strongly influence soil C stocks, but the specific contribution of crop residues to soil aggregates influenced by long-term fertilization remains largely unknown. This study investigated the effects of long-term fertilization on the distribution of 13C-labeled maize straw residue in different aggregate size fractions and their retention in soils over a 1-year incubation.
Materials and methods
The dynamic variation and the distribution of maize straw-derived 13C in soil aggregates were monitored using a 13C stable isotope mass-balance approach. The following three fertilization treatments were selected: (1) without fertilization (CK), (2) mineral fertilizer (NPK), and (3) cow manure with mineral fertilizer (NPKM). Soil samples were collected from the surface layer (0–20 cm) of a long-term field experiment of Mollisols (Luvic Phaeozem) in 2015 at Gongzhuling, Jilin Province, China, which was established in 1980. Soils were incubated for 360 days at 25 °C, with or without 13C-labeled maize straw and destructively collected on the days of 45, 90, 135, 180, and 360. Soil aggregates were separated into two fractions (macroaggregates, > 250 μm; microaggregate, < 250 μm) by wet sieving.
Results and discussion
The NPK treatment retained the most of maize straw 13C in macroaggregates (28.49%), but more maize straw 13C was incorporated in microaggregates for NPKM soil (4.02%) than NPK and CK on day 45. The highest amount of maize straw 13C was incorporated in macroaggregate on the days of 90, 135, and 180, and in microaggregate on the days of 135, 45, and 135 for CK, NPK, and NPKM, respectively. Organic manure-amended soil tended to sequester more maize straw 13C in the microaggregate fractions as compared with the NPK and CK treatments throughout the incubation. The maize straw 13C remaining in both of macro- and microaggregates followed the order of NPKM > NPK > CK for all soil aggregates after the 360-day incubation.
Conclusions
Our results illustrated that long-term application of manure with mineral fertilizer helps to stabilize or increase the retention of exogenous C in the soil aggregates.
Access options
Buy single article
Instant access to the full article PDF.
USD 39.95
Price excludes VAT (USA)
Tax calculation will be finalised during checkout.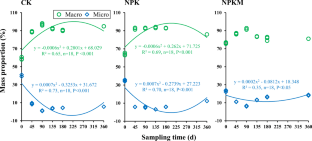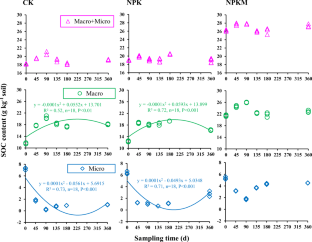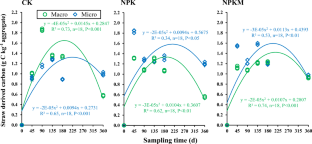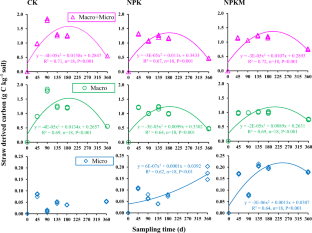 References
Abiven S, Recous S (2007) Mineralisation of crop residues on the soil surface or incorporated in the soil under controlled conditions. Biol Fertil Soils 43:849–852

Amelung W, Brodowski S, Sandhage-Hofmann A, Bol R (2008) Combining biomarker with stable isotope analyses for assessing the transformation and turnover of soil organic matter. Adv Agron 100:155–250

An T, Schaeffer S, Li S, Fu S, Pei J, Li H, Zhuang J, Radosevich M, Wang J (2015) Carbon fluxes from plants to soil and dynamics of microbial immobilization under plastic film mulching and fertilizer application using 13C pulse-labeling. Soil Biol Biochem 80:53–61

Angers DA, Recous S, Aita C (1997) Fate of carbon and nitrogen in water-stable aggregates during decomposition of 13C15N-labelled wheat straw in situ. Soil Tillage Res 48:295–300

Balesdent J, Chenu C, Balabane M (2000) Relationship of soil organic matter dynamics to physical protection and tillage. Soil Tillage Res 53:215–230

Bending GD, Turner MK, Jones JE (2002) Interactions between crop residue and soil organic matter quality and the functional diversity of soil microbial communities. Soil Biol Biochem 34:1073–1082

Blanco-Canqui H, Lal R (2004) Mechanisms of carbon sequestration in soil aggregates. Crit Rev Plant Sci 23:481–504

Blaud A, Lerch TZ, Chevallier T, Nunan N, Chenu C, Brauman A (2012) Dynamics of bacterial communities in relation to soil aggregate formation during the decomposition of 13C-labelled rice straw. Appl Soil Ecol 53:1–9

Bolan NS, Adriano DC, Kunhikrishnan A, James T, McDowell R, Senesi N (2011) Dissolved organic matter: biogeochemistry, dynamics, and environmental significance in soils. In: Sparks DL (ed) Adv Agron. Elsevier Academic Press Inc, San Diego, pp 1–75

Bronick CJ, Lal R (2005) Soil structure and management: a review. Geoderma 124:3–22

Buyanovsky GA, Aslam M, Wagner GH (1994) Carbon turnover in soil physical fractions. Soil Sci Soc Am J 58:1167–1173

Chen Y, Zhang X, He H, Xie H, Yan Y, Zhu P, Ren J, Wang L (2010) Carbon and nitrogen pools in different aggregates of a Chinese Mollisol as influenced by long-term fertilization. J Soils Sediments 10:1018–1026

Chevallier T, Blanchart E, Albrecht A, Feller C (2004) The physical protection of soil organic carbon in aggregates: a mechanism of carbon storage in a vertisol under pasture and market gardening (Martinique, West Indies). Agric Ecosyst Environ 103:375–387

Chigineva NI, Aleksandrova AV, Tiunov AV (2009) The addition of labile carbon alters litter fungal communities and decreases litter decomposition rates. Appl Soil Ecol 42:264–270

Christensen BT (2001) Physical fractionation of soil and structural and functional complexity in organic matter turnover. Eur J Soil Sci 52:345–353

Chu H, Lin X, Fujii T, Morimoto S, Yagi K, Hu J, Zhang J (2007) Soil microbial biomass, dehydrogenase activity, bacterial community structure in response to long-term fertilizer management. Soil Biol Biochem 39:2971–2976

Condron L, Stark C, O'Callaghan M, Clinton P, Huang Z (2010) The role of microbial communities in the formation and decomposition of soil organic matter. Springer, Dordrecht

Coplen TB (2011) Guidelines and recommended terms for expression of stable-isotope-ratio and gas-ratio measurement results. Rapid Commun Mass Sp 25:2538–2560

Denef K, Zotarelli L, Boddey RM, Six J (2007) Microaggregate-associated carbon as a diagnostic fraction for management-induced changes in soil organic carbon in two Oxisols. Soil Biol Biochem 39:1165–1172

Ding X, Han X, Liang Y, Qiao Y, Li L, Li N (2012) Changes in soil organic carbon pools after 10 years of continuous manuring combined with chemical fertilizer in a Mollisol in China. Soil Tillage Res 122:36–41

Elliott ET (1986) Aggregate structure and carbon, nitrogen, and phosphorus in native and cultivated soils. Soil Sci Soc Am J 50:627–633

Fang Y, Nazaries L, Singh BK, Singh BP (2018) Microbial mechanisms of carbon priming effects revealed during the interaction of crop residue and nutrient inputs in contrasting soils. Glob Chang Biol 24:2775–2790

Fansler SJ, Smith JL, Bolton H Jr, Bailey VL (2005) Distribution of two C cycle enzymes in soil aggregates of a prairie chronosequence. Biol Fertil Soils 42:17–23

Flessa H, Beese F (1995) Effects of sugarbeet residues on soil redox potential and nitrous oxide emission. Soil Sci Soc Am J 59:1044–1051

Henriksen TM, Breland TA (2002) Carbon mineralization, fungal and bacterial growth, and enzyme activities as affected by contact between crop residues and soil. Biol Fertil Soils 35:41–48

Huang Y, Zou J, Zheng X, Wang Y, Xu X (2004) Nitrous oxide emissions as influenced by amendment of plant residues with different C: N ratios. Soil Biol Biochem 36:973–981

Jangid K, Williams MA, Franzluebbers AJ, Sanderlin JS, Reeves JH, Jenkins MB, Endale DM, Coleman DC, Whitman WB (2008) Relative impacts of land-use, management intensity and fertilization upon soil microbial community structure in agricultural systems. Soil Biol Biochem 40:2843–2853

Joshi SK (2015) Long term effect of fertilizer and manure on soil organic pools under rice wheat cropping system in Vertisol. Dissertation, Indira Gandhi Krishi Vishwavidyalya, Raipur

Kong AYY, Six J (2010) Tracing root vs. residue carbon into soils from conventional and alternative cropping systems. Soil Sci Soc Am J 74:1201–1210

Kong AYY, Six J, Bryant DC, Denison R, Van Kessel C (2005) The relationship between carbon input, aggregation, and soil organic carbon stabilization in sustainable cropping systems. Soil Sci Soc Am J 69:1078–1085

Krull ES, Baldock JA, Skjemstad JO (2003) Importance of mechanisms and processes of the stabilisation of soil organic matter for modelling carbon turnover. Funct Plant Biol 30:207–222

Ladd J, Van Gestel M, Monrozier LJ, Amato M (1996) Distribution of organic 14C and 15N in particle-size fractions of soils incubated with 14C, 15N-labelled glucose/NH4 , and legume and wheat straw residues. Soil Biol Biochem 28:893–905

Ladha J, Khind C, Gupta R, Meelu O, Pasuquin E (2004) Long-term effects of organic inputs on yield and soil fertility in the rice–wheat rotation. Soil Sci Soc Am J 68:845–853

Li S, Gu X, Zhuang J, An T, Pei J, Xie H, Li H, Fu S, Wang J (2016) Distribution and storage of crop residue carbon in aggregates and its contribution to organic carbon of soil with low fertility. Soil Tillage Res 155:199–206

Liu D, Wang Z, Zhang B, Song K, Li X, Li J, Li F, Duan H (2006) Spatial distribution of soil organic carbon and analysis of related factors in croplands of the black soil region. Northeast China Agr Ecosyst Environ 113:73–81

Majumder B, Kuzyakov Y (2010) Effect of fertilization on decomposition of 14C labelled plant residues and their incorporation into soil aggregates. Soil Tillage Res 109:94–102

Marschner P, Kandeler E, Marschner B (2003) Structure and function of the soil microbial community in a long-term fertilizer experiment. Soil Biol Biochem 35:453–461

Marschner P, Umar S, Baumann K (2011) The microbial community composition changes rapidly in the early stages of decomposition of wheat residue. Soil Biol Biochem 43:445–451

Monreal CM, Schnitzer M (2011) Production of a refined biooil derived by fast pyrolysis of chicken manure with chemical and physical characteristics close to those of fossil fuels. J Environ Sci Health Part B 46:630–637

Paul EA, Paustian KH, Elliott E, Cole CV (1996) Soil organic matter in temperate agroecosystems long term experiments in North America. CRC Press, Boca Raton

Reinertsen SA, Elliott L, Cochran V, Campbell G (1984) Role of available carbon and nitrogen in determining the rate of wheat straw decomposition. Soil Biol Biochem 16:459–464

Schnitzer M, Monreal CM (2011) Quo vadis soil organic matter research? A biological link to the chemistry of humification. In: Sparks DL (ed) Adv Agron. Academic Press, New York, pp 143–217

Sde G, Six J, Brits C, Merckx R (2005) A quantification of short-term macroaggregate dynamics: influences of wheat residue input and texture. Soil Biol Biochem 37:55–66

Six J, Elliott E, Paustian K (2000) Soil macroaggregate turnover and microaggregate formation: a mechanism for C sequestration under no-tillage agriculture. Soil Biol Biochem 32:2099–2103

Six J, Bossuyt H, Degryze S, Denef K (2004) A history of research on the link between (micro) aggregates, soil biota, and soil organic matter dynamics. Soil Tillage Res 79:7–31

Su Y, Wang F, Suo D, Zhang Z, Du M (2006) Long-term effect of fertilizer and manure application on soil-carbon sequestration and soil fertility under the wheat–wheat–maize cropping system in Northwest China. Nutr Cycl Agroecosyst 75:285–295

Sun Y, Gao X, Zhao X, Sui B, Wang H, Zhao L (2017) Effects of corn stalk incorporation on organic carbon of heavy fraction and composition of soil aggregates in albic soil. Acta Pedol Sin 54:1009–1017

Swift MJ, Heal OW, Anderson JM (1979) Decomposition in terrestrial ecosystems. Studies in Ecology 5:2772–2774

Tisdall JM, Oades JM (1982) Organic matter and water-stable aggregates in soils. Eur J Soil Sci 33:141–163

Tisdall JM, Smith SE, Rengasamy P (1997) Aggregation of soil by fungal hyphae. Soil Res 35:55–60

Troyer ID, Amery F, Moorleghem CV, Smolders E, Merckx R (2011) Tracing the source and fate of dissolved organic matter in soil after incorporation of a 13C labelled residue: a batch incubation study. Soil Biol Biochem 43:513–519

Werner RA, Brand WA (2001) Referencing strategies and techniques in stable isotope ratio analysis. Rapid Commun Mass Sp 15:501–519

Whalen J, Hu Q, Liu A (2003) Manure applications improve aggregate stability in conventional and no-tillage systems. Soil Sci Soc Am J 67:1842–1847

Yan Y, He H, Zhang X, Chen Y, Xie H, Bai Z, Zhu P, Ren J, Wang L (2012) Long-term fertilization effects on carbon and nitrogen in particle-size fractions of a Chinese Mollisol. Can J Soil Sci 92:509–519

Zhang Y, Ding W, Luo J, Donnison A (2010) Changes in soil organic carbon dynamics in an eastern Chinese coastal wetland following invasion by a C4 plant Spartina alterniflora. Soil Biol Biochem 42:1712–1720

Zhang H, Ding W, Luo J, Bolan N, Yu H (2015) The dynamics of glucose-derived 13C incorporation into aggregates of a sandy loam soil following two-decade compost or inorganic fertilizer amendments. Soil Tillage Res 148:14–19
Acknowledgments
We thank Dr. Timothy Berry for the constructive revisions of the manuscript.
Funding
This study is supported by the National Natural Science Foundation of China (Grant No. 41671293, 31330011), the National Key Research and Development Program of China (2016YFD0200304) and the National Science Foundation of China (Grant No. 41601307, 41701330).
Additional information
Responsible editor: Zhihong Xu
Electronic supplementary material
About this article
Cite this article
Li, M., Wang, Y., Ding, F. et al. Dynamics of maize straw residue 13C incorporation into aggregates of a Mollisol as affected by long-term fertilization. J Soils Sediments 19, 1151–1160 (2019). https://doi.org/10.1007/s11368-018-2166-1
Received:

Accepted:

Published:

Issue Date:

DOI: https://doi.org/10.1007/s11368-018-2166-1
Keywords
13C-labeled plant residue

Aggregate size fraction

Carbon sequestration

Fertilization