Abstract
Purpose
Soil organic matter (SOM) plays an important role in terrestrial ecosystems and agroecosystems. Changes in the agricultural sector in the Czech Republic within the past 25 years have had a negative impact on SOM content and contribute to gradual soil degradation. The aim of this study is to estimate the effect of long-term application of different mineral fertilizers (NPK) and organic manures (manure, cattle slurry) on soil chemical properties (quality of humus, available nutrients, and soil reaction).
Materials and methods
Soil samples were collected from Luvisol during two selected periods 1994–2003 and 2014–2016 from long-term field experiment carried out in Prague-Ruzyně (Czech Republic). Average annual temperature is 8.5 °C, and annual precipitations are 485 mm. Different fertilization regimes have been applied for 62 years. The crop rotation was as follows: cereals (45%), root crops (33%) and legumes (22%). Soil analysis—soil organic carbon (SOC) was determined by oxidimetric titration method. Short fractionation method for evaluation of humic substance (HS), humic acid (HA) and fulvic acid (FA) content was used. Absorbance of HS in UV-VIS spectral range was measured by Varian Carry 50 Probe UV-VIS spectrometer. Degree of humification (DH) and color index (Q4/6) were calculated from fractional composition data. Soil reaction was measured by potentiometric method. Available nutrients (phosphorus, potassium, magnesium, calcium) were determined by Mehlich II and Mehlich I methods and by ICP-OES. For data analysis, the following are used: exploratory data analysis, ANOVA, and principal component analysis (PCA).
Results and discussion
PCA analysis differentiated fertilizers into two categories: (1) variant NPK (lower quality of humus)—higher acidity, lower SOC and HS content, predomination of FA, higher DH and lower content of available nutrients; (2) variants with organic manures (higher quality of humus)—lower acidity, higher SOC and HS content, predomination of HA, middle DH, and high content of available nutrients. The main result of presented study is to give a synthesis of effect of different type of fertilizers on a sustainable organic matter management in arable soils, with respect to yields, food security and adaptation to predict climate changes.
Conclusions
Long-term application of mineral fertilizers (NPK) without organic matter input can accelerate humus mineralization and soil quality degradation with all negative consequences such as (nitrogen leaching, higher availability of toxic element for plants, slow energy for soil microorganisms etc.). Application of organic fertilizers (manure and cattle slurry) helps to achieve the long-term stable yields while maintaining soil at optimum quality (long-term sustainable management with SOM). Principal component analysis is a useful tool for evaluation of soil quality changes.
This is a preview of subscription content, log in to check access.
Access options
Buy single article
Instant access to the full article PDF.
US$ 39.95
Tax calculation will be finalised during checkout.
Subscribe to journal
Immediate online access to all issues from 2019. Subscription will auto renew annually.
US$ 199
Tax calculation will be finalised during checkout.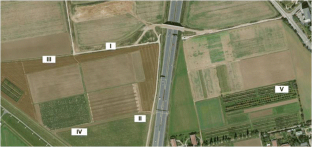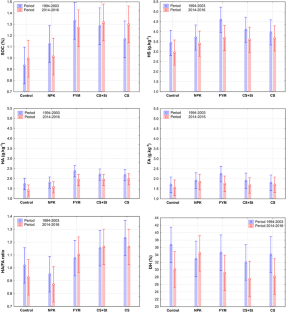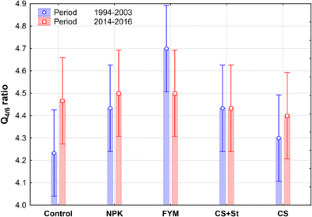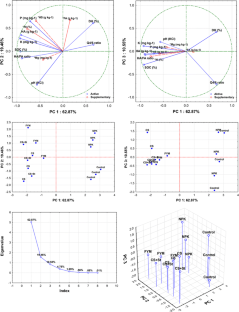 References
Barak P, Jobe BO, Krueger AR, Peterson LA, Laird DA (1997) Effects of long-term soil acidification due to nitrogen fertilizer inputs in Wisconsin. Plant Soil 197(1):61–69. https://doi.org/10.1023/A:1004297607070

Cai Z, Wang B, Xu M, Zhang H, Zhang L, Gao S (2014) Nitrification and acidification from urea application in red soil (Ferralic Cambisol) after different long-term fertilization treatments. J Soils Sediments 14(9):1526–1536. https://doi.org/10.1007/s11368-014-0906-4

Chen Y, Senesi N, Schnitzer M (1977) Information provided on humic substances by E4/E6 ratios 1. Soil Sci Soc Am J 41:352–358

Chen Y, Zhang X, He H et al (2010) Carbon and nitrogen pools in different aggregates of a Chinese mollisol as influenced by long-term fertilization. J Soils Sediments 10:1018–1026

CZSO (2017) Statistical yearbook of the Czech Republic—2016. Czech Statistical Office, Praha

EC (2008) Review of existing information on the interrelations between soil and climate change (CLIMSOIL)—final report. Contract number 70307/2007/486157/SER/ B1:208. (ed. Schils RE), European Commission, Brussels

EC (2012) (COM (2012) 46 final) Report from the Commission to the European Parliament, the Council, the European Economic and Social Committee and the Committee of the Regions, the implementation of the soil thematic strategy and on going activities. Official Journal

EUROSTAT (2017) Agri-environmental indicator—soil erosion. http://ec.europa.eu/eurostat/statistics-explained/index.php/Agri-environmental_indicator_-_soil_erosion

Galantini J, Rosell R (2006) Long-term fertilization effects on soil organic matter quality and dynamics under different production systems in semiarid Pampean soils. Soil Till Res 87(1):72–79. https://doi.org/10.1016/j.still.2005.02.032

Galloway JN, Dentener FJ, Capone DG, Boyer EW, Howarth RW, Seitzinger SP, Asner GP, Cleveland CC, Green PA, Holland EA, Karl DM, Michaels AF, Porter JH, Townsend AR, Vöosmarty CJ (2004) Nitrogen cycles: past, present, and future. Biogeochemistry 70(2):153–226. https://doi.org/10.1007/s10533-004-0370-0

Hábová M, Pospíšilová L, Novotná J, Badalíková B, Jurica L (2016) Haplic Chernozem properties as affected by different tillage systems. Acta Univ Agric Silvic Mendelianae Brun 64(1):63–69. https://doi.org/10.11118/actaun201664010063

Hlisnikovský L, Kunzová E, Menšík L (2016) Winter wheat: results of long-term fertilizer experiment& amp; nbsp; in Prague-Ruzyně over the last 60 years. Plant Soil Environ 62(3):105–113. https://doi.org/10.17221/746/2015-PSE

IUSS Working Group WRB (2015) World Reference Base for soil resources 2014, update 2015 international soil classification system for naming soils and creating legends for soil maps. World soil resources reports no. 106. FAO, Rome

Jones RJA, Hiederer R, Rusco E, Montanarella L (2005) Estimating organic carbon in the soils of Europe for policy support. Eur J Soil Sci 56(5):655–671. https://doi.org/10.1111/j.1365-2389.2005.00728.x

Kirk PL (1950) Kjeldahl method for total nitrogen. Anal Chem 22(2):354–358. https://doi.org/10.1021/ac60038a038

Kjeldahl J (1883) Neue Methode zur Bestimmung des Stickstoffs in organischen Körpern. Zeitschrift für Anal Chemie 22(1):366–383. https://doi.org/10.1007/BF01338151

Kononova MM (1963) Organičeskoje veščestvo počvy: jego priroda, svojstva i metody izucenija. AN SSSR, Moskva

Kubát J, Lipavský J (2006) Steady state of the soil organic matter in the long-term field experiments. Plant Soil Environ 52:9–14

Kubát J, Lipavský J (2010) Evaluation of organic matter content in arable soils in the Czech Republic. In: Behl RK, Merbach W, Meliczek H, Kaetsh C (eds) Crop science and land use for foof and bioenergy. Agrobios (International), Jodhpur, pp 245–251

Lal R (2006) Enhancing crop yields in the developing countries through restoration of the soil organic carbon pool in agricultural lands. L Degrad Dev 17(2):197–209. https://doi.org/10.1002/ldr.696

Liu E, Yan C, Mei X et al (2013) Long-term effect of manure and fertilizer on soil organic carbon pools in dryland farming in Northwest China. PLoS One. https://doi.org/10.1371/journal.pone.0056536

Lugato E, Panagos P, Bampa F et al (2014) A new baseline of organic carbon stock in European agricultural soils using a modelling approach. Glob Chang Biol 20:313–326. https://doi.org/10.1111/gcb.12292

Matějková S, Kumhálová J, Lipavský J (2010) Evaluation of crop yield under different nitrogen doses of mineral fertilization. Plant Soil Environ 56:163–167

Mehlich A (1984) Mehlich 3 soil test extractant: a modification of Mehlich 2 extractant. Commun Soil Sci Plant Anal 15(12):1409–1416. https://doi.org/10.1080/00103628409367568

Meloun M, Militký J (2011) Statistical data analysis, a practical guide with 1250 exercises and answer key on CD. Woodhead Publishing India, New Delhi

Nelson DW, Sommers LE (1996) Total carbon, organic carbon, and organic matter. In: Sparks DL et al (eds) Methods of soil analysis, Part, vol 3, pp 961–1010

Němeček J, Mühlhanselová M, Macků J, et al (2011) Taxonomický klasifikační systém půd, 2. upraven. ČZU v Praze, Praha

Orlov DS, Biryukova ON, Rozanova MS (2004) Revised system of the humus status parameters of soils and their genetic horizons. Eurasian Soil Sci 37:798–805

Piccolo A, Celano G, Conte P (2002) Methods of isolation and characterization of humic substances to study their interactions with pesticides. In: Cornejo J, Jamet P (eds) Proceedings of conference pesticide/soil interactions. INRA, Paris, pp 103–116

Plaza-Bonilla D, Arrúe JL, Cantero-Martínez C, Fanlo R, Iglesias A, Álvaro-Fuentes J (2015) Carbon management in dryland agricultural systems. A review. Agron Sustain Dev 35(4):1319–1334. https://doi.org/10.1007/s13593-015-0326-x

Pospíšilová L, Žigová A, Šťastný M, Liptaj T (2012) Humic acids quality of cambisols developed on gneiss and amphibolite. Acta Geodyn Geomater 9:503–510

Pospíšilová L, Vlček V, Hybler V et al (2016) Standard analytical methods and evaluation criteria of soil physical, agrochemical, biological and hygienic parameters. Mendel Universiti in Brno: Folia Universitatis Agriculturae at Silviculturae Mendelianae Brunensis, Brno

Ren T, Wang J, Chen Q et al (2014) The effects of manure and nitrogen fertilizer applications on soil organic carbon and nitrogen in a high-input cropping system. PLoS One. https://doi.org/10.1371/journal.pone.0097732

Senesi N, Plaza C, Brunetti G, Polo A (2007) A comparative survey of recent results on humic-like fractions in organic amendments and effects on native soil humic substances. Soil Biol Biochem 39(6):1244–1262. https://doi.org/10.1016/j.soilbio.2006.12.002

Sims JR, Haby VA (1971) Simplified colorimetric determination of soil organic matter. Soil Sci 112(2):137–141. https://doi.org/10.1097/00010694-197108000-00007

Song X, Liu S, Liu Q et al (2014) Carbon sequestration in soil humic substances under long-term fertilization in a wheat-maize system from North China. J Integr Agric 13:562–569

Šrek P, Hejcman N, Kunzová E (2010) Multivariate analysis of relationship between potato (Solanum Tuberosum L.) yield, amount of applied elements, their concentrations in tubers and uptake in a long-term fertilizer experiment. F. Crop Res 118:183–193

Sun Y, Huang S, Yu X, Zhang W (2013) Stability and saturation of soil organic carbon in rice fields: evidence from a long-term fertilization experiment in subtropical China. J Soils Sediments 13(8):1327–1334. https://doi.org/10.1007/s11368-013-0741-z

Swift RS (1999) Macromolecular properties of soil humic substances: fact, fiction, and opinion. Soil Sci 164:858–871

Swift RS (2001) Sequestration of carbon by soil. Soil Sci 166(11):858–871. https://doi.org/10.1097/00010694-200111000-00010

Verma G, Sharma RP, Sharma SP et al (2012) Changes in soil fertility status of maize-wheat system due to long-term use of chemical fertilizers and amendments in an alfisol. Plant Soil Environ 58:529–533

Wang HY, Zhou JM, Chen XQ, Du CW (2003) Interaction of NPK fertilizers during their transformation in soils: III. Transformations of monocalcium phosphate. Pedosphere 14:379–385

Wang C, He N, Zhang J et al (2015) Long-term grazing exclusion improves the composition and stability of soil organic matter in inner Mongolian grasslands. PLoS One 10:1–12. https://doi.org/10.1371/journal.pone.0128837

Włodarczyk T (2011) Greenhouse gases sink in soils. In: Gliński J, Horabik J, Lipiec J (eds) Encyclopedia of agrophysics. Springer, Dordrecht, pp 351–354. https://doi.org/10.1007/978-90-481-3585-1_65

Yang X, Zhang X, Fang H et al (2003) Long- term effects of fertilization on soil organic carbon changes in continuous corn of northeast china: Roth C model simulations. Environ Manag 32:459–465

Yang R, Su YZ, Wang T, Yang Q (2016) Effect of chemical and organic fertilization on soil carbon and nitrogen accumulation in a newly cultivated farmland. J Integr Agric 15(3):658–666. https://doi.org/10.1016/S2095-3119(15)61107-8

Zhang W, Xu M, Wang X, Huang Q, Nie J, Li Z, Li S, Hwang SW, Lee KB (2012) Effects of organic amendments on soil carbon sequestration in paddy fields of subtropical China. J Soils Sediments 12(4):457–470. https://doi.org/10.1007/s11368-011-0467-8

Zhang L, Chen W, Burger M et al (2015) Changes in soil carbon and enzyme activity as a result of different long-term fertilization regimes in a greenhouse field. PLoS One 10:1–13. https://doi.org/10.1371/journal.pone.0118371

Zhao X, Hu K, Stahr K (2013) Simulation of SOC content and storage under different irrigation, fertilization and tillage conditions using EPIC model in the North China plain. Soil Tillage Res 130:128–135. https://doi.org/10.1016/j.still.2013.02.005
Acknowledgements
This paper is supported by the Ministry of Agriculture of the Czech Republic project ČR-RO0417, by H2020-SFS-2015-2 no. 677407 "SOILCARE" and by Czech Agricultural Agency NAZV QK1810233.
Additional information
Responsible editor: Elżbieta Jamroz
About this article
Cite this article
Menšík, L., Hlisnikovský, L., Pospíšilová, L. et al. The effect of application of organic manures and mineral fertilizers on the state of soil organic matter and nutrients in the long-term field experiment. J Soils Sediments 18, 2813–2822 (2018). https://doi.org/10.1007/s11368-018-1933-3
Received:

Accepted:

Published:

Issue Date:
Keywords
Humus fractionation

Long-term field experiment

Mineral fertilizers

Nutrients

Organic manures

PCA

Soil reaction