Abstract
Purpose
The Marano and Grado Lagoon (Italy) has been affected by trace metal(oid) contamination in the last century, especially mercury, from both industrial and long-term mining activities. The uptake and distribution of trace metal(oid)s in halophytes were determined in two selected salt marshes. To evaluate the potential activity of plants as phytoremediation, the bioconcentration and translocation factors (BCF and TF, respectively) were calculated.
Materials and methods
In both salt marshes, individuals of Sarcocornia fruticosa L. and Limonium vulgare L., two of the most abundant halophytes in this environment, were sampled. The aboveground biomass (stems and leaves) was collected and sealed in plastic bags. Once the stems were removed, the belowground biomass and the attached rhizo-sediment were sampled using a single gouge auger sampler. The sediment cores obtained were sectioned on field to a maximum depth of 15 cm. The roots were carefully separated from the rhizo-sediment in the laboratory. The sediment, roots, leaves, and stems were freeze-dried, finely ground, and homogenized. Samples were totally decomposed, using a mixture of mineral acids in a closed microwave system, and analyzed for trace metal(oid) content by ICP-AES. The total Hg content in the solid phase was determined by DMA-80.
Results and discussion
Metal(oid) concentrations in roots were usually up to one or two orders of magnitude higher than in stems and leaves. The exceptions are Cd and Ni, which levels were not detectable, and Cr in stems of both halophytes where the concentration reached up to four times more than in roots. Commonly, trace metal(oid) contents were higher in stems than in leaves, except for Zn. Considering all BCF data, a sequence of metal(oid)s preferentially transferred from sediment to belowground biomass of the two plants is Cd > Mn > As > Pb. This sequence does not coincide for the two salt marshes, except for Cd, probably due to the different source of metal(oid)s in sediments and/or some site-specific lithogenic properties. Metal(oid)s accumulated from rhizo-sediment were largely retained in roots as shown by TF values <1.
Conclusions
The general trend arising from BCF and TF reveals that root tissues accumulate significantly greater amounts of metal(oid)s than the aerial part, thus indicating high plant bioavailability of the substrate metal(oid)s as well as their limited translocation to the aboveground biomass. Our results suggest that both salt marshes investigated act as a sink, and only sporadically as a possible source, for several trace metal(oid)s which are not promptly available for the environment.
Access options
Buy single article
Instant access to the full article PDF.
US$ 39.95
Tax calculation will be finalised during checkout.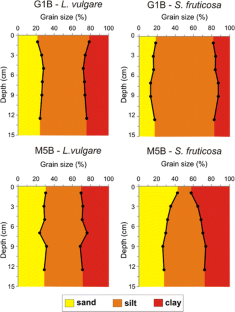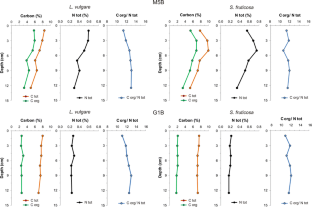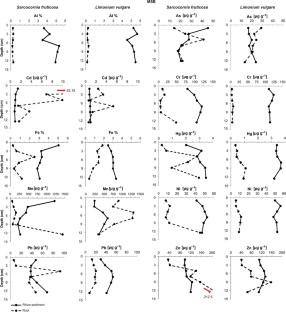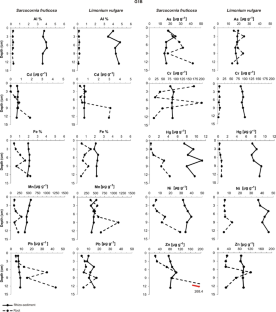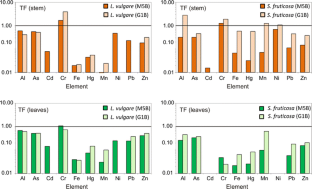 References
Acquavita A, Covelli S, Emili A, Berto D, Faganeli J, Giani M, Horvat M, Koron N, Rampazzo F (2012) Mercury in the sediments of the Marano and Grado lagoon (northern Adriatic Sea): sources, distribution and speciation. Estuar Coast Shelf Sci 113:20–31

Acquavita A, Aleffi IF, Benci C, Bettoso N, Crevatin E, Milani L, Tamberlich F, Toniatti L, Barbieri P, Licen S, Mattassi G (2015) Annual characterization of nutrients pattern and trophic state in a Mediterranean coastal lagoon: the Marano and Grado Lagoon, northern Adriatic Sea. Reg Stud Mar Sci 2:132–144

Almeida CMR, Mucha AP, Vasconcelos MTSD (2004) Influence of the sea rush Juncus maritimus on metal concentration and speciation in estuarine sediment colonized by the plant. Environ Sci Technol 38:3112–3118

Alongi D, Wattayakorn G, Botle S, Tirendi F, Payn C, Dixon P (2004) Influence of roots and climate on mineral and trace element storage and flux in tropical mangrove soils. Biogeochemistry 69:105–123

Anjum NA, Ahmad I, Válega M, Pacheco M, Figueira E, Duarte AC, Pereira E (2011) Impact of seasonal fluctuations on the sediment-mercury, its accumulation and partitioning in Halimione portulacoides and Juncus maritimus collected from Ria de Aveiro coastal lagoon (Portugal. Water Air Soil Pollut 222:1–15

Brambati A (1969) Sedimentazione recente nelle Lagune di Marano e Grado (Adriatico settentrionale). Studi Trentini Scienze Naturali e Acta Geologica A XLVI:142–239

Brambati A (1970) Provenienza, trasporto e accumulo dei sedimenti recenti nelle lagune di Marano e di Grado e nei litorali tra i fiumi Isonzo e Tagliamento. Mem Soc Geol It 9:281–329

Brambati A (1972) Clay mineral investigation in the Marano and Grado lagoons (northern Adriatic Sea). Boll Soc Geol It 91:315–323

Breckle SW (2002) Salinity, halophytes and salt affected natural ecosystems. In: Lauchli A, Luttge U (eds) Salinity: environment-plants-molecules. Kluwer Academic Publishers, Dordrecht, Netherlands, pp. 53–77

Brix H, Lyngby JE (1984) A survey of the metallic composition of Zostera marina (L.) in the Limfjord, Denmark. Arch Hydrobiol 99:347–359

Caçador I, Vale C, Catarino F (2000) Seasonal variation of Zn, Pb, Cu and Cd concentrations in the root-sediment system of Spartina maritima and Halimione portulacoides from Tagus estuary salt marshes. Mar Environ Res 49:279–290

Caçador I, Caetano M, Duarte B, Vale C (2009) Stock and losses of trace metals from salt marsh plants. Mar Environ Res 67:75–82

Caetano M, Vale C, Cesário R, Fonseca N (2008) Evidence for preferential depths of metal retention in roots of salt marsh plants. Sci Total Environ 390:466–474

Canário J, Caetano M, Vale C, Cesario R (2007) Evidence for elevated production of methylmercury in salt marshes. Environ Sci Technol 41:7376–7382

Cardinale BJ, Duffy JE, Gonzalez A, Hooper DU, Perrings C, Venail P, Narwani A, Mace GM, Tilman D, Wardle DA, Kinzig AP, Daily GC, Loreau M, Grace JB, Larigauderie A, Srivastava DS, Naeem S (2012) Biodiversity loss and its impact on humanity. Nature 486:59–67

Cardwell AJ, Hawker DW, Greenway M (2002) Metal accumulation in aquatic macrophytes from Southeast Queensland, Australia. Chemosphere 48:653–663

Covelli S, Faganeli J, Horvat M, Brambati A (2001) Mercury contamination of coastal sediments as the result of long-term cinnabar activity (Gulf of Trieste, northern Adriatic Sea. Appl Geochem 16:541–558

Covelli S, Fontolan G, Faganeli J, Ogrinc N (2006) Anthropogenic markers in the Holocene stratigraphic sequence of the Gulf of Trieste (northern Adriatic Sea. Mar Geol 230:29–51

Covelli S, Faganeli J, De Vittor C, Predonzani S, Acquavita A, Horvat M (2008) Benthic fluxes of mercury species in a lagoon environment (Grado lagoon, Northern Adriatic Sea, Italy. Appl Geochem 23:529–546

Covelli S, Emili A, Acquavita A, Koron N, Faganeli J (2011) Benthic biogeochemical cycling of mercury in two contaminated northern Adriatic coastal lagoons. Cont Shelf Res 31:1777–1789

Covelli S, Langone L, Acquavita A, Piani R, Emili A (2012) Historical flux of mercury associated with mining and industrial sources in the Marano and Grado Lagoon (northern Adriatic Sea. Estuar Coast Shelf Sci 113:7–19

De Vittor C, Faganeli J, Emili A, Covelli S, Predonzani S, Acquavita A (2012) Benthic fluxes of oxygen, carbon and nutrients in the Marano and Grado Lagoon (northern Adriatic Sea, Italy. Estuar Coast Shelf Sci 113:57–70

Deng H, Ye ZH, Wong MH (2004) Accumulation of lead, zinc, copper and cadmium by 12 wetland plant species thriving in metal-contaminated sites in China. Environ Pollut 132:29–40

Dinelli E, Lombini A (1991) Metal distribution in plants growing on copper mine spoils in Northern Apennines, Italy: the evaluation of seasonal variations. Appl Geochem 11:375–385

Ernst W (1974) Schwermetallvegetation der erde. Fischer, Stuttgart

Fitzgerald E, Caffrey J, Nesaratnam S, McLoughlin P (2003) Copper and lead concentrations in salt marsh plants on the Suir Estuary, Ireland. Environ Pollut 123:67–74

Flowers TJ, Colmer TD (2008) Salinity tolerance in halophytes. New Phytol 179:945–963

Fontolan G, Bezzi A, Fachin G, Pillon S (2010) Le trasformazioni ambientali della Laguna di Grado e Marano. Rapporto Tecnico 1 – ARPA 10, Università degli studi di Trieste

Fontolan G, Pillon S, Bezzi A, Villalta R, Lipizer M, Triches A, D'Aietti A (2012) Human impact and the historical transformation of saltmarshes in the Marano and Grado Lagoon, northern Adriatic Sea. Estuar Coast Shelf Sci 113:41–56

Foster NM, Hudson MD, Bray S, Nicholls RJ (2013) Intertidal mudflat and saltmarsh conservation and sustainable use in the UK. A review. J Environ Manag 126:96–104

Goñi MA, Teixeira MJ, Perkey DW (2003) Sources and distribution of organic matter in a river dominated estuary (Winyah Bay, SC, USA. Estuar Coast Shelf Sci 57:1023–1048

Hedges JI, Stern JH (1984) Carbon and nitrogen determinations in carbonate-containing solids. Limnol Oceanogr 29:657–663

Huiskes AH, Rozema J (1988) The impact of anthropogenic activities on coastal wetlands of North Sea. In: Salomons W, Bayne BL, Duursma EK, Förstner U (eds) Pollution of the North Sea: an assessment. Springer, Berlin, pp. 455–473

Koretsky CM, Cuellar A, Haveman M, Beuving L, Shattuck T, Wagner M (2008) Influence of Spartina and Juncus on saltmarsh sediments. II. Trace element geochemistry. Chem Geol 255:100–113

Loring DH, Rantala RTT (1992) Manual for the geochemical analyses of marine sediments and suspended particulate matter. Earth-Sci Rev 32:235–283

Martins M, Ferreira AM, Vale C (2008) The influence of Sarcocornia fruticosa on retention of PAHs in salt marsh sediments (Sado estuary, Portugal. Chemosphere 71:1599–1606

McFarlane G, Pulkownik A, Burchet M (2003) Accumulation and distribution of trace metals in grey mangrove, Avicennia marina (Forsk.) Vierh.: biological indication potential. Environ Pollut 123:139–151

Mnasri M, Ghabriche R, Fourati E, Zaier H, Sabally K, Barrington S, Lutts S, Abdelly C, Ghnaya T (2015) Cd and Ni transport and accumulation in the halophyte Sesuvium portulacastrum: implication of organic acids in these processes. Front Plant Sci 6:1–9

Mucha AP, Almeida CMR, Marisa R, Bordalo Adriano A, Vasconcelos M, Teresa SD (2008) Salt marsh plants (Juncus maritimus and Scirpus maritimus) as sources of strong complexing ligands. Estuar Coast Shelf Sci 77:104–112

Otte ML, Haarsman MS, Broekman RA, Rozema J (1993) Relation between trace metal concentrations in salt marsh plants and soil. Environ Pollut 82:13–22

Pethick J (1984) An introduction to coastal geomorphology. Edward Arnold, London

Piani R, Covelli S (2001) Contributo antropico di metalli pesanti e 137Cs nei sedimenti del bacino di Buso (Laguna di Marano e Grado, Italia settentrionale). Studi Trentini di Scienze Naturali - Acta geologica 77:169–177

Piani R, Covelli S, Biester H (2005) Mercury contamination in Marano Lagoon (Northern Adriatic Sea, Italy): source identification by analyses of Hg phases. Appl Geochem 20:1546–1559

Ramieri E, Barbanti A, Picone M, Menchini G, Bressan E, Dal Forno E (2011) Integrated plan for the sustainable management of the lagoon of Marano and Grado. Littoral 2010:05008

Raskin I, Ensley BD (2000) Phytoremediation of toxic metals-using plants to clean up the environment. Wiley, New York

Reboreda R, Caçador I (2007a) Halophyte vegetation influences in salt marsh retention capacity for trace metals. Environ Pollut 146:147–154

Reboreda R, Caçador I (2007b) Copper, zinc and lead speciation in salt marsh sediments colonised by Halimione portulacoides and Spartina maritima. Chemosphere 69:1655–1661

Roberedo FHS (1985) Trace metal analysis of sediments and live tissues of Spartina maritime, from salt marshes Sado estuary – Portugal. In: Proceedings of the 5th International Conference on Trace metals in the Environment, Heidelberg. CEP Consultants Ltd, Edinburgh, UK, p 330–333

Ross SM, Kaye KJ (1994) The meaning of metal toxicity in soil-plant system. In: Ross SM (ed) Toxic metals in soil-plant systems. John Wiley & Sons, New York, pp. 27–61

Shepard FP (1954) Nomenclature based on sand-silt-clay ratios. J Sediment Petrol 24:151–158

Sousa AI, Caçador I, Lillebø AI, Pardal MA (2008) Trace metal accumulation in Halimione portulacoides: intra- and extra-cellular metal binding sites. Chemosphere 70:850–857

Stuart JR, Tester M, Gaxiola RA, Flowers TJ (2014) Plants of saline environments. In: AccessScience. McGraw- Hill Education. doi: 10.1036/1097-8542.525600

Sundby B, Vale C, Caetano M, Luther G (2003) Redox chemistry in the root zone of a salt marsh sediment in the Tagus estuary, Portugal. Aquat Geochem 9:257–271

Tinker PB, Barraclough PB (1988) Root-soil interactions. In: Hutzinger O (ed) Reactions and processes. Springer Verlag, Berlin, pp. 153–171

Vecchiet A (2012) Caratterizzazione mineralogica dei sedimenti delle barene della Laguna di Marano. Ms Thesis (in Italian). University of Trieste

Weis J, Weis P (2004) Metal uptake, transport and release by wetland plants: implications for phytoremediation and restoration. Environ Int 30:685–700

Williams TP, Bubb JM, Lester JN (1994) Metal accumulation within salt marsh environments: a review. Mar Pollut Bull 28:277–290

Windham L, Weis J, Weis P (2003) Uptake and distribution of metals in two dominant salt marsh macrophytes, Spartina alterniflora (cordgrass) and Phragmites australis (common reed. Estuar Coast Shelf Sci 56:63–72

Wozny A, Krzeslowska M (1993) Plant cell response to Pb. Acta Soc Bot Pol 62:101–105

Yoon J, Cao X, Zhou Q, Ma LQ (2006) Accumulation of Pb, Cu and Zn in native plants growing on a contaminated Florida site. Sci Total Environ 368:456–464
Acknowledgments
This work was supported by the University of Trieste (FRA 2009, structural funds for research, ref. Stefano Covelli), and it was partially carried out in the framework of the "RITMARE - la Ricerca ITaliana per il MARE (2012–2016)" Flagship Project, financed by the Italian Ministry of University and Research (MIUR). The authors would like to thank Roberto Cattelan of Veritas Laboratories for ICP-AES analyses, Michela Bruni for helping to identify the halophytes, and Mariangela Pasquon (ARPA FVG Udine) for DMA-80 analyses. The authors are also grateful to the anonymous reviewers for their helpfull suggestions.
Additional information
Responsible editor: Jadran Faganeli
About this article
Cite this article
Petranich, E., Acquavita, A., Covelli, S. et al. Potential bioaccumulation of trace metals in halophytes from salt marshes of a northern Adriatic coastal lagoon. J Soils Sediments 17, 1986–1998 (2017). https://doi.org/10.1007/s11368-016-1545-8
Received:

Accepted:

Published:

Issue Date:
Keywords
Bioconcentration

Halophytes

Salt marshes

Trace metals

Translocation factor