Abstract
Purpose
Arsenic (As) contamination of groundwater has received significant attention recently in district Bathinda, due to consequent health risk in this region. Soil is the one of the primary medium for arsenic transport to groundwater. Thus, there is an essential requirement for understanding the retention capacity and mobility of arsenic in the soils to ensure sustainability of the groundwater in the locality. Arsenic interaction with various physicochemical properties of soil would provide a better understanding of its leaching from the soil.
Materials and methods
Fifty-one soil samples were collected from two regions of Bathinda district with extensive agricultural practices, namely, Talwandi Sabo and Goniana. The soils were analyzed for arsenic content and related physicochemical characteristic of the soil which influence arsenic mobility in soil. Adsorption studies were carried out to identify the arsenic mobilization characteristic of the soil. SEM-EDX and sequential extraction of arsenic adsorbed soil samples affirmed the arsenic adsorption and its mobility in soil, respectively. Multiple regression models have been formulated for meaningful soil models for the prediction of arsenic transport behavior and understand the adsorption and mobilization of arsenic in the soil matrices.
Results and discussion
Region-wise analysis showed elevated levels of arsenic in the soil samples from Goniana region (mean 9.58 mg kg−1) as compared to Talwandi Sabo block (mean 3.38 mg kg−1). Selected soil samples were studied for As(V) and As(III) adsorption behavior. The characteristic arsenic adsorption by these soil samples fitted well with Langmuir, Freundlich, Temkin, and D-R isotherm with a q max in the range of 45 to 254 mg kg−1 and 116 to 250 mg kg−1 for As(III) and As(V), respectively. Adsorption isotherms indicate weak arsenic retention capacity of the soil, which is attributed to the sandy loam textured soil and excessive fertilizer usage in this region. PCM and MLR analysis of the soil arsenic content and its adsorption strongly correlated with soil physicochemical parameters, namely, Mn, Fe, total/available phosphorus, and organic matter.
Conclusions
Manganese and iron content were firmly established for retention of arsenic in soil, whereas its mobility was influenced by organic matter and total/available phosphorus. The poor adsorptive characteristic of these soils is the primary cause of higher arsenic concentration in groundwater of this region. A strong correlation between monitored arsenic and adsorbed As(III) with manganese suggests As(III) as the predominant species present in soil environment in this region.
Access options
Buy single article
Instant access to the full article PDF.
US$ 39.95
Tax calculation will be finalised during checkout.
Subscribe to journal
Immediate online access to all issues from 2019. Subscription will auto renew annually.
US$ 119
Tax calculation will be finalised during checkout.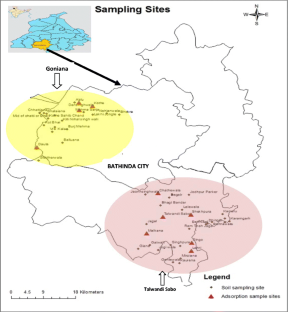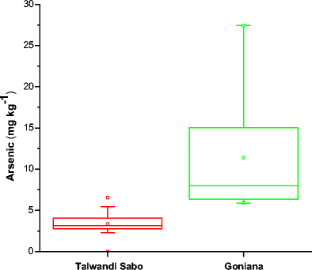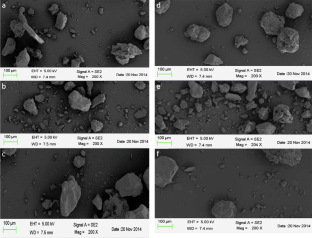 References
Adegoke H, Adekola FA, Fatoki OS, Ximba BJ (2013) Sorptive interaction of oxyanions with iron oxides: a review. Pol J Environ Stud 22:7–24

Amin N, Ibrar D, Alam S (2014) Heavy metals accumulation in soil irrigated with industrial effluents of Gadoon Industrial Estate, Pakistan and its comparison with fresh water irrigated soil. J Agr Chem Environ 3:80–87

Atafar Z, Mesdaghinia A, Nouri J, Homaee M, Yunesian M, Ahmadimoghaddam M, Mahvi AH (2010) Effect of fertilizer application on soil heavy metal concentration. Environ Monit Assess 160:83–89

Babaeivelni K, Khodadoust AP, Bogdan D (2014) Adsorption and removal of arsenic (V) using crystalline manganese (II, III) oxide: kinetics, equilibrium, effect of pH and ionic strength. J Environ Sci Hlth, Part A 49:1462–1473

Cai Y, Cabrera JC, Georgiadis M, Jayachandran K (2002) Assessment of arsenic mobility in the soils of some golf courses in South Florida. Sci Total Environ 291:123–134

Cances B et al (2005) XAS evidence of As (V) association with iron oxyhydroxides in a contaminated soil at a former arsenical pesticide processing plant. Environ Sci Technol 39:9398–9405

CGWB, Central Ground Water Board report (2007) Ministry of Water Resources New Delhi. http://cgwb.gov.in/District_Profile/Punjab/Bathinda.pdf. Accessed 12 Aug. 2014

CGWB, Central Ground Water Board report (2011) Ministry of Water Resources New Delhi. http://www.cgwb.gov.in/documents/Dynamic%20GW%20Resources%20-2009.pdf. Accessed 14 May 2014

Cui Y, Weng L (2013) Arsenate and phosphate adsorption in relation to oxides composition in soils: LCD modeling. Environ Sci Technol 47:7269–7276

DCP, District Credit Plan Bathinda District (2012-13) http://www.bathinda.gov.in/html/District_Plan/District%20Credit%20Plan-2012-13%20Bathinda/6.%20BLOCK%20PROFILE.pdf. Accessed 7 June 2014

DSWC (2014) Department of Soil & Water Conservation, Govt. of Punjab, Punjab. http://dswcpunjab.gov.in/contents/punjab_soils.htm. Accessed 24 Mar 2014

Deschamps E, Ciminelli VS, Weidler PG, Ramos AY (2003) Arsenic sorption onto soils enriched in Mn and Fe minerals. Clay Clay Miner 51:197–204

Dhawan AK, Mukherjee J, Kang GS, Singh H (2014) Fertilization unsuitability index for assessing fertilizer induced contamination risk in soils of cotton-wheat system of South Punjab districts. Indian J Ecol 41(2):262–268

Dias FF, Allen HE, Guimarães JR, Taddei MHT, Nascimento MR, Guilherme LRG (2009) Environmental behavior of arsenic (III) and (V) in soils. J Environ Monit 11:1412–1420

Dzombak DA (1990) Surface complexation modeling: hydrous ferric oxide. John Wiley & Sons

EPRI, Electric Power Research Institute USA (2009) Coal ash: characteristics, management and environmental issues. http://www.whitehouse.gov/sites/default/files/omb/assets/oira_2050/2050_meeting_101609-2.pdf. Accessed 5 July 2014

Farooqi A, Masuda H, Siddiqui R, Naseem M (2009) Sources of arsenic and fluoride in highly contaminated soils causing groundwater contamination in Punjab, Pakistan. Arch Environ Contam Toxicol 56:693–706

Fendorf S, Michael HA, van Geen A (2010) Spatial and temporal variations of groundwater arsenic in South and Southeast Asia. Science 328:1123–1127

Feng XH, Zu YQ, Tan WF, Liu F (2006) Arsenite oxidation by three types of manganese oxides. J Environ Sci 18:292–298

Feng Q, Zhang Z, Chen Y, Liu L, Zhang Z, Chen C (2013) Adsorption and desorption characteristics of arsenic on soils: kinetics, equilibrium, and effect of Fe (OH)3 colloid, H2SiO3 colloid and phosphate. Procedia Environ Sci 18:26–36

Fernández P, Sommer I, Cram S, Rosas I, Gutiérrez M (2005) The influence of water-soluble As(III) and As (V) on dehydrogenase activity in soils affected by mine tailings. Sci Total Environ 348:231–243

Fuller WH (1978) Investigation of landfill leachate pollutant attenuation by soils. EPA-600/2-28-158. U.S. Environmental Protection Agency. Office of Research and Development, Cincinnati

Goh KH, Lim TT (2004) Geochemistry of inorganic arsenic and selenium in a tropical soil: effect of reaction time, pH, and competitive anions on arsenic and selenium adsorption. Chemosphere 55:849–859

Halder A (2007) Premature greying of hairs, premature ageing and predisposition to cancer in Jajjal, Punjab: a preliminary observation. J Clin Diagn Res 1:577–580

Ho Y-S, Chiu W-T, Wang C-C (2005) Regression analysis for the sorption isotherms of basic dyes on sugarcane dust. Bioresource Technol 96:1285–1291

Hossain M, Jahiruddin M, Panaullah G, Loeppert R, Islam M, Duxbury J (2008) Spatial variability of arsenic concentration in soils and plants, and its relationship with iron, manganese and phosphorus. Environ Pollut 156:739–744

Hundal H, Kumar R, Singh K, Singh D (2007) Occurrence and geochemistry of arsenic in groundwater of Punjab, Northwest India. Commun Soil Sci Plant Anal 38:2257–2277

Hundal H, Singh K, Singh D (2009) Adsorption of arsenate on coarse loamy mixed hyperthermic Fluventic Haplustept soil of Punjab, Northwest India. Commun Soil Sci Plant Anal 40:3015–3022

Hundal H, Singh K, Singh D, Kumar R (2013) Arsenic mobilization in alluvial soils of Punjab, North–West India under flood irrigation practices. Environ Earth Sci 69:1637–1648

IS (1985) Methods of test for soils (Second revision). Grain Size Analysis. IS: 2720 (Part 4) -1985, Bureau of Indian Standards, New Delhi

IS (1987) Methods of test for soils (Second revision). Determination of pH value. IS: 2720 (Part 26) -1987, Bureau of Indian Standards, New Delhi

IS (2000) Determination of the specific electrical conductivity of soils-method of test. IS: 14767-2000, Bureau of Indian Standards, New Delhi

Jackson ML (ed) (1973) Soil chemical analysis. Prentice Hall of India Pvt. Ltd, New Delhi

Kar S et al (2011) Role of organic matter and humic substances in the binding and mobility of arsenic in a Gangetic aquifer. J Environ Sci Health, Part A Tox Hazard Subst Environ Eng 46(11):1231–1238. doi:10.1080/10934529.2011.598796

Kettering J, Ruidisch M, Gaviria C, Ok YS, Kuzyakov Y (2013) Fate of fertilizer 15N in intensive ridge cultivation with plastic mulching under a monsoon climate. Nutr Cycl Agroecosys 95:57–72

Majumder S, Nath B, Sarkar S, Chatterjee D, Roman-Ross G, Hidalgo M (2014) Size-fractionation of groundwater arsenic in alluvial aquifers of West Bengal, India: the role of organic and inorganic colloids. Sci Total Environ 468:804–812

Manning BA, Goldberg S (1997) Arsenic(III) and arsenic(V) adsorption on three California soils. Soil Sci 162:886–895

Martin M, Bonifacio E, Hossain K, Huq S, Barberis E (2014) Arsenic fixation and mobilization in the soils of the Ganges and Meghna floodplains. Impact of pedoenvironmental properties. Geoderma 228:132–141

Mello J, Roy W, Talbott J, Stucki J (2006) Mineralogy and arsenic mobility in arsenic-rich Brazilian soils and sediments. J Soils Sediments 6:9–19

Mittal S, Kaur G, Vishwakarma GS (2014) Effects of environmental pesticides on the health of rural communities in the Malwa Region of Punjab, India: a review. Hum Ecol Risk Assess 20:366–387

Moreno-Jiménez E, Clemente R, Mestrot A, Meharg AA (2013) Arsenic and selenium mobilisation from organic matter treated mine spoil with and without inorganic fertilisation. Environ Pollut 173:238–244

Nádaská G, Lesný J, Michalík I (2010) Environmental aspect of manganese chemistry. Hungarian Journal of Sciences ENV-100702-A, 1-16

Nan Z, Zhao C, Li J, Chen F, Sun W (2002) Relations between soil properties and selected heavy metal concentrations in spring wheat (Triticum aestivum L.) grown in contaminated soils. Water Air Soil Pollut 133:205–213

Olsen SR (1954) Estimation of available phosphorus in soils by extraction with sodium bicarbonate USDA Circular 939:1-19. Gov. Printing Office, Washington DC

Ouvrard S et al (2005) Natural manganese oxide: combined analytical approach for solid characterization and arsenic retention. Geochim Cosmochim Acta 69:2715–2724

Peryea F (1998) Phosphate starter fertilizer temporarily enhances soil arsenic uptake by apple trees grown under field conditions. Hortscience 33:826–829

PGIMER Epidemiological study of cancer cases in Talwandi Sabo block. PGIMER Chandigarh. Sept. 2007

Ritter K, Aiken GR, Ranville JF, Bauer M, Macalady DL (2006) Evidence for the aquatic binding of arsenate by natural organic matter-suspended Fe (III). Environ Sci Technol 40:5380–5387

Roberts LC et al (2012) Arsenic Contamination of Paddy Fields through Groundwater Irrigation in Bangladesh: Risks for Rice Production and Mitigation Perspectives

Saha D, Sarangam SS, Dwivedi SN, Bhartariya KG (2010) Evaluation of hydrogeochemical processes in arsenic-contaminated alluvial aquifers in parts of Mid-Ganga Basin, Bihar, Eastern India. Environ Earth Sci 61:799–811

Sahoo PK, Zhu W, Kim S-H, Jung MC, Kim K (2013) Relations of arsenic concentrations among groundwater, soil and paddy from an alluvial plain of Korea. Geosci J 17:363–370

Shahmohammadi-Kalalagh S, Babazadeh H, Nazemi A, Manshouri M (2011) Isotherm and kinetic studies on adsorption of Pb, Zn and Cu by kaolinite. Caspian J Environ Sci 9:243–255

Sharma P, Rolle M, Kocar B, Fendorf S, Kappler A (2010) Influence of natural organic matter on As transport and retention. Environ Sci Technol 45:546–553

Sharma C, Mahajan A, Garg UK (2013) Assessment of arsenic in drinking water samples in south-western districts of Punjab-India. Desalin Water Treat 51:5701–5709

Sherman DM, Randall SR (2003) Surface complexation of arsenic (V) to iron (III)(hydr) oxides: structural mechanism from ab initio molecular geometries and EXAFS spectroscopy. Geochim Cosmochim Acta 67:4223–4230

Singh K, Singh D, Hundal HS, Khurana MP (2013) An appraisal of groundwater quality for drinking and irrigation purposes in southern part of Bathinda district of Punjab, northwest India. Environ Earth Sci 70:1841–1851

Smedley P, Kinniburgh D (2002) A review of the source, behaviour and distribution of arsenic in natural waters. Appl Geochem 17:517–568

Smith E, Naidu R (2009) Chemistry of inorganic arsenic in soils: kinetics of arsenic adsorption–desorption. Environ Geochem Health 31:49–59

Sun X, Doner HE (1996) An investigation of arsenate and arsenite bonding structures on goethite by FTIR. Soil Sci 161:865–872

Thomas A, Verma V, Sood A, Litoria P, Sharma P, Ravindran K (1995) Hydrogeology of Talwandi Sabo Tehsil, Bathinda District (Punjab): A Remote Sensing Approach Journal of the. Indian Society of Remote Sensing 23:47-56 Accessed 12 Sept. 2014

USDA-NRCS (2014a) United State Department of Agriculture - Natural Resources Conservation Services. Soil bulk density – Soil Quality Kit (Guides for Educators). http://www.nrcs.usda.gov/Internet/FSE_DOCUMENTS/nrcs142p2_053260.pdf. Accessed 12 Sept. 2014

USDA-NRCS (2014b) United State Department of Agriculture-Natural Resources Conservation Services. Soil Electrical Conductivity – Soil Quality Kit (Guides for Educators). http://www.nrcs.usda.gov/Internet/FSE_DOCUMENTS/nrcs142p2_053280.pdf. Accessed 12 Sept. 2014

Vicky-Singh BM, Preeti-Sharma MS (2010) Arsenic in water, soil, and rice plants in the Indo-Gangetic plains of northwestern India. Commun Soil Sci Plant Anal 41:1350–1360

Vithanage M, Rajapaksha AU, Wijesekara H, Weerarathne N, Ok YS (2014) Effects of soil type and fertilizer on As speciation in rice paddy contaminated with As-containing pesticide. Environ Earth Sci 71:837–847

Walkley A (1947) A critical examination of a rapid method for determining organic carbon in soils-Effect of variations in digestion conditions and of inorganic soil constituents. Soil Sci 63:251–264

Wang S, Mulligan CN (2006) Effect of natural organic matter on arsenic release from soils and sediments into groundwater. Environ Geochem Health 28:197–214

Weiss D, Khondoker R (2013) Evaluation of As (III) and Sb (III) adsorption to paddy soils from irrigated rice fields in Bangladesh. J Braz Chem Soc 24:690–694

Wenzel WW, Kirchbaumer N, Prohaska T, Stingeder G, Lombi E, Adriano DC (2001) Arsenic fractionation in soils using an improved sequential extraction procedure. Anal Chim Acta 436:309–323

Yang J, Barnett MO, Zhuang J, Fendorf SE, Jardine PM (2005) Adsorption, oxidation, and bioaccessibility of As(III) in soils. Environ Sci Technol 39:7102–7110

Yin N, Cui Y, Zhang Z, Wang Z, Cai X, Wang J (2015) Bioaccessibility and dynamic dissolution of arsenic in contaminated soils from Hunan, China. J Soils Sediments 15:584–593

Yolcubal I, Akyol NH (2008) Adsorption and transport of arsenate in carbonate-rich soils: coupled effects of nonlinear and rate-limited sorption. Chemosphere 73:1300–1307

Zhang H, Selim H (2005) Kinetics of arsenate adsorption-desorption in soils. Environ Sci Technol 39:6101–6108

Zhang C, Wu P, Tang C, Han Z, Sun J (2013) Assessment of arsenic distribution in paddy soil and rice plants of a typical karst basin affected by acid mine drainage in Southwest China. Environ Pollut 2:27
Acknowledgments
We thank Central University of Punjab, Bathinda, India, for providing facility and infrastructure. We acknowledge the Central Instrumentation Facility and Central university of Punjab, Bathinda for the instrumentation requirements for the monitoring and analysis. We are also thankful to Dr. Puneeta Pandey at Centre for Environmental Science and Technology, Central University of Punjab for her help in mapping this region. Sunil Mittal is thankful to UGC for financial assistance under the Faculty Startup Grant. Ravishankar Kumar and Rabindra Kumar are thankful to CUPB and UGC for scholarship under Ph.D. program.
Additional information
Responsible editor: Dong-Mei Zhou
Electronic supplementary material
Below is the link to the electronic supplementary material.
About this article
Cite this article
Kumar, R., Kumar, R., Mittal, S. et al. Role of soil physicochemical characteristics on the present state of arsenic and its adsorption in alluvial soils of two agri-intensive region of Bathinda, Punjab, India. J Soils Sediments 16, 605–620 (2016). https://doi.org/10.1007/s11368-015-1262-8
Received:

Accepted:

Published:

Issue Date:
Keywords
Adsorption

Arsenic

Bathinda

Punjab

Soil transport and groundwater