Abstract
Purpose
Sediments from a rural to urban gradient along the Alafia River in Florida, USA, were collected to determine the risk of environmental contamination with legacy (organochlorine pesticides (OCPs)) and new contaminants (pharmaceuticals).
Materials and methods
Bed sediments (0–10 cm) collected from rural and urban sub-basins of the Alafia River were analyzed for OCPs and pharmaceuticals using standard gas chromatography and liquid chromatography-mass spectrometry techniques.
Results and discussion
Three most frequently detected pharmaceuticals in sediments were carbamazepine (100 % of samples), trimethoprim (89 % of samples), and pseudoephedrine (63 % of samples). While acetaminophen, diphenhydramine, lidocaine, and nicotine were detected in <30 % of samples. The detection of caffeine in all sediment samples suggests that domestic wastewater from wastewater treatment plants and/or septic systems may be a contributing source at all the sites. Among the OCPs, endosulfan I was most frequently detected (37 % of samples), followed by δ-hexachlorocyclohexane (15 % of samples), γ-chlordane and endosulfan II (both in 11 % of samples), and dichlorodiphenyldichloroethylene and methoxychlor (both in 7 % of samples). The lower concentrations of OCPs (sum 0–16.1 ng g−1) than pharmaceuticals (sum 0.5–61.9 ng g−1) in sediments are probably due to the historic use of OCPs since these were banned for use in the USA in the 1970s, while pharmaceuticals are still used.
Conclusions
The variability in detection and concentrations of legacy and new compounds in rural and urban stream sediments is likely due to the different magnitude of input sources, site characteristics, and chemical properties of individual compounds. Significant positive correlations between OCPs and sediment properties (organic matter, silt, and clay) suggest that sediments are a major sink of various contaminants in the Alafia River. We conclude that the concentrations of both pharmaceuticals and OCPs in sediments of this urban river are relatively lower than existing literature; however, these can still be of environmental concern to aquatic organisms.
Access options
Buy single article
Instant access to the full article PDF.
USD 39.95
Price excludes VAT (USA)
Tax calculation will be finalised during checkout.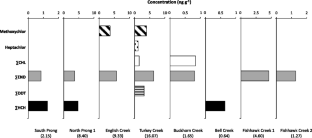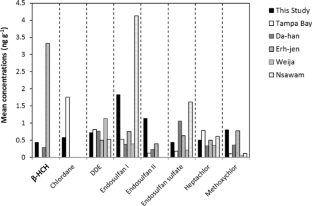 References
Andreozzi R, Marotta R, Paxéus N (2003) Pharmaceuticals in STP effluents and their solar photodegradation in aquatic environment. Chemosphere 50:1319–1330

Barnes KK, Kolpin DW, Furlong ET, Zaugg SD, Meyer MT, Barber LB (2008) A national reconnaissance of pharmaceuticals and other organic wastewater contaminants in the United States - I) groundwater. Sci Total Environ 402:192–200

Benotti MJ, Brownawell BJ (2007) Distributions of pharmaceuticals in an urban estuary during both dry- and wet-weather conditions. Environ Sci Technol 41:5795–5802

Benotti MJ, Brownawell BJ (2009) Microbial degradation of pharmaceuticals in estuarine and coastal seawater. Environ Pollut 157:994–1002

Blais JM (2005) Biogeochemistry of persistent bioaccumulative toxicants: processes affecting the transport of contaminants to remote areas. Can J Fish Aquat Sci 62:236–243

Buerge IJ, Poiger T, Müller MD, Buser H-R (2003) Caffeine, an anthropogenic marker for wastewater contamination of surface waters. Environ Sci Technol 37:691–700

Buerge IJ, Poiger T, Müller MD, Buser H-R (2006) Combined sewer overflows to surface waters detected by the anthropogenic marker caffeine. Environ Sci Technol 40:4096–4102

Buser H-R, Poiger T, Müller MD (1998) Occurrence and fate of the pharmaceutical drug diclofenac in surface waters: rapid photodegradation in a lake. Environ Sci Technol 32:3449–3456

Caliman FA, Gavrilescu M (2009) Pharmaceuticals, personal care products and endocrine disrupting agents in the environment - a review. Clean Soil Air Water 37:277–303

Carr RS, Long ER, Windom HL, Chapman DC, Thursby G, Sloane GM, Wolfe DA (1996) Sediment quality assessment studies of Tampa Bay, Florida. Environ Toxicol Chem 15:1218–1231

Carrara C, Ptacek CJ, Robertson WD, Blowes DW, Moncur MC, Sverko E, Backus S (2008) Fate of pharmaceutical and trace organic compounds in three septic system plumes, Ontario, Canada. Environ Sci Technol 42:2805–2811

Chen XJ (2004) Modeling hydrodynamics and salt transport in the Alafia River estuary, Florida during May 1999-December 2001. Estuar Coast Shelf Sci 61:477–490

Clara M, Strenn B, Kreuzinger N (2004) Carbamazepine as a possible anthropogenic marker in the aquatic environment: investigations on the behaviour of carbamazepine in wastewater treatment and during groundwater infiltration. Water Res 38:947–954

Conn KE, Barber LB, Brown GK, Siegrist RL (2006) Occurrence and fate of organic contaminants during onsite wastewater treatment. Environ Sci Technol 40:7358–7366

Daly GL, Lei YD, Teixeira C, Muir DCG, Wania F (2007) Pesticides in western Canadian mountain air and soil. Environ Sci Technol 41:6020–6025

Day PR (1965) Particle fractionation and particle size analysis. In: Black CA et al (eds) Methods of soil analysis, vol 9. American Society of Agronomy, Madison, pp 545–556

Doong R-A, Sun Y-C, Liao P-L, Peng C-K, Wu S-C (2002) Distribution and fate of organochlorine pesticide residues in sediments from the selected rivers in Taiwan. Chemosphere 48:237–246

Fisher WS, Oliver LM, Winstead JT, Long ER (2000) A survey of oysters Crassostrea virginica from Tampa Bay, Florida: associations of internal defense measurements with contaminant burdens. Aquat Toxicol 51:115–138

Göbel A, McArdell CS, Suter MJF, Giger W (2004) Trace determination of macrolide and sulfonamide antimicrobials, a human sulfonamide metabolite, and trimethoprim in wastewater using liquid chromatography coupled to electrospray tandem mass spectrometry. Anal Chem 76:4756–4764

Gómez MJ, Bueno MJM, Lacorte S, Fernández-Alba AR, Aguera A (2007) Pilot survey monitoring pharmaceuticals and related compounds in a sewage treatment plant located on the Mediterranean coast. Chemosphere 66:993–1002

Gong ZM, Tao S, Xu FL, Dawson R, Liu WX, Cui YH, Cao J, Wang XJ, Shen WR, Zhang WJ, Qing BP, Sun R (2004) Level and distribution of DDT in surface soils from Tianjin, China. Chemosphere 54:1247–1253

Grabe SA, Barron J (2004) Sediment contamination, by habitat, in the Tampa Bay estuarine system (1993-1999): PAHs, pesticides and PCBs. Environ Monit Assess 91:105–144

Heberer T (2002) Occurrence, fate, and removal of pharmaceutical residues in the aquatic environment: a review of recent research data. Toxicol Lett 131:5–17

Holm JV, Rüegge K, Bjerg PL, Christensen TH (1995) Occurrence and distribution of pharmaceutical organic compounds in the groundwater downgradient of a landfill (Grindsted, Denmark). Environ Sci Technol 29:1415–1420

Hörsing M, Ledin A, Grabic R, Fick J, Tysklind M, Jansen JL, Andersen HR (2011) Determination of sorption of seventy-five pharmaceuticals in sewage sludge. Water Res 45:4470–4482

Hung C-C, Gong G-C, Chen H-Y, Hsieh H-L, Santschi PH, Wade TL, Sericano JL (2007) Relationships between pesticides and organic carbon fractions in sediments of the Danshui River estuary and adjacent coastal areas of Taiwan. Environ Pollut 148:546–554

Kasprzyk-Hordern B, Kondakal VVR, Baker DR (2010) Enantiomeric analysis of drugs of abuse in wastewater by chiral liquid chromatography coupled with tandem mass spectrometry. J Chromatogr A 1217:4575–4586

Khare YP, Martinez CJ, Toor GS (2012) Water quality and land use changes in the Alafia and Hillsborough River watersheds, Florida, USA. J Am Water Resour Assoc 48:1276–1293

Kolpin DW, Furlong ET, Meyer MT, Thurman EM, Zaugg SD, Barber LB, Buxton HT (2002) Pharmaceuticals, hormones, and other organic wastewater contaminants in U.S. streams, 1999-2000: a national reconnaissance. Environ Sci Technol 36:1202–1211

Kummerer K (2010) Pharmaceuticals in the environment. In: Gadgil A, Liverman DM (eds) Annual review of environment and resources, vol 35. Annual Reviews, Palo Alto, pp 57–75

Kuo J-N, Soon AY, Garrett C, Wan MTK, Pasternak JP (2012) Agricultural pesticide residues of farm runoff in the Okanagan Valley, British Columbia, Canada. J Environ Sci Health B 47:250–261

Kuranchie-Mensah H, Atiemo SM, Palm L, Blankson-Arthur S, Tutu AO, Fosu P (2012) Determination of organochlorine pesticide residue in sediment and water from the Densu river basin, Ghana. Chemosphere 86:286–292

Löffler D, Römbke J, Meller M, Ternes TA (2005) Environmental fate of pharmaceuticals in water/sediment systems. Environ Sci Technol 39:5209–5218

Loganathan B, Phillips M, Mowery H, Jones-Lepp TL (2009) Contamination profiles and mass loadings of macrolide antibiotics and illicit drugs from a small urban wastewater treatment plant. Chemosphere 75:70–77

Lorphensri O, Sabatini DA, Kibbey TCG, Osathaphan K, Saiwan C (2007) Sorption and transport of acetaminophen, 17 alpha-ethynyl estradiol, nalidixic acid with low organic content aquifer sand. Water Res 41:2180–2188

MacDonald DD, Ingersoll CG, Berger TA (2000) Development and evaluation of consensus-based sediment quality guidelines for freshwater ecosystems. Arch Environ Contam Toxicol 39:20–31

McCain BB, Brown DW, Hom T, Myers MS, Pierce SM, Collier TK, Stein JE, Chan SL, Varanasi U (1996) Chemical contaminant exposure and effects in four fish species from Tampa Bay, Florida. Estuaries 19:86–104

Miao X-S, Yang J-J, Metcalfe CD (2005) Carbamazepine and its metabolites in wastewater and in biosolids in a municipal wastewater treatment plant. Environ Sci Technol 39:7469–7475

Nakata H, Kawazoe M, Arizono K, Abe S, Kitano T, Shimada H, Li W, Ding X (2002) Organochlorine pesticides and polychlorinated biphenyl residues in foodstuffs and human tissues from China: status of contamination, historical trend, and human dietary exposure. Arch Environ Contam Toxicol 43:473–480

Orlando EF, Kolok AS, Binzcik GA, Gates JL, Horton MK, Lambright CS, Gray LE, Soto AM, Guillette LJ (2004) Endocrine-disrupting effects of cattle feedlot effluent on an aquatic sentinel species, the fathead minnow. Environ Health Perspect 112:353–358

Pérez S, Eichhorn P, Aga DS (2005) Evaluating the biodegradability of sulfamethazine, sulfamethoxazole, sulfathiazole, and trimethoprim at different stages of sewage treatment. Environ Toxicol Chem 24:1361–1367

Poiger T, Buser HR, Müller MD (2001) Photodegradation of the pharmaceutical drug diclofenac in a lake: pathway, field measurements, and mathematical modeling. Environ Toxicol Chem 20:256–263

Quintana JB, Weiss S, Reemtsma T (2005) Pathways and metabolites of microbial degradation of selected acidic pharmaceutical and their occurrence in municipal wastewater treated by a membrane bioreactor. Water Res 39:2654–2664

Sajwan KS, Kumar KS, Nune S, Fowler A, Richardson JP, Loganathan BG (2008) Persistent organochlorine pesticides, polychlorinated biphenyls, polybrominated diphenyl ethers in fish from coastal waters off Savannah, GA, USA. Toxicol Environ Chem 90:81–96

Santos L, Araújo AN, Fachini A, Pena A, Delerue-Matos C, Montenegro M (2010) Ecotoxicological aspects related to the presence of pharmaceuticals in the aquatic environment. J Hazard Mater 175:45–95

Santschi PH, Presley BJ, Wade TL, Garcia-Romero B, Baskaran M (2001) Historical contamination of PAHs, PCBs, DDTs, and heavy metals in Mississippi River Delta, Galveston Bay and Tampa Bay sediment cores. Mar Environ Res 52:51–79

Schaider LA, Rudel RA, Ackerman JM, Dunagan SC, Brody JG (2014) Pharmaceuticals, perfluorosurfactants, and other organic wastewater compounds in public drinking water wells in a shallow sand and gravel aquifer. Sci Total Environ 468–469:384–393

Schmidt WF, Bilboulian S, Rice CP, Fettinger JC, McConnell LL, Hapeman CJ (2001) Thermodynamic, spectroscopic, and computational evidence for the irreversible conversion of β- to α-endosulfan. J Agric Food Chem 49:5372–5376

Stackelberg PE, Furlong ET, Meyer MT, Zaugg SD, Henderson AK, Reissman DB (2004) Persistence of pharmaceutical compounds and other organic wastewater contaminants in a conventional drinking-water-treatment plant. Sci Total Environ 329:99–113

Standley LJ, Rudel RA, Swartz CH, Attfield KR, Christian J, Erickson M, Brody JG (2008) Wastewater-contaminated groundwater as a source of endogenous hormones and pharmaceuticals to surface water ecosystems. Environ Toxicol Chem 27:2457–2468

Sun JH, Feng JL, Liu Q, Li QL (2010) Distribution and sources of organochlorine pesticides (OCPs) in sediments from upper reach of Huaihe River, East China. J Hazard Mater 184:141–146

Ternes TA (1998) Occurrence of drugs in German sewage treatment plants and rivers. Water Res 32:3245–3260

Thomas PM, Foster GD (2005) Tracking acidic pharmaceuticals, caffeine, and triclosan through the wastewater treatment process. Environ Toxicol Chem 24:25–30

Tixier C, Singer HP, Oellers S, Müller SR (2003) Occurrence and fate of carbamazepine, clofibric acid, diclofenac, ibuprofen, ketoprofen, and naproxen in surface waters. Environ Sci Technol 37:1061–1068

USEPA (2007a) Pesticides in water, soil, sediment, biosolids, and tissue by HRGC/HRMS. Method 1699. Available at http://water.epa.gov/scitech/methods/cwa/bioindicators/upload/2008_01_03_methods_method_1699.pdf. Accessed Feb 3 2015

USEPA (2007b) Organochlorine pesticides by gas chromatography. Method 8081B. Available athttp://www.epa.gov/solidwaste/hazard/testmethods/sw846/pdfs/8081b.pdf. Accessed Feb 3 2015

Vazquez-Roig P, Andreu V, Blasco C, Picó Y (2012) Risk assessment on the presence of pharmaceuticals in sediments, soils and waters of the Pego-Oliva Marshlands (Valencia, eastern Spain). Sci Total Environ 440:24–32

Walkley A, Black IA (1934) An examination of the Degtjareff method for determining soil organic matter, and a proposed modification of the chromic acid titration method. Soil Sci 37:29–38

Wang W, Delgado-Moreno L, Conkle JL, Anderson M, Amrhein C, Ye QF, Gan J (2012) Characterization of sediment contamination patterns by hydrophobic pesticides to preserve ecosystem functions of drainage lakes. J Soils Sediments 12:1407–1418

Whalen MM, Loganathan BG, Yamashita N, Saito T (2003) Immunomodulation of human natural killer cell cytotoxic function by triazine and carbamate pesticides. Chem Biol Interact 145:311–319

Williams CF, McLain JET (2012) Soil persistence and fate of carbamazepine, lincomycin, caffeine, and ibuprofen from wastewater reuse. J Environ Qual 41:1473–1480

Xue ND, Zhang D, Xu XB (2006) Organochlorinated pesticide multiresidues in surface sediments from Beijing Guanting reservoir. Water Res 40:183–194

Zhang ZL, Huang J, Yu G, Hong HS (2004) Occurrence of PAHs, PCBs and organochlorine pesticides in the Tonghui River of Beijing, China. Environ Pollut 130:249–261
Acknowledgments
We thank former chemist, Butch Bradlay, for analysis of OCPs and MS student, Stefan Kalev, for his assistance in creating a GIS map of study sites. This project was supported by Institute of Food and Agricultural Sciences of University of Florida and National Integrated Water Quality Grant Program no. 2011-51130-31173 from the USDA National Institute of Food and Agriculture.
Additional information
Responsible editor: Kimberly N. Irvine
About this article
Cite this article
Yang, YY., Toor, G.S. & Williams, C.F. Pharmaceuticals and organochlorine pesticides in sediments of an urban river in Florida, USA. J Soils Sediments 15, 993–1004 (2015). https://doi.org/10.1007/s11368-015-1077-7
Received:

Accepted:

Published:

Issue Date:

DOI: https://doi.org/10.1007/s11368-015-1077-7
Keywords
Organochlorine pesticides

Pharmaceuticals

River sediments

Urbanizing watershed