Abstract
Purpose
A hypothetical linkage of long-term sustainability aspects with periodic fluctuations of certain soil biochemical parameters was investigated for a continuously cropped tropical rice soil. Dynamics in the organic matter phase of the irrigated top soil were monitored in both N-fertilized and N-free control plots of a long-term continuous rice cropping experiment.
Materials and methods
Top soil (20-cm layer of Andaqueptic Epiaquoll) of an almost permanently submerged rice field with three continuous annual crops at IRRI (Philippines) receiving integrated pest management was sampled at time intervals of 3–4 weeks for more than 3 years, including a period of El Niño. Analyses targeted phospholipid-based soil microbial biomass, total soil protein, soluble phenols, and respiratory electron transport system (ETS) activities involved in non-fermentative mineralization of soil organic matter. Periodic trends were analyzed using spectral and cross spectral analysis.
Results and discussion
Positive correlations between the variability of soil protein concentrations and grain yields suggested an important role of soil protein in adequately fertilized plots. Significant periodicity was noted for microbial biomass, total protein, and soluble phenols in fertilized plots. N-free control plots, on the other hand, lacked periodicity for total protein, but showed it for microbial biomass, soluble phenols, and protein-based respiratory enzyme activities.
Conclusions
Microbial biomass and protein-specific respiratory ETS activity in permanently submerged rice soil show basic periodic changes. The input of N-fertilizer expands periodicity onto soil protein pools too. Periodic concentration changes of phenolic compounds that seem to limit respiratory mineralization remained unaffected by nutrient and integrated pest management (IPM). Soil biochemical parameters in the intensively cropped rice soil suggest periodic pool size changes that are presumably governed by soil microbial biomass.
Access options
Buy single article
Instant access to the full article PDF.
US$ 39.95
Tax calculation will be finalised during checkout.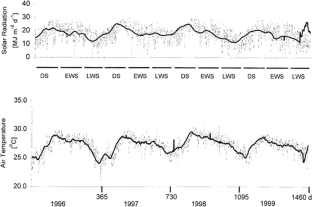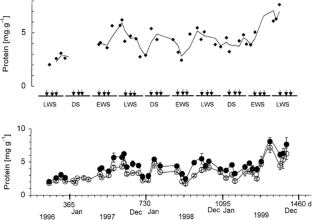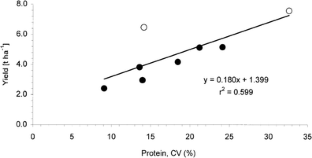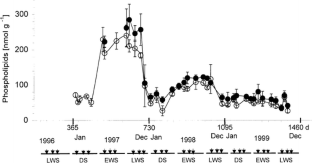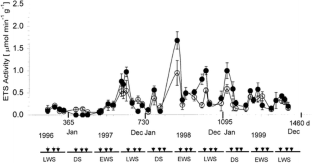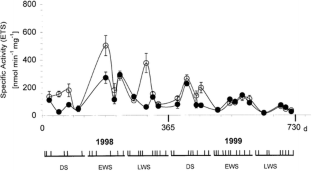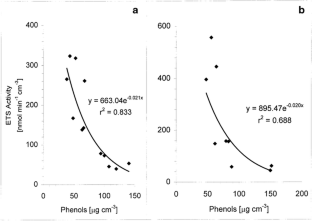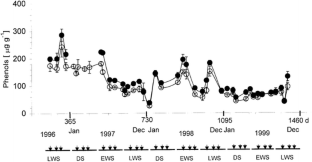 References
Achtnich CF, Bak F, Conrad R (1995) Competition for electron donors among nitrate reducers, ferric iron reducers, sulfate reducers, and methanogens in anoxic paddy soil. Biol Fertil Soils 19:65–72

Baruah M, Mishra RR (1984) Dehydrogenase and urease activities in rice field soils. Soil Biol Biochem 16:423–424

Bending GD, Turner MK, Burns IG (1998) Fate of nitrogen from crop residues as affected by biochemical quality and the microbial biomass. Soil Biol Biochem 30:2055–2065

Beyer L (1995) Soil microbial biomass and organic matter composition in soils under cultivation. Biol Fert Soils 19:197–202

Box JD (1983) Investigation of the Folin-Ciocalteau phenol reagent for the determination of polyphenolic substances in natural waters. Water Res 17:511–525

Bronson KF, Cassman KG, Wassman R, Olk C, van Noordwijk M, Garrity D (1998) Soil carbon dynamics in different cropping systems in principal ecoregions of Asia. In: Lal R et al (eds) Management of carbon sequestration in soil. CRC Press, Boca Raton, pp 35–57

Cassman, KG, De Datta S K, Olk, DC, Alcantara J, Samson M (1995) Yield decline and the nitrogen economy of long-term experiments on continuous, irrigated rice systems in the tropics. p.181–222. In: Lal R, Steward BA (eds) Soil Management Experimental Basis for Sustainability and Environment Quality Advance of Soil Science, Lewis Publishers

Corbeels M, Hofman G, van Cleemput O (1999) Simulation of net N immobilisation and mineralisation in substrate-amended soils by the NCSOIL computer model. Biol Fertil Soils 28:422–430

Debosz K, Rasmussen PH, Pedersen AR (1999) Temporal variations in microbial biomass C and cellulolytic enzyme activity in arable soils: effects of organic matter input. Appl Soil Ecol 13:209–218

Dec J, Bollag J-M (2000) Phenoloxidase-mediated interactions of phenols and anilines with humic materials. J Environ Qual 29:665–676

Dobermann A, Dawe D, Roetter RP, Cassman KG (2000) Reversal of yield decline in a long-term continuous cropping experiment. Agron J 92:633–643

Duxbury JM, Lauren JG, Fruci JR (1991) Measurement of the biologically active soil nitrogen fraction by a 15 N technique. Agr Ecosyst Environ 34:121–129

Duxbury JM, Nkambule SV (1994) Assessment and significance of biologically active soil organic nitrogen. In: Doran J et al (eds) Defining soil quality for a sustainable environment. Soil Science Society of America Special Publication 35. SSSA, Madison, pp 125–145

Findlay RH, King GM, Watling L (1989) Efficacy of phospholipid analysis in determining microbial biomass in sediments. Appl Environ Microb 54:2888–2893

Flinn JC, de Datta SK (1984) Trends in irrigated-rice yields under intensive cropping at Philippine research stations. Field Crops Res 9:1–15

Friedel JK, Mölter KW, Fischer R (1994) Comparison and improvement of methods for determining soil dehydrogenase activity by using triphenyltetrazolium chloride and iodonitrotetrazolium chloride. Biol Fertil Soils 18:291–296

Gomez KA, Gomez AA (1984) Statistical procedures for agricultural research, 2nd edn. Wiley, NY, p 680

Herbert D, Phipps PJ, Strange RE (1971) Chemical analysis of microbial cells. In: Norris/Ribbon (ed) Methods of Microbiology 5B:249–252

Heider J, Fuchs G (1997) Anaerobic metabolism of aromatic compounds. European J Biochem 243:577–596

Jenkins GM, Watts DG (1968) Spectral analysis and its applications. Holden Day, San Francisco

Kaiser EA, Heinemeyer O (1993) Seasonal variations of soil microbial biomass carbon with plough layer. Soil Biol Biochem 25:1649–1655

Kropff MJ, Cassman KG, van Laar HH, Peng S (1993) Nitrogen and yield potential of irrigated rice. Plant Soil 155/156:391–394

Lopez AR, Faria C, Prieto-Ferandez A, Trasar-Cepeda C, Manaia CM, Nunes OC (2011) Comparative study of the microbial diversity of bulk paddy soil of two rice fields subjected to organic and conventional farming. Soil Biol Biochem 43:115–125

Lowry OH, Rosebrough NJ, Farr AL, Randall RI (1951) Protein measurement with the Folin reagent. J Biol Chem 193:265–275

Lu W, Wang H-T, Huang C-Y, Reichardt W (2003) Seasonal variation of phenol/benzoate-degrading iron-reducing bacteria in irrigated tropical paddy soils as affected by some management practices. J Gen Appl Microbiol 49:37–49

Lu W, Wang H, Huang C-Y, Reichardt W (2008) Aromatic compound degradation by iron-reducing bacteria from irrigated tropical paddy soils. J Environ Sciences 20:1487–1493

Matson PA, Parton WJ, Power AG, Swift MJ (1997) Agricultural intensification and ecosystem properties. Science 277:504–509

Mueller-Niggemann C, Bannert A, Schloter M, Lehndorf E, Schwark L (2012) Intr-v versus intrasite macroscale variation in biogeochemical properties along a paddy soil chronosequence. Biogeosciences 9:1237–1251

Nannipieri P, Muccini L, Ciardi C (1983) Microbial biomass and enzyme activities: production and persistence. Soil Biol Biochem 15:679–685

Olk DC, Cassman KG, Mahieu N, Randall EW (1998) Conserved chemical properties of young humic acid fractions in tropical lowland soil under intensive irrigated rice cropping. Eur J Soil Sci 49:337–349

Olk DC, Brunetti G, Senesi N (2000) Decrease in humification of organic matter with intensified lowland rice cropping: a wet chemical and spectroscopic investigation. SSSJA 64:1337–1347

Olk DC, Cassman KG, Schmidt-Rohr K, Anders MM, Mao J-D (2006) Chemical stabilization of soil organic nitrogen by phenolic lignin residues in anaerobic agroecosystems. Soil Biol Biochem 38:3303–3312

Olk DC, Samson MI, Gapas P (2007) Inhibition of nitrogen mineralization in young humic fractions by anaerobic decomposition of rice crop residues. Eur J Soil Sci 58:270–281

Olk DC, Jimenez RR, Moscoso E, Gapas P (2009) Phenol accumulation in a young humic fraction following anaerobic decomposition of rice crop residues. SSSAJ 73:943–951

Pampolino MF, Laureles EV, Gines HC, Buresh RJ (2008) Soil carbon and nitrogen changes in long-term continuous lowland rice cropping. Soil Sci Soc Am J 72:798–807

Ponnamperuma FN (1974) Temperature and the chemical kinetics of flooded soils. Symposium on climate and rice, IRRI, Los Banos, pp 249–263

Prethi B, Poomiammal R, Balachandar D, Karthekeyan S, Chendrayan K, Bhattacharyya P, Adhya TP (2013) Arch Agron Soil Sci 59:1607–1624

Reichardt W, Mascariña G, Padre B, Doll J (1997) Microbial communities of continuously cropped, irrigated rice fields. Appl Environ Microbiol 63:233–238

Reichardt W, Dobermann A, George T (1998) Intensification of rice production systems: opportunities and limits. In: Dowling NG et al (eds) Sustainability of rice in the global food system. IRRI, Manila, Philippines and Pacific Basin Study Center, Davis, pp 127–44

Reichardt W, Inubushi K, Tiedje J (2000) Microbial processes in C and N dynamics. In: Kirk GJD, Olk DC (ed) Carbon and Nitrogen Dynamics in Flooded Soils. Los Baños, Philippines, pp 101–46

Reichardt W, Briones A, de Jesus R, Padre B (2001) Microbial population shifts in experimental rice systems. Appl Soil Ecol 17:151–163

Reichardt W, Bolalin GV, Cutchon XDR, Que FVJ, Balgos JTD (2011) Enzymatic degradation of proteinaceous compounds in sediments exposed to intensive mariculture in the tropics. Aquat Ecosyst Health 14:318–324

Revsbech NP, Pedersen O, Reichardt W, Briones A (1999) Microsensor analysis of oxygen and pH in the rice rhizosphere under field and laboratory conditions. Biol Fertil Soils 29:379–385

Roger PA (1996) Biology and management of the floodwater ecosystem in ricefields. IRRI, ORSTOM, Manila, P. O. Box 933

SAS Institute Inc (1991) SAS/ETS software application guide 1. Time series modeling and forecasting Version 6, Cary, p 380

SAS Institute Inc (1995) SAS/STAT Guide for personal computers, Version 6.07 ed. SAS Inst, Cary

Schulten HR, Schnitzer M (1998) The chemistry of soil organic nitrogen. A review. Biol Fert Soils 26:1–15

Silva AP, Babujia LC, Franchini JC, Souza RA, Hungria M (2010) Microbial biomass under various soil-and crop-management systems in short- and long-term experiments in Brazil. Field Crop Res 119:20–26

Soil Survey Staff (1994) Keys to soil taxonomy. SMSS Technical Monograph No. 19, 6th edn. USDA, SCS, Washington

Statistix for Windows (1996) User's manual. Analytical software, Tallahassee

Tate RL (1995) Soil Microbiology Wiley & Sons, New York, p 398

Van Gestel M, Merckx R, Vlassak K (1996) Distribution of 14C-labelled biomass and microbial products in microaggregates of a silty-loam soil. Soil Biol Biochem 28:1113–115

Wardle DA (1998) Controls of temporal variability of the soil microbial biomass: a global scale synthesis. Soil Biol Biochem 30:1627–1637

Wardle DA, Parkinson D (1990) Interactions between microclimatic variables and the soil microbial biomass. Biol Fertil Soils 9:273–280

Wissing L, Koelbl A, Vogelsang V, Fu J, Cao ZH, Koegel-Knabner I (2011) Organic accumulation in a 2000 year chronosequence of paddy soil evolution. Catena 87:376–385

Wissing L, Koelbl A, Haeusler W, Schad P, Cao Z-H, Koegel-Knabner I (2013) Management induced organic carbon accumulation in paddy soils; the role of organo-mineral associations. Soil Till Res 126:60–71

Yoshikawa S, Inubushi K (1995) Characteristics of microbial biomass and soil organic matter in newly reclaimed wetland rice soils. Biol Fert Soils 19:292–296

Zhou P, Li Y, Ren X, Xiao H, Tong C, Ge T, Brookes PC, Shen J, Wu J (2014) Organic carbon mineralization responses to temperature increases in subtropical paddy soils. J Soils Sediments 14:1–9
Acknowledgments
Technical assistance at sampling and processing of soil by J. Uichanco, AD.L. Confesor and N. Driz is highly appreciated. O. Angeles and C. Ramos helped with time series analyses. Grain yield and climate data were provided by E. Laureles and J Sheehy.
Additional information
Responsible editor: Jianming Xu
About this article
Cite this article
Reichardt, W., Gamat, G. Periodicity of organic constituents in high input tropical rice soil. J Soils Sediments 15, 381–392 (2015). https://doi.org/10.1007/s11368-014-1015-0
Received:

Accepted:

Published:

Issue Date:
Keywords
Long-term intensive cropping

N-supply

Organic matter phase

Phenols

Sustainability

Tropical rice soil