Abstract
Purpose
Forest ecosystems play an important role in sequestering carbon in their biomass and soils. Moso bamboo plantations, as a special forest type, are mainly distributed in southern China. There is little information about the carbon storage in moso bamboo plantations, it is now important to better understand the moso bamboo's carbon sequestration. The main objectives of this study were to investigate the spatial variation of aboveground biomass carbon (AGC) and soil organic carbon (SOC) in moso bamboo plantations and to compare carbon storage in moso bamboo plantations under different management options.
Materials and methods
A total of 73 moso bamboo plots were selected in Anji County, which is a famous "bamboo town" in northwest Zhejiang province, China. The diameter at breast height and the age of each moso bamboo in the selected plots were measured in order to calculate the AGC. SOC was analyzed using sulfuric acid–potassium dichromate solution. One-way ANOVA was applied to analyze the significant difference of AGC and SOC under different management options. Geostatistics and geographical information were used to study the spatial dependence characteristics of AGC and SOC.
Results and discussion
The AGC values were very variable, ranging from 9.92 to 38.70 Mg ha−1, with an average of 20.85 Mg ha−1. The SOC values were from 34.8 to 176.17 Mg ha−1. Both the AGC and SOC values were followed normal distributions. Moso bamboo plantations contributed about 16.5 % of total forest biomass carbon in Zhejiang Province, indicating its important influence on regional carbon budget. Geostatistical analysis revealed that the AGC had moderate spatial autocorrelation. A nested model (a spherical model with a Gaussian model) was chosen to describe the variogram. Spatial patterns for AGC were found in Anji County, with relatively high AGC values were found in the southwestern part of Anji County, and low values were located in the eastern and central parts of the county. While no clear spatial autocorrelation trend was observed in the semivariogram of SOC, indicating a random distribution pattern for SOC in the study area. Meanwhile, the Pearson's correlation between AGC and SOC in bamboo plantation was weak (r = 0.064, p = 0.496), due to moso bamboo's special growth process and different management options by human beings.
Conclusions
In this study, moderate spatial dependency was found for AGC, while the spatial autocorrelation of SOC was poor. In moso bamboo forest ecosystem, SOC was mainly stored at the top 40 cm layer. Management options were proved to be an important factor for carbon sequestration. Extensive management is an efficient way to increase carbon stock, compared to moderate and intensive management. With the rapid increase of plantation area, moso bamboo ecosystem will continue to play an important role in regional carbon budget.
Access options
Buy single article
Instant access to the full article PDF.
US$ 39.95
Tax calculation will be finalised during checkout.
Subscribe to journal
Immediate online access to all issues from 2019. Subscription will auto renew annually.
US$ 119
Tax calculation will be finalised during checkout.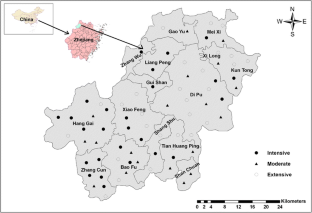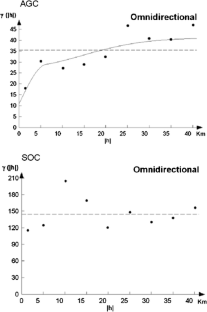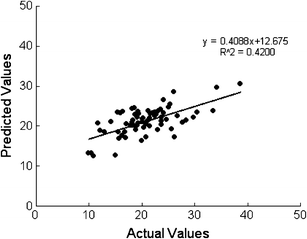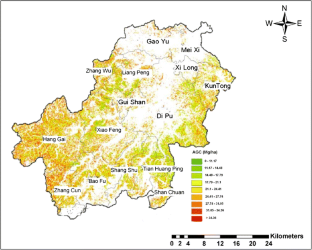 References
Burgos P, Madejón E, Pérez-de-Mora A, Cabrera F (2006) Spatial variability of the chemical characteristics of a trace-element-contaminated soil before and after remediation. Geoderma 130:157–175

Canadell JG, Raupach MR (2008) Managing forests for climate change mitigation. Science 320:1456–1457

Chen LG, Lian JN, Hong W, Zhen YS, Chen KW, Yang HZ (2000) Evaluation on silvicultural effects of mixed forests of Chinese fir and Phyllostachys pubescens. J Fujian Coll For 20(4):309–312 (in Chinese)

Chen XG, Zhang XQ, Zhang YP, Booth T, He XH (2009) Changes of carbon stocks in bamboo stands in China 100 years. For Ecol Manag 258:1489–1496

Cheng XY, Fang LJ, Zhan HZ, Li GS, Chen SY (2004) Research on the effect of different environment condition to moso bamboo. World Bamboo Rattan 2(4):26–27

Clark I, Harper WV (2000) Practical geostatistics 2000. Ecosse North America Llc, Columbus

Cambardella CA, Moorman AT, Novak JM, Parkin TB, Karlen DL, Turco RF, Konopka AE (1994) Field-scale variability of soil properties in central Iowa soils. Soil Sci Soc Am J 58:1501–1511

Davis MR, Alle RB, Clinton PW (2003) Carbon storage along a stand development sequence in a New Zealand Nothofagus forest. For Ecol Manag 177:313–321

Dixon RK, Solomon AM, Brown S, Houghton RA, Trexier MC, Wisniewski J (1994) Carbon pools and flux of global forest ecosystem. Science 263:185–190

Du HQ, Zhou GM, Fan WY, Ge HL, Xu XJ, Shi YJ, Fan WL (2009) Spatial heterogeneity and carbon contribution of aboveground biomass of moso bamboo by using geostatistical theory. Plant Ecol 207:131–139

Facchinelli A, Sacchi E, Mallen L (2001) Multivariate statistical and GIS-based approach to identify heavy metal sources in soil. Environ Pollut 114:313–324

Fang JY, Chen AP, Peng CH, Zhao SQ, Ci LJ (2001) Changes in forest biomass carbon storage in China between 1949 and 1998. Science 292:2320–2322

FAO (2006) Global forest resource assessment 2005. Food and Agricultural Organization of the United Nations, Rome

Fay D, McGrath D, Zhang CS, Carrigg C, O'Flaherty V, Carton OT, Grennan E (2007) EPA report: toward a national soil database (2001-CD/S2-M2). http://www.epa.ie/downloads/pubs/research/land/. Last accessed March 2012)

Field CB, Fung IY (1999) The not-so-big US carbon sink. Science 285:544–545

Fu MY (2007) Sustainable management and utilization of sympodial bamboos. Huayu Nature Book Trade Co. Ltd

Fu W, Tunney H, Zhang C (2010) Spatial variation of soil nutrients in a dairy farm and its application for site-specific fertilizer application. Soil Till Res 106:185–193

Goovaerts P (1997) Geostatistics for natural resources evaluation. Oxford University Press, New York, USA

Hazlett PW, Gordon AM, Sibley PK, Buttle JM (2005) Stand carbon stocks and soil carbon and nitrogen storage for riparian and upland forests of boreal lakes in northeastern Ontario. For Ecol Manag 219:56–68

Hengl T, Heuvelinik GBM, Stein A (2004) A generic framwork for spatial prediction of soil variables based on regression-kriging. Geoderma 120:75–93

Hu KL, Zhang FR, Li H, Huang F, Li BG (2006) Spatial patterns of soil heavy metals in urban–rural transition zone of Beijing. Pedosphere 16(6):690–698

Janssens IA, Freibauer A, Ciais P, Smith P, Nabuurs G, Folberth G, Schlamadinger B, Hutjes R, Ceulemans R, Schulze E, Valentini R, Dolman R (2003) Europe's terrestrial biosphere absorbs 7 to 12 % of European anthropogenic CO2 emissions. Science 300:1538–1542

Li DS, Wang ZP, Zhu ZD, Chu CD, Xia NH, Jia LZ, Guo ZH, Yang GY, Chris S. (2006) In: Wu ZY, Raven PH, Hong DY (eds) Flora of China. Vol. 22 (Poaceae). Science: New York

Li J, Huang CD, Zhang GQ (2006b) Density, storage and spatial distribution of carbon in Pleioblastus amarus forest returned from farland. J Zhejiang For Sci Tech 26(4):2–5 (in Chinese)

Li Y (2010) Can the spatial prediction of soil organic matter contents at various sampling scales be improved by using regression kriging with auxiliary information? Geoderma 159:63–75

Lin YM, Lin P, Ye Y (1998) Biomass and structure of Dendrocalamopsos oldhami population. J Bamboo Res 17(2):119–133 (in Chinese)

Lu D (2006) The potential and challenge of remote sensing-based biomass estimation. Int J Remote Sens 27(7):1297–1328

McGrath D, Zhang CS, Carton OT (2004) Geostatistical analyses and hazard assessment on soil lead in Silvermines area, Ireland. Environ Pollut 127:239–248

Reis AP, Almeida LM, Silva EF, Sousa AJ, Patinha C, Fonseca EC (2007) Assessing the geochemical inherent quality of natural soils in the Douro river basin for grapevine cultivation using data analysis and geostatistics. Geoderma 141:370–383

Sadeghi A, Graff CD, Starr J, Mccarty G, Codling E, Sefton K (2006) Spatial variability of soil phosphorus levels before and after poultry litter application. Soil Sci 171:850–857

Schlesinger WH (1977) Carbon balance in terrestrial detritus. Ann Rev Ecol Syst 8:51–81

Ohrnberger D (1999) The bamboos of the world: annotated nomenclature and literature of the species and the higher and lower taxa. Elsevier, Amsterdam

Olea R (ed) (1991) Geostatistical glossary and multilingual dictionary. Oxford University Press, New York

Piao S, Fang J, Ciais P, Peylin P, Hunag Y, Sitch S, Wang T (2009) The carbon balance of terrestrial ecosystems in China. Nature 458:1009–1013

Pilar B, Engracia M, Alfredo PM, Francisco C (2006) Spatial variability of the chemical characteristics of a trace-element-contaminated soil before and after remediation. Geoderma 130:157–175

Utset A, Ruiz ME, Herrera J, Leon DP (1998) A geostatistical method for soil salinity sampe site spacing. Geoderma 86:143–151

Wang QK, Wang SL, Huang Y (2008) Comparisons of litterfall, litter decomposition and nutrient return in a monoculture Cunninghamia lanceolata and a mixed stand in southern China. For Ecol Manag 255:1210–1218

Wang QK, Wang SL, Zhang JW (2009) Assessing the effects of vegetation types on carbon storage fifteen years after reforestation on a Chinese fir site. For Ecol Manag 258:1437–1441

Wang ZQ (1999) Geostatistics and its application in ecology. Science Press, Beijing

Webster R, Oliver MA (2001) Geostatistics for environmental scientists. Wiley, Chichester

Xiao F, Fan S, Wang S, Xiong C, Zhang C, Liu S, Zhang J (2007) Carbon storage and spatial distribution in Phyllostachy pubescens and Cunninghanmia lanceolata plantation ecosystem. Acta Ecol Sin 27:2801–2974 (in Chinese)

Yan MC, Yang LC, Li HT, Hu D, Zhang ZX, Du HT, Ha DL (2004) A study on the biomass and live carbon storage of the forest vegetation in the Jigongshan mountain natural reserve. J Hunan For Sci Tech 24(4):2–6 (in Chinese)

Yeomans JC, Bremner JM (1988) A rapid and precise method for routine determination of organic carbon in soil. Commun Soil Sci Plant 19:1467–1476

Yoda K (1993) People's role in the management of the global carbon sink and reservoirs. In: Global Forestry Conference, Indonesia

Zhao KL, Liu XM, Xu JM, Selim HM (2010) Heavy metal contaminations in a soil–rice system: identification of spatial dependence in relation to soil properties of paddy fields. J Hazard Mater 181(1–3):778–787

Zhang CS, Fay D, McGrath D, Grennan E, Carton OT (2008) Use of trans-Gaussian kriging for national soil geochemical mapping in Ireland. Geochem Explor Environ Anal 8:255–265

Zhang MZ, Wang GX (2008) The forest biomass dynamics of Zhejiang province. Acta Ecol Sin 28(11):5665–5674 (in Chinese)

Zhang XY, Sui YY, Zhang XD, Meng K,Herbert SJ (2007) Spatial variability of nutrient properties in black soil of Northeast China. Pedosphere 17 (1):19–29

Zheng YS, Li JG, Xu FL, Li X (1997) Study on the biomass and structure of mixed forest of Cunninghamia lanceolata and Phyllostachys pubescens. J Fujian Coll For 17(3):227–230 (in Chinese)

Zheng YS, Chen MY, Wang SF (2000) Evaluation of the different management pattern of bamboo forest: research and application. J For Res 16(2):143–147 (in Chinese)

Zhou C, Wei X, Zhou G, Yan J, Wang X, Wang C, Liu H, Tang X, Zhang Q (2008) Impacts of a large-scale reforestation program on carbon storage dynamics in Guangdong, China. For Ecol Manag 255:847–854

Zhou GM, Jiang PK (2004) Density, storage and spatial distribution of carbon in Phyllostachys pubescens forest. Scientia Silvae Sinicae 40(6):20–24 (in Chinese)

Zhou GM (2006) Carbon storage, fixation and distribution in Mao bamboo (Phyllostachys pubescens) stands ecosystem. Dissertation, Zhejiang University, China

Zhou BZ, Fu MY, Xie JZ, Yang XS, Li ZC (2005) Ecological functions of bamboo forest: research and application. J For Res 16(2):143–147
Acknowledgments
This work was financially supported by the Natural Science Foundation of China (no. 41201538, 41201323, 30972356), the Key Science and Technology Innovative Group of Zhejiang Province (2010R50030) and the Young Teacher Innovative Group Foundation of Zhejiang Agriculture and Forest University (2010RC03).
Additional information
Responsible editor: Caixian Tang
About this article
Cite this article
Fu, W., Jiang, P., Zhao, K. et al. The carbon storage in moso bamboo plantation and its spatial variation in Anji County of southeastern China. J Soils Sediments 14, 320–329 (2014). https://doi.org/10.1007/s11368-013-0665-7
Received:

Accepted:

Published:

Issue Date:
Keywords
Aboveground biomass carbon

GIS

Geostatistics

Moso bamboo ecosystem

Soil organic carbon