Abstract
Purpose
We used the different soluble-in-water concentrations of As, Cu, Mn, Pb and Zn from contaminated soils in an abandoned mining area (anthropogenic origin) to assess the phytotoxicity of the abandoned site using the results obtained with a Lactuca sativa L. bioassay.
Material and methods
The study has been carried out on potentially polluted samples from the Rodalquilar mining district (southern Spain). The area was sampled according to the different metallurgical treatments for gold extraction used in each one: dynamic cyanidation and heap leaching. The saturation extracts were obtained by filtering each saturated paste with a vacuum-extraction pump, in which measurements of metal(loid) concentrations, pH and electrical conductivity were made. The variables evaluated in the bioassay, defined as toxicity indices ranging from −1 (maximum phytotoxicity) to >0 (hormesis), were seed germination (SG) and root elongation (RE) of lettuce seeds.
Results and discussion
In areas with a low degree of contamination, the most sensitive toxicity index is RE, whereas in highly contaminated areas, both RE and SG are good estimators of soil toxicity. According to these results, samples from the western area showed moderate to low toxicity, which was closely related to water-soluble As concentrations. Samples from the eastern area had a high degree of toxicity in 40% of the soils.
Conclusions
The comparison of the two indices (SG and RE) defined using the L. sativa L. bioassay indicates that, for areas with a low degree of contamination, the most sensitive toxicity index is RE, whereas in highly contaminated areas, both RE and SG are good estimators of soil phytotoxicity. Unsupervised pattern recognition methods such as HCA and PCA enabled us to conclude that the low/moderate phytotoxicity of the soils is related to the extraction process used for the recovery of gold (mainly dynamic cyanidation in tanks located in the eastern area) and to the As and Pb contents.
Access options
Buy single article
Instant access to the full article PDF.
USD 39.95
Price excludes VAT (USA)
Tax calculation will be finalised during checkout.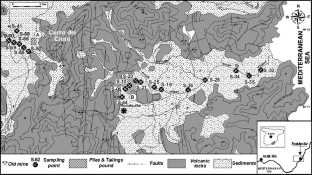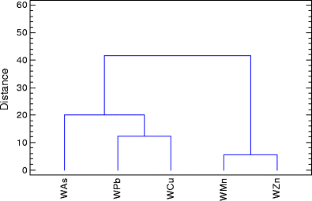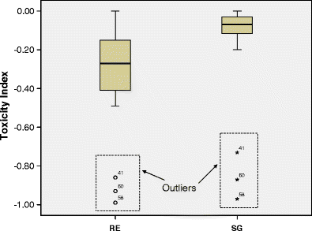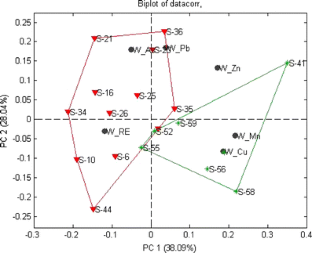 References
Alloway BJ (1995) Heavy metals in soils. Blackie Academic and Professional, Glasgow

Bagur MG, Morales S, López-Chicano M (2009) Evaluation of the environmental contamination at an abandoned mining site using multivariate statistical techniques—the Rodalquilar (Southern Spain) mining district. Talanta 80:377–381

Boekhold AE (2008) Ecological risk assessment in legislation on contaminated soil in the Netherlands. Sci Total Environ 406(3–1):518–522

US EPA (US Environmental Protection Agency) (1996) Ecological effects test guidelines. Seed germination/root elongation toxicity test. OPPTS 850.4200

Escoto M, Fernández J, Martín F (2007) Determination of phytotoxicity of soluble elements in soils, based on a bioassay with lettuce (Lactuca sativa L.). Sci Total Environ 378:63–66

FAO (Food and Agriculture Organization of the United Nations) (2006) World reference base for soil resource, 2nd edn. IUSS, ISRIC, FAO, Roma

Farré M, Barceló D (2003) Toxicity testing of wastewater and sewage sludge by biosensors, bioassays and chemical analysis. Trends Anal Chem 22(5):299–310

Fernández MD, Vega MM, Tarazona JV (2006) Risk-based ecological soil quality criteria for the characterization of contaminated soils. Combination of chemical and biological tools. Sci Total Environ 366(2–3):466–484

Ferrari B, Radetski CM, Veber AM, Ferard JF (1999) Environ Toxicol Chem 18:1195

Gopalan HNB (1999) Ecosystem health and human wellbeing: the mission of the international programme plant bioassays. Mutat Res 426:99–102

Hawkes HE, Webb JS (1962) Geochemistry in mineral exploration. Harper, New York

Hernandez F (2005) Rodalquilar, el oro del Cabo de Gata: Historia. Bocamina 15:18–30

Inaba S, Takenaka C (2005) Effects of dissolved organic matter on toxicity and bioavailability of copper for lettuce sprouts. Environ Int 31:603–608

Kabata-Pendias A, Pendias H (2001) Trace elements in soils and plants. CRC Press, Boca Ratón, Florida

Martín Peinado F, Morales Ruano S, Bagur González MG, Estepa Molina C (2010) A rapid field procedure for screening trace elements in polluted soil using portable X-ray fluorescence (PXRF). Geoderma. doi:10.1016/j.geoderma.2010.2010.06.019

Martín F, Diez M, Simón M, Dorronsoro C, García I (2008) Soil contamination: from large to small scale. In: Dubois AN (ed) Soil contamination: new research. Nova, New York, pp 35–45

NMHPPE (1998) Netherlands Ministry of Housing, Physical Planning and Enviroment. Leidschendam, Holand

Parvez S, Venkataraman C, Mukherji S (2006) A review on advantages of implementing luminescence inhibition test (Vibrio fischeri) for acute toxicity prediction of chemicals. Environ Int 32:265–268

Rutgers M, Faber J, Postma J (2001) Site-specific ecological risks—a basic approach to function-specific assessment of soil pollution. Netherlands Integrated Soil Research Programme Reports, no. 16, English version no. 28. Wageningen, the Netherlands

Sheppard S, Gaudet C, Sheppard M, Cureton P, Wong M (1992) The development of assessment and remediation guidelines for contaminated soils, a review of the science. Can J Soil Sci 72:359–394

Sierra M, Martínez FJ, Aguilar J (2007) Baselines for trace elements and evaluation of environmental risk in soils of Almería (SE Spain). Geoderma 139:209–219

Simón M, Cabezas O, García I, Martínez P (1994) A new method for the estimation of total dissolved salts in saturation extracts of soils from electrical conductivity. Eur J Soil Sci 45:153–157

SSDS (Soil Survey Division Staff) (1993) Soil survey manual. Soil conservation service, vol 18, US Department of Agriculture Handbook. US Department of Agriculture, Washington, DC

Tarazona JV, Fernández MD, Vega MM (2005) Regulation of contaminated soils in Spain. A new legal instrument. J Soils Sediments 5(2):121–124

Tarradellas J, Bitton G, Rossel D (eds) (1997) Soil ecotoxicology. Lewis, Boca Ratón

Thomas DJL, Tyrrel SF, Smith R, Farrow S (2009) Bioassays for the evaluation of landfill leachate toxicity. J Toxicol Environ Health B Crit Rev 12(1):83–105

Tukey JW (1977) Exploratory data analysis. Addison-Wesley, Reading
Acknowledgements
This work was supported by the project of excellence P05-RNM-0736 (Consejería de Innovación, Ciencia y Empresa, Junta de Andalucia, Spain.
Additional information
Responsible editor: Kerstin Hund-Rinke
About this article
Cite this article
Bagur-González, M.G., Estepa-Molina, C., Martín-Peinado, F. et al. Toxicity assessment using Lactuca sativa L. bioassay of the metal(loid)s As, Cu, Mn, Pb and Zn in soluble-in-water saturated soil extracts from an abandoned mining site. J Soils Sediments 11, 281–289 (2011). https://doi.org/10.1007/s11368-010-0285-4
Received:

Accepted:

Published:

Issue Date:

DOI: https://doi.org/10.1007/s11368-010-0285-4
Keywords