Abstract
Purpose
This study aimed at investigating correlations between heavy metal concentrations in mosses and modelled deposition values as well as other site-specific and regional characteristics to determine which factors primarily affect cadmium, lead and mercury concentrations in mosses. The resulting relationships could potentially be used to enhance the spatial resolution of heavy metal deposition maps across Europe.
Materials and methods
Modelled heavy metal deposition data and data on the concentration of heavy metals in naturally growing mosses were integrated into a geographic information system and analysed by means of bivariate rank correlation analysis and multivariate decision trees. Modelled deposition data were validated annually with deposition measurements at up to 63 EMEP measurement stations within the European Monitoring and Evaluation Programme (EMEP), and mosses were collected at up to 7,000 sites at 5-year intervals between 1990 and 2005.
Results and discussion
Moderate to high correlations were found between cadmium and lead concentrations in mosses and modelled atmospheric deposition of these metals: Spearman rank correlation coefficients were between 0.62 and 0.67, and 0.67 and 0.73 for cadmium and lead, respectively (p < 0.001). Multivariate decision tree analyses showed that cadmium and lead concentrations in mosses were primarily determined by the atmospheric deposition of these metals, followed by emissions of the metals. Low to very low correlations were observed between mercury concentrations in mosses and modelled atmospheric deposition of mercury. According to the multivariate analyses, spatial variations of the mercury concentration in mosses was primarily associated with the sampled moss species and not with the modelled deposition, but regional differences in the atmospheric chemistry of mercury and corresponding interactions with the moss may also be involved.
Conclusions
At least for cadmium and lead, concentrations in mosses are a valuable tool in determining and mapping the spatial variation in atmospheric deposition across Europe at a high spatial resolution. For mercury, more studies are needed to elucidate interactions of different chemical species with the moss.
This is a preview of subscription content, log in to check access.
Access options
Buy single article
Instant access to the full article PDF.
US$ 39.95
Price includes VAT for USA
Subscribe to journal
Immediate online access to all issues from 2019. Subscription will auto renew annually.
US$ 199
This is the net price. Taxes to be calculated in checkout.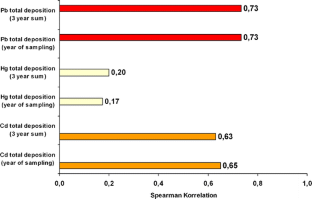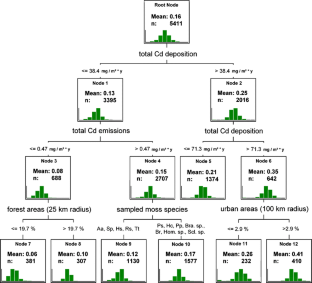 Notes
1.

OECD is one of the world's largest and most reliable sources of comparable statistics and economic and social data. OECD collects data, monitors trends, analyses and forecasts economic developments and researches social changes or evolving patterns in trade, environment, agriculture, technology and taxation.
References
Aas W (2006) Data quality 2004, quality assurance and field comparisons. EMEP/CCC report 4/2006

Aas W, Breivik K (2008) Heavy metals and POP measurements, 2006. EMEP/CCC-Report 4/2008

Aleksander-Kwaterczak U, Helios-Rybicka E (2009) Contaminated sediments as a potential source of Zn, Pb and Cd for river system at the historical metalliferous ore mining and smelting industry area in South Poland. J Soils Sediments 9:13–22

Bealey WJ, Long S, Spurgeon DJ, Leith I, Cape JN (2008) Review and implementation study of biomonitoring for assessment of air quality outcomes. Bristol, Environment Agency, 170 pp. (Science Report SC030175/SR2)

Berg T, Steinnes E (1997) Use of mosses (Hylocomium splendens and Pleurozium schreberi) as biomonitors of heavy metal deposition: from relative to absolute values. Environ Pollut 98:61–71

Berg T, Hjellbrekke A, Rühling Å, Steinnes E, Kubin E, Larsen MM, Piispanen J (2003) Absolute deposition maps of heavy metals for the Nordic countries based on moss surveys. Report TemaNord 2003:505. Nordic Council of Ministers, Copenhagen, p 35

Berg T, Aspmo K, Steinnes E (2008) Transport of Hg from atmospheric mercury depletion events to the mainland of Norway and its possible influence on Hg deposition. Geophys Res Letters 35:L09802

Breiman L, Friedmann JA, Olshen RA, Stone CJ (1984) Classification and regression trees. Wadsworth, Belmont

Diehl MS, Beard K (2009) Spatial analysis of atmospheric deposition and terrestrial accumulation of mercury within Acadia National Park. In: Northeastern section—44th annual meeting (22–24 March 2009), session no. 48: GIS applications in geoscience teaching, research and map production. Spatial Information Sciences Engineering, University of Maine, Orono (http://gsa.confex.com/gsa/2009NE/finalprogram/abstract_155805.htm)

Ellenberg H, Arndt U, Bretthauer R, Ruthsatz B, Steubing L (1991) Biological monitoring. Signals from the environment. Vieweg, Braunschweig

Fergusson JE (1991) The heavy elements: chemistry, environmental impact and health effects. Pergamon, Oxford

Fränzle O, Schimming CG (2008) Element fluxes in atmosphere, vegetation and soil. In: Fränzle O, Kappen L, Blume HP, Dierssen K (eds) Ecosystem organization of a complex landscape. Long-term research in the Bornhöved Lake District, Germany. Springer, Berlin

Fränzle O, Straškraba M, Jørgensen SE (1995) Ecology and ecotoxicology. Ullmann´s encyclopedia of industrial chemistry, vol B7. VCH, Weinheim, pp 19–154

Gauger T, Haenel HD, Rösemann C, Dämmgen U, Bleeker A, Erisman JW, Vermeulen AT, Schaap M, Timmermanns RM A, Builtjes PJH, Duyzer JH (2008) National implementation of the UNECE Convention on Long-range Transboundary Air Pollution (Effects). Part 1: Deposition loads: Methods, modelling and mapping results, trends. BMU/UBA 204 63 252. UBA-Texte 38/08. ISSN 1862-4804

Gusev A, Iliyn I, Rozovskaya O, Shatalov V, Sokovych V, Travnikov O (2009) Modelling of heavy metals and persistent organic pollutants: new developments. EMEP/MSC-East Technical Report 1/2009. http://www.msceast.org

Hagl S (2008) Schnelleinstieg Statistik—Daten erheben, analysieren, präsentieren. Haufe, Freiburg

Harmens H, Mills G, Hayes F, Williams P, De Temmerman L, Pesch R, Schröder W, and other participants of ICP Vegetation (2005) Air pollution and vegetation. ICP Vegetation Annual Report 2004/2005. UNECE ICP Vegetation Coordination Centre, Centre for Ecology and Hydrology, Bangor, UK. Available at http://icpvegetation.ceh.ac.uk. Accessed 18 May 2009

Harmens H, Norris D, Pesch R, Schröder W, and other participants of the moss survey (2008) Spatial and temporal trends in heavy metal accumulation in mosses in Europe (1990-2005). Programme Coordination Centre for the ICP Vegetation, Centre for Ecology and Hydrology, Bangor, UK. Available at http://icpvegetation.ceh.ac.uk. Accessed 18 May 2009

Harmens H, Mills G, Hayes F, Jones L, Norris D, Cooper D, and the participants of ICP Vegetation (2009) Air pollution and vegetation. ICP Vegetation annual report 2008/2009. ISBN: 978-0-9557672-9-6

Hengla T, Heuvelink GBM, Rossiter DG (2007) About regression-kriging: from equations to case studies. Comput Geosci 33(10):1301–1315

Herpin U, Siewers U, Markert B, Rosolen V, Breulmann G, Bernoux M (2004) Second German heavy-metal survey by means of mosses, and comparison of the first and second approach in Germany and other European countries. Environ Sci Pollut Res 11:57–66

Hettelingh JP, Posch M, Slootweg J (2008) Critical load, dynamic modelling and impact assessment in Europe: CCE Status Report 2008, Coordination Centre for Effects, Netherlands Environmental Assessment Agency. Available at www.pbl.nl/cce. Accessed 18 May 2009

Hornsmann I, Pesch R, Schmidt G, Schröder W (2008) Calculation of an Ecological Land Classification of Europe (ELCE) and its application for optimising environmental monitoring networks. In: Car A, Griesebner G, Strobl J (eds) Geospatial Crossroads @ GI_Forum '08: Proceedings of the Geoinformatics Forum Salzburg. Wichmann, Heidelberg, pp 140–151

ICP Vegetation (2005) Heavy metals in European mosses: 2005/2006 survey. Monitoring manual. ICP Vegetation Coordination Centre, Centre for Ecology and Hydrology, Bangor

Ilyin I, Travnikov O (2005) Modelling of heavy metal airborne pollution in Europe: evaluation of the model performance. EMEP/MSC-E Technical Report 8/2005. Meteorological Synthesizing Centre-East, Moscow, Russian Federation. http://www.msceast.org

Ilyin I, Rozovskaya O, Travnikov O, Aas W, Hettelingh JP, Reinds GJ (2008) Heavy Metals: Transboundary Pollution of the Environment. EMEP Status Report 2/2008. Norwegian Institute for Air Research, Kjeller, Meteorological Synthesizing Centre-East, Moscow, Norwegian Meteorological Institute, Oslo, Coordination Centre for Effects, Bilthoven

Iverfeldt Å (1991) Occurrence and turnover of atmospheric mercury over the Nordic countries. Water Air Soil Pollut 56:251–265

Keil M, Kiefl R, Strunz G (2005) CORINE land cover 2000 - Germany. Final Report, German Aerospace Center, German Remote Sensing Data Center, Oberpfaffenhofen

Lindberg SE, Turner RR (1988) Factors influencing atmospheric deposition, stream export, and landscape accumulation of trace metals in forested watersheds. Water Air Soil Pollut 39:123–156

Litz HP (2000) Multivariate statistische Methoden. Oldenbourg Wissenschaftsverlag, München

Markert B, Wünschmann S, Fränzle S, Wappelhorst O, Weckert V, Breulmann G, Djingova R, Herpin U, Lieth H, Schröder W, Siewers U, Steinnes E, Wolterbeek B, Zechmeister H (2008) On the road from biomonitoring to human health aspects—monitoring atmospheric heavy metal deposition by epiphytic/epigenetic plants: present status and future needs. Int J Environ Poll 32:486–498

Morvan X, Saby NP, Arrouays D, Le Bas C, Jones RJ, Verheijen FG, Bellamy PH, Stephens M, Kibblewhite MG (2008) Soil monitoring in Europe: a review of existing systems and requirements for harmonisation. Sci Total Environ 391:1–12

Mulder C, Breure AM (2006) Impact of heavy metal pollution on plants and leaf-miners. Environ Chem Lett 4:83–86

Norr C, Riepert F (2007) Bioaccumulation studies with Eisenia fetida using an established degradation test system. J Soils Sediments 7:393–397

Odeh IOA, McBratney AB, Chittleborough DJ (1995) Further results on prediction of soil properties from terrain attributes: heterotopic cokriging and regression-kriging. Geoderma 67(3–4):215–226

Osborn D, Weeks JM, Hankard P, Dale L (2000) Potential uses of biomonitoring in pollution control—an introductory guide. Environment Agency Technical Report, p 319

Pacyna JM, Pacyna EG, Aas W (2009) Changes of emissions and atmospheric deposition of mercury, lead, and cadmium in Europe. Atmos Environ 43:117–127

Pakeman R, Osborn D, Hankard P (2000) Plants as biomonitors of atmospheric pollution: a review of their potential use in integrated pollution control. Environment Agency Technical Report, p 318

Pesch R, Schröder W (2009) Long-term monitoring of the metal accumulation in forests measured by use of the moss technique. Europ J Forest Res. doi:10.1007/s10342-009-0298-y

Pesch R, Schröder W, Mohr K, Matter Y, Kleppin L, Holy M, Goeritz A, Genßler L (2007) Moos-Monitoring 2005/2006: Schwermetalle IV und Gesamtstickstoff. R&D Project 205 64 200, Final Report, on behalf of the Federal Environment Agency, Dessau

Pesch R, Schmidt G, Schröder W, Conrad A, Kolossa-Gehring M, Feigenspahn S, Utermann J (2009) Das Potenzial raumbezogener Daten im Human-Biomonitoring am Beispiel des Kinder-Umwelt-Surveys. In: Strobl J, Blaschke T, Griesebner G (eds) Angewandte Geoinformatik 2009. Wichmann, Heidelberg, pp 248–257

Rühling A, Tyler G (1968) An ecological approach to the lead problem. Botaniska Notiser 121:321–343

Rühling A, Tyler G (1969) Ecology of heavy metals—a regional and historical study. Botaniska Notiser 121:248–259

Rühling A, Tyler G (1970) Sorption and retention of heavy metals in the woodland moss Hylocomium splendens (Hedw.). Br Et Sch Oikos 21:248–342

Schöpp W, Amann M, Cofala J, Heyes C, Klimont Z (1999) Integrated assessment of European air pollution emission control strategies. Environ Modell Softw 14:1–9

Schroeder WH, Munthe J (1998) Atmospheric mercury—an overview. Atmos Environ 32(5):809–822

Schroeder WH, Anlauf KG, Barrie LA, Lu JY, Steffen A, Schneeberger DR, Berg T (1998) Arctic springtime depletion of mercury. Nature 394:331–332

Schröder W, Pesch R, Schmidt G (2004) Soil monitoring in Germany. Spatial representativity and methodical comparability. J Soils Sediments 4:49–58

Schröder W, Pesch R, Englert C, Harmens H, Suchara I, Zechmeister HG, Thöni L, Maňkovská B, Jeran Z, Grodzinska K, Alber R (2008) Metal accumulation in mosses across national boundaries: uncovering and ranking causes of spatial variation. Environ Pollut 151:377–388

Seinfeld JH, Pandis SN (2006) Atmospheric chemistry and physics. From air pollution to climate change, 2nd edn. Wiley, Hoboken

Simpson D, Fagerli H, Hellsten S, Knulst JC, Westling O (2006) Comparison of modelled and monitored deposition fluxes of sulphur and nitrogen to ICP-forest sites in Europe. Biogeosciences 3:337–355

Slootweg J, Hettelingh JP, Posch M, Dutchak S, Ilyin I (2005) Critical loads of cadmium, lead and mercury in Europe. Coordination Center for Effects and EMEP/MSC-East. Report 259101015/2005, Bilthoven, ISBN 90-6960-119-2

Spranger T, Hettelingh JP, Slootweg J, Posch M (2008) Modelling and mapping long-term risks due to reactive nitrogen effects. An overview of LRTAP convention activities. Environ Pollut 154:482–487

Steinnes E, Andersson EM (1991) Atmospheric deposition of mercury in Norway: temporal and spatial trends. Water Air Soil Pollut 56:391–404

Steinnes E, Rühling Å, Lippo H, Mäkinen A (1997) Reference material for large-scale metal deposition surveys. Accredit Qual Assur 2:243–249

Steinnes E, Berg T, Sjøbakk TE (2003) Temporal and spatial trends in Hg deposition monitored by moss analysis. Sci Total Environ 304:215–219

Task Force on Health (2007) Health risks of heavy metals from long-range transboundary air pollution. World Health Organization, Bonn

VROM (2007) Heavy metal emissions, depositions, critical loads and exceedances in Europe. In: Hettelingh JP, Sliggers J (eds) Dutch Ministry of Housing, Spatial Planning and the Environment, Directorate for Climate Change and Industry

Zechmeister HG, Grodzinska K, Szarek-Lukaszewska G (2003) Bryophytes. In: Markert BA, Breure AM, Zechmeister HG (eds) Bioindicators & biomonitors—principles, concepts and applications. Elsevier, Amsterdam

Zheng YM, Chen TB, He JZ (2008) Multivariate geostatistical analysis of heavy metal in topsoils from Beijing, China. J Soils Sediments 8:51–58
Additional information
Responsible editor: Nicole Mathers
About this article
Cite this article
Schröder, W., Holy, M., Pesch, R. et al. Are cadmium, lead and mercury concentrations in mosses across Europe primarily determined by atmospheric deposition of these metals?. J Soils Sediments 10, 1572–1584 (2010). https://doi.org/10.1007/s11368-010-0254-y
Received:

Accepted:

Published:

Issue Date:
Keywords
Biomonitoring

Cadmium

Correlation analysis

Deposition

Lead

Mercury

Moss