Abstract
Purpose
Coffee is among the most appreciated beverages in the world, and there is a wide variety of methods of coffee consumption, inside and outside the home, with a significant growth in the coffee machine market for single serve. Due to this significant growth and in agreement with the current sustainability directives, the objective of the present article was to evaluate the environmental performance of the preparation step of the most representative methods of beverage preparation.
Methods
The principles of the life cycle assessment (LCA) were applied to evaluate the environmental efficiency of the beverage preparation stage for the following methods: the traditional espresso, the French Press, the AeroPress, filtered coffee systems in coffee shops, the homemade filtration, and single-serve automatic machines. The boundaries of the study included the agricultural stage, the industrial roasting/grinding, and the beverage preparation up to final disposal of waste. Data were collected from 40 establishments among coffee shops, bakeries, and homes, with 153 individual data. The environmental efficiency was measured regarding energy, water consumption, waste generation, and the environmental impacts scores related to global warming, eutrophication, acidification, abiotic depletion, and human toxicity calculated by CML 2001 method.
Results and discussion
Individualized data of coffee roasting/grinding from the industrial process was provided. The preparation of a single-serve soft pod (paper sachet) using an automatic machine resulted in the lowest emission of 14.3 g of CO2 eq/50 mL of beverage in the monodose category, and also a non-biodegradable packaging waste to landfills about 11 times less than the single-serve plastic capsules with aluminum top seal, which had the highest consumption of energy, water, and waste generation in the single-serve category. In the category of consumption outside the home, espresso coffee, produced under pressure and higher temperatures, had the greatest impact, mainly due to its concentration, and the energy demanded by the automatic machines.
Conclusions
The study identified that the concentration of coffee, as well as the ratio of packaging mass per volume of beverage prepared, has a significant effect on the calculated environmental impacts. The single-serve pods method using paper sachets can associate convenience with low environmental impact. The results obtained allow the consumer to include the environmental aspects in the choice of method for beverage preparation and also provide relevant information for public policy concerning residue generation.
Access options
Buy single article
Instant access to the full article PDF.
USD 39.95
Price excludes VAT (USA)
Tax calculation will be finalised during checkout.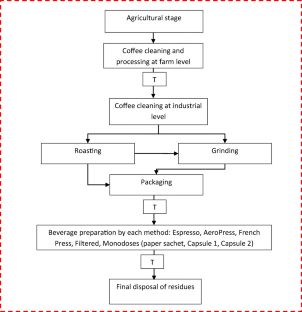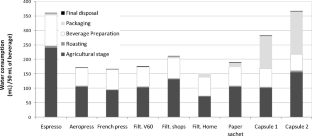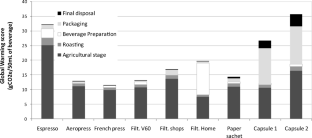 References
ABRELPE - Associação Brasileira de Empresas de Limpeza Pública e Resíduos Especiais (2019) Panorama dos resíduos sólidos no Brasil 2016, 51p. http://www.abrelpe.org.br. Acessed 14 Sep 2019

Alves RC, Rodrigues F, Nunes AM, Vinha AF, Oliveira MBPP (2017) Chapter 1 — State of the art in coffee processing by-products. In: Galanakis CM (ed) Handbook of coffee processing by-products. Academic Press, pp 1–26

Blinová L, Sirotiak M, Bartošová A, Soldán M (2017) Review: utilization of waste from coffee production. Research Papers Faculty of Materials Science and Technology Slovak University of Technology, 25(40):91–101

BRASIL (2019) Presidência da República. Casa Civil Lei n 12305, de 02 de agosto de 2010 Institui a Política Nacional de Resíduos Sólidos (National Policy of Solid Waste). http://www.planaltogovbr. Acessed 20 Sep 2019

Brommer E, Stratmann B, Quack D (2011) Environmental impacts of different methods of coffee preparation. Int J Consum Stud 35:212–220

Busser S, Jungbluth N (2009) The role of flexible packaging in the life cycle of coffee and butter. Int J Life Cycle Assess 14(14):S80–S91

CEMPRE - Compromisso Empresarial para a Reciclagem (Brazilian Business Commitment for Recycling) (2019) Cempre Review 2019, 21p http://wwwcempreorgbr. Acessed 10 September 2019

Coltro L, Mourad AL, Oliveira P, Baddini J, Kletecke R (2006) Environmental profile or Brazilian green coffee. Int J Life Cycle Assess 11:16–21

De Monte M, Padoano E, Pozzetto D (2005) Alternative coffee packaging: an analysis from a life cycle point of view. J Food Eng 66:405–411

Euromonitor International (2017) Ranked: Top 25 coffee drinking countries – fresh vs instant. euromonitor, London

Food and Agriculture Organization of the United Nations (2018) Transforming food and agriculture to achieve the SDGs. http://www.fao.org/publications. 76p. Accessed 20 Nov. 2018

Furfori S, Portis C, Cabilli A, Vanii A, Breedveld L, Barrale R (2012) LCA of one cup of espresso coffee: how to collect and validate LCA data along the coffee supply chain. In: International Conference on Life Cycle Assessment in The Agri-Food Sector, 8

Furfori S, Antonini V, Breedveld L (2014) The link between LCA and CSR with espresso coffee as an example. In: International Conference on Life Cycle Assessment in The Agri-Food Sector, 9

Geibler JV, Cordaro F, Kennedy K, Lettenmeier M, Roche B (2016) Integrating resource efficiency in business strategies: a mixed-method approach for environmental life cycle assessment in the single-serve coffee value chain. J Clean Prod 115:62–74

Guinée JB, Gorrée M, Heijungs R, Huppes G, Kleijn R, Koning A, Oers L, van Wegener Sleeswijk A, Suh S, Udo de Haes HA, de Bruijn H, van Duin R, Huijbregts MAJ (2002) Handbook on life cycle assessment. Operational guide to the ISO standards. I: LCA in perspective. IIa: Guide. IIb: Operational annex. III: Scientific background. Kluwer Academic Publishers, Dordrecht

Hassard H, Couch M, Techa-Erawan T, Mclellan BC (2014) Product carbon foot print and energy analysis of alternative coffee products in Japan. J Clean Prod 73:310–321

Hellweg S & Milá I, Canals L (2014) Emerging approaches, challenges and opportunities in life cycle assessment. Science 344:1109–1113

Hicks AL, Halvorsen H (2019) Environmental impact of evolving coffee technologies. Int J Life Cycle Assess 24:1396–1408

Hoeskstra A (2015) The sustainability of a single activity, production process or product. Ecol Indic 57:82–84

Humbert S, Loerincik Y, Rossi V, Margni M, Jolliet O (2009) Life cycle assessment of spray dried soluble coffee and comparison with alternatives (drip filter and capsule espresso). J Clean Prod 17:1351–1358

Hunt RG (1995) LCA considerations of solid waste management alternatives for paper and plastics. Resour Conserv Recycl 14:225–231

IBA - Indústria Brasileira de Árvores (2019) Índice de reciclagem de papel atinge nível recorde de 66,2% em 2017 http://www.iba.org. Acessed 14 Sep 2019

ICO – International Coffee Organization (2019) – World coffee consumption.http://www.ico.org/prices/new-consumption-table.pdf. Accessed 01 Nov 2019

Illy A, Illy E, Macrae R, Petracco M, Sondahl M, Valussi S, Viani R (1995) Espresso coffee: the chemistry of quality. Academic Press, Amsterdam

IPCC (2013) Climate change 2013: the physical science basis. Contribution of working group I to the fifth assessment report of the intergovernmental panel on climate change. Cambridge University Press, Cambridge

MAPA - Ministério Agricultura, Pecuária e Abastecimento (2017) País tem safra recorde de café em 2016. http://www.agricultura.gov.br/noticias. Accessed 30 Jan 2017

MAPA – Ministério da Agricultura, Pecuária e Abastecimento (2019). Programas de integridade. MAPA website. http://www.agricultura.gov.br/acesso-a-informacao/acoes-e-programas/integridade. Accessed 23 Sep 2019

Massaya J, Pereira AP, Mills-Lamptey B, Benjamin J, Chuck CJ (2019) Conceptualization of a spent coffee grounds biorefinery: a review of existing valorisation approaches. Food Bioprod Process 118:149–166

Mourad AL, Jaime SBM (2012) Sustentabilidade &ética. In: Sarantopoulos CIGL, Rego RA (eds) Brasil Pack Trends 2020. ITAL, Campinas, pp 171–203

Mourad AL, Silva HLG, Nogueira JCB (2014) Life cycle assessment of cellulose packaging materials production: folding box board and kraftliner paper. Int J Life Cycle Assess 19:968–976

Nemecek T (2013) Estimating direct field and farm emissions. Schweizerische Eidgenossenschaft, Zurich

Nemecek T, Bengoa X, Lansche J, Mouron P, Rossi V, Humbert S (2014) World Food LCA Database Methodological Guidelines for the Life Cycle Inventory of Agricultural Products

Nortanicola B, Sala S, Anton A, Mc Laren SJ, Saouter E, Sonesson U (2016) The role of life cycle assessment in supporting sustainable agri-food systems: a review of the challenges. J Clean Prod 140(Part 2):1–11

Pedrazzini S, Dubois C, Halloran R, Porté C, Nothey S, Schenker U, Humbert S (2012) Communication of LCA results in the French environmental experimentation context: user-friendly web-based tool for the case of coffee. In: International Conference on Life Cycle Assessment in The Agri-Food Sector, 8

Salomone R (2003) Life cycle assessment applied to coffee production: investigating environmental impact to aid decisions making for improvements at company level. Food Agric Environ 1:295–300

Schwartzberg H (2013) Batch coffee roasting; roasting energy use; reducing that use. In: Yanniotis S, Taoukis P, Stoforos N, Karathanos V (eds) Advances in food process engineering research and applications. Food Engineering Series. Springer, Boston

USDA (2018) Coffee world markets and trade USDA foreign agricultural service. http://www.fas.usda.gov/data/coffee-world-markets-and-trade. Accessed 08 Jan. 2018
Acknowledgments
The authors are grateful to all the people who welcomed us in the cafes and bakeries visited and also to all consumers who agreed to participate in the survey. The authors would also like to thank Stephen Shaw for his careful review of the English.
Additional information
Responsible editor: Shabbir Gheewala
Publisher's note
Springer Nature remains neutral with regard to jurisdictional claims in published maps and institutional affiliations.
About this article
Cite this article
de Figueiredo Tavares, M.P., Mourad, A.L. Coffee beverage preparation by different methods from an environmental perspective. Int J Life Cycle Assess 25, 1356–1367 (2020). https://doi.org/10.1007/s11367-019-01719-2
Received:

Accepted:

Published:

Issue Date:

DOI: https://doi.org/10.1007/s11367-019-01719-2
Keywords
Coffee beverage

Coffee brewing technique

Environmental impact

Life cycle thinking

Sustainability