Abstract
Purpose
The life-cycle assessment (LCA) method is typically applied to products, but the potential and demand for extending its use also to other applications are high. In this respect, this paper proposes an LCA concept to be used for the assessment of human beings as new study objects, namely Life-LCA. Key challenges of such a new approach and potential solutions for those are identified and discussed.
Methods
The Life-LCA concept was developed based on a detailed desktop research. Several Life-LCA-specific challenges were identified and categorized under three research questions. One of these questions focusses on the conceptual design of a Life-LCA method while the others are addressing operational issues, which are the definition of the new study system and the practical assessment of complex human consumption behaviors. Methodological solutions are proposed, e.g., based on suggestions provided in the existing methods product LCA and organizational LCA (O-LCA).
Results and discussion
Conceptual challenges arise from the general diversity, complexity, and temporal development of human lives and consumption behaviors. We introduce Life-LCA as a two-dimensional method that covers both, the new human life cycle (dimension 1) and the life cycle of the consumed products (dimension 2). Furthermore, the two types Individual Life-LCA and Lifestyle-LCA are differentiated. Especially, the definition of a general system boundary for Life-LCA and data collection and evaluation face many operational challenges. For example, the social behavior of human beings is a new factor to be considered which causes new allocation problems in LCA. Moreover, the high demand for aggregated LCA data requires specific rules for data collection and evaluation as well as a new bottom-up product clustering scheme.
Conclusions
Life-LCA, either used for the assessment of individual lives or lifestyles, has the potential to raise environmental awareness of people by making their specific environmental impacts comprehensively measurable and thus, tangible. However, many challenges need to be solved in future interdisciplinary research to develop a robust and applicable method. This paper conceptualizes such an approach and proposes solutions that can serve as a framework for ongoing method development.
This is a preview of subscription content, log in to check access.
Access options
Buy single article
Instant access to the full article PDF.
US$ 39.95
Tax calculation will be finalised during checkout.
Subscribe to journal
Immediate online access to all issues from 2019. Subscription will auto renew annually.
US$ 99
Tax calculation will be finalised during checkout.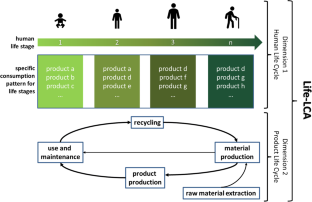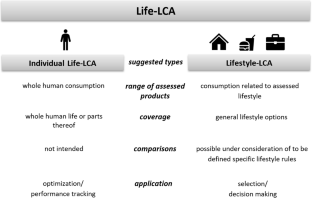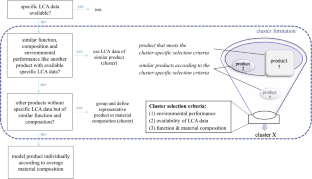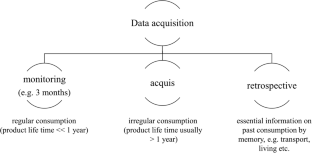 Notes
1.

Please note, that for a complete Life-LCA also service clustering will be needed. However, for now, we focus on direct product consumption, which includes product consumption due to services (e.g. meals ordered in restaurants, hotel stays).
References
Collins A, Flynn A (2015) The ecological footprint. New developments in policy and practice. Edward Elgar Publishing Limited, Cheltenham, Northampton

Coulon R, Camobreco V, Teulon H, Besnainou J (1997) Data quality and uncertainty in LCI. Int J Life Cycle Assess 2:178–182

Druckman A, Jackson T (2009) The carbon footprint of UK households 1990-2004: a socio-economically disaggregated, quasi- multiregional input-output model. Ecol Econ 68:2066–2077

Erikson EH (1950) Childhood and society. W. W. In: Norton & Company. New York, London

European Commission (2009) Sustainable consumption and production

European Commission (2013) Recommendation 2013/179/EU on the use of common methods to measure and communicate the life cycle environmental performance of products and organisations. Off J Eur Union 210. https://doi.org/10.3000/19770677.L_2013.124.eng

European Commission -JRC (2010) International reference life cycle data system (ILCD) handbook. General guide for life cycle assessment - detailed guidance, 1st edn. Publications Office of the European Union, Luxembourg

Franz J, Papyrakis E (2011) Online calculators of ecological footprint: do they promote or dissuade sustainable behaviour? Sustain Dev 19:391–401

Girod B, Peter D, Vuuren V, Hertwich EG (2014) Climate policy through changing consumption choices: options and obstacles for reducing greenhouse gas emissions. Glob Environ Chang 25:5–15

Goedkoop MJ, Heijungs R, Huijbregts M, De Schryver A, Struijs J, Van Zelm R (2009) ReCiPe 2008. A life cycle impact assessment method which comprises harmonised category indicators at the midpoint and the endpoint level; First edition Report I: characterization, first edition, https://www.leidenuniv.nl/cml/ssp/publications/recipe_characterisation.pdf

Goldstein B, Foss Hansen S (2016) Ethical aspects of life cycle assessments of diets. Food Policy 59:139–151

Gore T (2015) Extreme carbon inequality. Why the Paris climate deal must put the poorest, lowest emitting and most vulnerable people first. Oxfam International

Heijungs R, Guinée JB, Huppes G, et al (1992) Environmental life cycle assessment of products—guide and backgrounds

Heinonen J, Junnila S (2011) A carbon consumption comparison of rural and urban lifestyles. Sustainability 3:1234–1249

Heller MC, Keoleian GA, Willett WC (2013) Toward a life cycle-based, diet-level framework for food environmental impact and nutritional quality assessment: a critical review. Environ Sci Technol 47:12632–12647

Hertwich EG, Peters GP (2009) Carbon footprint of nations: a global, trade-linked analysis. Environ Sci Technol 43:6414–6420

Hervé C, Mullet E (2009) Age and factors influencing consumer behaviour. Int J Consum Stud 33:302–308

IFOAM EU Group (2016) FiBL, Marche Polytechnic University, Naturland Organic in Europe. Prospects and developments 2016. Brussels

Ingwersen WW, Stevenson MJ (2012) Can we compare the environmental performance of this product to that one? An update on the development of product category rules and future challenges toward alignment. J Clean Prod 24:102–108

Ingwersen WW, Subramanian V, Scarinci C, et al (2013) Guidance for product category rule development. Product category rule guidance development initiative

ISO (2006) ISO 14044: environmental management - life cycle assessment - requirements and guidelines

ISO (2014) ISO/TS 14072: environmental management - life cycle assessment - requirements and guidelines for organizational life cycle assessment

Jungbluth N, Itten R, Stucki M (2012) Umweltbelastungen des privaten Konsums und Reduktionspotenziale. Uster

Kalbar PP, Birkved M, Kabins S, Elsborg S (2016) Personal metabolism (PM) coupled with life cycle assessment (LCA) model: Danish case study. Environ Int 91:168–179

Keijzer E (2017) The environmental impact of activities after life: life cycle assessment of funerals. Int J Life Cycle Assess 22:715–730

Lepisto LR (1985) A life-span perspective of consumer behavior. In: Hirschman EC., Holbrook MB (eds) NA - Advances in consumer research. Association for Consumer Research, pp 47–52

Levinson DJ (1978) The seasons of a man's life. Ballantine Books, New York

Martínez-Blanco J, Inaba A, Finkbeiner M (2016) Life cycle assessment of organizations. In: Finkbeiner M (ed) Special types of life cycle assessment. Springer Netherlands, Dordrecht, pp 333–394

Meier T, Christen O (2013) Environmental impacts of dietary recommendations and dietary styles: Germany as an example. Environ Sci Technol 47:877–888

Miehe R, Scheumann R, Jones CM, Kammen DM, Finkbeiner M (2016) Regional carbon footprints of households: a German case study. Environ Dev Sustain 18:577–591

Minkov N, Schneider L, Lehmann A, Finkbeiner M (2015) Type III environmental declaration programmes and harmonization of product category rules: status quo and practical challenges. J Clean Prod 94:235–246

Moschis GP (2007) Life course perspectives on consumer behavior. J Acad Mark Sci 35:295–307

Muthu SS (2014) Measuring the environmental impact of textiles in practice: calculating the product carbon footprint (PCF) and life cycle assessment (LCA) of particular textile products. In: Assessing the environmental impact of textiles and the clothing supply chain. Elsevier, pp 163–179

Notter DA, Meyer R, Althaus HJ (2013) The Western lifestyle and its long way to sustainability. Environ Sci Technol 47:4014–4021

Ortega-Egea JM, García-de-Frutos N, Antolín-López R (2014) Why do some people do "more" to mitigate climate change than others? Exploring heterogeneity in psycho-social associations. PLoS One 9:1–17. https://doi.org/10.1371/journal.pone.0106645

Padgett JP, Steinemann AC, Clarke JH, Vandenbergh MP (2008) A comparison of carbon calculators. Environ Impact Assess Rev 28:106–115

Salo M, Mattinen MK (2017) Carbon footprint calculators for citizens. Recommendations and implications in the Nordic Context. Nordic Council of Ministers

Solomon MR, Russell-Bennett R, Previte J (2013) Consumer behaviour: buying, having, being., 3rd edn. Pearson Australia

Steinemann M, Schwegler R, Spescha G (2017) Grüne Produkte in Deutschland 2017. Marktbeobachtungen für die Umweltpolitik. Umweltbundesamt, Dessau-Roßlau

Sutcliffe M, Hooper P, Howell R (2008) Can eco-footprinting analysis be used successfully to encourage more sustainable behaviour at the household level? Sustain Dev 16:1–16

Treu H, Nordborg M, Cederberg C, Heuer T, Claupein E, Hoffmann H, Berndes G (2017) Carbon footprints and land use of conventional and organic diets in Germany. J Clean Prod 161:127–142

Tukker A, Goldbohm RA, De Koning A et al (2011) Environmental impacts of changes to healthier diets in Europe. Ecol Econ 70:1776–1788

UNEP/SETAC (2015) Guidance on organizational life cycle assessment. Life cycle initiative, United Nations Environment Programme and Society for Environmental Toxicology and Chemistry, Paris

West SE, Owen A, Axelsson K, West CD (2015) Evaluating the use of a carbon footprint calculator and exploring mitigation options. J Ind Ecol 20:396–409

Wynes S, Nicholas KA (2017) The climate mitigation gap: education and government recommendations miss the most effective individual actions. Environ Res Lett 12(7). https://doi.org/10.1088/1748-9326/aa7541
Additional information
Publisher's note
Springer Nature remains neutral with regard to jurisdictional claims in published maps and institutional affiliations.
Responsible editor: Marzia Traverso
Electronic supplementary material
About this article
Cite this article
Goermer, M., Lehmann, A. & Finkbeiner, M. Life-LCA: assessing the environmental impacts of a human being—challenges and perspectives. Int J Life Cycle Assess 25, 141–156 (2020). https://doi.org/10.1007/s11367-019-01645-3
Received:

Accepted:

Published:

Issue Date:
Keywords
Bottom-up product clustering

Environmental awareness

Life cycle assessment (LCA)

Personal environmental footprint

Sustainable consumption

Sustainable lifestyles