Abstract
Purpose
After analyzing in previous papers the potential of Environmental Product Declarations (EPDs) as a sustainability tool in Mexico's building sector and studying its implementation mainly from government housing programs and normative instruments (a top-down approach), this work seeks to complement a holistic approach about its implementation in an emerging country like Mexico. So, the main objective of this paper is to analyze the possibilities of EPDs implementation in Mexico's housing sector from the business sector (a bottom-up approach), determining the possible challenges this approach would have.
Methods
The experience, vision, and perspective about EPDs from the main potential users of this ecolabel in Mexico have been considered. For this, a questionnaire to housing developers and Mexican companies implementing EPDs has been applied. Similar studies from developed countries have been used as a reference to establish a possible path for the EPD development in a business sector of a country like Mexico. Based on this analysis, an outlook and challenges for a bottom-up EPD implementation in Mexico's housing sector has been made.
Results and discussion
Reduce the environmental impact and increase the commercial competitiveness are two of the main reasons for companies to implement sustainability strategies. Although EPDs serve these objectives, and there are Mexican standards, normative instruments, and housing design guides recommending the use of this ecolabel, there are few housing developers knowing EPDs, and there are also few Mexican companies implementing this ecolabel. Moreover, there is limited knowledge about EPDs in Mexico, both by final consumers and professional buyers. On the other hand, the European benchmark has served to detect common aspects about the EPD implementation, as well as to establish a possible development path that can be used to accelerate its implementation by Mexican companies.
Conclusions
In Mexico, there is a solid legislative and regulatory framework that can be used as a starting point to promote the EPDs in housing sector. There is also a widespread interest from companies in using ecolabels as part of its sustainability strategies. However, there is still not enough supply–demand for this kind of information, nor the technical and personnel capacity supporting the EPD implementation. Consolidate the human resources formation in life cycle assessment (LCA), inform about the EPD's usefulness, and facilitate the understanding of such information to consumers and professional buyers would be the main challenges to promote this ecolabel in Mexico.
Access options
Buy single article
Instant access to the full article PDF.
US$ 39.95
Tax calculation will be finalised during checkout.
Subscribe to journal
Immediate online access to all issues from 2019. Subscription will auto renew annually.
US$ 79
Tax calculation will be finalised during checkout.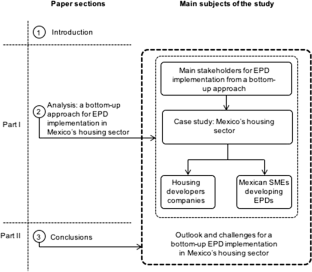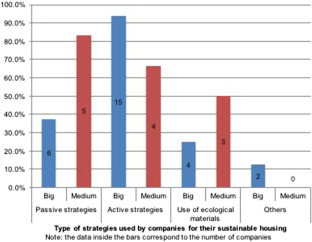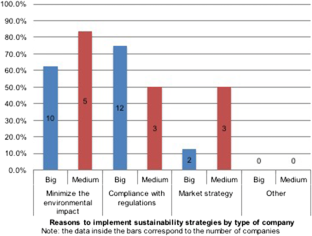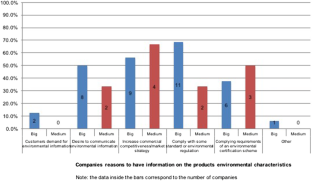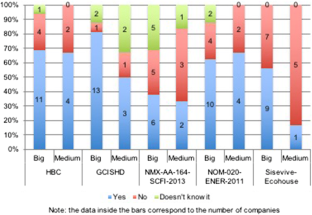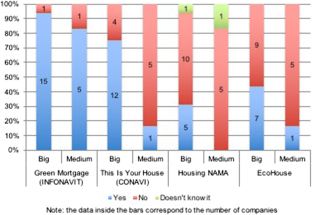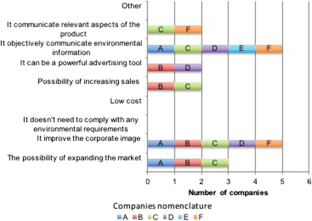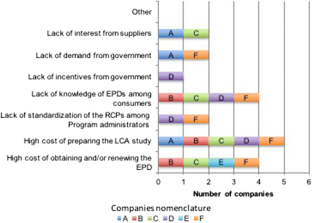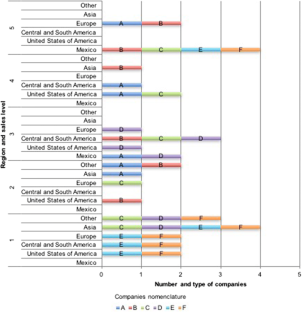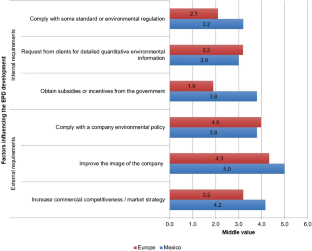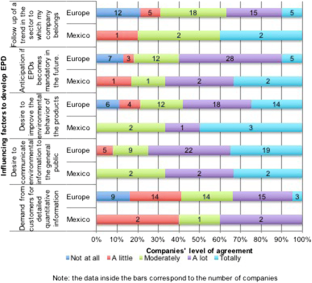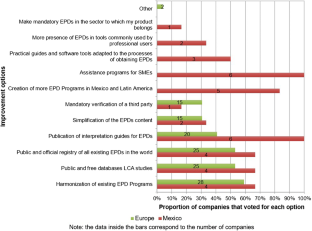 Notes
1.

The Unique Housing Registry "is a technological platform storing all nationwide housing information, in order to make more efficient and transparent the building processes and quality of housing and provide critical information for decision making." (INFONAVIT et al. 2016).

2.

Information provided by RUV staff via email on December 21, 2016.

3.

These are strategies looking for the building sustainability through mechanical and/or technological elements, such as solar water heating panels, energy-saving lamps, water-saving valves, and photovoltaic panels, among others.

4.

The "ecological materials" concept has been left to the interpretation of the person who answers the questionnaire. This in order to know, through subsequent questions, what are the conditions or characteristics the company considers for this type of materials.

5.

Credit scheme for social housing in Mexico, through which various active strategies are implemented to get the housing sustainability (INFONAVIT 2015).

6.

Is an online platform that brings together information about the providers of services, materials, and equipment for the housing construction in Mexico (INFONAVIT 2016c).

7.

These are mandatory standards in Mexico.

8.

This collaboration has been carried out through the EPD Latin America Hub, which is operated jointly by the CADIS and the ADDERE center (in Chile). This EPD Program operates under the standards of The International EPD System, from Sweden (CADIS and ADDERE 2015).

9.

Other companies that have eventually obtained their respective EPD through a Program in another country are not considered, as is the case of the CEMEX cement company.

10.

Since 2015, this standard requests to include a life cycle approach.

11.

Public and official registry from governmental platforms.
References
Arvizu-Piña VA, Cuchí Burgos A (2017) Promoting sustainability in Mexico's building sector via environmental product declarations. Int J Life Cycle Assess 22:1744–1759

CADIS, ADDERE (2015) EPD Latin America. In: Hub Lat. Am. Int. EPD® Syst. http://www.epd-americalatina.com. Accessed 30 Jul 2016

CCA (2008) Edificación Sustentable en América del Norte. Oportunidades y Retos. Quebec, Canadá

CIDOC, SHF (2015) Estado Actual de la Vivienda en México 2015

CONAVI (2014) El mercado de vivienda en México

Del Borghi A (2013) LCA and communication: environmental product declaration. Int J Life Cycle Assess 18:293–295

Fernández-Viñé MB, Gómez-Navarro T, Capuz-Rizo SF (2013) Assessment of the public administration tools for the improvement of the eco-efficiency of small and medium sized enterprises. J Clean Prod 47:265–273

Fundación IDEA (2013) Estrategia Nacional para la Vivienda Sustentable. British Embassy in Mexico, Mexico

Gazulla C (2012) Declaraciones Ambientales de Producto: instrumento para la mejora de productos. Dissertation, Universitat Autònoma de Barcelona

Ibáñez-Forés V, Pacheco-Blanco B, Capuz-Rizo SF, Bovea MD (2015) Environmental product declarations: exploring their evolution and the factors affecting their demand in Europe. J Clean Prod 116:157–169

INFONAVIT (2015) Hipoteca Verde. 3er Foro de Calentamiento Solar de Agua. México, D.F

INFONAVIT (2016a) Desarrollos habitacionales que cuentan con viviendas sustentables. http://portal.infonavit.org.mx/wps/wcm/connect/7d1462f9-4374-4630-b07d-29cbdefcd8d5/Lista_de_desarrollos_sustentables.pdf?MOD=AJPERES. Accessed 10 Mar 2016

INFONAVIT (2016b) Elige vivienda sustentable. http://portal.infonavit.org.mx/wps/wcm/connect/infonavit/trabajadores/saber+para+decidir/estoy_buscando_casa/elige_vivienda_sustentable. Accessed 14 Oct 2016

INFONAVIT (2016c) RUV Materiales. http://materiales.ruv.org.mx/BuscarProductos.aspx?fam=5. Accessed 29 Sep 2016

INFONAVIT, FOVISSSTE, SHF (2016) RUV Materiales | RUV—Registro Único de Vivienda. http://portalruvprod.azurewebsites.net/ruv-materiales/. Accessed 29 Sep 2016

ISO (2006) ISO 14025: Environmental labels and declarations—type III environmental declarations—principles and procedures

Jönsson K (2000) Communicating the environmental characteristics of products. The use of environmental product declarations in the building, energy and automotive industries. Lund University

Kaineg R, Kraft G, Neuhauss W et al (2013) NAMA Apoyada para la Vivienda Sustentable en México—Acciones de Mitigación y Paquetes Financieros

Minkov N, Schneider L, Lehmann A, Finkbeiner M (2015) Type III environmental declaration programmes and harmonization of product category rules: status quo and practical challenges. J Clean Prod 94:235–246

OECD (2007) Small businesses and environmental compliance: review and possible application of international experience in Georgia

Passer A, Lasvaux S, Allacker K, de Lathauwer D, Spirinckx C, Wittstock B, Kellenberger D, Gschösser F, Wall J, Wallbaum H (2015) Environmental product declarations entering the building sector: critical reflections based on 5 to 10 years experience in different European countries. Int J Life Cycle Assess 20:1199–1212
Acknowledgments
The authors would like to express their widest and sincere gratitude to all persons and companies that have collaborated in various phases of this research, mainly to the following organizations: to the Center for Life Cycle Assessment and Sustainable Design (CADIS), to the National Housing and Sustainable Communities Laboratory, to the INFONAVIT Evaluation and Analysis area, and finally to the housing companies and the companies implementing EPDs, for their support responding the questionnaires. We also thank the National Council of Science and Technology (CONACyT) for funding this research.
Additional information
Publisher's note
Springer Nature remains neutral with regard to jurisdictional claims in published maps and institutional affiliations.
Responsible editor: Adriana Del Borghi
About this article
Cite this article
Arvizu-Piña, V.A., Cuchí-Burgos, A. & Chargoy Amador, J.P. A bottom-up approach for implementation of Environmental Product Declarations in Mexico's housing sector. Int J Life Cycle Assess 24, 1553–1572 (2019). https://doi.org/10.1007/s11367-019-01587-w
Received:

Accepted:

Published:

Issue Date:
Keywords
Building environmental assessment

Emerging economy countries

EPD

Housing sector

LCA

Mexico

SMEs